Outside Business Journal
Rab to Release First Sustainability Report
After making steps to use more recycled materials in its manufacturing and lower company-wide carbon emissions, Rab is getting ready to roll out its first sustainability report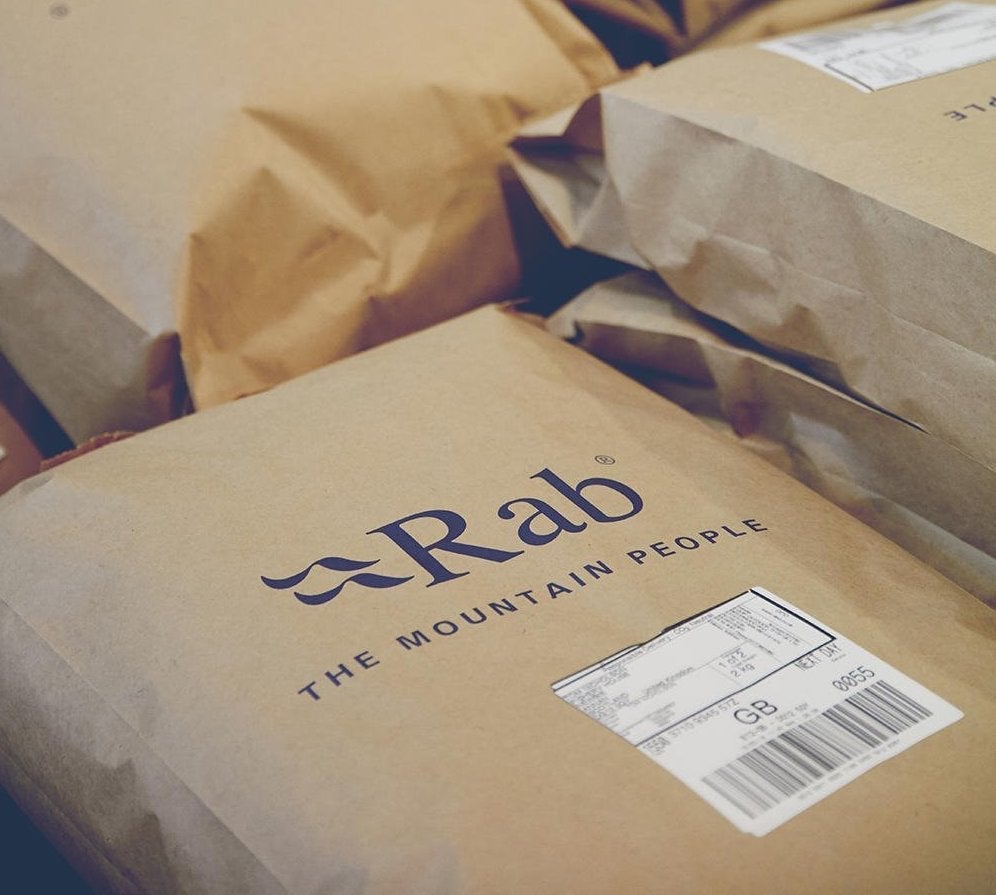 Heading out the door? Read this article on the new Outside+ app available now on iOS devices for members! Download the app.
For the past two years, Debbie Read has been counting.
Since 2019, Read, Rab's corporate social responsibility manager, has tallied everything from carbon emissions numbers to plastic usage and kicked off a number of big sustainability initiatives. Next month, she'll see her work go public.
"In mid-May we're launching our first ever sustainability report," Read said. "This is a time to pause and reflect, to look at where we've gotten to to date, and look at where we're going."
The report, which Read expects to be an annual update, will contain data on Rab's carbon emissions, recycled materials usage, and packaging efficiency. It will also outline prescriptive targets for reducing packaging and emissions and increasing the use of recycled materials. The report is an opportunity for Rab to celebrate the inroads its sustainability initiatives have made, but also a method of holding the company accountable, according to Read.
"We've now committed to this, externally. We've written it down in black and white," Read said. "This is now real, and we can be held accountable for it."
While Rab is tight-lipped about the soon-to-be-released report's specific findings and targets, Read gave us a sneak peek.
Rab's Ascent to Net Zero
Rab's most ambitious sustainability initiative is to achieve carbon neutrality by 2030. The path to neutrality will be long and arduous, Read admits, and Rab doesn't have every curve mapped out yet. But she notes that setting the goal now, despite questions about how to get there, was crucial because of the urgency of the climate crisis.
"I don't have a roadmap in front of me that says, 'This is what we're doing every year between now and 2030,'" Read said. "But it's no good, waiting until all of the answers are there. Everything you read about climate change is that we're already too late. We should have acted a generation ago. If Rab sits here and waits until all the answers are in place, then we've wasted probably another generation."
A year into the initiative, the company is taking steps to reduce emissions and other waste. All of Rab's UK operations, as well as most of its operations across Europe, are now powered by 100 percent renewable energy. The company opts for ocean freight, a cleaner alternative to air shipping, wherever possible, and has purchased a fleet of electric vehicles for land travel. Carbon removal projects like tree-planting and forest protection services help Rab offset the emissions they do create.
Rab's Take on Polybags
The outdoor industry has arrived at a reckoning with polybags in recent years. Though the clear plastic bags are light, cheap, easily manufactured and provide protection on long shipping voyages, they also create mountains of plastic waste and can be difficult to recycle. 
"What we (decided) to do was stop treating plastic as waste, and start treating it as a resource," Read said. 
It's been a challenge to reduce plastic use while maintaining product protection, especially because much of Rab's apparel is manufactured in Asia and must survive long shipping journeys before arriving at customers or distributors. Eliminating polybags from Rab's shipping process would compromise the safety of products like Rab's down jackets, so the company currently uses polybags made from material that is at least 50 percent recycled. In the coming years, Read hopes to work with polybag manufacturers to introduce more recycled materials into the bags while maintaining quality.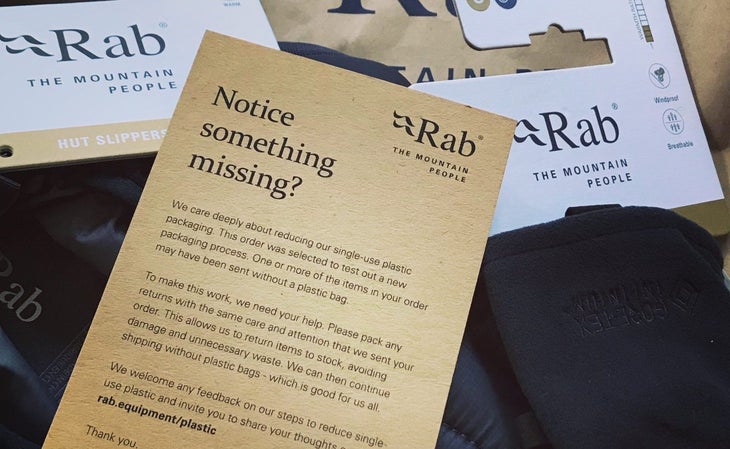 Rab also makes an effort to keep polybags inside the company's operations, and not foist them off on their retailers or customers, who might have difficulty properly recycling them. Recycling polybags is much easier for Rab than for the average consumer, says Read, so the company removes polybags in its distribution centers, then delivers products to customers in paper or cardboard, holding onto and recycling plastic products itself.
Rab's Commitment to Upcycling Down
Since its founding, down-filled apparel has been central to Rab's product line. To make these products more sustainable, Rab introduced recycled down into lines such as the company's best-selling Microlight jacket series.
"It was a bit of a nervous time for us," Read said of the 2020 decision to fill the Microlight Collection with recycled down. "We had a number of key retailers really question us about that decision… it was the first time we'd gone so big on recycled down, and the Microlight is such an iconic product."
So far, the recycled down jackets have performed just as well as their virgin down counterparts. This year, Rab is taking its down initiative one step further—the company will set up down collection stations in its own brick-and-mortar stores for customers to dispose of old down-filled items like duvets and pillows. The project has two boons—Rab can recycle down in-house, plus raise awareness, signaling to customers that down doesn't have to end up in a landfill. 
With a handful of ambitious initiatives on the horizon, the upcoming sustainability report is an appreciation of Rab's first steps on what looks like a long journey.
"If you're not careful, you forget to stop and celebrate what you've done," Read said. "We now have an opportunity to call out the (sustainability advancements) that a lot of people have worked hard on."