Outside Business Journal
With Innovative Bags, prAna Reaches 100 Percent Plastic-Free Packaging
The outdoor apparel company celebrated the first anniversary of its self-created Responsible Packaging Movement by declaring itself a 100 percent plastic-free packaging brand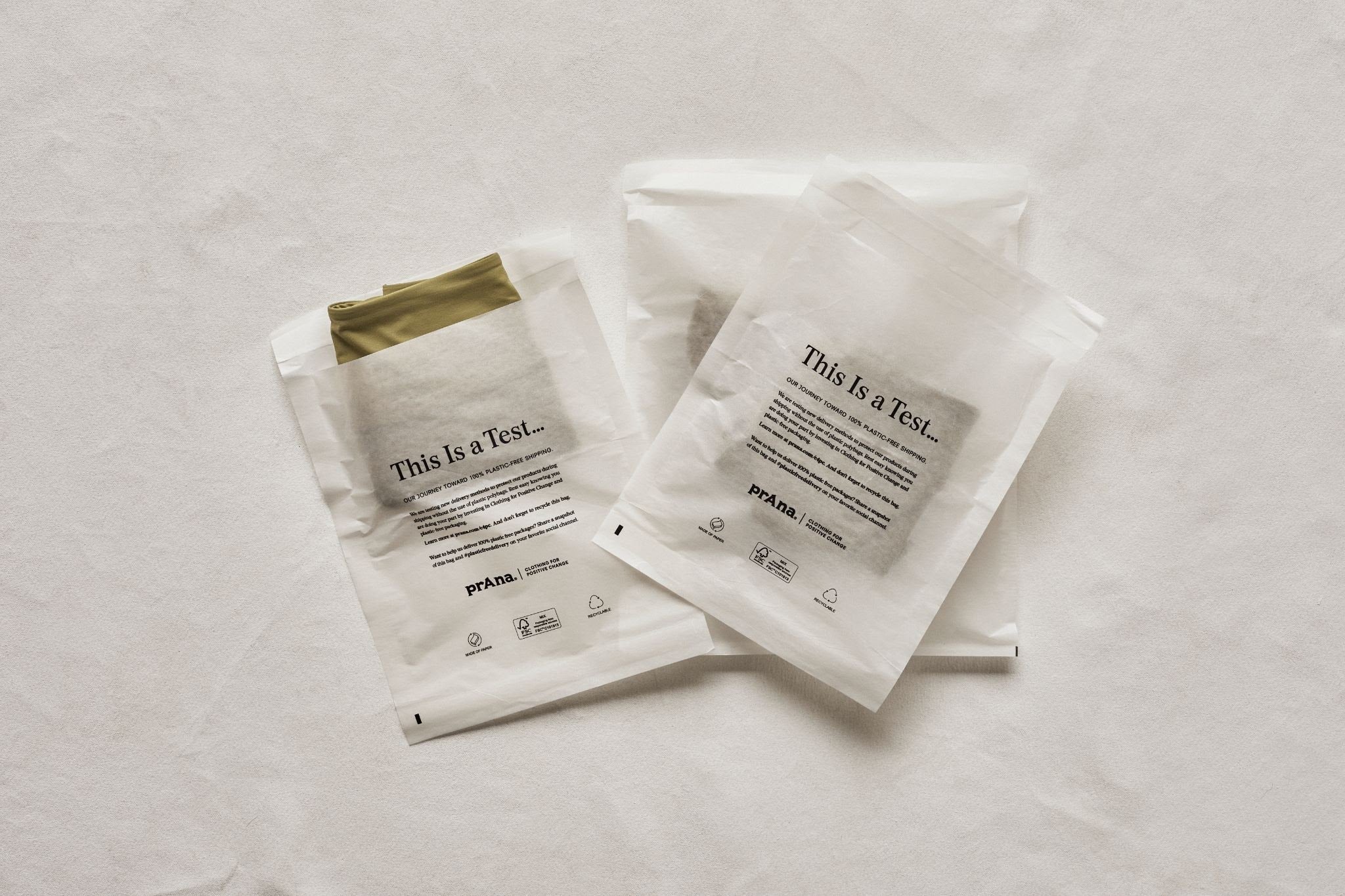 Heading out the door? Read this article on the new Outside+ app available now on iOS devices for members! Download the app.
The bold lettering stamped on the front of prAna's plastic-free garment bags is confident, but cautious.
"This Is A Test…" the bags declare, explaining that prAna is experimenting with methods of shipping that don't require plastic polybags. It's a declaration that could characterize the company's journey for the past decade, a crusade on plastic sparked by a single photo. Now, the time for testing is over. For prAna, this fall marks the beginning of a new era.
Beginning in August, Plastic Impact Alliance member prAna is using 100 percent plastic-free packaging across the entirety of its operations. That means garments arrive at customers' doors with no plastic polybags, hang tags, or fasteners.
"We've left no stone unturned trying to eliminate plastic," said Rachel Lincoln, prAna's director of sustainability. "Reaching that 100 percent mark has been such a long time coming."
A Decade Gaining Ground
By now, you may have heard the story that birthed more than a decade of dedication to cutting plastic in prAna's operations. If you haven't, it goes like this.
In 2010, at a prAna retail store in Boulder, Colorado, employees had spent the day unboxing products to put on the shelves. With every product came a plastic polybag, which the team piled up in a corner until the mound of plastic became a mountain. The day came to a close, and the store's manager sent a photo of the plastic pileup to prAna headquarters along with a single question: "What do you expect us to do with all of this plastic?"
"It gave us a moment of pause," Lincoln said. "We're over here trying to do the right thing, trying to make responsible products, trying to use organic cotton and recycled polyester, and we hadn't thought about the packaging."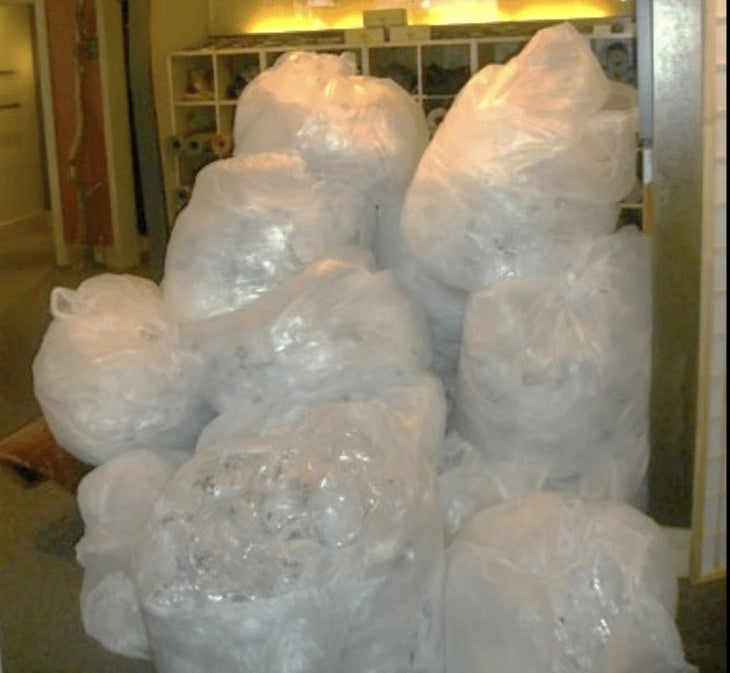 The company brought together staff from every department to figure out how to avoid creating more mountains of plastic. Roll-packing—tying rolled garments with recyclable twine or raffia and shipping them in master cartons—became the packaging method of choice. The change brought prAna's packaging to 80 percent plastic-free, but certain garments—those with unstable dyes or heightened susceptibility to weather damage—still required the protection that individual polybags provided.
Enter the "This Is A Test…" bag.
Paper That Performs Like Plastic
To cut out individual polybags altogether, prAna turned to a paper product called glassine. The FSC-certified alternative is curbside-recyclable, 100 percent biodegradable, and made from wood pulp, just like regular paper.
"The [sustainability] team brainstormed how to convert a plastic polybag into a paper bag version," Lincoln said. "We found the solution in the glassine paper bag."
Glassine is produced using a method similar to standard paper, according to sustainable packaging company EcoEnclose. Wood pulp is bleached, spread on mats, and run through cylindrical presses called calenders. To produce glassine paper, sheets are 'supercalendered'—run through the calendering process several times at different temperatures and pressures. The treatment results in an incredibly strong, dense paper with very little porosity, making it difficult for water and other contaminants to penetrate.
Between roll-packing and introducing the glassine bags, prAna has eliminated over 20 million polybags from its distribution process since 2010. Though some customers may worry about product safety after the switch away from highly-protective polybags, Lincoln is quick to put those concerns to rest.
"We don't get returns because of dirty or damaged products due to packaging," Lincoln said. "We can't quantify it because it doesn't happen."
Welcoming Industry Competitors
This month also marks the first anniversary of prAna's Responsible Packaging Movement (RPM), an effort urging brands in the outdoor industry to cut plastic and virgin forest fibers out of company packaging. Though many of the brands involved in RPM are direct competitors to prAna, Lincoln highlights the "pre-competitive space" that issues like sustainability occupy in the industry.
"The Responsible Packaging Movement was founded on that concept of collaboration," Lincoln said. "How can we bring everybody together, share knowledge, and rise all boats?"
Currently, over 80 brands—including Burton, Hoka, and GSI Outdoors—are signed on to the movement, which provides education and space for the sharing of information and advancements in sustainability. Interested parties can email ​​[email protected] to ask questions or join the movement themselves.
Plastic is still all but ubiquitous in the outdoors industry, but Lincoln hopes that prAna can be a model for brands looking to take steps towards plastic reduction.
"[Plastic elimination] is completely feasible," Lincoln said. "Automation in companies' distribution centers is still based around plastic, so there's a bit of an unravel that needs to happen. There might be some retrofitting, but it's feasible."