Outside Business Journal
Biden Restored National Monuments Reduced by Trump. Now Utah Is Suing to Shrink Them Again.
The suit seeks return Bears Ears and Grand Staircase-Escalante to their diminished, Trump-era boundaries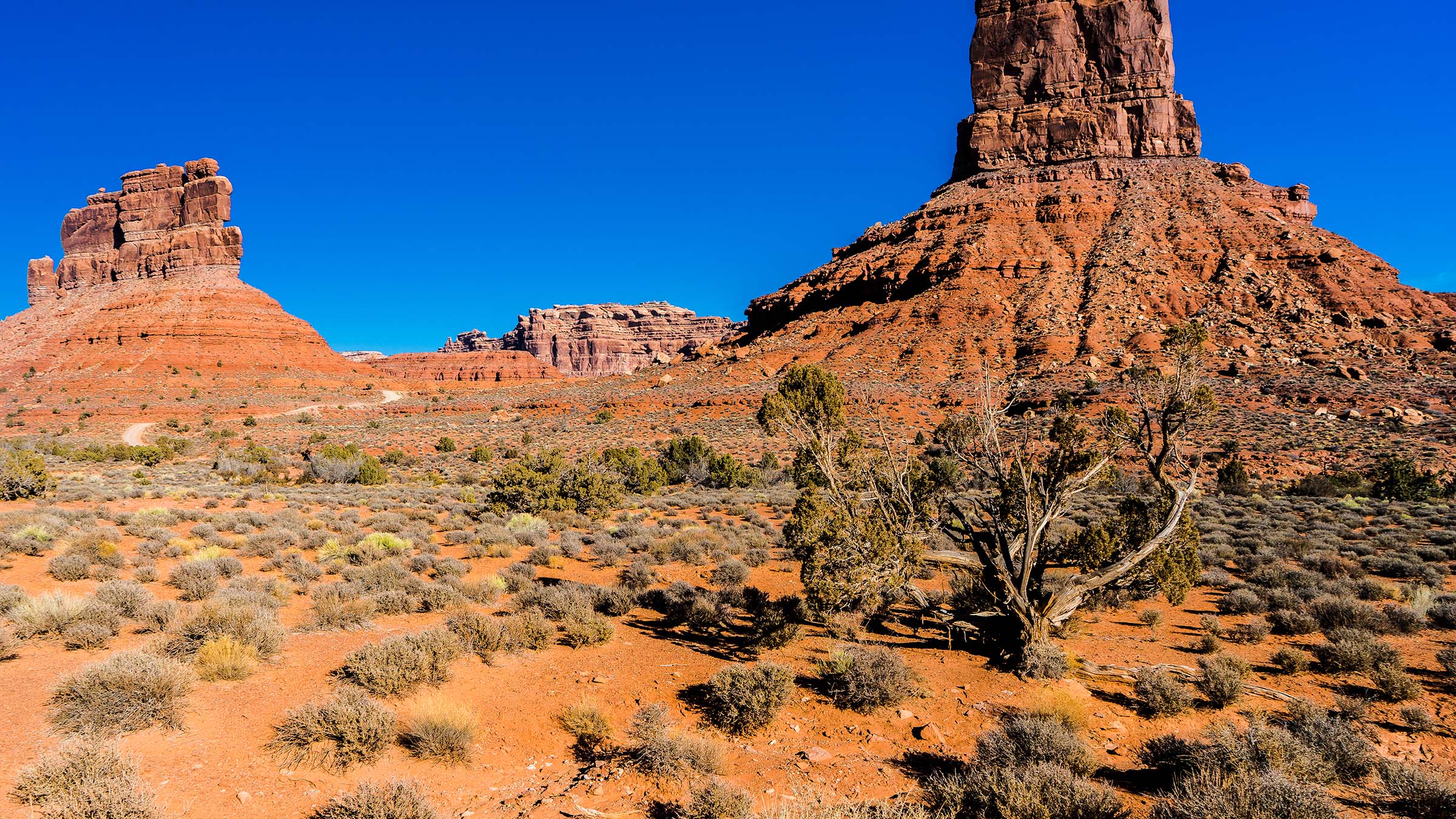 Thomas Roche / Moment via Getty
Heading out the door? Read this article on the new Outside+ app available now on iOS devices for members! Download the app.
The state of Utah and two of its counties filed a lawsuit seeking to block President Biden's restoration of Bears Ears and Grand Staircase-Escalante National Monuments on Wednesday, five years after former President Trump drastically reduced the size of each monument in 2017. 
In a lawsuit filed in U.S. District Court in Utah, the state argued that Presidents Bill Clinton and Barack Obama's creation of the monuments in 1996 and 2016 respectively, as well as Biden's restoration of them in 2021, were "an abuse of the President's authority under the Monuments and Antiquities Act," and that the text of the Act only authorizes the President to create small, narrowly-drawn monuments to protect specific historic structures and artifacts.
In a joint statement, Utah Gov. Spencer Cox, and Utah's congressional delegation argued that far from protecting delicate landscapes, the monuments' designations had put them in danger. 
"The vast size of the expanded Bears Ears and Grand Staircase-Escalante National Monuments draws unmanageable visitation levels to these lands without providing any of the tools necessary to adequately conserve and protect these resources," stated the letter's signatories, who included U.S. Senators Mitt Romney and Mike Lee. 
The lawsuit is the latest move in a decades-long fight over two of America's most controversial monuments. President Clinton designated Grand Staircase-Escalante National Monument in 1996, establishing significant protections for 1.7 million acres of land, later expanded to 1.87 million. Besides protecting Ancestral Puebloan dwellings and backpacking trails, the monument is home to several endangered species, including the California condor. Paleontologists working in the area have discovered 21 new species of dinosaurs, as well as an 81-million-year-old Tyrannosaurus, believed to be the oldest ever uncovered. Joe Sertich, of the Denver Museum of Nature & Science told PEW that Escalante is "the Shangri-La of dinosaurs." 
Bears Ears's designation came near the end of President Obama's second term in December 2016, when he established the monument in consultation with five Native nations with ancestral links to the area. The monument contains an estimated 100,000 sites of significance to the nations, including dwellings, pottery, and burial sites; under an agreement formalized earlier this year, the five tribes—the Hopi Tribe, Navajo Nation, Ute Mountain Ute Tribe, Ute Indian Tribe of the Uintah and Ouray Reservation, and the Pueblo of Zuni—co-manage the monument along with the Department of the Interior. 
The monuments quickly became targets for the state government and congressional Republicans, who portrayed them as a federal land grab enacted over the objections of Utahns. In response, President Donald Trump slashed the size of Bears Ears by 85 percent and Escalante by about half, marking the largest reduction of public land protections in history and opening the territories' doors to activities such as mining and oil and gas exploration. Later reporting by the New York Times suggested that the administration's Department of the Interior had been in contact with mining industry representatives while redrawing the boundaries, and may have changed them to exclude potential uranium deposits; this week's lawsuit seeks a return to those post-Trump boundaries.
But while Utah officials have claimed locals are almost universally opposed to the monuments, subsequent events have suggested they enjoy more support than the state is willing to admit. While Kane and Garfield Counties, which contain Grand Staircase-Escalante, signed on to this week's lawsuit, San Juan, the home of Bears Ears, did not. San Juan County's government has supported maintaining or expanding the monument since 2018, when the county elected its first majority-Navajo council after a federal court determined it had gerrymandered its electoral districts to disenfranchise Native voters, who are more than 50 percent of San Juan's residents.
In addition to suing President Biden, the lawsuit names as defendants Bureau of Land Management Director Tracy Stone-Manning, Secretary of the Interior Deb Haaland, Secretary of Agriculture Tom Vilsack, and Forest Service Chief Randy Moore.
The reaction from wilderness and conservation groups has been swift. In a statement, Southern Utah Wilderness Alliance Director Scott Groene called Utah's political establishment "the most hostile to America's public lands, of any state," and suggested that the state had ignored locals' wishes in battling against Bears Ears.
"Once again, Utah's political leaders are running roughshod over those who live closest to Utah's national monuments—especially the Tribes that have lived here since time immemorial," wrote Groene. "This lawsuit further ignores the local elected officials in Grand and San Juan Counties, where Bears Ears is located, and community leaders in the towns closest to the Grand Staircase-Escalante National Monument, who have registered their support for President Biden's lawful restoration of the original monument boundaries."
The Biden administration has not publicly responded to the lawsuit.
Lead Photo: Thomas Roche / Moment via Getty