Outside Business Journal
Retailer Spotlight: Cadillac Mountain Sports in Bar Harbor, Maine
A host of unique charitable events and services make this three-location shop a pillar of the Maine community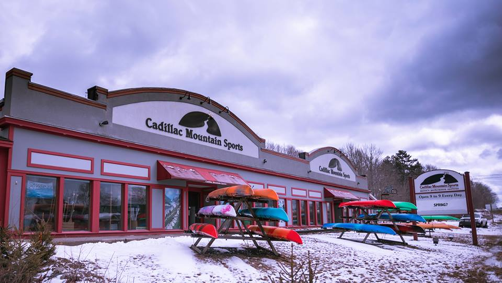 Heading out the door? Read this article on the new Outside+ app available now on iOS devices for members! Download the app.
Immediately after Matt and Cheryl Curtis bought a sporting goods store in Bar Harbor, Maine in 1989, they began adding supplies for climbers, campers, hikers, paddlers, and skiers. Then, they did the same six years later with a shop 20 miles north in Ellsworth, also keeping the mainstream sports equipment among the inventory. The business that has grown from the original store to two more storefronts in its 28 years doesn't shy away from adopting new initiatives to keep the community and staff always trying something new, whether it's giving new life to used shoes or hosting pop-up holiday shops.
"We stay open to what our customers want to try," said Kelly Cochrane, Cadillac's operations manager. "Some of these things aren't always easy, but they're just who we are and we stay true to them. We don't ditch ideas because they take a little bit of effort."
Open to New Ideas
What's on the menu of initiatives one year might not be back the next year at Cadillac. Cochrane said the employees are constantly saying yes to new ideas, staying open-minded as well as realistic that their pitch might not always stick.
It's how the store launched the "no bag drawing" decades ago to reward eco-conscious customers who bring their own reusable bags, which Cochrane said has cut bag orders by up to a third.
They also added a holiday gift wrapping station (very popular) and a footwear recycling program, in which customers donate used shoes to charities and people in need.
New this year, the store is hosting free kinesiology taping lessons and other self-care clinics taught by professionals.
Last year, the store cleared some of its merchandise racks to make room for local artisans to sell handmade jewelry, wooden benches, and centerpieces around the holidays. Cochrane said, "It was fun to feature products created in our neighborhood and to have a bit more of a social evening—friends were stopping in to see friends." But she added that the stores won't have the same room for the pop-up market this year, and sometimes it's OK to pivot to something else.
Adapting to Seasonal Needs
Most retail shops bordering the waterfront in Bar Harbor, Maine reduce hours during the winter. But Cadillac keeps the doors to its two shops open. Ski rentals—$20 all day for boots, poles and skis—become popular during winters with lots of snow, but most years, they service the tourists with the basics. "In Bar Harbor, we become the, 'Oh, my gloves blew out, I need gloves' stop," Cochrane said. One block from the original 900-square-foot storefront on Cottage Street, Cadillac runs a smaller specialty shop selling apparel solely from Patagonia and The North Face because it's an authorized dealer.
The coastal stores see the most foot traffic between May and mid-October, whereas the inland Ellsworth location peaks from a more permanent population November through April. "We're on a high traffic road in the middle of a bunch of other services," Cochrane said. "So it's convenient to pull in and to learn about backpacks or headlamps."
Heart of Service
As one of the main shops supplying visitors to Acadia National Park and a handful of state parks, Cochrane says Cadillac's role in the community is to make trying new outdoor sports accessible.
The bike repair team regularly fixes up old bikes for folks who have fallen on hard times and need a means of transportation—just one of many examples of Cadillac serving the two communities.
They also offer opportunities for people to try new sports by hosting a ton of demos. During the summer months, they haul their kayaks and stand up paddleboards down to Ellsworth Harbor Park's waterfront every Thursday evening to get both customers and employees out onto the water. They also host demo days for snowshoes, cross country skis, bikes, ice skates and even tennis racquets.
"We try our darndest to support as many local bike rodeos, where kids learn about bike safety, tennis tournaments, and 5Ks as possible," Cochrane said.