Outside Business Journal
Retailer Spotlight: Fin & Feather in Iowa City, Iowa
This hunting and gear shop caters to all of Iowa's hikers, hunters, and fishermen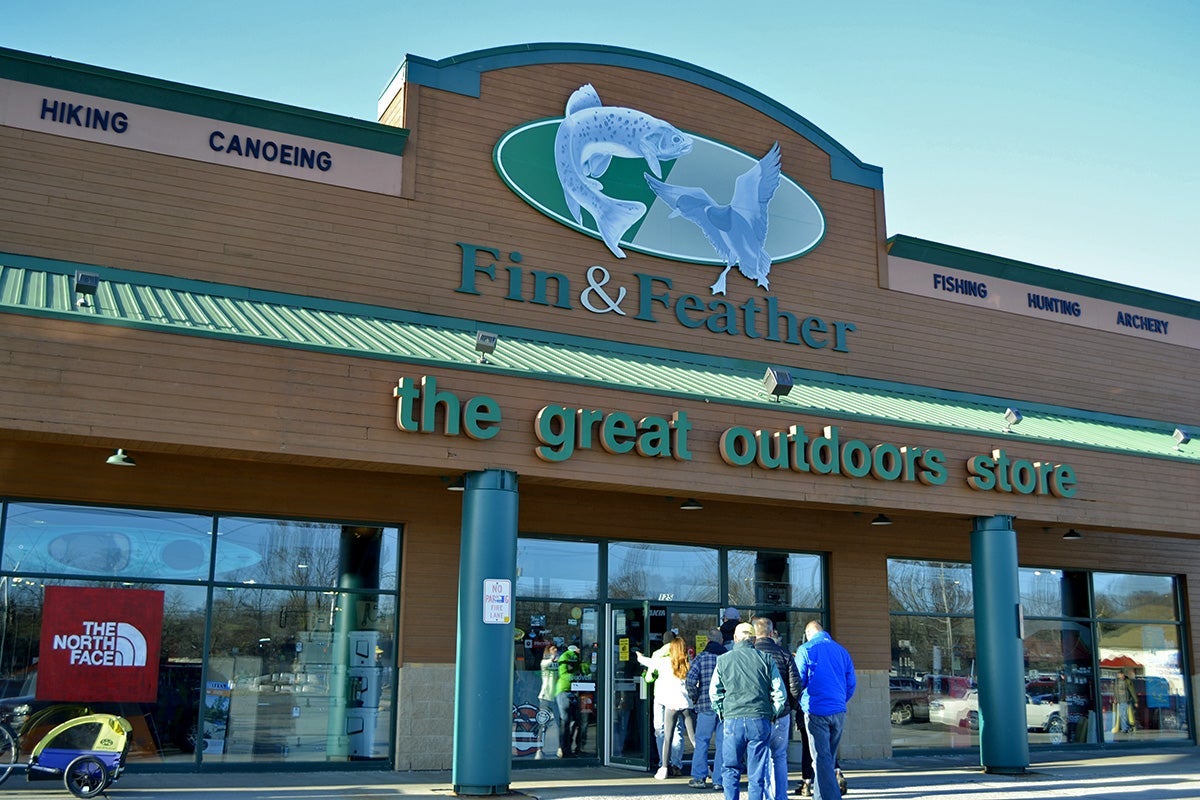 Heading out the door? Read this article on the new Outside+ app available now on iOS devices for members! Download the app.
Hunting and outfitting stores are plentiful in Iowa as are independently-owned gear shops. But Iowa City's Fin & Feather is one of the few local retailers that embodies both, catering to seasoned hunters, anglers, and sport shooters, as well as backpackers, boaters, and general outdoor enthusiasts. It's all under one roof at Fin & Feather, and if you ask anyone on the sales floor, they'll say that's exactly where it belongs.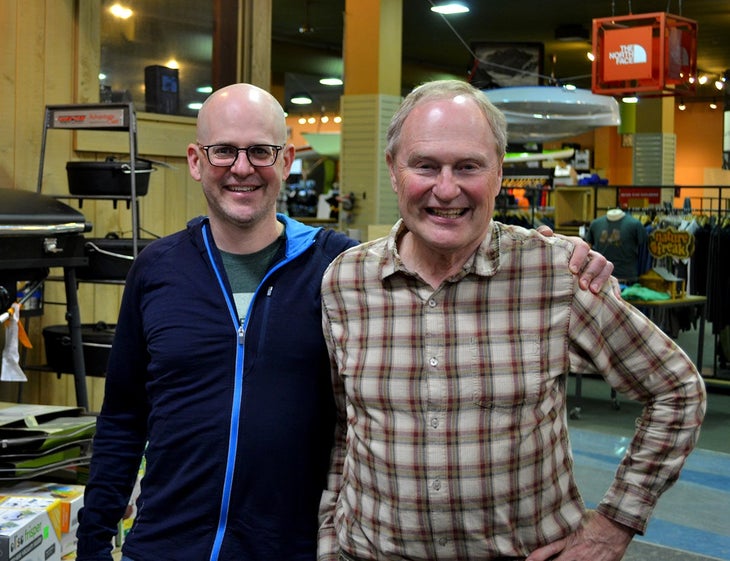 "It's one of the things that I like best about working here," said Brian Mildenstein, general manager of the store founded by his father. "It's for outdoor enthusiasts—all kinds of outdoor enthusiasts."
From the front of the shop to the back, customers can find everything from technical backpacks to muzzleloader rifles, including a vast selection of fishing and camping gear, and outdoor and lifestyle apparel. This is how it's always been at Fin & Feather, for over 50 years now, ever since Roger and Linda Mildenstein opened their original shop on Riverside Drive in 1967.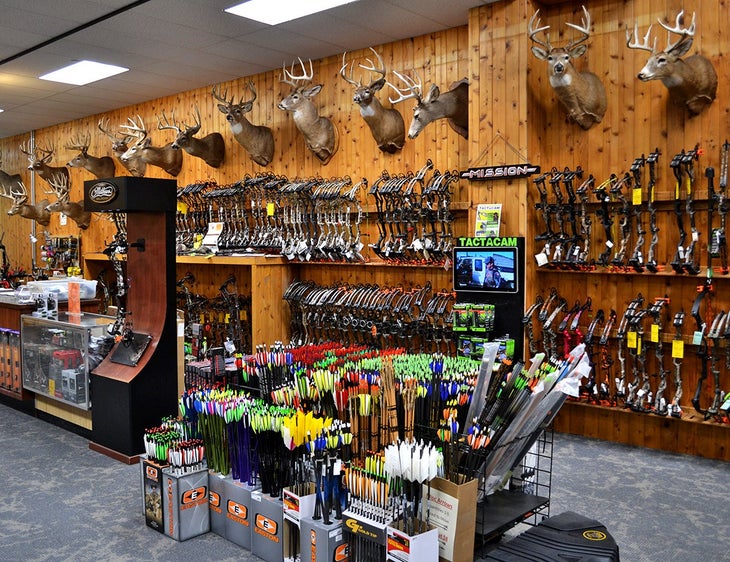 Under the Same Roof, in the Same Wilderness
Upon founding, the store catered to what the senior Mildenstein knew best—hunting and fishing. But within the first few years of opening, Roger Mildenstein quickly incorporated new camping and outdoor brands emerging onto the market in the late 1960s. Alongside high-end tents and camping gear, hunting, fishing, and shooting sports have remained at the store's core.
"I'm proud of the efforts that our customers put into maintaining quality hunting grounds, and creating quality habitats for tons of other animals," said Brian Mildenstein, adding that property owners who improve habitat on their properties for sustained wildlife harvest can make a big difference. "In a state like Iowa, where it's something like 98.5 percent private land, to have private citizens engaged and wanting to better their property for habitat, I think it makes it better for everyone, and it makes enjoying the outdoors better for me."
When asked if the store has ever received any pushback, especially in light of swirling gun debates, Brian Mildenstein said, "Why ignore people who want to protect the environment and who want to be a good conservationist? We are all under the same roof here just like we share the same wilderness out there."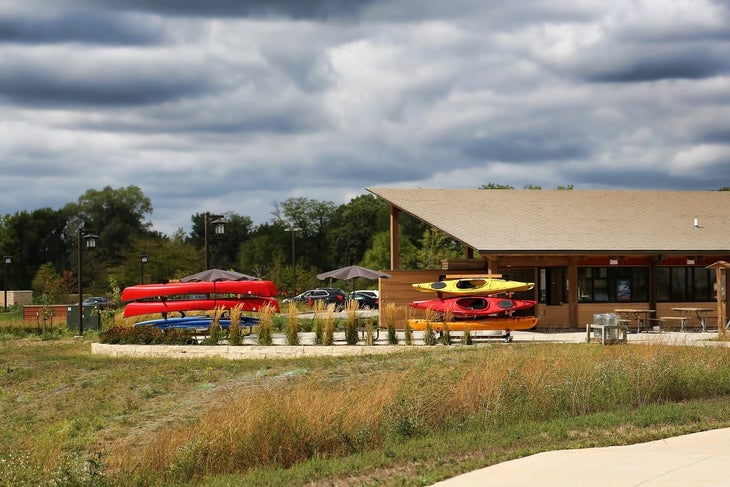 More Business on the Lakefront
An even more tangible representation of Fin & Feather's connection to the outdoorsy Midwest community can be found just two miles down the road, near the shore of Sand Lake at the city-owned Terry Trueblood Recreation Area.
A satellite rental shop, Fin & Feather H20, is now entering its sixth season of renting boats in the summer and ice skates in the winter at the popular day-use destination with a 90-acre lake. The collaboration between the city, the store, and the community, is fruitful in many ways.
"For me, the benefit is seeing all those kids that might go their whole life without paddling have a paddling experience, and not only have that experience, but also look forward to having it again," said Brian Mildenstein. His ultimate goal is to have patrons who rent a boat at Fin & Feather H2O eventually buy their own at the store.
The city benefits by having a knowledgeable concessionaire who can oversee the boat rentals. And locals get outside all summer on the water, or come winter, on the ice. The ice skating rentals came alongside Brian Mildenstein wanting to offer cross-country ski rentals. But inconsistent snow and dependable cold temperatures left one viable option: ice skating.
"I thought it would be easy," Brian Mildenstein said while laughing about his ice skating ambitions. "But to have good skateable ice is different than just having ice…It's somewhat fickle because if it's too cold, it's too cold, so we need weekend days that are between 15 and 31 degrees, and that's a small window."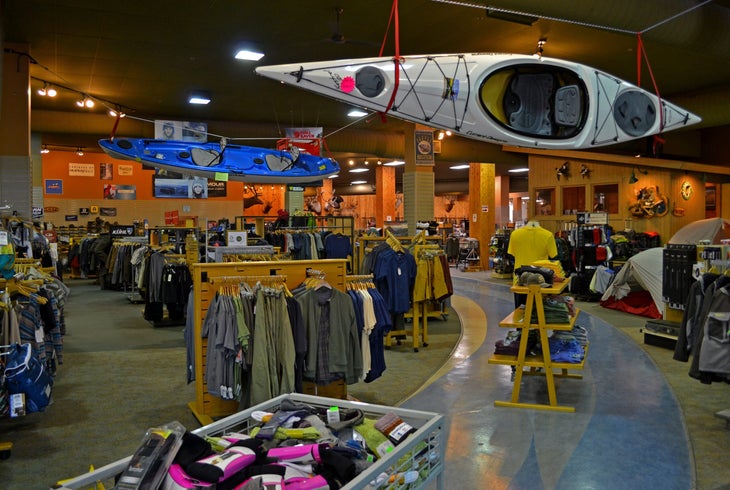 Avoiding Internet Sales (For Now)
By offering rentals where the community recreates at Terry Trueblood, Fin & Feather lures prospective customers into the main store, and therefore, doesn't see a need for internet sales. That doesn't mean an online platform hasn't been considered.
"I don't want to be naïve about it," said Brian Mildenstein. "To do online sales right and to feel good about it, I would have to do it in a way where I felt we were giving a similar service to what we give in the store. I'd say for right now, we've intentionally chosen to focus on what we do well, and that's having the customer in front of us and solving the problem together."
Online sales may become part of the future Fin & Feather sales experience, but right now, they are prioritizing the expansion of their brick-and-mortar store.
To celebrate the store's 50 birthday in 2017, the Mildensteins purchased the suite above the shop and now utilize the space as an archery range, boat showroom, and event venue. With this extra space, Brian Mildenstein hopes to encourage more customers through the door, and in turn, build a stronger community of overlapping interest and an Iowa outdoors that everyone can enjoy.