Outside Business Journal
Retailer Spotlight: Gear Coop in Costa Mesa, California
Technology is front and center for Terry Lee's Amazon-focused retailer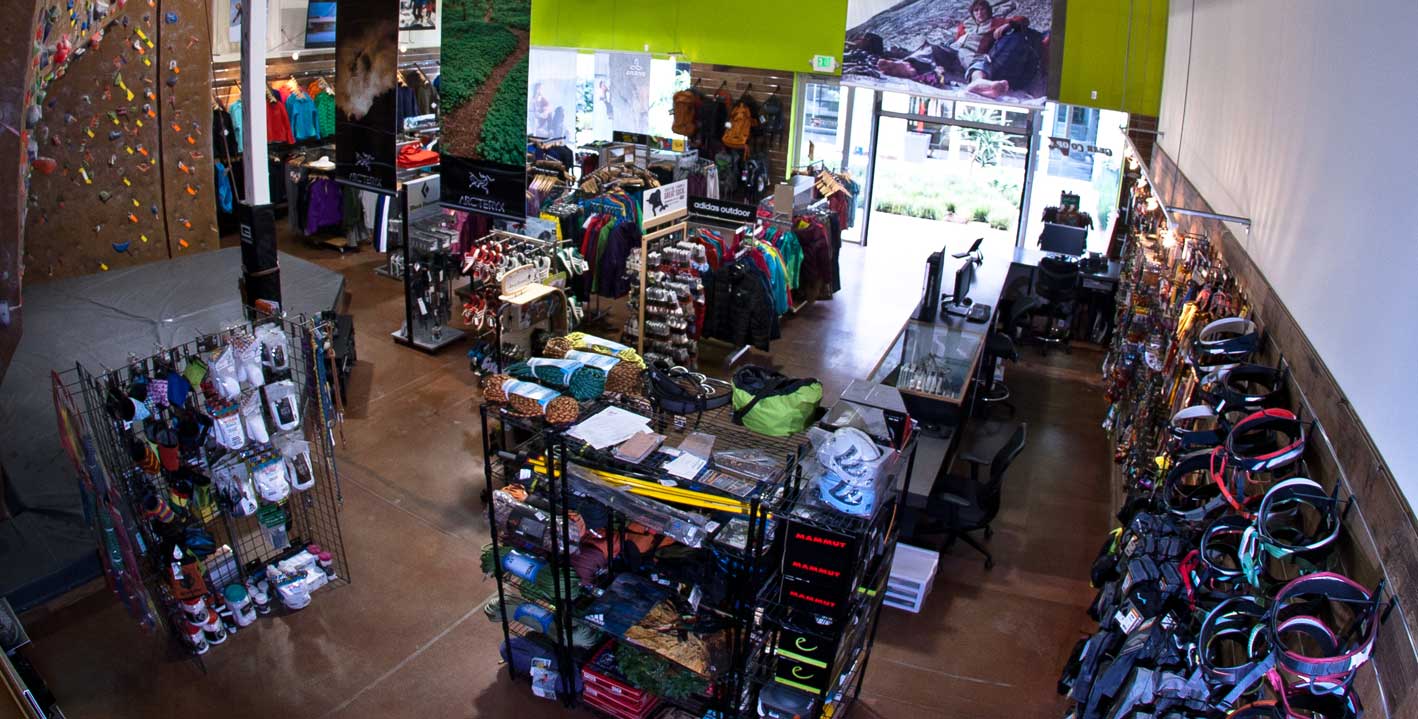 Heading out the door? Read this article on the new Outside+ app available now on iOS devices for members! Download the app.
So you want to open an outdoor retailer, but you're bedridden with a broken back. Shopping for real estate, hauling boxes of product, and merchandising a show floor is a no-go for a while. Where can you start? Well, there is one retail space that's already set up: Amazon.com.
In 2009, that was Terry Lee and the desire to start an outdoor retailer had him noticing his own shopping habits. "I had been an Amazon Prime member for a long time and ordered everything from Amazon," he said. "I think people like that are pretty common these days but back then it was relatively new." However, a major change in Amazon's policies made it clear to Lee that there was a window opening. Suddenly, retailers selling their own products on Amazon could send items directly to the site's warehouses, where Amazon would fulfill and ship orders, opening third-party sellers up to Prime services. "They were giving away one of their biggest competitive advantages," Lee said.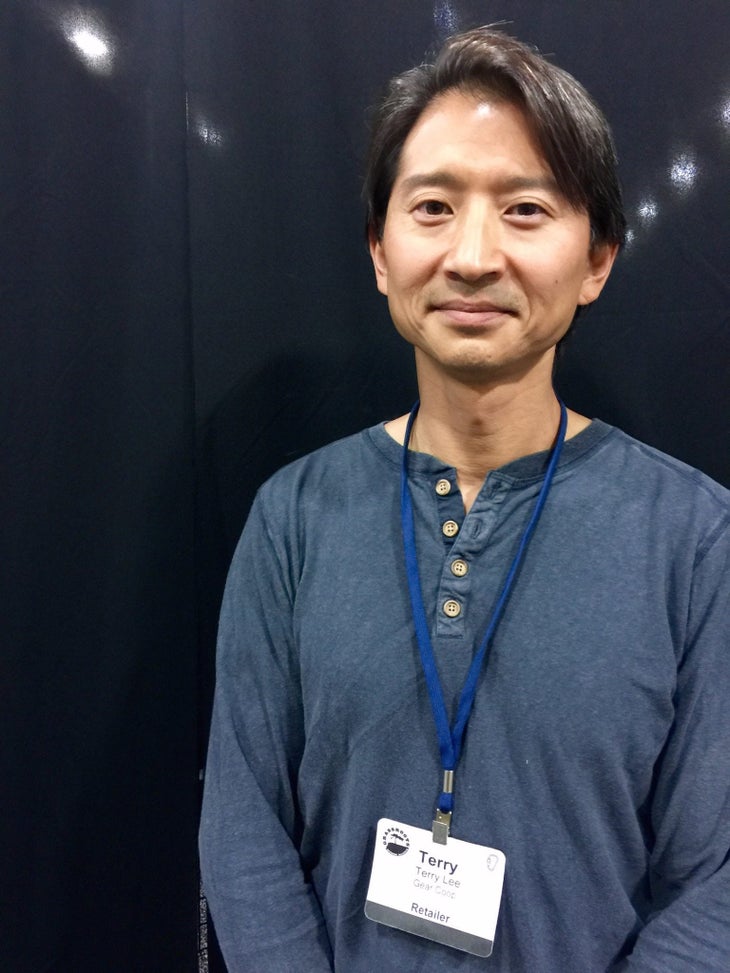 So, without a store to fill, he dug out his Rolodex and started thumbing through 15 years of climbing contacts, hoping to find someone who would sell him product. Eventually he got lucky and opened an account with Mammut. Shortly thereafter, Gear Coop's own website launched, and then a brick and mortar shop, selling everything from camping and climbing, to ski and board, bike and watersports. But according to Lee, Gear Coop's focus has always been with Amazon.
Leveraging Amazon
"When we got started, vendors didn't really know anything about Amazon," Lee said. So he didn't bring it up. Instead, he just began signing accounts and posting their products to his Amazon storefront. Gear Coop's sales, which ramped up quickly, spoke for themselves. "In some cases, we were [a brand's] number two customer, next to REI, within a matter of a few months," he said. Vendors were happy and when they did start asking questions, Lee could explain Amazon without them getting worried.
Gear Coop's brick and mortar shop, which Lee says is now a key piece of brand identity and community interaction, was initially a vital piece of securing brands to sell online. Most manufacturers prefer selling to shops with a brick and mortar presence, rather than online-only.
"But from the beginning, our expertise and core competency has been in the online space and particularly Amazon," said Lee. Amazon is Gear Coop's largest retail channel, he said, eclipsing their Costa Mesa, California location or even their own e-commerce website.
"But it's not necessarily in the interests of a brick and mortar store to get into this business because that's not their expertise," Lee cautioned. Selling on Amazon well requires a unique set of skills and retailers must tackle some logistical challenges to turn Amazon into more than a supplemental source of income. "I think we've been successful because we've been doing it the longest and we have the expertise from that."
How to Make Amazon MAP Compliant
Like Tahoe Mountain Sports, Gear Coop sees playing by minimum advertised pricing (MAP) rules as the key to nurturing a healthy Amazon/specialty retail existence. As his shop grew, Lee says he began recognizing issues stemming from manufacturers selling their product directly to Amazon, who could then turn around and sell it on their platform without adhering to MAP pricing, disturbing a pricing equilibrium and making it harder for specialty shops to compete. But, Lee argues, if brands instead sell to shops like his, who are MAP compliant on Amazon, it keeps the market healthy and competitive. Manufacturers are going to be on Amazon one way or another, he said. "A lot of brick and mortar stores would love to see brands just not sell to Amazon at all, but I think that's just an unrealistic ask at this point." So the best bet for the specialty retailers is to get involved and work to keep it in check. "MAP policies try to make it not a race to the bottom," he said.
Get a Glimpse Inside Gear Coop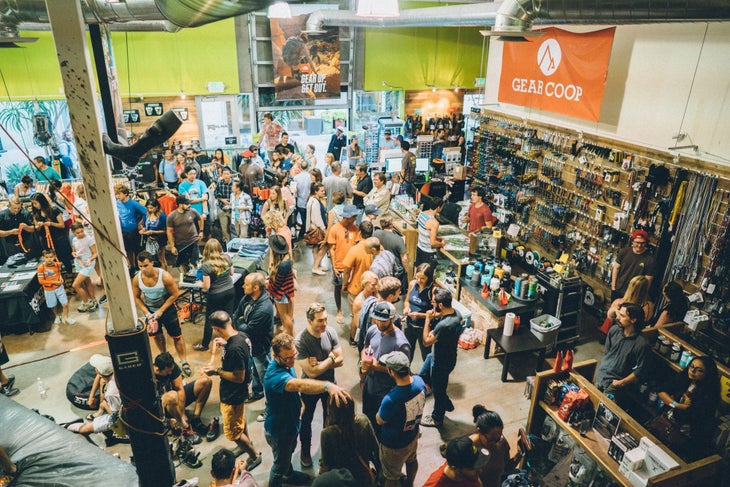 According to Lee, brands prefer to work on Amazon with shops that also feature a prominent brick-and-mortar presence, rather than ones that deal exclusively with the web, one thing that makes Gear Coop's storefront so vital. Clearly, Gear Coop packs the house with its in-store events.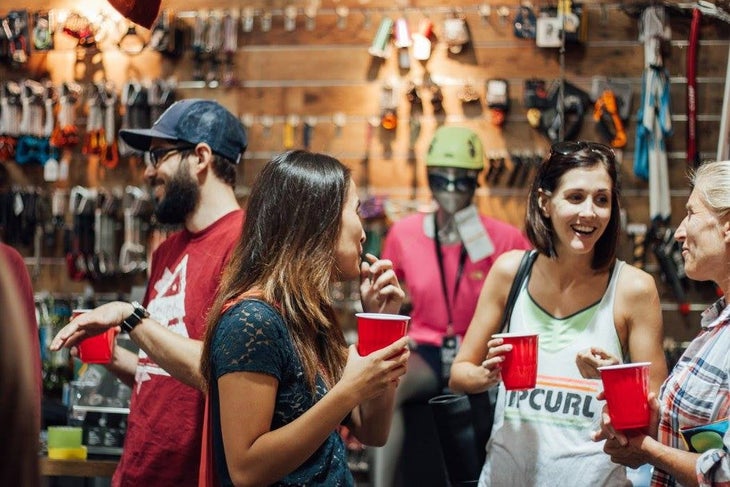 Red solo cups are a common sight at any of Gear Coop's events, which commonly include meet and greets with big-name athletes and climbers.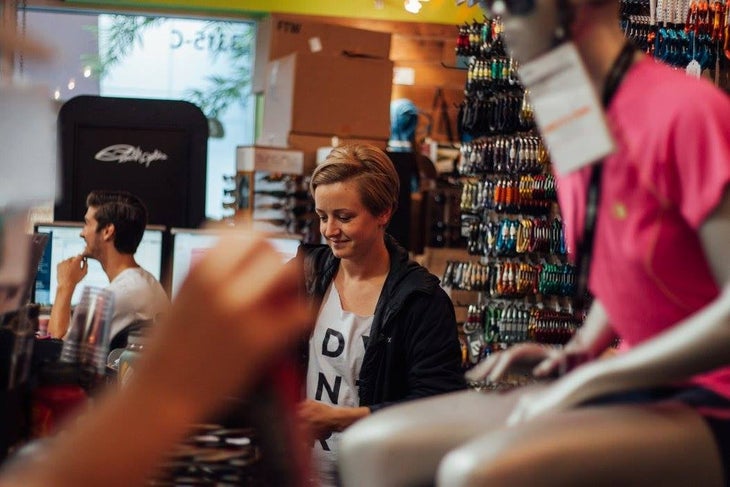 Lee takes pride in good customer service, even for customers who buy online, but it becomes especially important for customers who make the trip to visit Gear Coop in-store.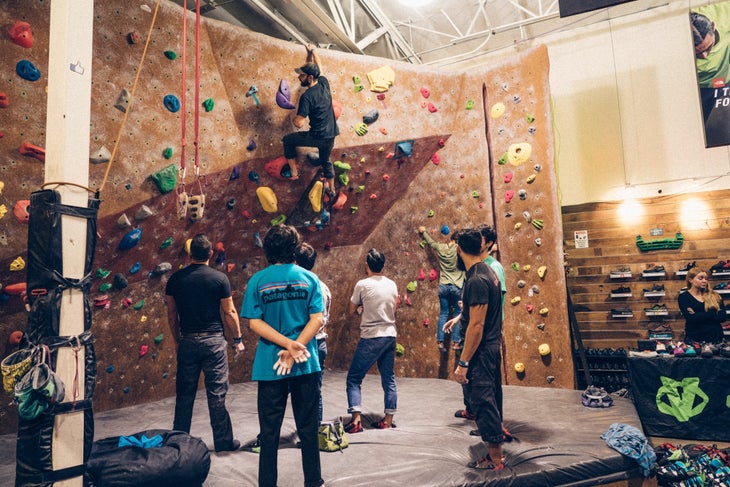 Climbing brands routinely show up for demo nights on Gear Coop's small in-store rock wall.
How to Out-Amazon Amazon?
But Gear Coop doesn't put all their eggs in one basket, either. They work to diversify their revenue streams to avoid relying on one entirely. The shop's website is just as critical as Gear Coop's Amazon sales. Lee called it the "next generation" of online shopping, with an experience designed to compete with the smoothness of Amazon, or any other online retailer. A slick design and refined organization and navigation, a customer service guarantee, free returns, and free two-day shipping all add to the customer's shopping experience, one Lee hopes can keep up with the e-commerce giant he's simultaneously feeding with his other hand.
Plus, Lee is hoping to roll out some additional features to incorporate social engagement with the Gear Coop shopping experience. For example, customers who share an Instagram photo of a recently purchased product will get a rebate for a future purchase. Product reviews or post shares will have similar results.
The web is advancing at breakneck speed, but Gear Coop is only a few steps behind.
Trending on Outside Online