Outside Business Journal
Retailer Spotlight: Gearheads Outdoor Store in Moab, Utah
A surefire way to draw customers through your doors: offer free, filtered water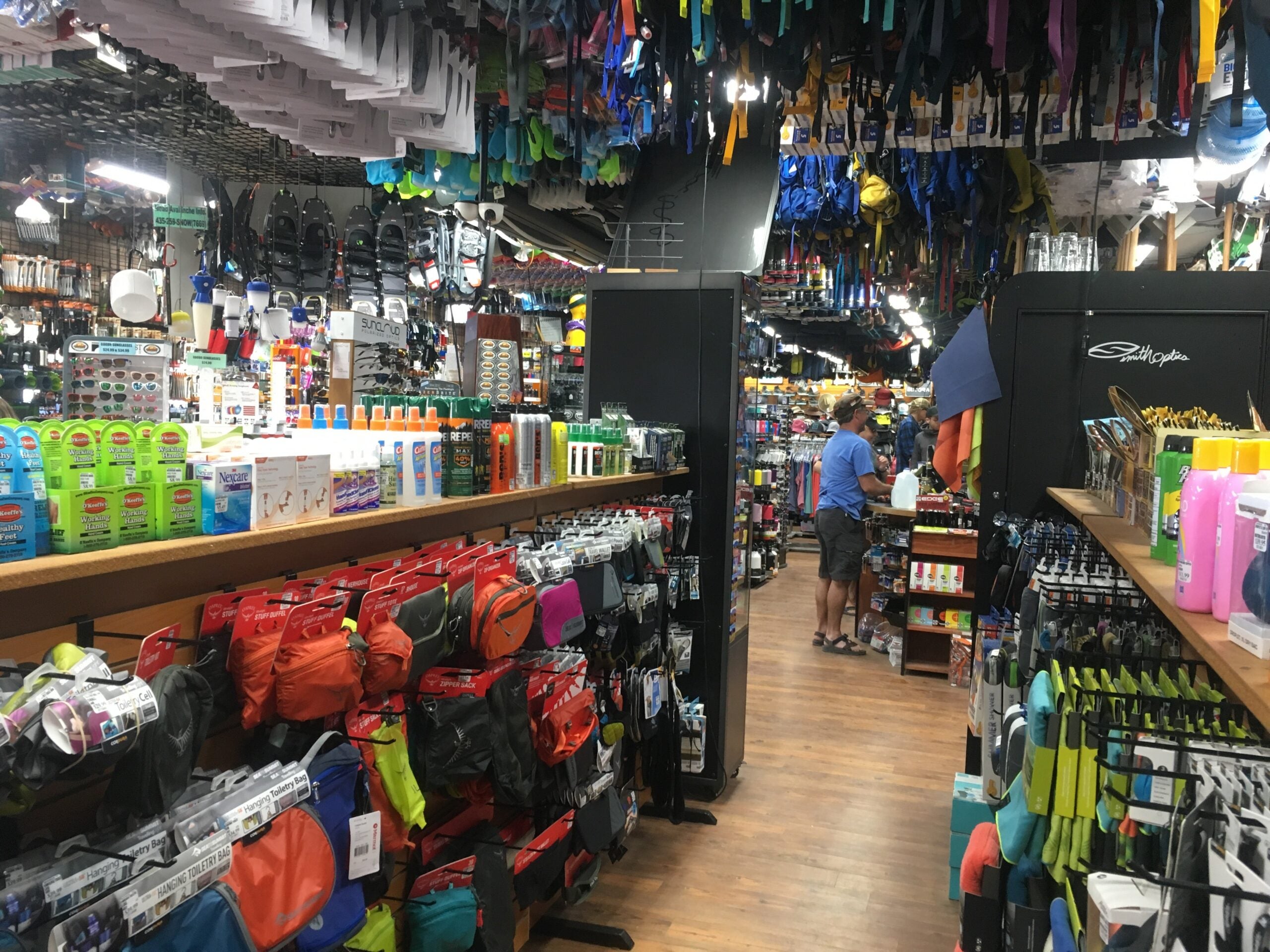 Heading out the door? Read this article on the new Outside+ app available now on iOS devices for members! Download the app.
For every square foot of Gearheads Outdoor Store, there's dozens more SKUs of gear. Snowshoes, backpacks, and sleeping pads hang from the ceiling. Camp mugs, footwear, and do-dads decorate the walls. What might be classified as a neat-freak's nightmare is what Gearheads is best known for: having practically everything.
Co-owner Steve Kennedy's favorite part of the job is catching up with customers who stop in every year before their river trip or camping trip, and he also gets a kick out of meeting new customers, who give themselves away by the looks on their faces upon entering.
"Sometimes it's easy to tell when somebody is coming in for the first time because they walk in the door, then they look up, and they're like, 'Wow, look at all this,'" he said.
Steve Kennedy's younger brothers—Doug and Greg—opened the shop on March 13, 1998, 21 years ago in 1,000 square feet of the same single-story, brick building it's in today. The shop in the heart of Moab, Utah, now occupies 5,000 square feet and has become an iconic destination for campers, hikers, and climbers, so much that they feel comfortable calling themselves one of the three must-see attractions in town, along with Canyonlands and Arches National Parks.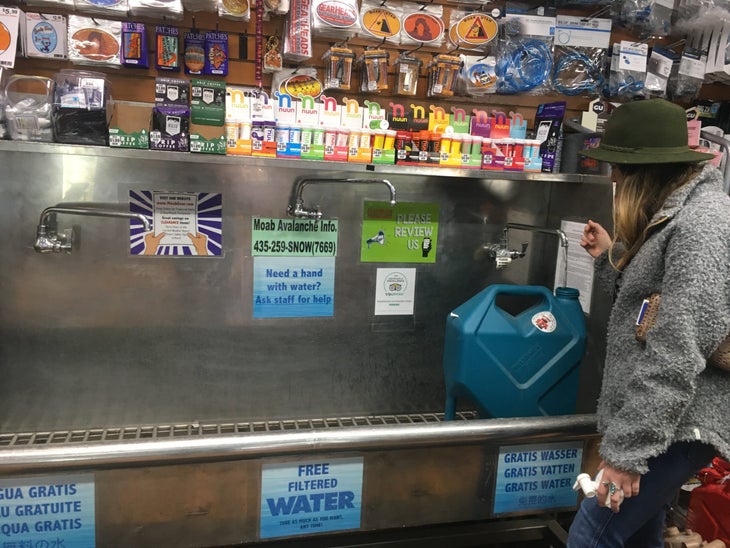 Free-flowing, Filtered Water
It turns out that offering free, filtered water is a foolproof way to lure in desert-goers. Visible from the front door, the industrial-sized, multi-facet, water-filling station is a hot commodity for thirsty customers who would otherwise buy single-use jugs or sneak behind stores or in campgrounds for potable water spigots.
"Any retail business has overhead," Steve Kennedy said. "Ours is just a little bit more for the water."
Steve Kennedy says it's good for the customers and good for business. For those who only stop in for the water, his hope is that they'll think of Gearheads first the next time they need something. And many times, they do.
"Some people try to pay us because maybe they haven't shopped here and they feel guilty. They go, 'I've gotten so much water. Here's 10 bucks,'" Steve Kennedy said. "There's one guy who comes in and says, 'I come in here for the free water. It costs me $600.' He always buys a bunch of stuff. We hear that a lot. Some people say, 'Today the free water only cost me 30 bucks.' That's always been a running joke with some people."
Another fun fact: founders Greg and Doug Kennedy invented the LazerBrite, a battery-operated glow stick that's used mostly by search and rescue groups, law enforcement, and the military. They also sell it in their shop for outdoorists.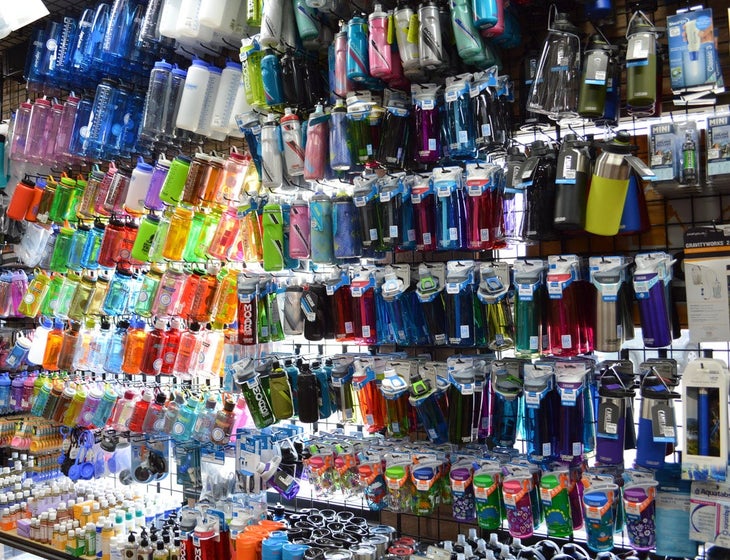 Service in the Form of Selection
Before the store opened, Doug Kennedy took his daughter hiking with some of her friends and their mothers. At one point during the hike, he stopped and started pulling item after item from his bag. When one of the mothers called him a "gearhead," he knew what to call the store.
The gear emporium is Doug Kennedy's backpack, just 100 times bigger and stocked with everything one could possibly need—in almost any color—for all kinds of adventures. With something in every nook and cranny—say, more than 200 footwear SKUs displayed on one wall—items are both easy and difficult to find.
"There's usually somebody here at any given time that knows where something is," Steve Kennedy said. "Occasionally, we'll hide something from ourselves. We have the whole crew running around looking at walls and ceilings and shelves. Then, typically we find it."
In addition to the standard finds, the Kennedys also stock oddball items—repair kits and parts, filters for water filtration systems, o-rings for fuel bottles, and more. Even if only one customer needs it, Steve Kennedy says it's worth it to them to see that person surprised.
"There's a lot of that stuff we try to keep on hand for that person that's on vacation and something breaks down and they need some sort of little crazy item," he said. "We're happy to do that."
In the tight-knit community of Moab, it's not a dog-eat-dog world between businesses. The restaurants, hotels, RV parks, and even competing gear stores support Gearheads—and vice versa. It's all to ensure that the visitors leave town wanting to return.
"What we really want to do is make sure the customer finds what they need," Steve Kennedy said.