Outside Business Journal
Retailer Spotlight: High Country Outfitters in Atlanta, Georgia
In business for 44 years along the Chattahoochee River, this shop merges surf and mountain culture in a southern state with more than ten million people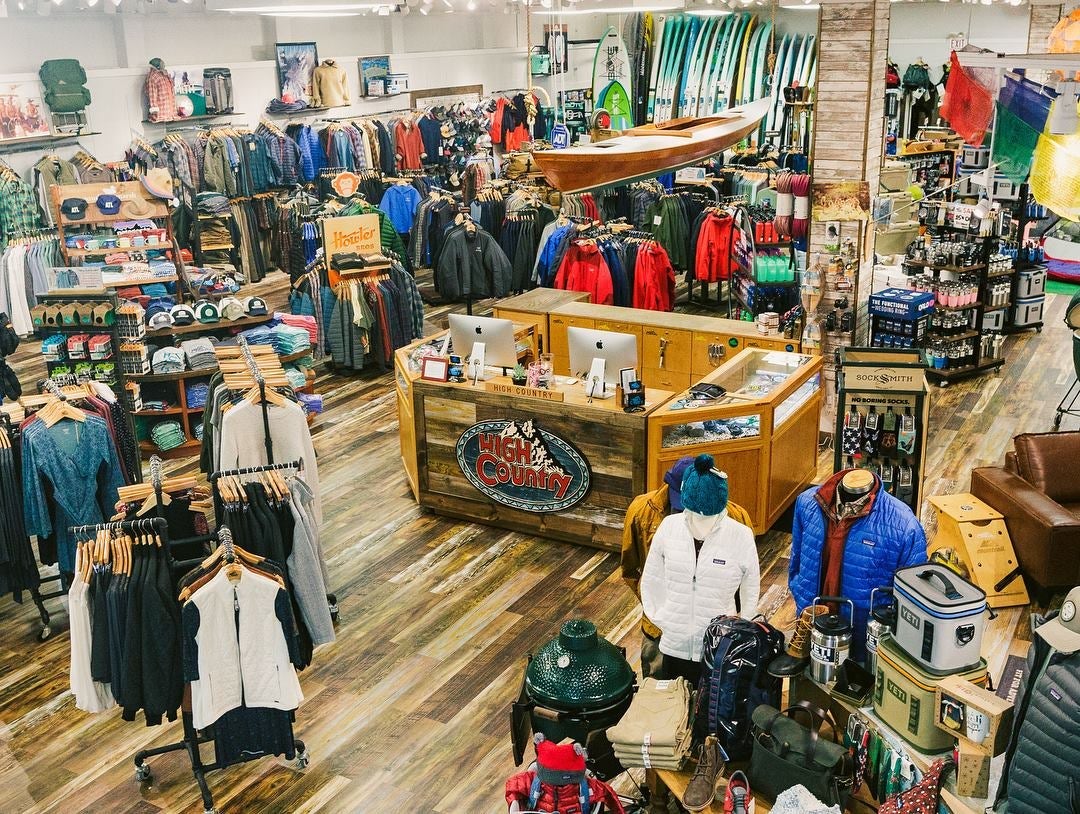 Heading out the door? Read this article on the new Outside+ app available now on iOS devices for members! Download the app.
When a climber, a whitewater paddler, an insurance guy, and a guy with a little bit of money got together in 1975, they started High Country Outfitters along the Chattahoochee River in Atlanta, Georgia. As the only outdoor shop in the area at the time, business boomed and eventually they were running ten locations. But over time, life unfolded and the men prioritized family and eventually, they were back down to one store.
High Country Outfitters entered a new era though, once insurance guy and co-owner Bubba Sloan's son, John Sloan, graduated from college with a finance degree during the Great Recession in 2008. He couldn't find a banking job, so he went to work retail in Jackson Hole until his dad asked if he wanted to return to open a second store.
Since then, John Sloan has helped open four more locations—including a waterfront Paddle Shack—and is now the store's general manager.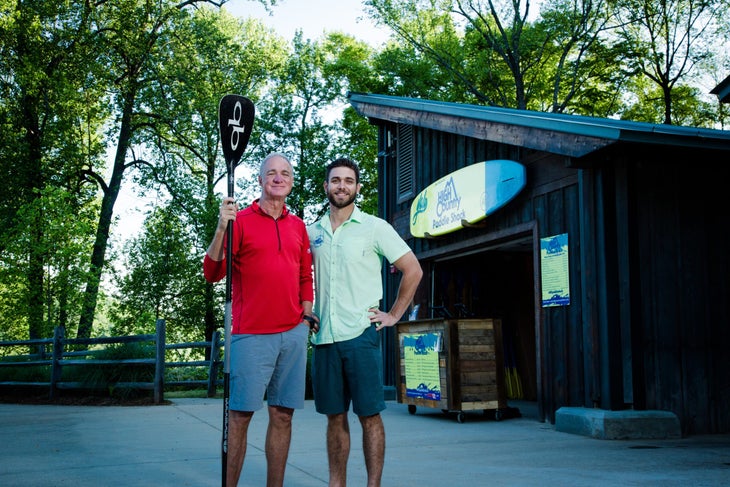 Wisdom Meets Youthful Energy
Having opened a dozen stores with his buddies, Bubba Sloan had the necessary retail experience. But John Sloan and his wife, Caroline, brought their style and energy. The climbing department used to rake in the most revenue, but bringing in apparel and softgoods changed the game. More often than not, High Country Outfitters sells a hundred times more dresses and skirts than climbing essentials.
"In a town like Atlanta…I like to think there's a lot of backpackers, trail runners, and whitewater paddlers, but there's honestly not," John Sloan said. "What there is a lot of is people who are looking for a new type of adventure, who want to be comfortable, and who want to look kinda cool."
Inspired by their visits to coastal towns, John and Caroline Sloan have merged mountain culture with surf vibes—"as if a surf shop and an outdoor shop had a baby." Whenever he's out on a sailboat or on a stand-up paddleboard or just traveling, John Sloan thinks about what he was doing, what he was wearing, and ways he can bring those bits of fun to High Country Outfitters.
"If [the products] make sense for my wife and I, who like going on these adventures, then they're going to make a lot of sense for our customers," John Sloan said. "It's not just your zip-off hiking pants or wide brim hat or UPF sun shirt. It's going to be all those things but with a little bit of style, class, and comfort."
Part of keeping the store relevant to all generations is listening to up to 65 employees and having all hands on deck when it comes to buying. John Sloan said that when the assistant manager of the Athens store suggested they order T-shirts with "Athens" printed across the chest, he went with it even though he thought it was a pretty basic design. But sure enough, within six months they've sold about 2,000 T-shirts.
"Had she not felt comfortable reaching out to the general manager or the owner or didn't think there was any chance we were going to do it, there's 2,000 T-shirts and sales that would have never existed," John Sloan said.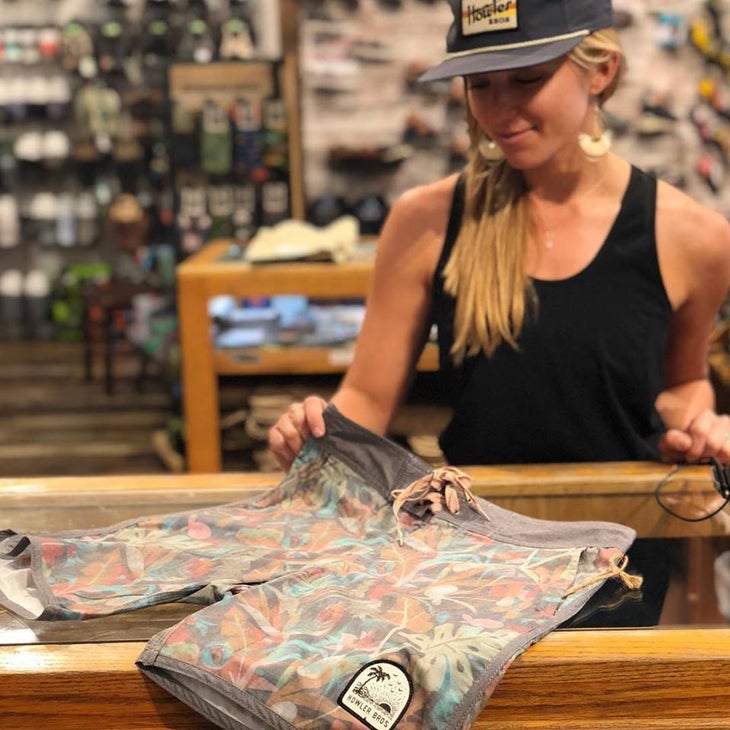 Work with REI, Not Against Them
It's the products and culture in the store, plus the mindset, that helps High Country Outfitters thrive in a city with five REIs and a handful of other big-box recreation stores.
Back in 2011, a seasoned sales rep told John Sloan that the best way to survive is by working with REI, not against them. At the time, he thought the so-called advice was cliche—"an easy cute sentence without substance." But he meditated on the phrase for several years.
"By just keeping that quote in the back of my head, naturally Caroline and I started trying to figure out how to work with REI and not against them," John Sloan said. "We were able to do that by separating ourselves."
He brought in brands like Vuori and Howler Bros—the latter's corduroy shorts were an unexpected hit—which fit the surf-to-mountain crossover and at the time, weren't sold in REI yet. John Sloan said, "Nobody walked into our doors and said, 'Hi, I'm looking for a pair of corduroy shorts.' But they found them here and nowhere else."
In contrast, John Sloan says e-commerce competition has dulled over the last few years because they partner with brands who do a good job price protection. High Country Outfitters used to sell gear online, but he said they felt it reduced the experience of the local customers. If someone in another state bought the last The North Face Denali jacket in stock, the customer walking through the doors would lose out. They took down the site, but have slowly started selling online again through Mike Massey's Locally.com.
While some old-school shops haven't adapted to present-day challenges, such as REI, 44-year-old High Country Outfitters has met and accepted them to make the shop even stronger and more relevant to today's shoppers.
"These are big, multimillion dollar companies. We can't keep competing with them by trying to sell the exact same brands and the exact same categories," John Sloan said.