Outside Business Journal
Retailer Spotlight: The Kayak Centre in North Kingstown, Rhode Island
Without diluting its kayaking focus, this shop located in an historic fishing village has gradually and naturally added to its offerings over 20-plus years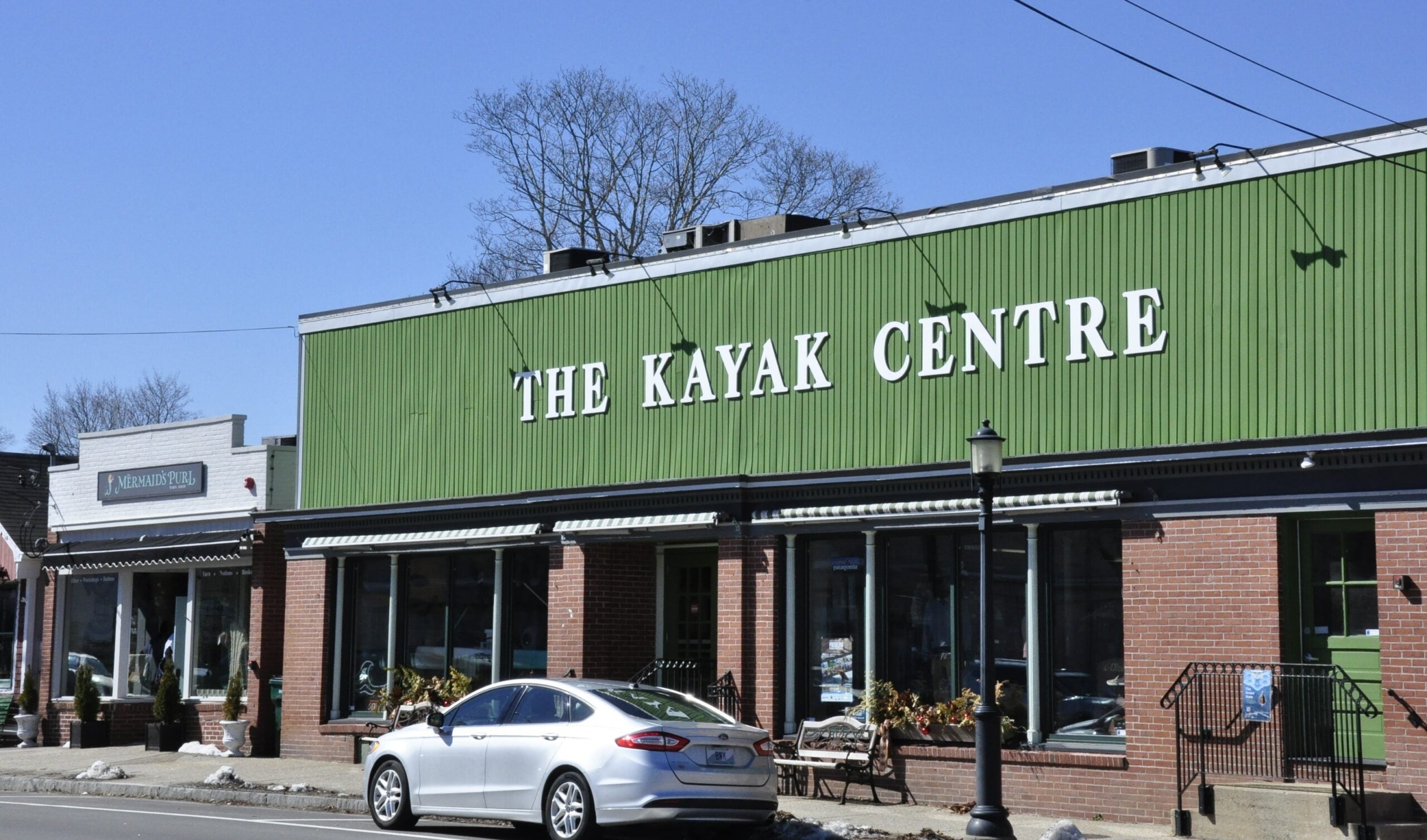 Heading out the door? Read this article on the new Outside+ app available now on iOS devices for members! Download the app.
Water lapping and boats bumping against the docks. The sun's reflection shimmering and dancing across the water. The smell of warm plastic kayaks and seafood. Located in the idyllic fishing village of Wickford in the ocean state, kayaking isn't just a hobby—it's a lifestyle.
It's been Jeff Shapiro's livelihood for the last 23 years as owner of The Kayak Centre, an independent shop that prides itself on employing the resident experts of sea kayaks and stand-up paddleboards. Regardless of the month or season, the full-service shop is always open—rare for New England—and stocked with up to 120 different SKUs, from ten-foot recreational kayaks and sit-on-tops to 18-foot sea kayaks.
"If you go into Dick's Sporting Goods, you know you're only going to get a certain amount of product and availability," said store manager Matt Bosgraaf, who has worked at the shop since 1998, when he was 14. "Same thing with a lot of shops that don't concentrate just in kayaks. Because we do, it would only make sense for us to have a good selection of kayaks that are going to check off every box on somebody's wishlist."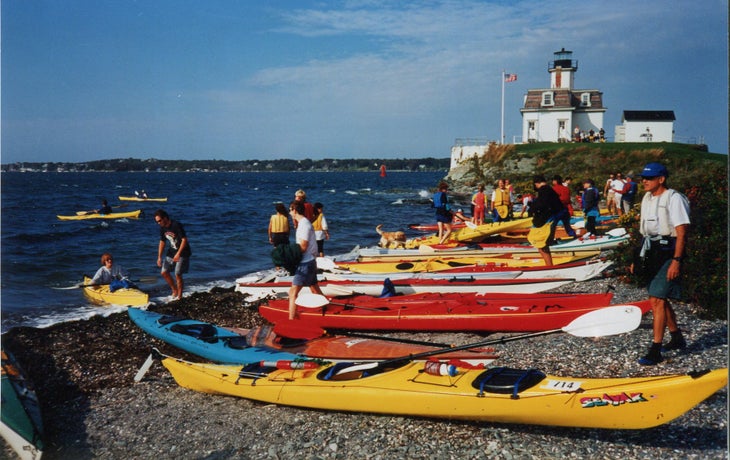 Shapiro, a retired periodontist, first started kayaking with a whitewater kayaking school in the Adirondacks about 30 years ago. He explored many seas and became a certified guiding instructor. Shapiro and his then-wife used to bring trailers full of kayaks to Rhode Island to host instructional guiding for the other kayak shops in town. So when the opportunity to run his own shop presented, he took it.
"It's just a spectacular way to be outside," Shapiro said of being on the water. "I started as a whitewater boater, then an open-water sea kayaker, and now I'm mostly on paddleboards. As I get older, I find it's fun, different, and great for balance and exercise."
For two decades, the shop was located around the corner from downtown, out of view of the tourists. And the shop was successful there. But Bosgraaf said, "If you didn't know we existed, then you were never going to find us."
When a family-owned grocery store went out of business after 120 years, Shapiro decided to move the shop to the 5,000-square-foot showroom. "We see a lot more locals coming in," said Rachel McCarty, soft goods and accessories buyer. "When we opened this much bigger store right in the center of town, we had people who came in who live in town and said, 'Wow it's so great you have a retail space now…We thought you guys just rented kayaks.'"
In and Around The Kayak Centre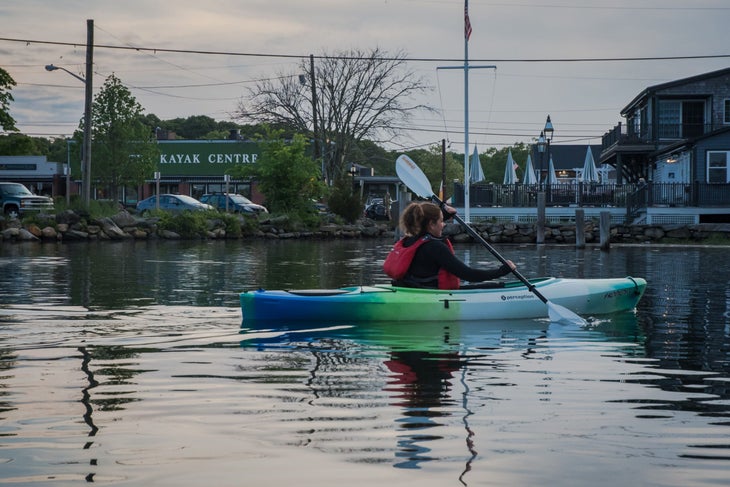 The Kayak Centre is located in the historic fishing village of Wickford, which is located on a salt pond—easy access for dropping in boats.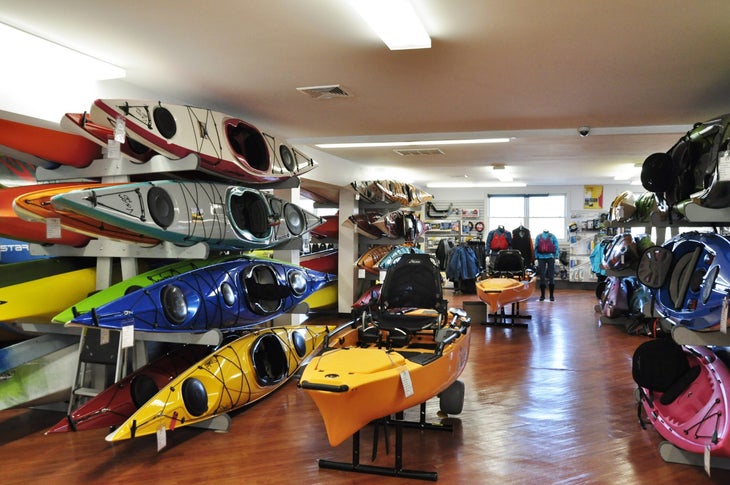 With up to 120 SKUs, The Kayak Centre has sea kayaks and stand-up paddleboards of all sizes.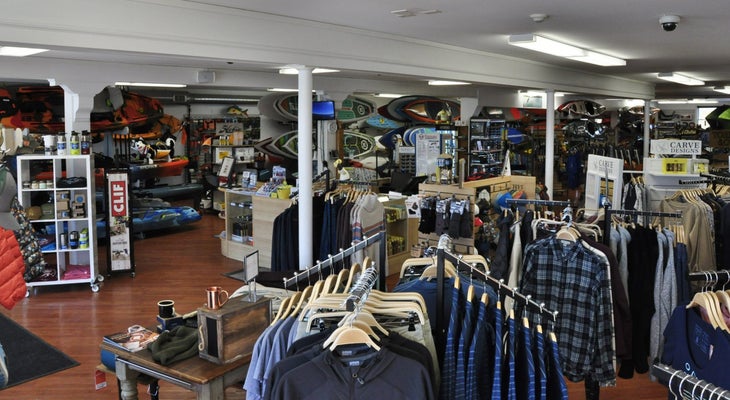 Clothing helped fill space and offered a new, but related category when The Kayak Centre moved into a bigger space almost two years ago.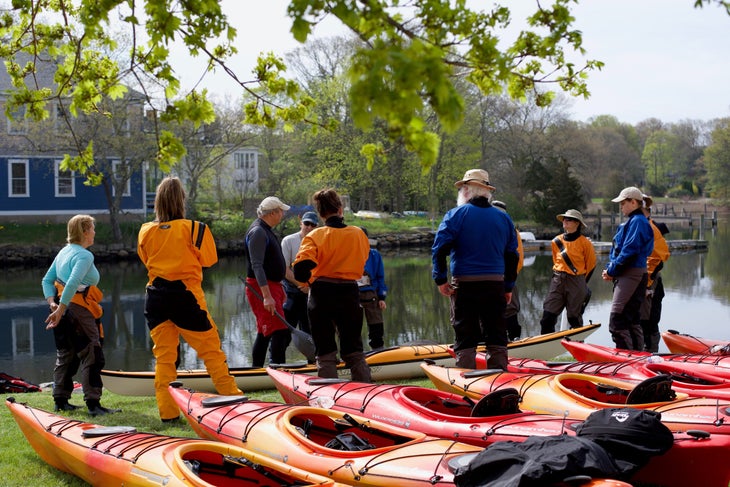 As the local kayaking experts, The Kayak Centre offers rentals, classes, and guided trips.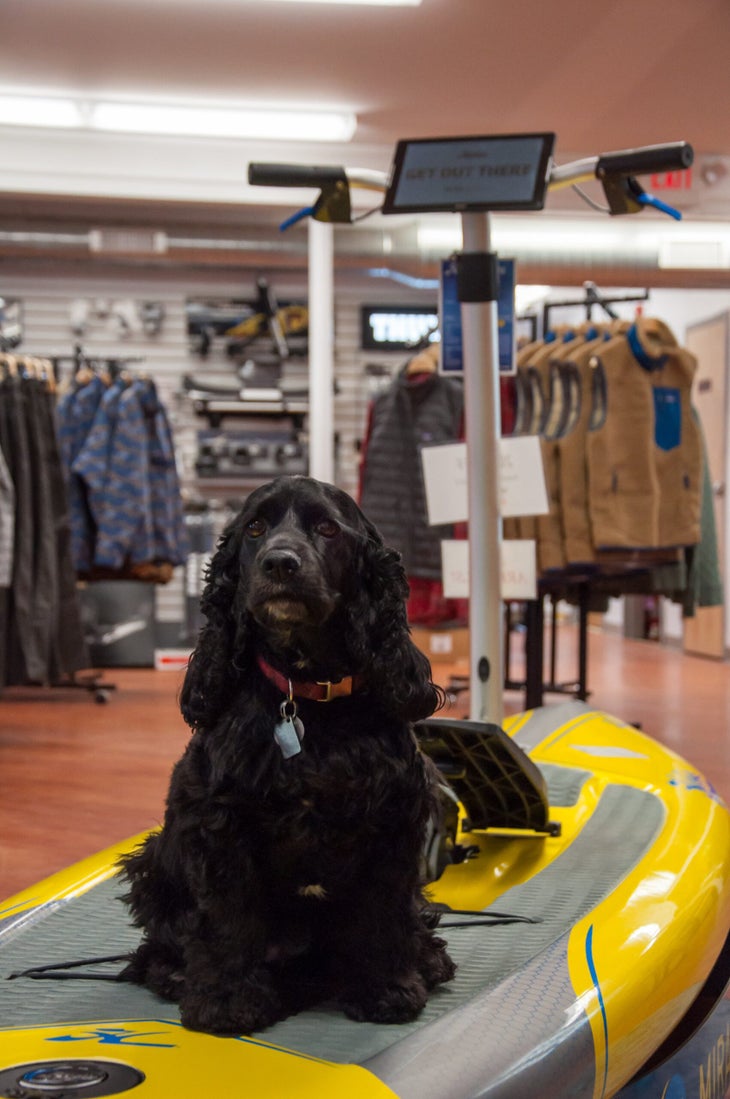 Raven the dog likes stand-up paddleboarding too.
Around the same time, another business specializing in men's clothing shuttered after 75 years. With leftover space in the new building, Shapiro and his team brought in soft goods. Lifestyle products from Patagonia, Toad&Co, OluKai, Carve, Costa, Smith, and other big brands now fill the racks and give non-kayakers something to buy.
"I had people come in around Christmastime for gifts and they returned over the summer," McCarty said. "They said, 'Now we're here for a kayak.' I thought people who bought kayaks would come in and see that we had clothing, but it was really great to see it the other way around."
A weather-reliant business naturally has its down time, yet The Kayak Centre doesn't close its doors for cold weather. The popularity of kayak fishing in the last decade has filled in that slow time because anglers start looking for boats and accessories come mid-February. The Kayak Centre teaches classes out of a building across the street and rents from a shack on the water. It also has a location in Charlestown on Ninigret Pond, about 21 miles south of Wickford Village.
Other than potentially expanding guided kayaking trips internationally—they've taken groups to Costa Rica and the Netherlands—Shapiro said he's not sure how else to grow the business without getting too far from his core as a kayak shop. And he and the team are OK with that.
"Throughout the years, we've expanded little by little and now we're right where we want to be," Bosgraaf said. "We're not an outdoor store. We're not gonna delve into snowshoes. We know kayaks and we know SUPs and we know them very well. We feel we are the experts in that industry, so let's stick to what we know best and make sure everybody knows that we know that."