Outside Business Journal
Retailer Spotlight: SlimPickins Outfitters in Stephenville, Texas
This black-owned outdoor store is built around faith, and being a safe space for all identities and communities
Heading out the door? Read this article on the new Outside+ app available now on iOS devices for members! Download the app.
In 2009, Jahmicah Dawes and his college friend embarked on a road trip from their home in Texas to California in a 1986 Datsun truck. His friend's only rule was that they couldn't stay in hotels. Dawes thought he meant they'd be staying at friends' houses—not camping. Sleeping in a tent didn't exactly excite Dawes, who had sworn off the outdoors after a negative experience years ago in Boy Scouts. On the first night in El Paso, Dawes' pillow blew away and coyotes howled all night. The next morning, Dawes was ready to board a bus home. But his friend convinced him to try one more night. The second night camping in Arizona's Organ Pipe Cactus park rerouted Dawes' life.
"I had never experienced anything like it," Dawes said. "It was so quiet and so beautiful. That's how I got [into the outdoors]."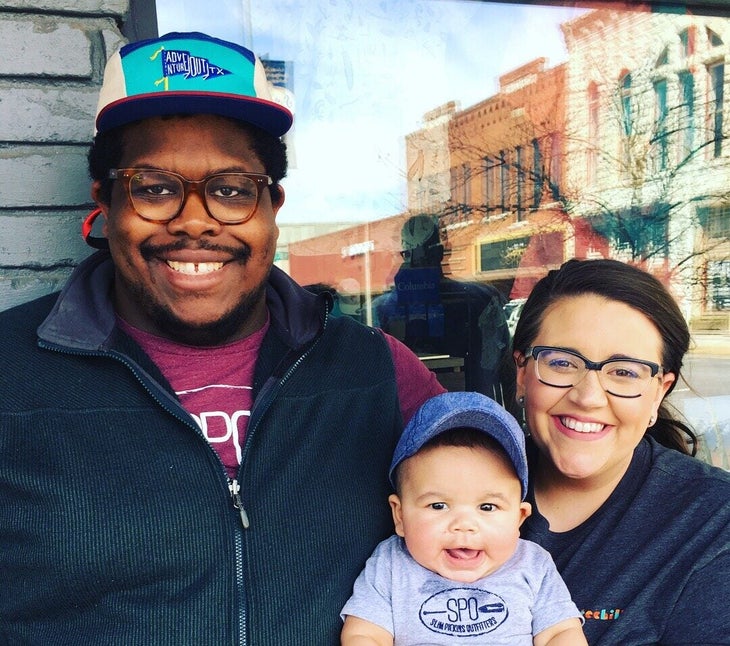 Dawes is a Jamaican-American man and the co-owner of outdoor specialty store SlimPickins Outfitters in Stephenville, Texas—the Cowboy Capital of the World. The adventure gear shop opened in a renovated Rexall Drug building in March 2017 to encourage college students and the greater community to adventure outside in Texas, using the hashtag #AdventureOutTX. Brands featured include Columbia, Chaco, Patagonia, and an array of Texan and local outdoor companies.
Dawes is one of a few minority business owners in his town and in the greater outdoor industry, and he has been trying to confirm whether he's the first or only black-owned outdoor store. (SlimPickins is the first black-owned #CoolShop OBJ has featured.) He views the representation as a responsibility and an uplifting opportunity.
"I'm in a town where there's not a lot of people like me. I'm in an industry that has even fewer people like me," Dawes said. "With it, there is responsibility there and a weightiness to it. What if we don't survive? We might be the first, but we definitely don't want to be the last."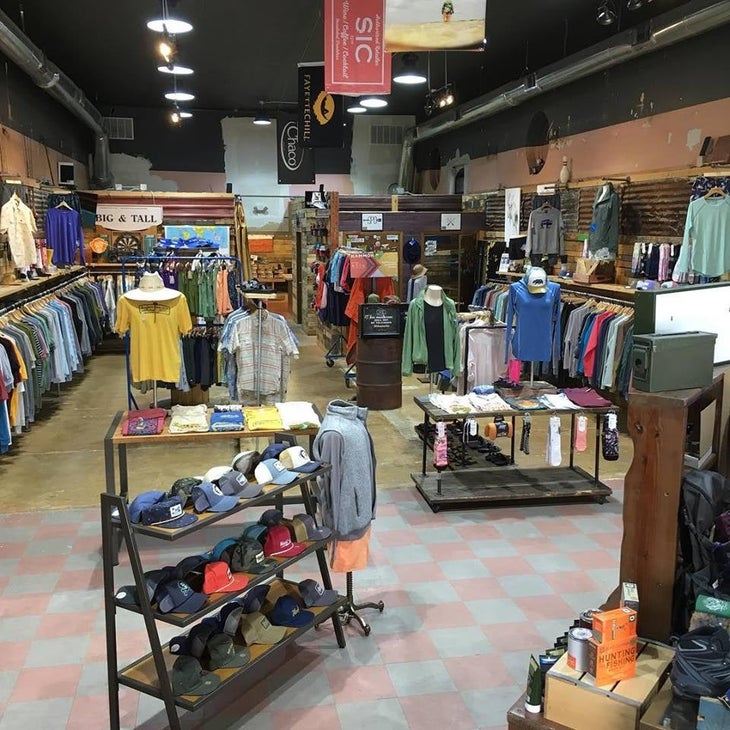 'Outfitting the Saints'
The three pillars of SlimPickins are act justly, love kindly, and serve humbly—inspired by Dawes' Christian beliefs and the teachings from the Bible. His faith is front and center.
The store's calendar is full of all sorts of events like "Saturday Pedal" bike rides and "The Sessions" live music nights. But events also appeal to other believers: at "Coffee and Missions," Christian missionaries share about their experiences in other countries. And a new program called "Outfitting the Saints" helps outfit missionaries who would otherwise shop at big-box stores for their gear. Dawes has provided bags, apparel, footwear, and other outdoor gear built to last to someone who spent six months in Africa this summer and another person who served in Cambodia by cleaning a village's water building filters.
"You don't have to believe what I believe," Dawes said. "In fact we have a lot of customers that don't. But what I believe still causes me to love people."
A Quick Scan of the Shop's Interior
Community Space First, Gear Shop Second
Amid the mix of familiar outdoor brands, Dawes stocks his shop with Texas-based inventory and products from companies prioritizing. That includes Austin's Howler Bros and Kammok, Waco's Sendero Provisions, a local fly company called Fatties on the Fly, and his brother-in-law's hat brand, Slim-N-Harry's.
"We really try to focus on our local natives," Dawes said. "We intentionally partner with brands in Texas or surrounding states. Bigger brands have a broader reach and I think with that there are some limitations [in creativity]. If you're a smaller brand, your creativity is a little big uninhibited."
Selling gear is Dawes' cover for having a space that's relevant to the community and the creative outdoor enthusiast. He doesn't define what that community is—it could be yogis, cyclists, fly-fishermen, travelers, someone just looking for friends, or a music lover drawn inside by the sound of throwback tunes on "Vinyl Wednesdays." Everyone is welcome.
"That was the focus when we opened," Dawes said. "At the time, I was a part of this community, I was known, but I didn't really feel like I had a place. I want people to feel like they have a place when they walk in. We use the shop for a lot of things besides buying clothes. We consider ourselves a ministry that just so happens to be selling clothes."