Outside Business Journal
Retailer Spotlight: Trax Outdoor Center in Fairbanks and Anchorage, Alaska
Outdoor store meets yoga studio meets art gallery at this Alaska hot spot
Heading out the door? Read this article on the new Outside+ app available now on iOS devices for members! Download the app.
Summers are shorter in Alaska, but that just means residents pack in the action while they can, said Trax Outdoor Center owner Mike Hajdukovich.
"As soon as the snow starts melting, we play all day," Hajdukovich said. "We go crazy. It's summertime. It's time to play. Alaskans are water junkies on the lake."
The native Alaskan and yogi opened Trax in Fairbanks in 2014 and after much success, he opened a second location 300 miles south in Anchorage in February 2018. In winter, the store is a hot spot for cross-country and downhill skiers, whereas in summer, customers flock for the paddleboards, hiking gear, and boats.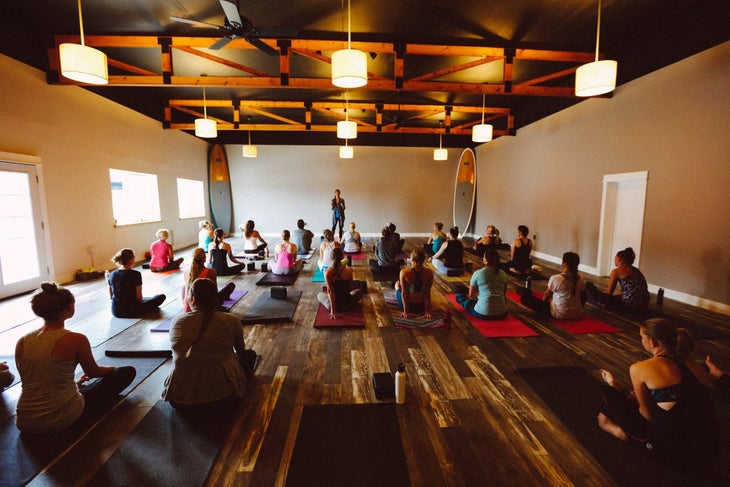 Mindfulness for Sale
Behind a door inside Trax is a full yoga studio. Fifteen certified teachers lead sessions every day for all ages and skill levels, including hot yoga in a 90-degree room, vinyasa power hour, candlelight yoga, and paddle board yoga when weather permits.
According to Hajdukovich, outdoor athletes should fit yoga into their workout schedules if they don't already. "I'm always trying to convince the skiers and other outdoor athletes to try yoga," Hajdukovich said. "Practicing yoga helps improve the performance in their sport. It's going to help flexibility, strength, and balance."
The yoga experience doesn't just end with classes, clothing, and gear for purchase. The store offers a 200-hour vinyasa teacher training certification course. Anyone who completes the training is automatically added to the store's substitute teaching list, and many are hired as regular instructors.
As much as Hajdukovich loves the athletic benefits of yoga, he is an advocate of the mental and emotional benefits. He said, "Yoga is a time you can check in with yourself and breathe—know that everything is going to be all right."
Hajbukoch practices and teaches yoga daily, which he says centers him and creates inner peace. But that doesn't stop the shop owner from enjoying high-energy, intense adventure sports, such as skiing in the winter and water sports in the summer.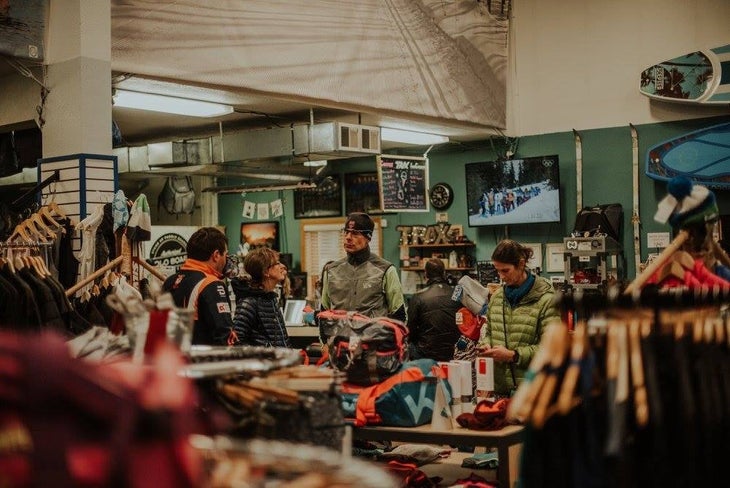 Art in the Great Outdoors
On the first Friday of every month, Trax turns into a makeshift art gallery, displaying work from photographers, painters, potters, and others. Local artist Arya Zale has exhibited twice at the store, and felt rewarded by the refreshing venue and by the active patrons.
"Showing art in an outdoor space makes so much sense to me," Zale said. "As is the case with many artists, my art is an interpretation of the outside world, derived from and inspired by nature."
Varying from a traditional gallery allowed the experience to be more relaxed and provided a real opportunity to engage with the audience, Zale said. Her usual audience grew to include those who perhaps weren't involved in the art scene before, but were simply Trax customers and yoga students.
"I think having art in an outdoor store links together two integral parts of life in Alaska, at least, for me, as an artist—the vast and inspiring outdoors, and how we enjoy and express ourselves in it, which is an art, no matter how you do it," Zale said.
Hajdukovich tries to make the store appealing to everyone. All of the events—races, pizza parties and ice cream socials, holiday bazaars—are family-friendly. And since gear isn't always cheap, the store has payment options so everyone can experience the state's beautiful outdoors. Customers have an option of trading in old equipment for new gear, browsing more affordable gently used gear, or even opting for a payment plan.
Whether it's yoga, a party, or a good sale, Hajdukovich's end goal at the family-run store is to inspire people to appreciate the state's outdoor landscape. "We are all about trying to inspire people to get outside and play here in Alaska," he said.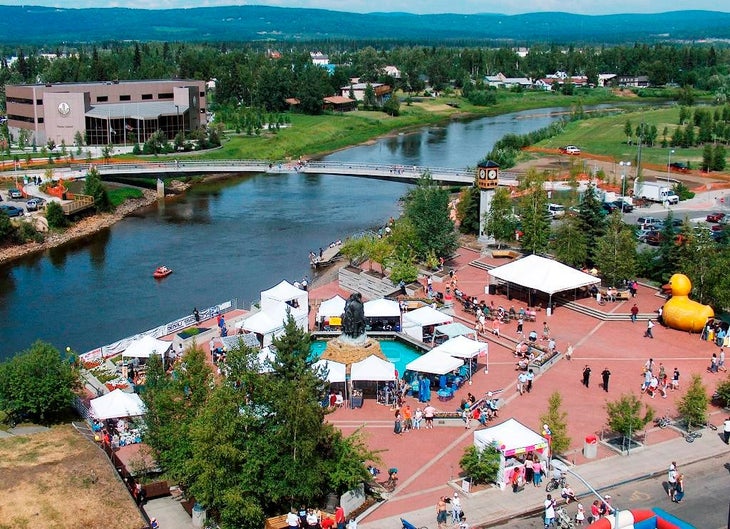 Trending on Outside Online