Outside Business Journal
Retailer Spotlight: Water Stone Outdoors in Fayetteville, West Virginia
Located in the home of HomoClimbtastic, this store invites everyone to join their wacky scene—and help preserve one of the world's most epic playgrounds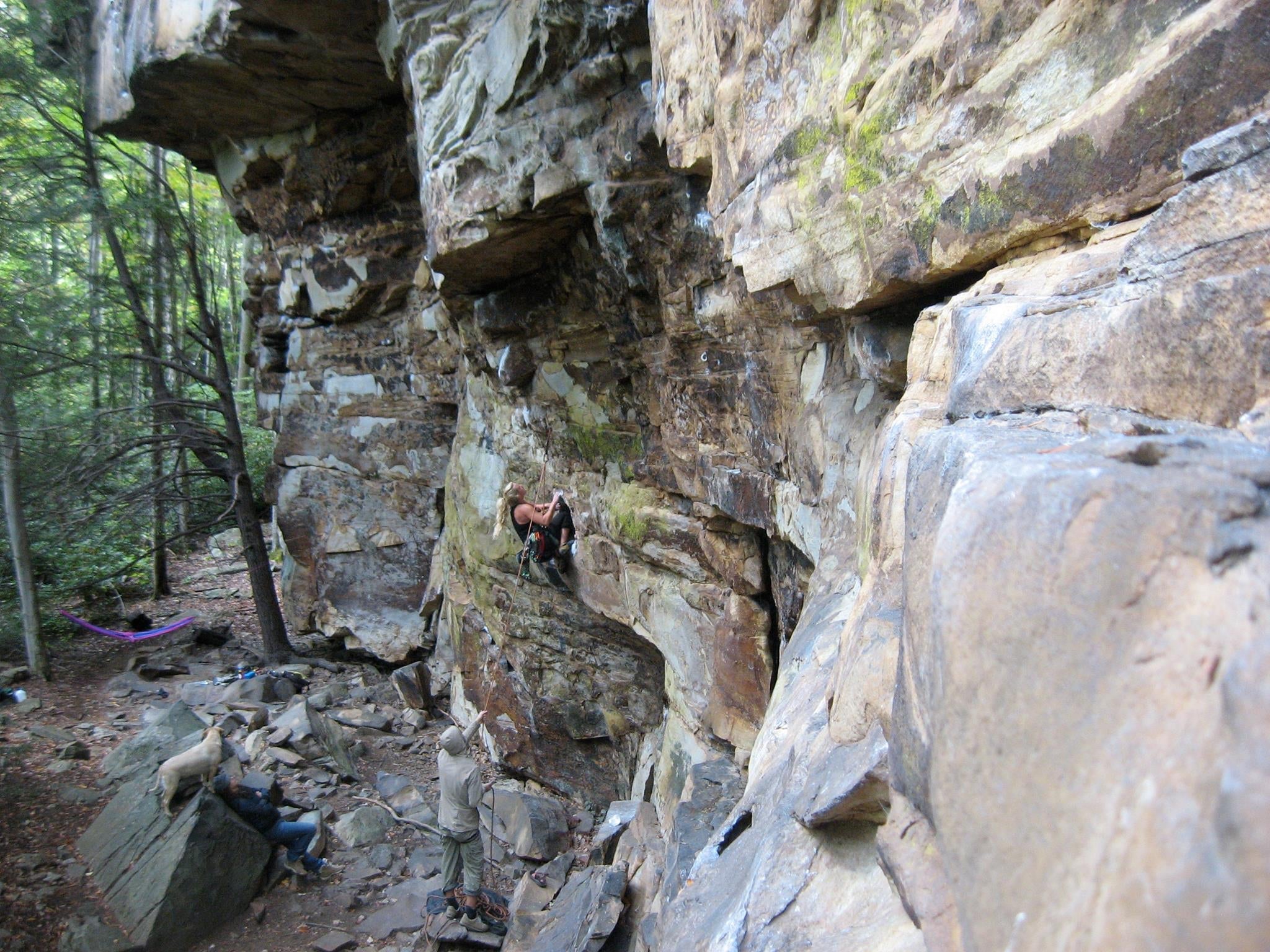 Heading out the door? Read this article on the new Outside+ app available now on iOS devices for members! Download the app.
Kenny Parker lives in a world of awesome. That's how the co-owner of Water Stone Outdoors talks about living in Fayetteville, West Virginia. "If you like to play outside, it's a good choice. It's a good place to hide from the world."
And if you like to climb, the New River Gorge is one of the best places in the world to do it. According to Parker, it's an international climbing mecca.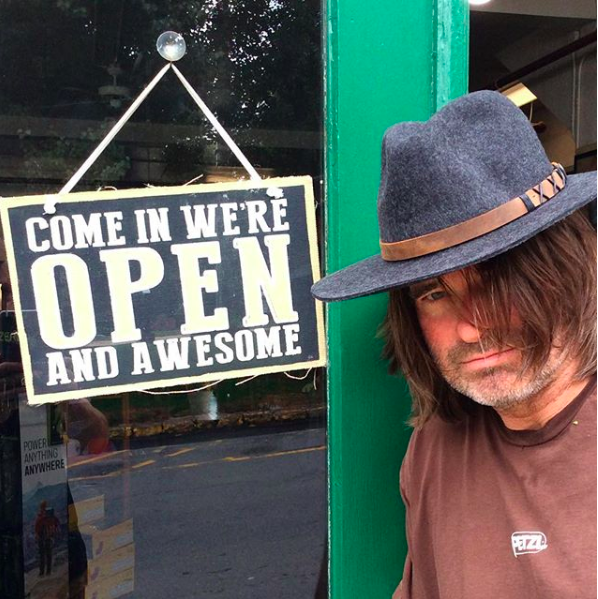 "If you were to poll internationally and ask climbers to list the top 10 places in the world to climb, New would be on that list," Parker said. "The world-class whitewater, rock climbing, and outdoor play resources are why we're all here."
Over 3,000 established sport and trad routes span 60-plus miles of sandstone cliffs between the three major river gorges—the New, the Gauley/Summersville, and the Meadow. That's not even counting hundreds of established boulder problems. Back in the '80s, a trio of longtime climbing friends—Parker, Maura Kistler, and her husband, Gene Kistler—started climbing in the area and noticed that a climber's paradise like the New River Gorge ought to have a gear shop.
The Kistlers made the move to Fayetteville in the early '90s, and Parker followed suit soon after he graduated college in 1992. It didn't take long for the three of them to get down to business. In 1994, Parker and the Kistlers co-founded Water Stone Outdoors.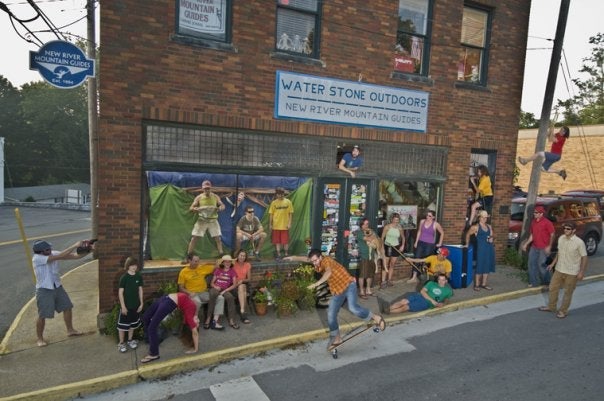 Create More Outdoor People, Save the World
The shop has now been open 362 days a year for more than 20 years, and the climbing-focused retailer is proud of its rock shoe selection and its national reputation as one of the best hardcore destination outdoor shops in the country. But Water Stone is out for something more epic than sweet inventory. They're fighting to preserve the reason their shop exists: their matchless outdoor playground. And they're rallying its stewards.
The idea is simple: if people love the outdoors, they'll be invested in protecting it. It's why Water Stone's most important function is to create more outdoor people.
"Because if we don't, the planet is going to hell," Maura Kistler said. "I strongly believe we've got to get more people outdoors connecting to nature, or how are we going to save the planet? If the outdoor community isn't fully invested in saving the planet, then who the f*** is?"
While Fayetteville's cliffs and rapids attract some of the world's best climbers and rafters, it has plenty of routes and stretches for beginners. Water Stone welcomes newbies with genuine gusto. Mountain bikers and rafters have followed climbers' suit.
"I believe more than anything that people need help getting started in the outdoors," Maura Kistler said. "That's where the shop's saying 'quality gear and friendly advice' comes in. [It's] becoming more important all the time because that adventurous spirit is a little atrophied in our culture. People need that extra bit of 'You can do this. Here's how you can go.'"
Water Stone wants everyone who visits Fayetteville to feel welcome in their our community. The staff is just, well, nice to people.
"That's a priority in life," Parker said. "We're accepting you. Everyone has their oddities and is a weirdo in some way. We just live with it. People really like that about this community. It becomes infectious among the people who live here."
For instance, for the past 11 summers, Fayetteville has hosted HomoClimbtastic, the world's largest queer-friendly climbing convention. A documentary called Climbing with Pride captured the 2012 convention, and the film's trailer features Water Stone. The shop then created their own video in 2013.
"We have a really small community," Maura Kistler said of Fayetteville's 2,800 residents. "And how we rounded up 125 people to welcome the gay climbers on the video really says something about our wacky ass scene here."
Best and First in the Country
But if the Fayetteville scene is wacky, it's also organized. The founders of Water Stone also started the New River Alliance of Climbers (NRAC), an organization dedicated to preserving and promoting access to climbing areas in the New River Gorge. Currently, the organization's president and vice president are Gene Kistler and Parker, respectively.
"We have been tirelessly working on it since [the early '90s]," Parker said.
Gene Kistler nurtures relationships with the National Park Service, the Army Corps of Engineers, and the community. Maura Kislter recruits members and provides motivation for people to move to town. From 2003 to 2013, the NRAC activated the ultimate recruiting (and fundraising) tool—the New River Rendezvous, another event that attracted climbers to its cliffs like bees to a honeypot.
"It was a remarkable event that we ran for 10 years," Maura Kislter said. "We got a lot of respect and we raised  a lot of money. The rendezvous was also one of our single best recruiting tools. It got a lot of people saying, 'Hey, those people are having fun. What's going on?'"
They're having fun while also getting legendary things done—like convincing officials to make deep-water soloing legal for just one day to make history on one of the local lakes in 2016. The 13-minute video just might have you moving to Waterstonia.
"We had the first deep-water soloing contest on natural rock in the country," Maura Kislter said. "We did it and we crushed it."
It's a testament to how far they've come, from having no central hub to having Water Stone and its growing community of climbers.

Trending on Outside Online