Outside Business Journal
Aggressive Discounting: How Big Online Holiday Sales Can Crush Brick-And-Mortar Specialty Retail
Data from Grassroots Outdoor Alliance show a 31 percent spike in brands' promotional behavior over the holidays. Plus, retailers dish on the risks of overly aggressive tactics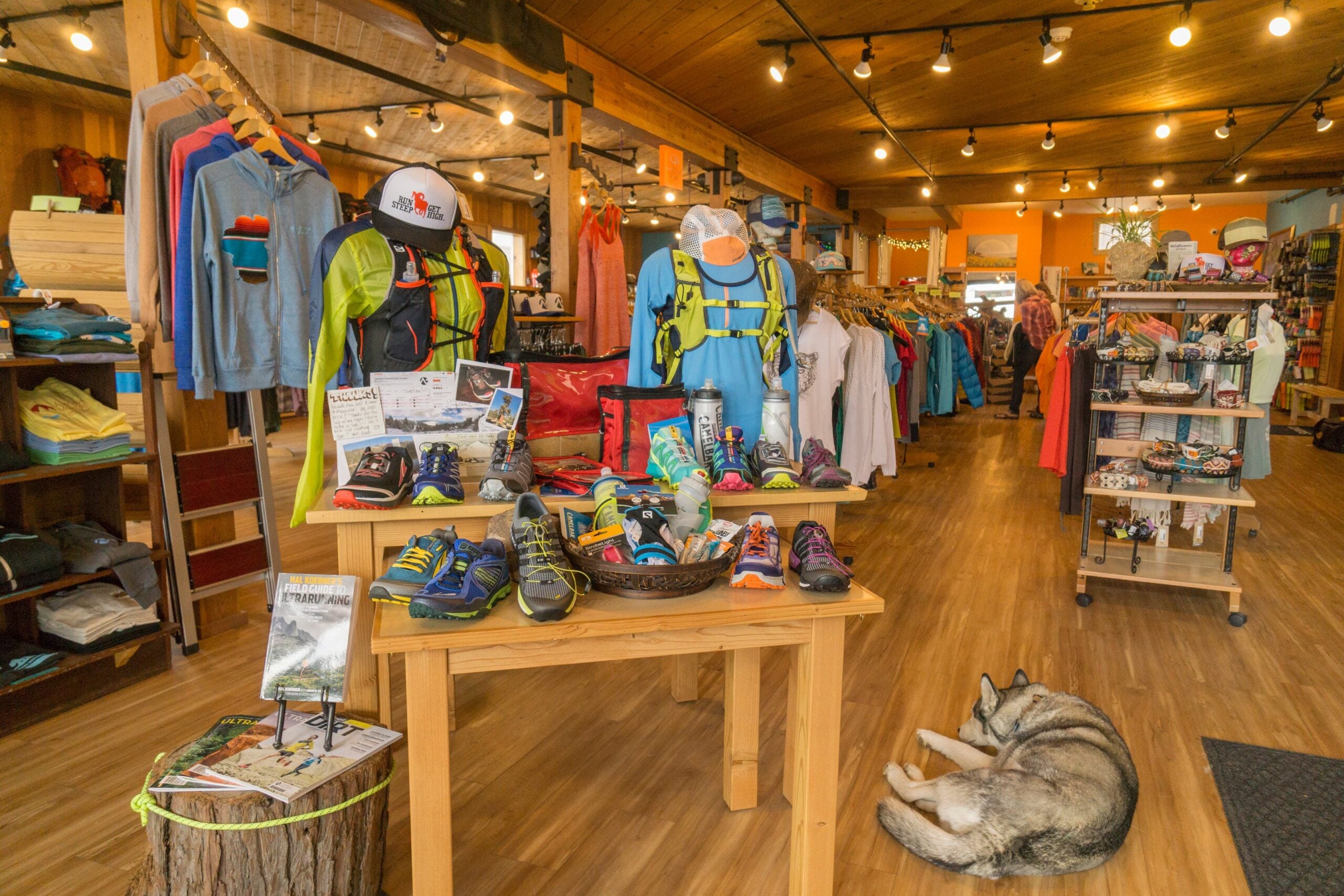 Heading out the door? Read this article on the new Outside+ app available now on iOS devices for members! Download the app.
Black Friday was a success for Salida Mountain Sports, but not because they lured customers in with steep discounts. Prices stayed steady, and if the Colorado store missed some sales because they weren't discounting, store owner Nate Porter said so be it.
Small specialty outdoor shops around the country felt even more pinched during the holidays—a time when business should be booming—because the very brands they sell in their stores were offering unbeatable prices online and in their own namesake stores.
"There is no way we can compete with the deep discounts and direct-to-consumer sales promoted by our vendors and other online sellers," Porter said. "So, we stay the course and continue to provide community support, great customer service, and great products that separate good brick-and-mortar shops from the rest of the marketplace."
As advocates for specialty retailers, Grassroots Outdoor Alliance has been monitoring promotional emails from nearly 200 brands since 2017 to better understand the ebbs and flows of the industry. And as the data set grows, Grassroots says it has become a way to identify and illuminate the companies that are doing healthy things for the marketplace and industry.
Data from 2019 shows that some brands have drastically ramped up emails with words like "sale" and "Cyber Monday" in the subject lines, while others have decreased frequency and volume. But overall, Grassroots saw a 31 percent increase in 2019 over 2018 of promotional emails.
"Vendors aren't sharing their promotional calendar when they sell specialty retailers the line, but retailers now have a growing amount of data about when to expect a spike in promotional activity," Grassroots President Rich Hill said.
"We've learned that MAP (minimum advertised price) policies are so fluid that they are essentially worthless," Hill added. "They are designed to establish a sense of trust during the sell-in process, and then re-interpreted all season. The best indicator that retailers have to predict pricing volatility is to study what a vendor did last season, not what their policy says they'll do next season."
It's not that brands shouldn't run holiday sales. It's that Grassroots is advocating for a leveler playing field.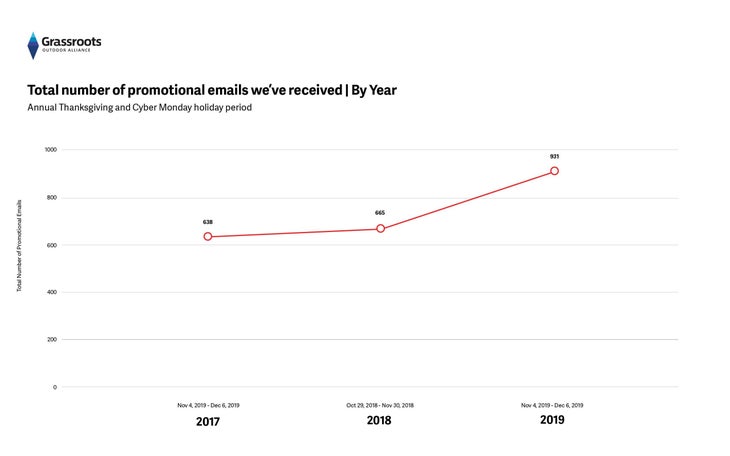 Diving into the Data
From November 1 to December 31, Grassroots monitored 195 outdoor brands—members and non-members—and their email behaviors. Of that, only 50 vendors did not send any promotional emails in 2019. The other 145 collectively sent 1,355 promotional emails—a 31 percent increase over 2018 numbers.
Other key takeaways:
In 2018, 63 percent of promotional emails were sent in November and 37 percent in December
In 2019, 43 percent of promotional emails were sent in November and 57 percent in December
91 vendors (47 percent) increased their promotional cadence from 2018 to 2019 accounting for 429 additional promotional emails
25 of the 91 had not sent a promotional email in 2018 and began doing so in 201
40 vendors (20 percent) decreased their promotional cadence from 2018 to 201
64 no change (33 percent) year over year
Hill noted, "There's a misconception about promotional behavior that it's somehow isolated and happening in a vacuum, with no real impacts other than a few points on margin. The unfortunate reality is that aggressive promotional behavior creates distinct and negative impacts that are felt by both retailers as well as other vendor brands. Labelling it as 'sales fracking' might be considered a little dramatic, but it's accurate."
Grassroots uses this data to engage in conversations with retailers and vendor partners about how to work together to make both online and brick-and-mortar sales channels healthy. Overly promotional behavior is a red flag.
For Forsake (maker of outdoor/adventure footwear), retail partners are top of mind during the holidays. Marketing Director Jack Knoll said that between 2017 and 2019, the brand maintained a consistent and well-communicated promotional window so retailers could plan for and match promotions. Additionally, he said Forsake doesn't adjust MAP policies in-season.
"Holiday discounts are important to our growth strategy," Knoll said. "It remains the most effective way to get ourselves in front of new customers. By allowing our retailers to latch onto our promotions during pre-arranged windows, everyone can benefit from using this tool to attract new business."
Smartwool has a different strategy. The premium sock brand aims to never be promotional, VP of sales Scott Bower said, even though consumers have come to expect deals all year round.
Instead of fighting prices, Smartwool partners with like-minded brands—YETI and MPOWERD are two examples—to offer gifts with purchases during the busiest shopping days of the year. And when Smartwool does go off-price, those discounts live in a designated spot on the website and are communicated with their retailers.
"If we're up against other brands that are highly promotional, it does to an extent hurt. But is it worth a short-term effort (discounts) that could have long-term negative impacts to your brand?" said Bower. "Retailers want to partner with brands that have longevity. We're in this for the long haul."
Specialty Retailers Take a Hit When Promotions Spike
Mike Massey, owner of Massey's Outfitters and founder of Locally.com, has said it before: It's really hard to return to being a full-price seller after using discounts to build goodwill with customers.
"One of the things that has been frustrating for us is that we will get a notification [from a vendor] that we have something on sale that is violating a MAP policy. But then it's inevitable that within a day, we're getting emails from the brand violating their own map policy," Massey said. "It's a double standard…What are we supposed to make of that? If your MAP policy can be changed at any moment during the season, and enforcement is spotty, you basically don't have a MAP policy at that point."
Already facing thin margins, Porter said competing with vendors by playing the volume versus margin game is a slippery slope.
Massey says his stores were clobbered after he chose not to play the discount game and keep products full-price in November for the first time in six years. He says the amount lost in November carried into December.
Alpenglow Sports owner Brendan Madigan said Black Friday was also a total bust for his Tahoe City, California-based store. He agreed that it's impossible to compete when brands are marketing so aggressively with 20 to 25 percent sales, and sometimes even higher.
"The brands that engage in this behavior have retrained the customer to only shop online these days due to their blatant discounting—it's like Pavlov's Dog," Madigan said.
While some retailers struggled over the holidays, others found success in new places.
Hala GearSpace, a SUP brand and new brick-and-mortar store in Steamboat Springs, Colorado, skipped out on offering a maximum discount online, so they could focus customers' attention on retailers offering the discount, communications coordinator Victoria Ohegyi said.
The Base Camp, which has two locations in Montana, also had a successful run during Black Friday and Small Business Saturday, after teaming up with Red Ants Pants, a retailer from a small town nearby. Together, Scott Brown and Sarah Calhoun, the two businesses owners, wrote op-ed pieces in several state newspapers about the importance of small business collaboration and support. Brown said the collaboration was a success—sales were up at The Base Camp by 23 percent over the previous season.
But for the entire industry to win during the holidays, it's the brands that need to scale back from being too opportunistic, Massey said.
"They can't have a policy that enables you to sell in with a bunch of flowery promises and then void the policies when your sales are suffering," he said.
Otherwise, brands risk losing key retail partners—and therefore, sales.
Trending on Outside Online