Outside Business Journal
The Rise of Pop-up Shops This Season
Outdoor brands use temporary brick-and-mortar locations to engage with customers during the busiest time of the year for retail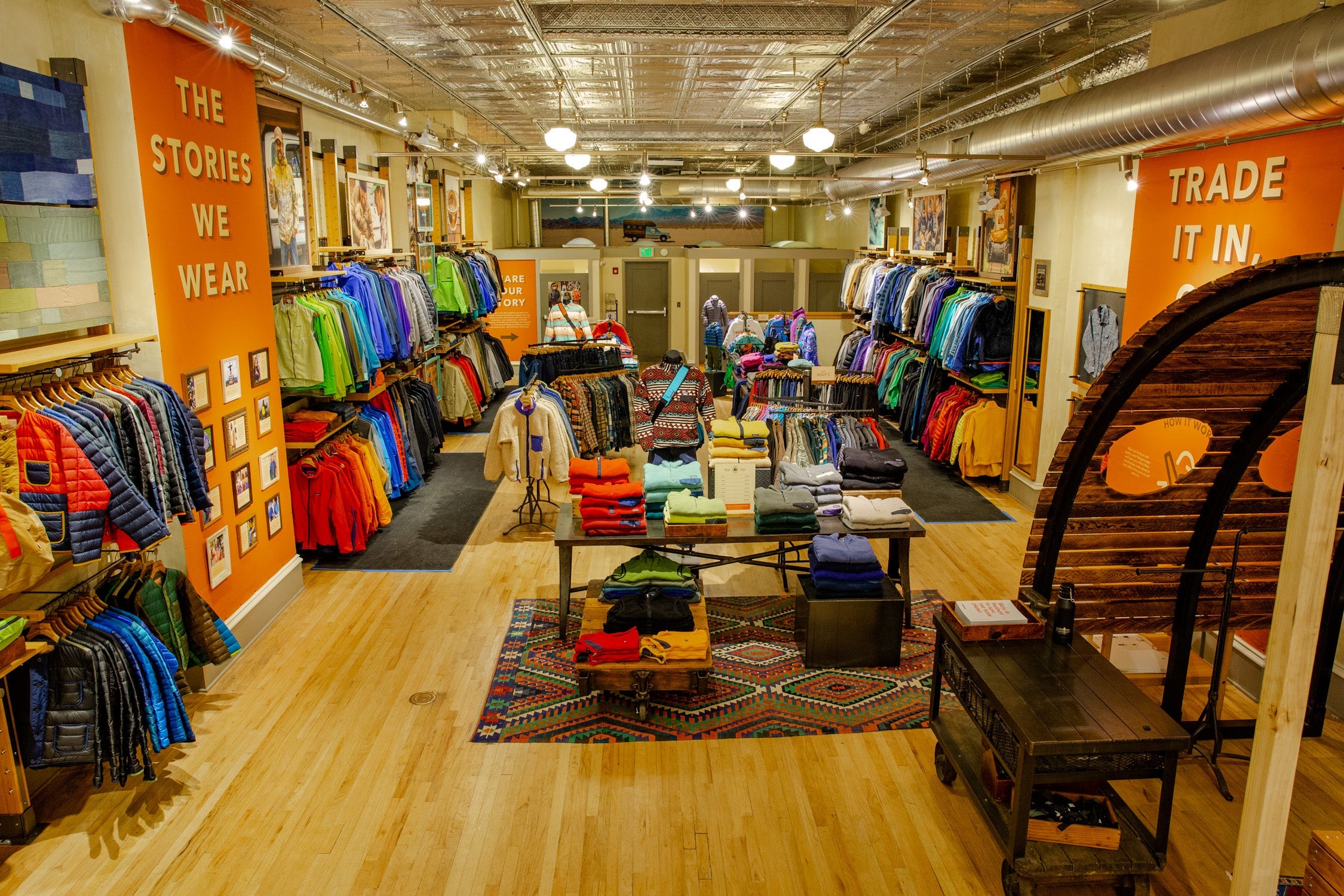 Heading out the door? Read this article on the new Outside+ app available now on iOS devices for members! Download the app.
'Tis the season for pop-up shops and exhibits, where shoppers have one more choice to find their holiday gifts. Customers nowadays are attracted to buying experiences and many brands are looking for ways to stoke desirability through their own seasonal stores in addition to specialty retail.
adidas Outdoor launched its first pop-up experience on November 2 in New York City to celebrate the debut of MyShelter, the ultimate commuter jacket for the rainy city.
"We utilize these events to engage with young creators that follow the brand," said Patrick Tullos, senior manager brand communication and sports marketing. "We are bringing a premium experience to the retail environment which is evolving to meet changing consumer demands. Consumers want to feel special and know that brands are speaking directly and personally to them. That is what this event achieves—very personal interaction. It is a natural step to bring this approach to adidas Outdoor."
8 Outdoor Brands That Caught onto the Pop-up Trend
Patagonia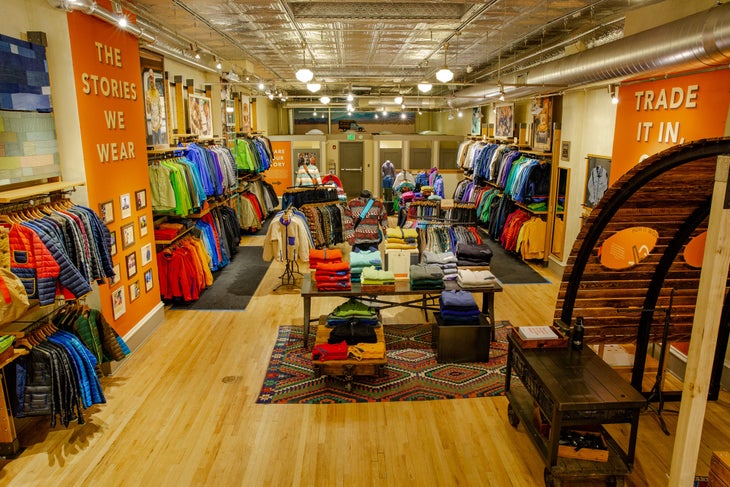 On November 14, Patagonia is opening its first dedicated Worn Wear pop-up store in Boulder, Colorado. It will stay open through February 2020 and will be stocked exclusively with quality Worn Wear items—used Patagonia products that have been bought back from customers—as well as Patagonia's new ReCrafted Collection, a new line of products made from other clothes that are beyond repair. Throughout the holiday season, the store will host regular repair and upcycle workshops.
Today, Patagonia repairs more than 100,000 items each year in 72 repair centers globally and in Reno, where the company owns and operates the largest apparel repair center in North America. As Patagonia's founder, Yvon Chouinard said, "The best jacket for our planet is one that already exists."
Coalition Snow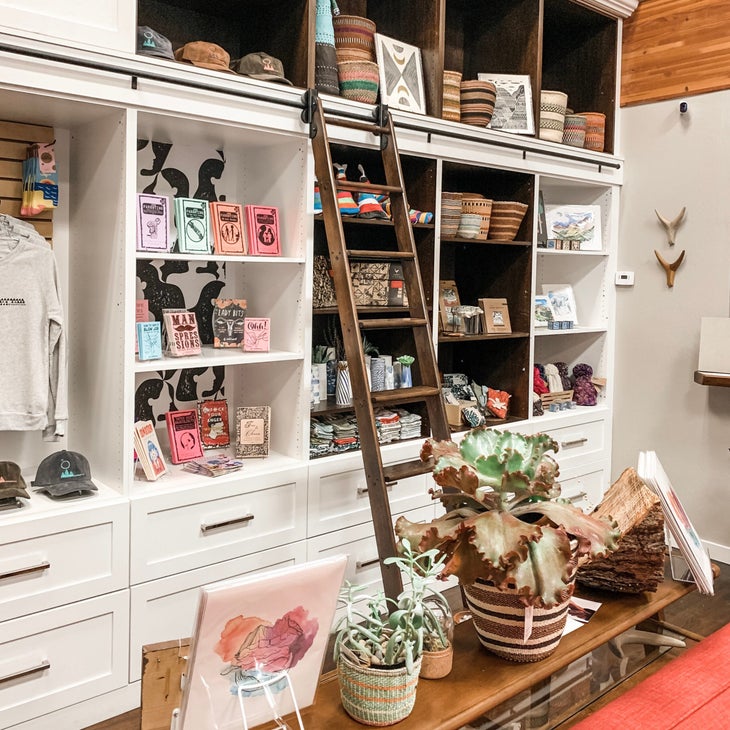 For six months starting November 14, Coalition Snow will have its own brick-and-mortar location in Truckee, California: The Coalition Clubhouse. Among the brand's entire line of skis and snowboards (some will be available for rent), shoppers can also peruse a selection of goods from other brands—mostly women-owned.
Jen Gurecki, founder of Coalition Snow, says a seasonal pop-up makes sense for Coalition Snow for many reasons including experimenting with a new sales channel. "It mitigates a significant amount of risk with a brick and mortar while still allowing us to explore a new sales channel," Gurecki said. "We're also a seasonal business—our bread and butter is skis and snowboards, and you don't sell a lot of those in July. A year-round lease doesn't make sense for us unless we expanded our line into a different industry, and we don't want to do that (yet)."
Gurecki and creative director Lauren Bello Okerman are excited to keep the community engaged and excited. "It gives them something to look forward to in the winter, and it allows us to maximize our resources in our busiest time," Gurecki said.
adidas Outdoor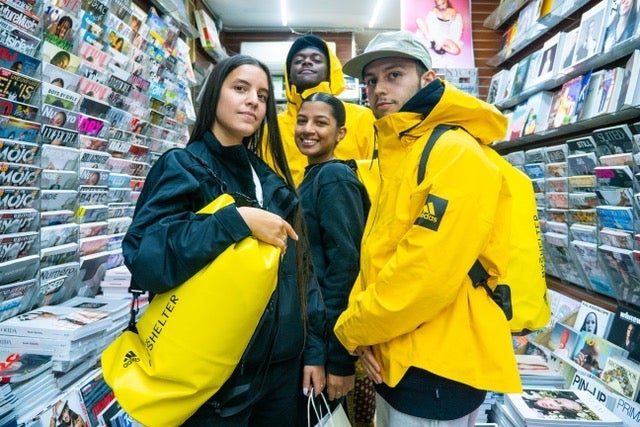 "The storm is coming." That was the push notification adidas Outdoor sent—along with a set of coordinates and promise of a prize—to New Yorkers through the adidas app on October 26. Team members from adidas Outdoor surprised fans in two iconic neighborhood bodegas with the brand's new MyShelter rain jackets and matching dry bags. The bags also contained a call to action to attend a November 2 pop-up experience.
For one day only, the immersive experience brought the outdoors inside city limits. More than 2,000 New Yorkers walked off the sidewalk into a room with foliage on the ceiling, bird noises and ambient music, a special natural scent, and low-hanging mist. Every five to 15 minutes, a storm rolled in—it rained, the lights flickered like lightning, and thunder echoed in the room. Participants put up their hoods and experienced the waterproofness of the jacket in the real elements. Chef Eddie Huang even made an appearance.
"We wanted to let consumers try the jackets in the conditions they're made for and also have a peaceful space to escape from their hectic urban life," said Patrick Tullos, senior manager brand communications and sports marketing.
"It helps by giving the consumers and community a full sensory experience to understand and see the product come to life," he said. "The objective of this pop-up was to create a memorable experience so people can build some affinity and awareness around our new jacket family."
Hoka One One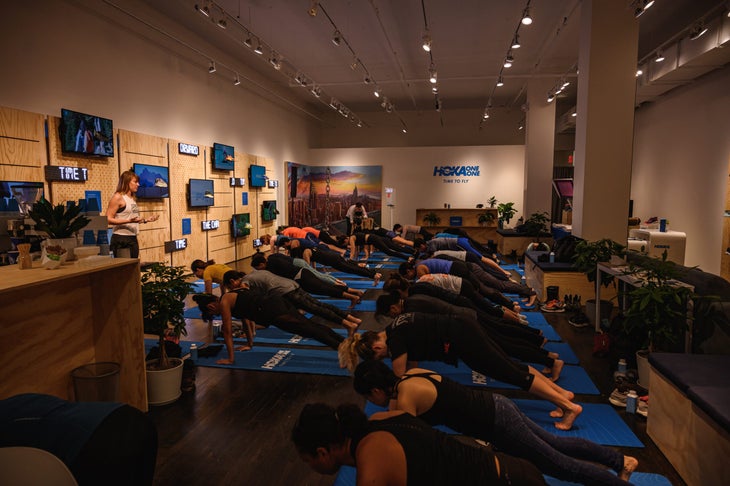 To celebrate the NYC Marathon, Hoka One One took over a space on Mercer Street from October 31 to November 4. Consumers—racers and non-racers alike—were invited to join yoga and fun runs, and watch various panels featuring athletes. Actress Katie Holmes spoke on the "Women Who Fly" panel on the first day. The storefront buzzed with activity during the week and became a real hub for the running community and fan base in New York City. By providing an experiential environment, HOKA built brand awareness and immersed consumers in unexpected and inclusive events.
Forsake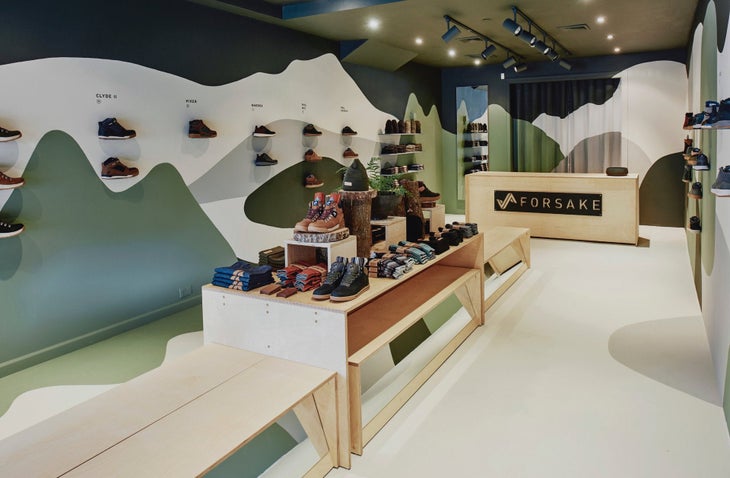 Until December 31, Forsake will have a physical location on Boston's Newbury Street.
"We're thrilled to establish a physical presence in Boston, the city Forsake has called home since our launch in 2013," said Jack Knoll, marketing director at Forsake. "For the first time, our customers have a place to try on our entire product line, chat with Forsake team members about what sets us apart, and learn about the ways we're taking action to help protect the environment."
The grand opening party on October 10 featured live music and a raffle, and ongoing in-store events such as happy hours, guest speakers, and activities are announced through the store's Instagram @forsakeboston.
Free Country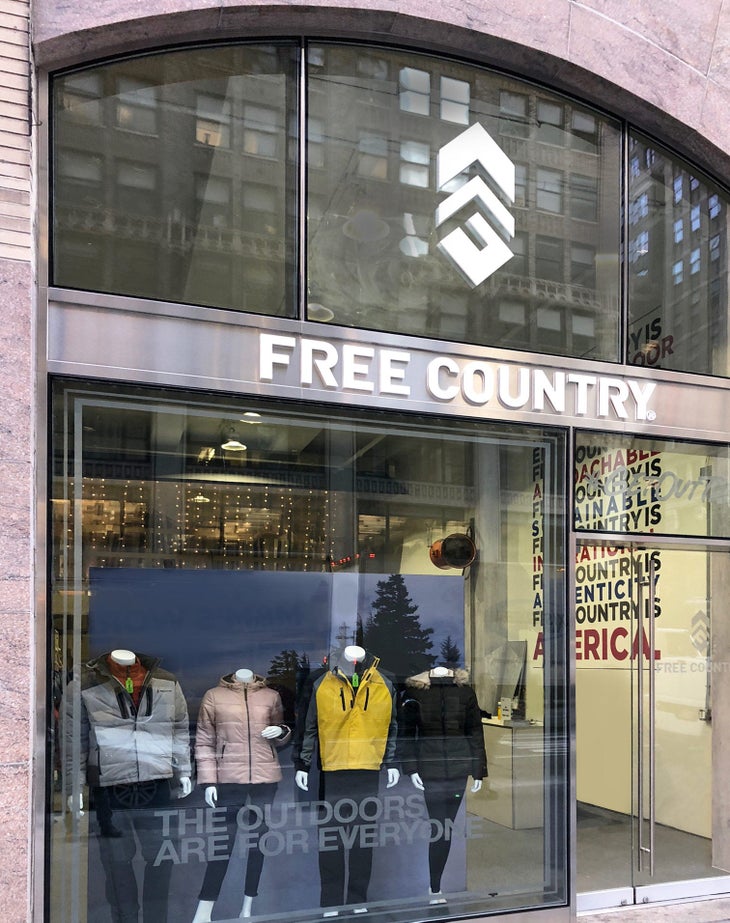 Free Country, the active outdoor lifestyle brand, just opened its third annual season store in New York City on 7th Avenue, smack in the heart of the Fashion District. Normally available online and in big-box retailers, Free Country's location gives consumers the chance to experience what they stand for: iconic and affordable products, unparalleled value for customers and making a healthy, active outdoor lifestyles accessible for everyone.
Most coveted items are displayed in the front windows. This year's space features a two-story winter lodge, a ten-foot-high hand-painted mural, and a large projection screen in the back complete with a fire pit and Adirondack chairs. The store also acts as a space for events, contests, and experiential activations.
"This is the busiest season for us by far. So it's the perfect time to connect with customers, and offer an opportunity to experience our brand, products and lifestyle," said James Goldmark, director of marketing and communications.
prAna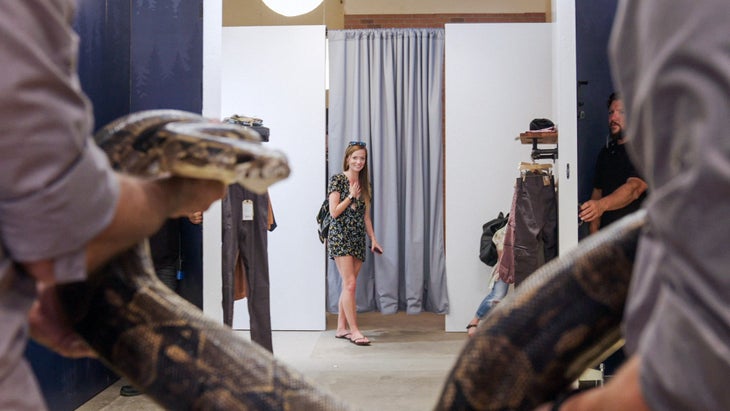 One weekend in September, prAna introduced a new kind of dressing room in Denver, Colorado. Consumers entering what appeared to be a pop-up retail shop soon found themselves in an immersive experience, or Life Changing Rooms. While other changing rooms let you try on clothes, prAna let customers try on wellness, new tastes or mindfulness. That means some interacted with exotic creatures, others tasted new foods, and others meditated.
"We believe in Clothing For Positive Change so much so that we are creating a unique, hands-on experience to help people step outside their comfort zones to inspire change," said Jeff Haack, VP of global marketing for prAna. "We hope after experiencing our Life Changing Rooms where people might participate in an ancient cultural ceremony or perhaps come face to face with their greatest fear, participants will be more open to change in their perspective, their views, or even their mindset."
Amundsen Sports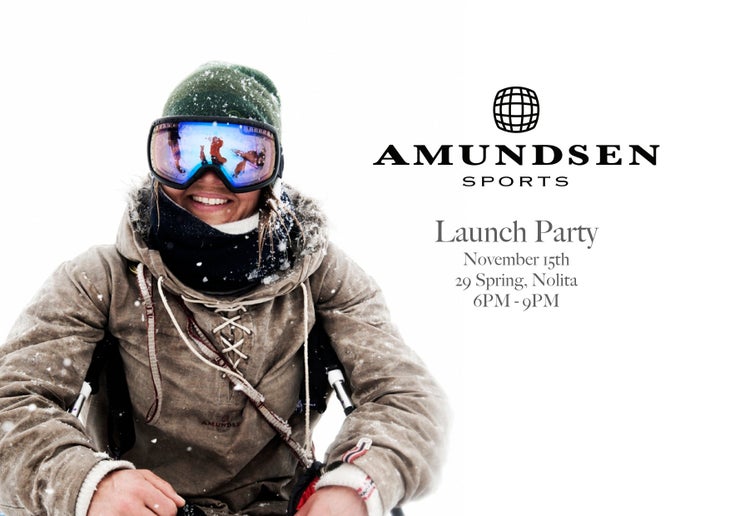 On November 15, Amundsen Sports is opening its pop-up shop in the SoHo neighborhood of Manhattan and presenting its groundbreaking collection of fashion-forward, heritage-inspired, and European-made performance footwear and apparel pieces this Fall. Their material selections, style and performance systems are unlike any other brand currently making the specialty retail and tradeshow circuit. All are welcome and invited for Norwegian-inspired food and libations.
Amundsen Sports was born in Oslo, Norway, in 2009. It's the brainchild of Jorgen Amundsen—industrial designer and relative of Roald Amundsen—and Erik Friis, Norwegian explorer and skier. When Roald Amundsen set out to explore the South Pole in 1911, he went to live with the Inuits to study their knowledge of cold weather survival while simultaneously exploring cutting-edge technology of the day. Amundsen Sports was founded 100 years from the day of his flag planting.