Outside Business Journal
This New E-Comm Site Wants to Be the Go-To Retailer for Outdoorsy Moms
Salt + Snow aims to help people—mothers specifically—find quality outdoor gear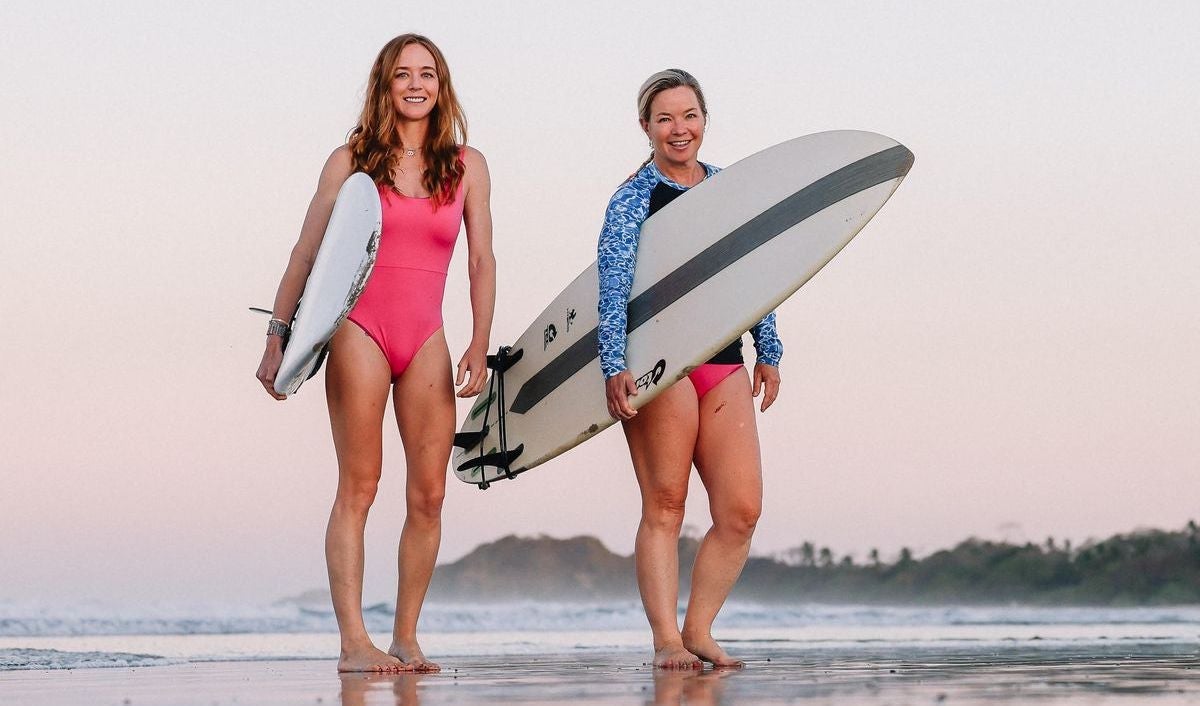 Heading out the door? Read this article on the new Outside+ app available now on iOS devices for members! Download the app.
Athletes who are mothers often experience the extra pressures and time constraints of planning adventures not just for themselves but for every member of their household. The debut of a new online marketplace might have just made that burden a little easier. Created by two surf and ski loving moms, Salt + Snow is a new online retailer, launched in March, showcasing brands that make fashionable and functional activewear for women, men, and kids.
"We want to make sure that the brands we carry look great for women, but also are quality pieces that are comfortable and can hold up to whatever activity you throw at them," co-founder Kathy Thomas told OBJ. "These clothes have pockets you can actually put things in, that breathe while you're skinning uphill, that hold up in the surf. We want moms to be out there riding those waves, hiking those hills and skiing those slopes with their families and look good doing it."
The idea of a one-stop website where moms can easily find quality clothes for their active families without juggling "20 open tabs" was born out of Thomas's and co-founder Sara Zilkha's mutual frustration at having to spend hours searching multiple sites looking for well-made clothes for women athletes that also look good. Thomas and Zilkha's children attended the same school in Manhattan, and the two became friends during the time they'd spend organizing school fund-raisers.  
"Sara and I spent the better part of two years together, day in and day out, organizing auctions and benefits for the school," Thomas told OBJ. "She has a background in nonprofit work, and I was in the music industry, so our talents for spinning lots of plates really meshed."
Thomas, an accomplished surfer, would also organize annual womens' surfing trips for her friends. She invited Zilkha along on one of these trips, and Zilkha was hooked immediately. By their second trip together, Thomas said she and Zilkha were discussing how difficult it is to find functional, stylish athletic women's clothing.
From that conversation, the idea of an online marketplace serving that very need came to life. The more they discussed their idea, the more it made sense as a business, Thomas said.

"We started asking our friends if they'd be interested in a site like this and they all said, 'We need that yesterday,'" Thomas said.
Since launching in March, sales are exceeding expectations, according to the founders. Salt + Snow has nine employees and a growing stable of brand partners. Already the company is struggling to keep up with requests for new partnerships. The list of brands already on board includes Left on Friday, Revo, Xcel, Cynthia Rowley, Alps & Meters, and Aloha Marina. All brands represented by Salt + Snow are either fair trade, BIPOC owned, or otherwise have sustainability and social commitments in place, Thomas said. 
"We really are making sure we're working with partners who share our desire to make the earth a better place, to keep our footprint low," Thomas said. "It can be difficult and expensive for young companies to be sustainable, so we want to do what we can to support companies that are doing good out there. We're trying to be conscious every step of the way."

In addition to retail, Salt + Snow has a community blog called the Wanderist that includes articles on destinations, health and wellness, family travel, interviews with brand ambassadors, and tips for picking up adventure sports.

"I remember when I was getting into surfing and I didn't know anything; I was so grateful for any information people shared," Thomas said. "I wanted to create a space where women can feel comfortable coming to learn."
Thomas said that, in the future, she and Zilkha plan to launch their own activewear brand, but for now are focused on promoting their partners and supporting organizations like the Surfrider Foundation.
"We know we can be successful elevating our brand partners, elevating our employees, and elevating one another," Thomas said. "We're out to help women pursue their passions and look good doing it, while hopefully doing some good."