Outside Business Journal
Cool Stuff That Caught Our Eye at The Big Gear Show
There were lots of exciting goodies at the show this year. Here are some of our favorites.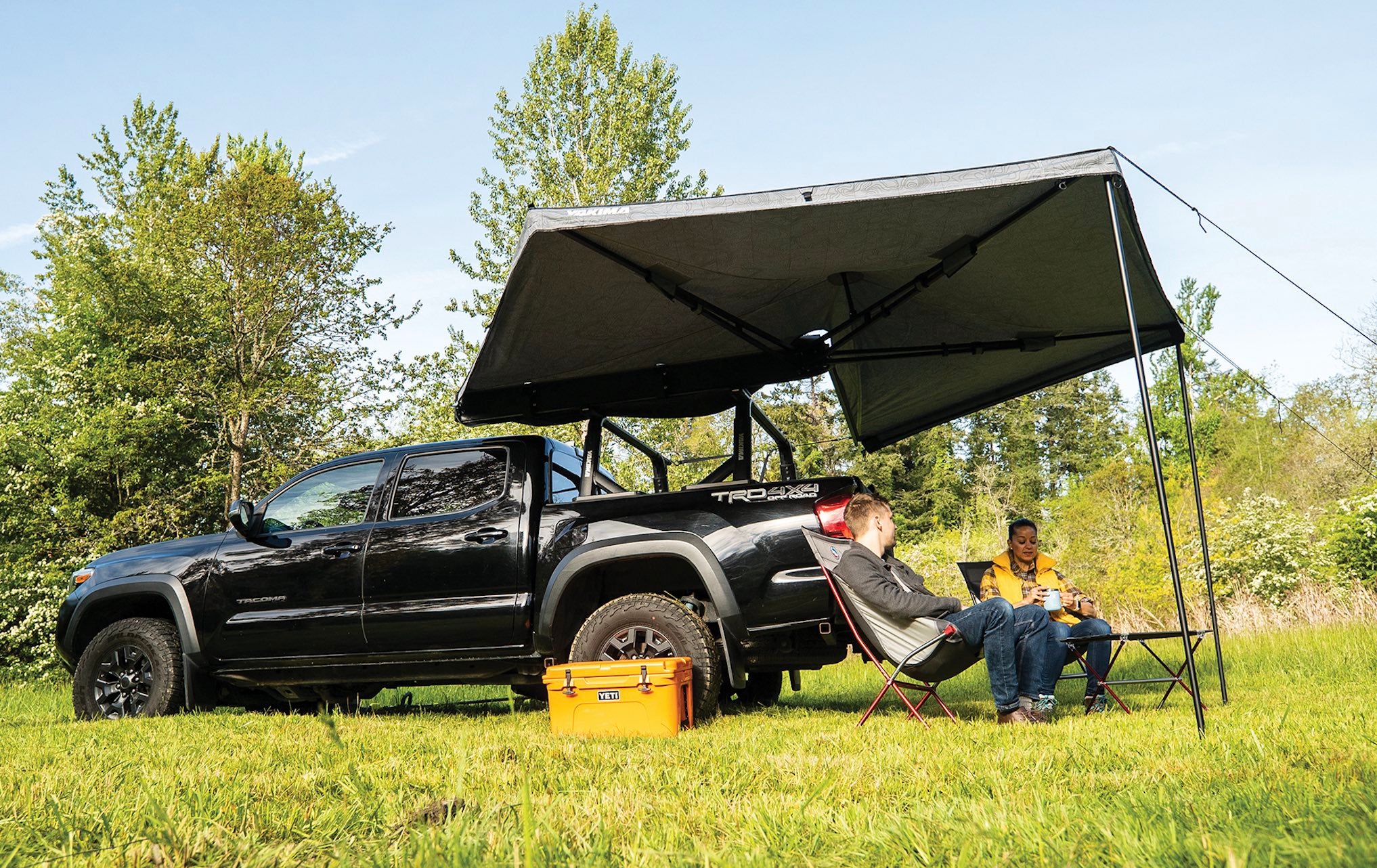 Heading out the door? Read this article on the new Outside+ app available now on iOS devices for members! Download the app.
Last week's Big Gear Show in Park City, Utah, saw more than 250 brands presenting both new and tried-and-true gear to retailers, media, and each other over two (mostly) sunny days at the base of Deer Valley Resort. The festive open-air show was heavy on e-bikes, paddlesports, and vehicle camping, reflecting strong market trends in those areas. While we didn't necessarily come across any industry-changing gear at the show this time, it was rewarding to witness lots of stoke among industry members as the show circuit gets back to normal and brands continue to innovate in whatever ways they can amid high inflation and supply-chain challenges.
Here are a few products big and small that grabbed our attention this year.
Thule Approach Tent ($2,799)
Thule further refines its successful rooftop tent line with its Approach Tent, releasing in mid-September. Touting increased interior sizes with a new design that allows for straight walls, windows, and skylights for stargazing, Thule says this three-person tent can be set up in just a few minutes, weighs 128 pounds, and will be available in gray, olive green, and dark slate.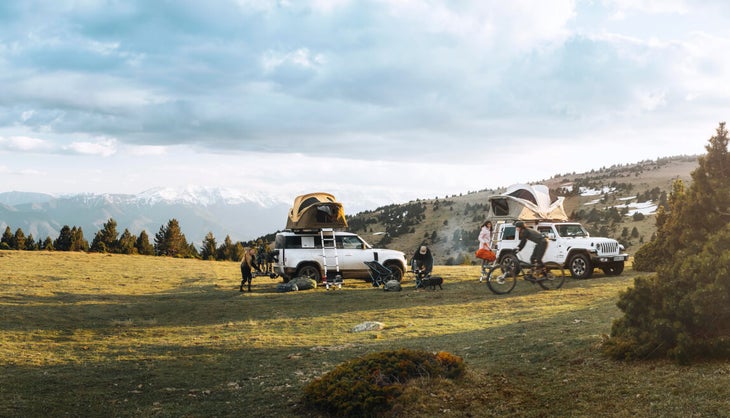 Uncharted Wolf Pack Dog First Aid Kit ($89)
Uncharted has made a name creating well thought out first aid kits for people, and now has a kit for your four-legged adventure buddy. The Wolf Pack is a first aid kit designed to treat cuts, bites, stings, and other injuries that your doggo might suffer while adventuring. With a weather-proof pouch and 1.5-inch-wide collar that uses Uncharted's secure and quick Fidlock attachment system, this lightweight collar is both functional and easy to use.
Mountain Hardwear Yawn Patrol (Price TBA)
Mountain Hardwear leans into the vehicle-camping space with its new Yawn Patrol sleeping bags that will release in Spring 2023. These 15- and 30-degree down bags have side and feet zippers that allow users to wake up and wear the bags like ponchos around camp
Yakima MajorShady 270 ($949)
Building on its popular SlimShady vehicle awning, Yakima will release the even-larger MajorShady in Spring 2023. The 270-degree shade wing folds down compactly, just like the SlimShady, and extends over the driver or passenger side and rear of your vehicle without the need for poles (though included poles and tie-downs do help when the wind picks up). The 420-denier ripstop shade provides 80 square feet of coverage and attaches to vehicles via any L-bracket and T-slot system. MajorShady Single Wall kits will be sold separately, allowing users to create an enclosed room under the awning.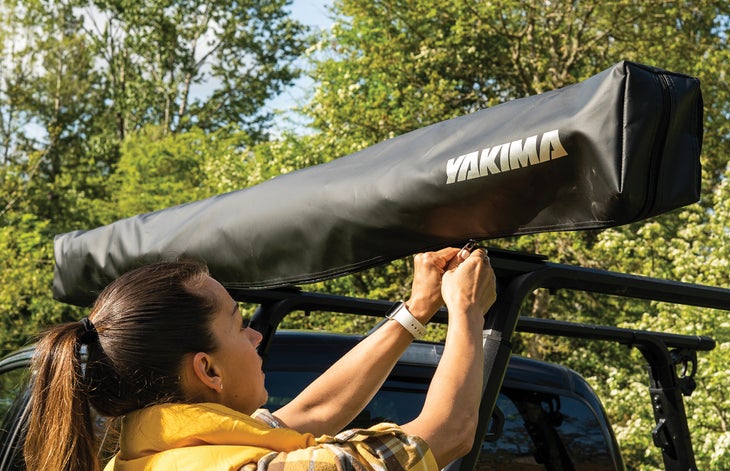 Isle Switch 2 in 1 Inflatable Kayak & Paddle Board ($995)
This 11-foot-six-inch inflatable board weighs 19 pounds and comes in a backpack case for easy transport. The top surface is coated in a soft, grippy finish designed for yoga, dogs, and multiple people. Attach the inflatable seat and fabric backrest to convert the SUP into a hybrid kayak, or use the Isle-Link connection system to attach other accessories including footrests.
PurTrek Water Purifier + Hiking Pole ($190)
Combining a hiking pole with a two-stage water filtration system, PurTrek filters two liters of water per minute. Just put the end of the pole into water, pump the handle, and clean water comes out of the attachable hose. Designed to be functional when not filtering, the PurTrek weighs 19 ounces and comes with a 19-ounce companion pole.
Jack Rabbit Micro eBike ($1,000)
Delivering plenty of smiles per miles to test riders at The Big Gear Show, the JackRabbit Micro eBike was one of the most zippy, fun bikes we hopped onto during the event. Weighing 24 pounds, with a top speed of 20 m.p.h, this diminutive e-bike gets 10 miles on a two-hour charge. It doesn't have pedals, so it may technically count as more of a scooter than a bicycle, but for zipping around established campsites or commuting to work, the JackRabbit seems poised to be a leader in micromobility. 
GSI 2 Can Cooler Stack ($30)
The tubular GSI 2 Can Cooler Stack keeps two 12 oz. canned beverages cold for at least 18 hours, even in direct sun. The double-walled insulated tube with screw top weighs in at just under a pound, and three tubes can be strapped together for the very thirstiest adventurers. Potentially light enough to justify toting along on some backpacking trips, the GSI 2 Can Cooler is a great luxury item for celebrating summits and other successes.
Red Paddle Co. Pro Change Robe Evo ($249)
Windproof, waterproof, and made from recycled materials, the Pro Change Robe Evo is a snuggly, fleece-lined changing robe perfect for drying off and keeping warm when coming in from the water. Fleece-lined pockets, an adjustable hood, and chunky zippers make this cozy piece really shine, while zippered interior pockets provide the finishing touch, keeping phones and other valuables dry in any conditions. The robe is also baggy enough to make changing out of wet gear a breeze.
Lead Photo: Courtesy Yakima