Outside Business Journal
Will Outdoor Retailer Stay in Denver?
On the last day of this month's Outdoor Retailer Summer event, we sat down with Show Director Marisa Nicholson to discuss how it went, what's in store for January's Snow Show, and whether OR will move out of Denver in 2023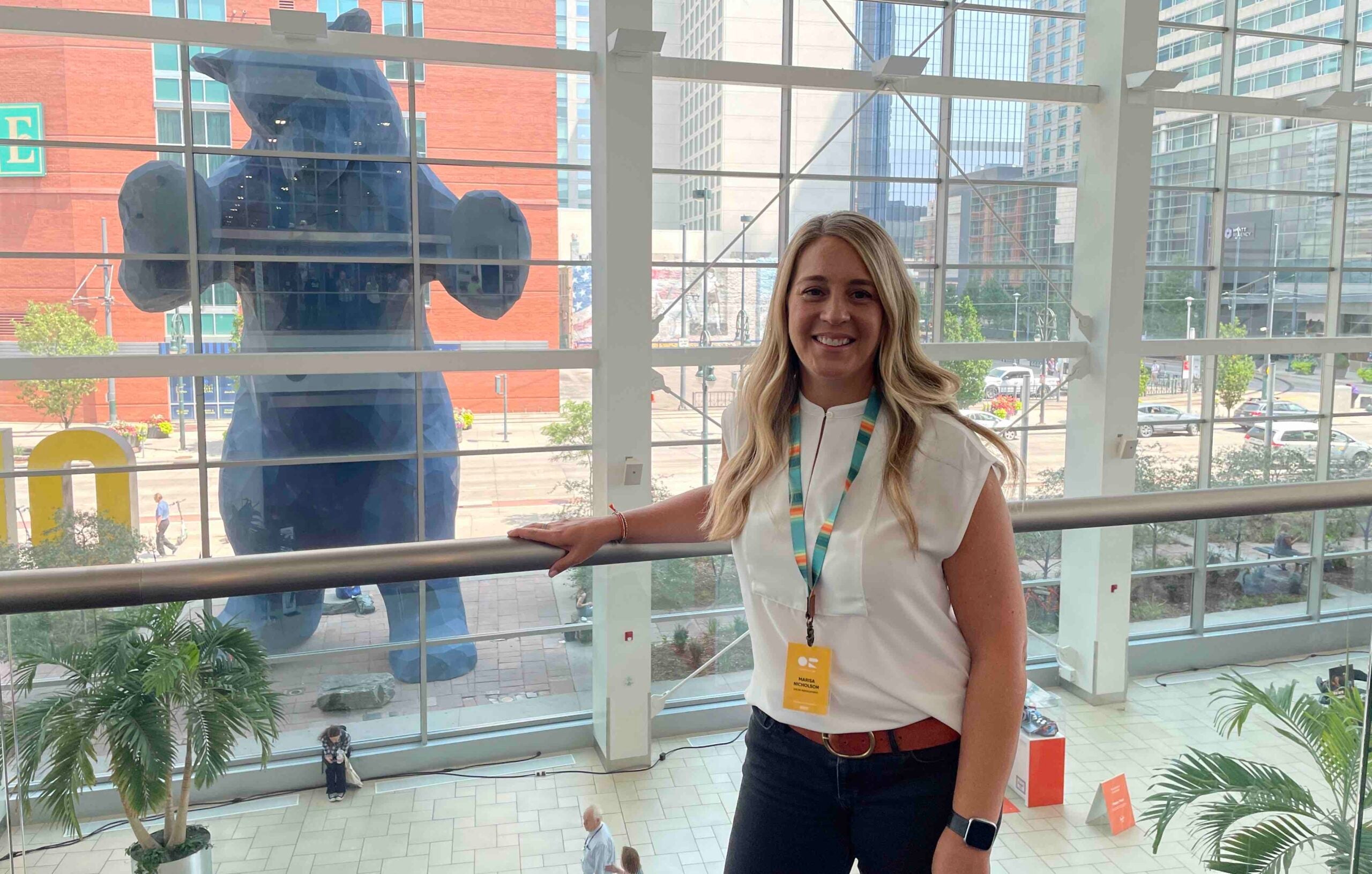 Heading out the door? Read this article on the new Outside+ app available now on iOS devices for members! Download the app.
What's the measure of a successful trade show?
Attendance, revenue, and profitability are key metrics from a purely business-oriented perspective, but Outdoor Retailer doesn't yet have the final count of how many people attended last week's show, and OR's parent company, Emerald Holding, won't release the event's financial performance until it reports third-quarter earnings this fall.
Without those numbers in hand—not to mention a once-in-a-lifetime pandemic still raging—it's hard to provide a true assessment of last week's Outdoor Retailer Summer show in Denver. But most of the attendees Outside Business Journal spoke with on the trade show floor had a different means of evaluating what they viewed as a successful return of the industry's signature event.
The big takeaways: One, a smaller crowd allowed for more meaningful meetings, better access to brands and retailers, and even some order writing. And two, simply gathering in person after a lengthy absence brought a buoyant vibe to Outdoor Retailer—even if Colorado Convention Center was far from filled to capacity.
Those reactions elated Outdoor Retailer's senior vice president and show director, Marisa Nicholson, who was beaming last Thursday afternoon as attendees continued to walk the aisles and some booths still boasted decent crowds.
"I feel re-energized," Nicholson told OBJ on the show's final day. "When I showed up during setup, I walked on the show floor and thought, 'This actually feels good.' It was like sending out a party invitation and hoping people show up. I wondered if they would, and they did. That's cool."
In our report from Day Three on the show floor, brands expressed similar bullishness. Many said the show allowed them to have "deeper conversations" with key industry members, and more than a few retailers said they were overjoyed with the unparalleled access to exhibitors during the three-day event.
Of course, a show that's nowhere near capacity isn't sustainable for an event operator, especially a publicly traded one that relies on delivering shareholder value. So with this show behind them, Nicholson and her team are focused on delivering a bigger and better Outdoor Retailer Snow Show in January. They believe that will happen.
But along with talk of what that event might resemble—including if the "big" brands return—the most urgent buzz inside Colorado Convention Center last week was where Outdoor Retailer will stage when its contract with Denver expires after the 2022 Summer show.
To get some perspective on the issue, we sat down with Nicholson to ask about Outdoor Retailer's next home, and to get the final wrap-up on this summer's August event. Here's what she shared.
What's your take on how this year's summer show went?
We obviously knew the show would be smaller than a traditional summer show, and we're empathetic to those who couldn't make it. As we were talking with brands, many of their HR departments were unsure how to allow their people who wanted to come to the show to be here. Other people didn't know how long the pandemic was going to last and they had to adjust their budgets accordingly. The sentiment I've heard from the brands who weren't here is that many of them wanted to be here. And the brands that were able to show up are excited to get back to connecting with the community and convening. It's just a matter of when more people are going to feel comfortable doing that.
Next June is Outdoor Retailer's last contracted show in Denver. What are the odds it returns to Denver in 2023?
There's a really good chance.
But how about a number? Is there, say, a 50 percent chance we're back here? Higher?
To be honest with you, it's been a great place to host the show. We've been very happy here. I think the community's happy here. I know that there's a lot of scuttlebutt, but it's not Denver versus Salt Lake City, or anything like that. We always survey our customers about the cities that could host it. Denver and Salt Lake City are actually the two smallest cities that we ever look at because our show exceeds the capacity that either one of those convention centers can hold. But because they're both in states and locations where people can access the outdoors, which is incredibly important to our community, they're always going to be considered.
What are the other choices for Outdoor Retailer's new home?
Anaheim, Las Vegas, Orlando, Salt Lake City, and Denver.
The show will be in one of those five cities starting in 2023?
Yes. At the end of the day, this is the industry's show. And we're going to continue to host the show where the industry wants it to be.
Will the decision come down purely to survey results, or are there other factors like convention center size, hotels, and amenities that play a role, too?
There's a ton of factors that go into it. Once we know where people want it to be, then we go and work with the cities to make sure we have the right amount of time for move-in, staging the show, move-out, and working with the hotels for room blocks. This is why we have those surveys going out 18 months out before the contract expires. If there is going to be some big change, we need the time to make sure we can go in there and plan that.
When will we know the survey results?
After this show, we'll audit and assess the survey. We'll cut it several ways because we're asking the whole community about winter, summer, everything. Being able to look at it from everyone's perspective—brands' as well as retailers'—is important. When we analyze it, we want to make sure the information we got came from small and large retailers and brands, and that we got enough input so that the information we have is accurate on behalf of the entire industry.
When will OR announce whether it's staying here or moving?
Before the end of the year. We'll want to make sure that everyone understands what the future dates are and that they're planning accordingly.
As we close the summer show and think about January—regarding COVID, attendance, and everything else—what are your expectations for that event?
A lot of the brands that couldn't commit to this show have already started committing to the January show because they feel like there's enough time to plan, or they feel like there are enough vaccines in arms. There's more opportunity for them to wrap their heads around how their teams can and should show up for the January show. That's exciting. In terms of brands, that show already has more commitments than this show had. What has been helpful for us—and why this show wasn't only about size—is that the people who are here wanted to be here and the people who aren't here wanted to be here, but they couldn't. They're now excited about coming to the show in January. They're putting their money where their mouth is and sending in contracts. It's nice to see that commitment already for 2022. They're saying to us, "We're excited about the whole community finally coming together."