12 Ways to Find Adventure Close to Home
You don't need amazing trails to have an amazing day with little ones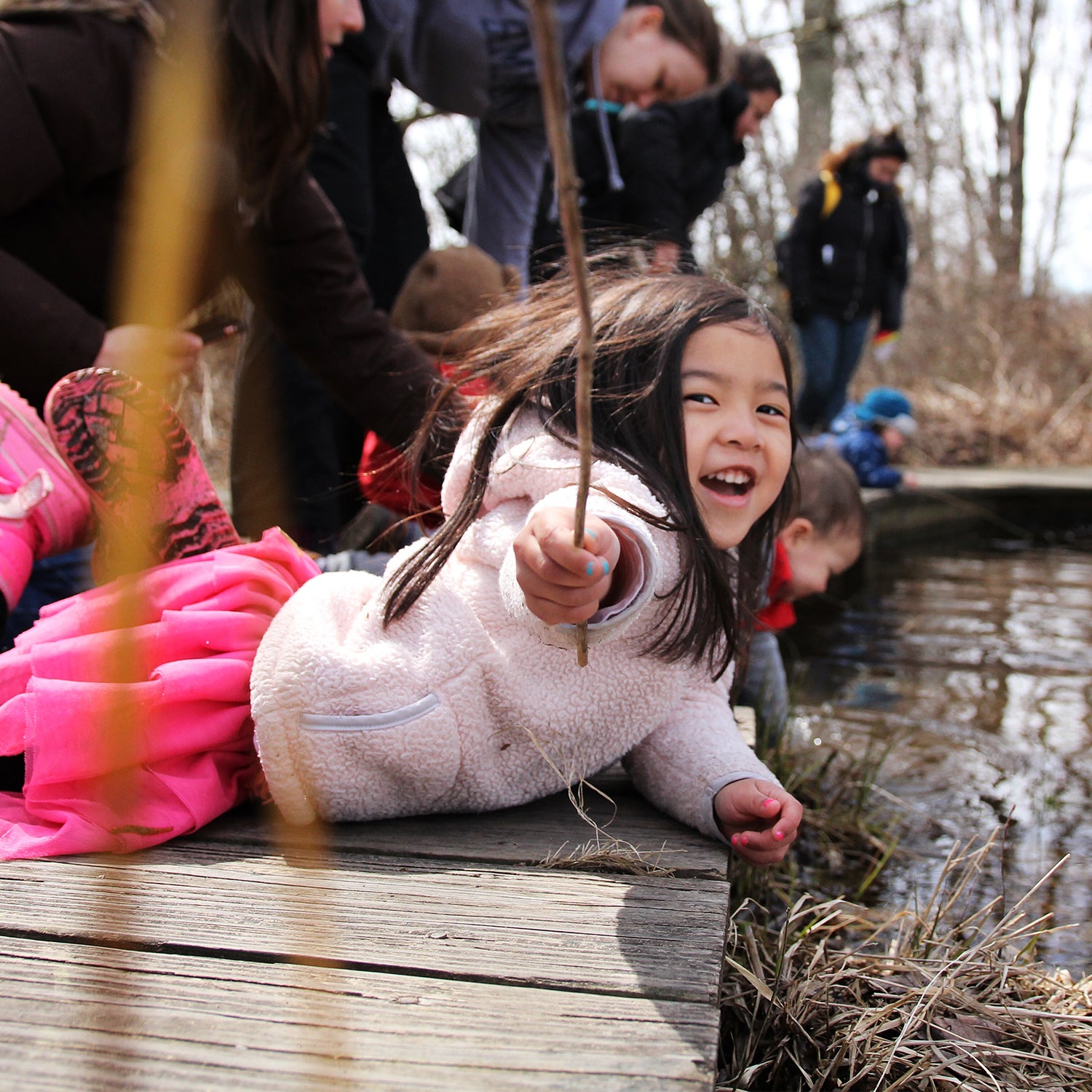 Alison Chandra(Photo)
Heading out the door? Read this article on the new Outside+ app available now on iOS devices for members! Download the app.
When you have a little one, day hikes involving more than an hour in the car won't be as appealing as they once were. In fact, "adventure" takes on a whole new meaning with a child, especially as you hit toddlerdom—there's always the risk that your toddler will sit down at the trailhead and refuse to budge even an inch.
Since I had Mason, I've discovered tons of adventures right in my backyard that I never would have sought out before. It opened up a whole new outdoors for my family, even though we're also lucky to live in Portland, Oregon, near amazing natural spaces, something that not all families have access to. Here are a few of our favorite ways to get out without going far.
Look for Hidden Urban Wilderness Areas
Did you know there are seven U.S. Fish and Wildlife refuges located in urban areas across the country? Wildlife refuges take it one step further than a city park and tend to have an incredible diversity of birds, reptiles, and native plant life. They're well maintained, but you still feel like you're deep in the woods. Even in Delaware, where freeways look like cobwebs laced across the landscape, the Russell W. Peterson Wildlife Refuge boasts 212 acres of protected land. Here, bald eagles soar just off the well-trafficked I-95 linking Baltimore and Philadelphia.
Go for a Paddle
Pre-baby, we would take leisurely multiday raft trips throughout Oregon, Idaho, and Utah. While we've managed to get in a few overnighters with Mason, we've mostly kept up our water adventures by stand-up paddleboarding and packrafting around town. My favorite Alpaka raft adventure happened a few summers ago: On a Sunday afternoon, we inflated our two boats on the shore of the Willamette River in downtown Portland. Then we paddled through the middle of the city while cars rushed above and past us on the I-5. The whole journey was unhurried and took a few hours. Mason was in awe of traveling under the bridges we normally drive over. Back at the beach, we rolled up the rafts and walked through downtown to our car. Look for bodies of water in your city, and find out how and where you can access them with your child to view things from a different perspective.
Take Public Transportation Adventures
In Portland, we have the 4T Trail. I took this self-guided trail, tram, trolley, train, and walking adventure with a small group of parents when Mason was about two years old. The hike and transportation basically has you circumnavigating the entire downtown, with a 2.5-mile climb up through Forest Park (soft or frame carrier required). It was a totally new way to see the city that I never considered pre-baby. Most cities have public transportation that can land you in a park or other green space, and there's no downside to leaving the car at home and introducing your child to public transportation early.
See What's Growing Around You
Community gardens are an incredible place to experience nature, no matter how big or small. One of my favorite urban hikes in Portland over the past few years has been walking from the award-winning, all-abilities Harper's Playground to a little alley garden a few blocks away that Mason and I nicknamed "the secret garden." I never saw anyone working in it, but it always seemed to be growing tasty vegetables and had a bit of a wild feel, like fairies or gnomes worked there at night. The garden was no more than 4,000 square feet, but we could spend hours playing there. In one corner was a cool shelter made from car bench seats and a metal sculpture, and someone had left a little loose gravel with a handful of dump trucks and toy cars to play with. It was a perfect stop on summer evening strolls when bedtime wasn't happening.
Seek Out Natural Play
Nature play areas are popping up all over the country right now and are the current building trend on trails and in city parks. These human-made play areas don't have the usual brightly colored plastic play structures, but instead mimic nature with stacks of logs, tree stumps to climb, ropes to swing from, and sand pits with hand-cranked water wheels to make waterfalls and massive mud puddles. Last summer, while on the Hike It Baby book launch tour with Subaru, Mason and I visited just such a park in Ann Arbor, Michigan, called the Matthaei Botanical Garden. There, we met the Hike It Baby branch of Ann Arbor, and the kids spent two hours hauling logs from one spot to another to build a full-on kid fort log cabin. You could tell they weren't missing the traditional swing set one bit.
Clean It Up
Do a trail cleanup with your little one on your back. A few years ago, a group of Hike It Baby moms got together to pull ivy with the Forest Park Conservancy. Adding a baby to the mix actually made the day more fun, and we loved the reactions we got from people hiking past us who were in awe of our mama crew working away. My guess is that some of them ditched their excuses and signed up to do trail maintenance after seeing us sweating away with children in tow.
Change Up Your Plans en Route
If you aren't going to make it to that national forest on the docket because potty training has gotten in the way, look at what's happening in the city around you. While traveling through Salt Lake City, Utah, we discovered an amazing 75-acre park called Wheeler Historic Farm right down the street from our hotel. We were road weary and needed a day off from driving, so we skipped heading to Park City and spent all day exploring Wheeler. There was a farm with goats, horses, cows, sheep, chickens, and more, as well as a network of trails through the park, playgrounds, and plenty of shade structures. You never know what you'll find if you just look beyond the outdoors you usually visit.
Make Your Own Fun
Here are some of my favorite ways to add an extra layer of fun to an outing.
Costumes are always a big win. Keep a bag of capes and masks handy in your truck to pull out and give your adventure a superhero slant.
Draw up a little map for things you are going to find together in the park (a certain tree, rock, bridge, water fountain) and seek those things out.
Toys on the trail can make a small park seem much larger if kids stop to play midway through a walk.
Look for big muddy puddles in alleys and you won't even need to go for a hike to enjoy hours of outside adventure.
Find leaves, sticks, and rocks in your neighborhood and take them home to make pictures of your outdoor journey.
Lead Photo: Alison Chandra
Trending on Outside Online