Four Parents on Traveling and Adventuring with Kids
Whether you're wondering what an outdoorsy life with a young child looks like or just want to see some really cute babies, you should get to know these families sharing their journeys through organizations and social media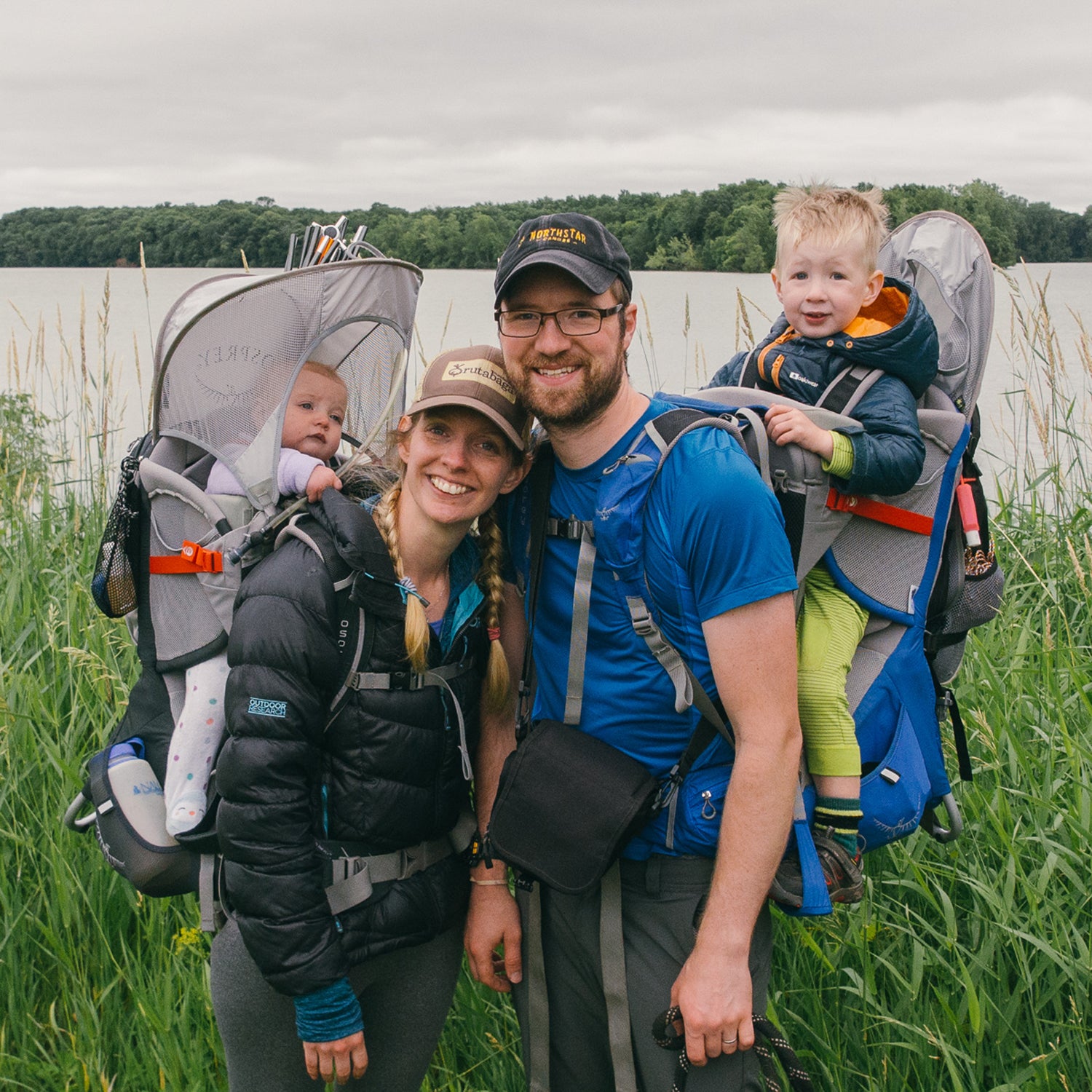 Heading out the door? Read this article on the new Outside+ app available now on iOS devices for members! Download the app.
The other day, a woman messaged me on Instagram to thank me for sharing stories about my outdoor experiences with my child. I had just posted about how I was surprised that my adventurous spirit hadn't actually withered up and died as I'd anticipated it would when I had my now five-year-old son, Mason. She told me that she and her partner were on the fence about the whole family thing, but seeing how I was getting out there a lot helped her realize that such a lifestyle can continue after you have a child.
I had to laugh at that, because I constantly wonder if I am doing anything more than walking a few miles here and there, especially when we barely manage to complete a whopping one-mile hike. When I look at other families doing the same, I think, "How do they do it?" But the great thing is that there is a lot of support out there to help you continue exploring when you have a child. Here are a few wonder parents on the internet that you should know.
Justine Nobbe, Adventure Mamas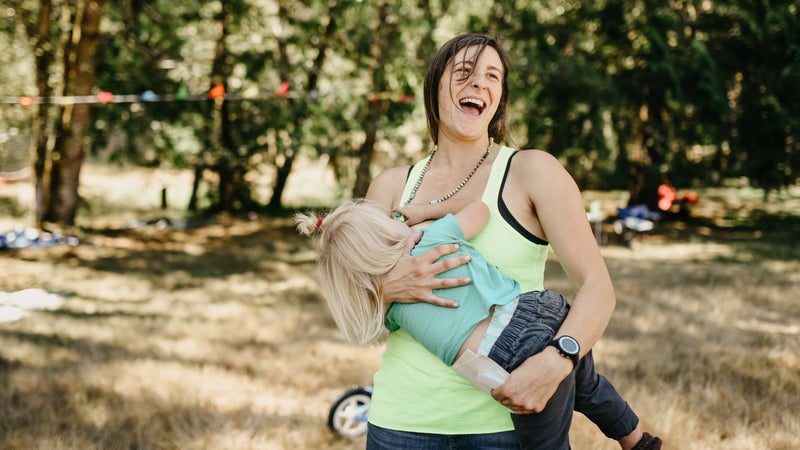 While there's no question that Justine Nobbe loves her son, Matty, more than anything in the world, part of her approach to good parenting is to make sure you leave your kid at home sometimes while you go play. "As you foster independence and passion in your children, be sure to develop those same values within yourself," Nobbe says. "It's healthy and exciting to prioritize personal adventure."
This is why Nobbe and her childhood best friend, Stephanie Feller, founded the Adventure Mamas Initiative, a fast-growing nonprofit dedicated to moms getting after it in the outdoors. They offer a support system to help women learn new outdoor skills so they can keep growing during motherhood and can teach those skills to their children and other women around them. The group hikes, bikes, climbs, and camps give women who struggle with guilt a hall pass to fun in the outdoors.
Melody Forsyth, Down with Adventure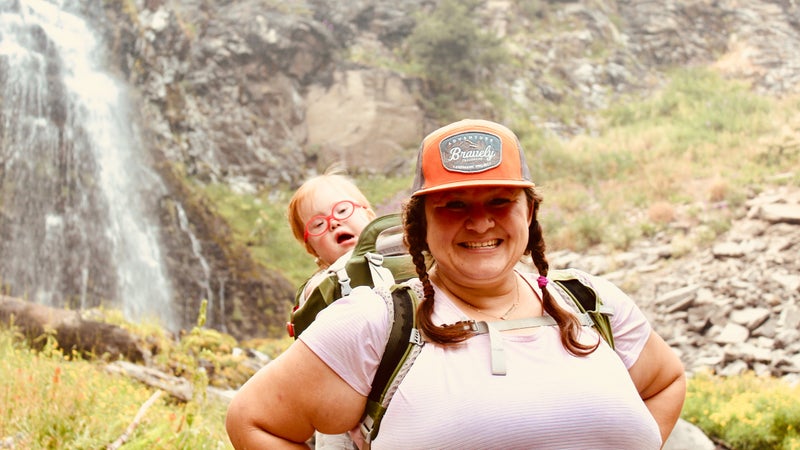 When Melody Forsyth found out that her fourth child would have Down syndrome, she thought it meant the end of her newfound love of hiking. She had only started the year before her pregnancy, after seeing so many pictures of nontraditional hikers spreading across the internet on feeds like Unlikley Hiker, Fat Girls Hiking, 52 Hike Challenge, and Women Who Hike.
Forsyth was convinced that having a child with a disability would be too challenging on top of already dragging her three somewhat reluctant kids onto trails. Then, during her pregnancy, she saw a family with a child in a wheelchair on a trip to Zion. When her daughter, Ruby, was given the OK to ride in a backpack at eight months old, off they went and never turned back.
Ruby loved hiking from the beginning, so Forsyth decided they would set a goal to hike all the national parks. So far, they have hiked close to 36 parks and monuments around the United States. Last year, Forsyth started her Instagram feed, Down with Adventure, encouraging families who have children with disabilities to get outdoors. Forsyth gets daily messages thanking her for showing them they can do it.
"I know that when Ruby sees us pull out the pack, she knows we're hitting the trail and she gets excited," Forsyth says. "It has been a blast watching our children conquer harder and longer hikes, and seeing Ruby love the trail herself has been so fulfilling."
Maura and Bobby Marko, We Found Adventure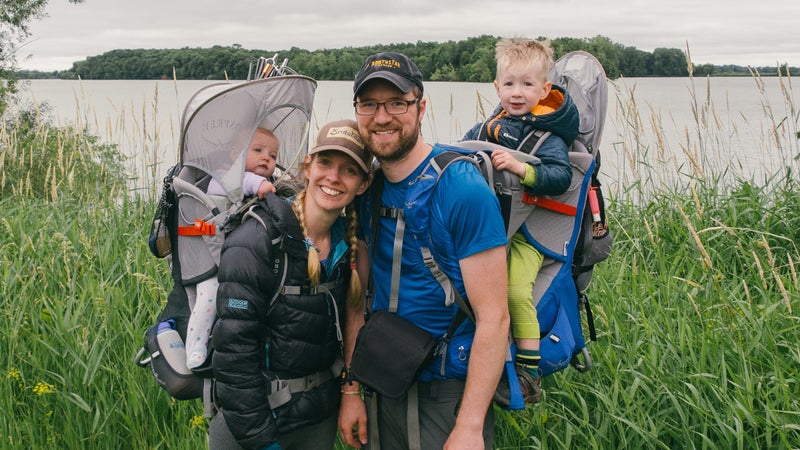 Backpacking is challenging for most. Add in a baby and you have a human who can't really tell you if they are hot, cold, or hungry, or if they're just crying because their legs have fallen asleep in the carrier. But that hasn't stopped Maura and Bobby Marko from getting out with their kids, Rowan, age one, and three-year-old Jack. Now the couple runs a popular Facebook group dedicated to backpacking with babies and kids.
Last summer, the Markos set out to traverse 170 miles of northeastern Minnesota by bike, canoe, and foot. While they had high hopes of finishing the entire trip, when they got into the backpacking portion, they realized they were in over their heads—the trail was just too much bushwhacking. Maura, who built trails as a volunteer for the Washington Trails Association in her pre-baby life, says it was hard to call it quits. But she's learned to recognize that success is just getting out into the woods with kids, not the distance you travel.
Maura likes to remind aspiring backpacking parents that all you can do is prepare the best you can and roll with the unexpected. "I would hate to cut a trip short because we ran out of diapers," she says as an example of an easy mistake for parents to make. "In the weeks leading up to a trek, keep a running tally of the number of diapers used in a day. Average that number and add one bonus diaper per day. This has worked out perfectly for us when planning treks."
Amelia Mayer, Tales of a Mountain Mama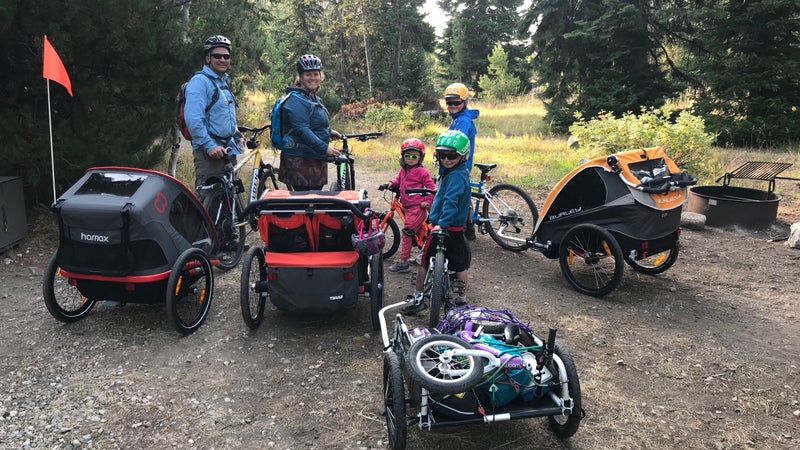 While many parents will tell you it's hard to get onto the trails with one or two children, imagine going hiking with five kids under nine years old. Amelia Mayer has been writing about this since 2012 in her family gear review blog, Tales of a Mountain Mama. It has become a go-to for new parents who need to know what to trust when it comes frame carriers, bike trailers, and gloves that will actually stay on a toddler's hand.
Just last week, Mayer and her husband brought their kids on a bikepacking trip not far from home. They may have gone only 15 miles, but that's an impressive distance considering that her youngest, at four years old, pedaled her own bike.
"My own need for sanity among the chaos of family life drives me outside," Mayer says. "It's when I am the best mom for them and we are all the happiest. And it's when I see them grow and thrive the most."
Trending on Outside Online