The Best Hiking Carriers for Mountain Kids
We compare the best carriers for bringing your kids into the outdoors.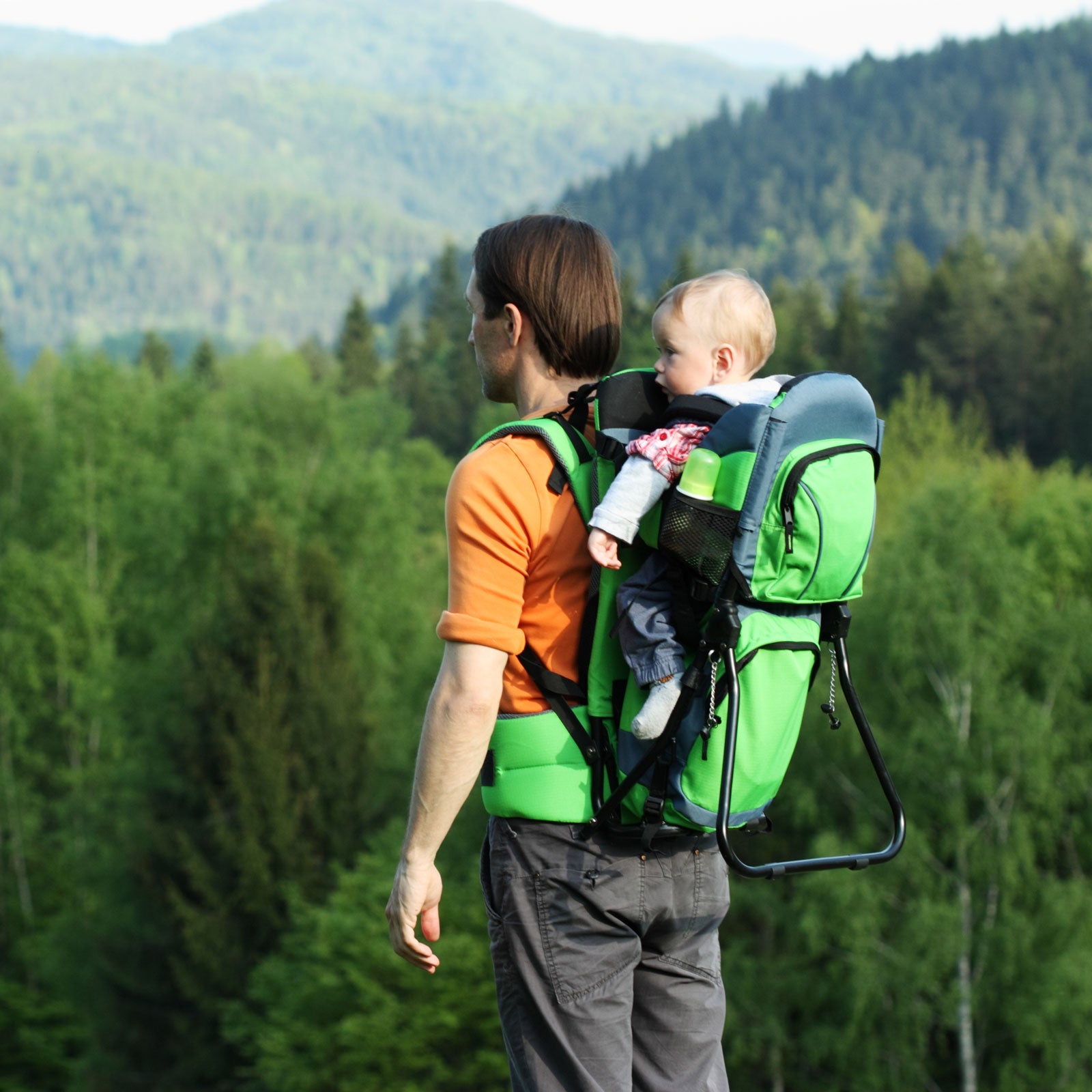 Heading out the door? Read this article on the new Outside+ app available now on iOS devices for members! Download the app.
Whether you're anxiously awaiting the arrival of your newborn, or trying to get back into an active hiking lifestyle with your 2-year-old, rest assured that a good carrier will make life easier. This project's been a while in the works, mostly because every time it seems ready to wrap, a new state-of-the-art baby carrier hits the market. This is a good thing for parents, who not so long ago used to be resigned to a couple of less-than-ideal options: cumbersome external frame packs or saggy soft carriers that put all of the weight on your shoulders, guaranteed back-busters when you hit the trail. The truth is, different packs work for different parents and different stages of your child's growth. Here's a roundup of stellar choices for hitting the trail with newborns to preschoolers. We did the leg work so you don't have to. 
Boba G3 Carrier 
Best For: 7-45 pounds
The Boba G3 Carrier is one of the few carriers that works equally well for newborns as for toddlers, without any extra accessories to purchase separately. This soft-structured carrier consists of a single piece of rectangular fabric, with added foam in the shoulder straps and waistbelt. 
The Boba allows your child to relax into a comfortable and fully-supported position on either your chest or your back. The back of the carrier comes up higher than many other similar carriers, but the extra fabric will keep your toddler from leaning too far back, as well as provide extra discretion for a nursing infant. 
Despite the simplicity in design, this carrier offers plenty of bells and whistles for added comfort—for baby and mom or dad.  Removable foot straps ensure that even growing toddlers have optimal leg support, while a fully adjustable sleeping hood keeps an infant's head secure during naptime hikes.
Storage in the carrier itself is minimal (2 pockets on the waist belt that will hold little more than your cell phone and keys), although carrying your baby on the front allows you to bring essential gear in a small backpack.
Pros: Brilliant design that fits the widest range of ages, lightweight, perfect for everyday baby-wearing, traveling, and day hikes. The close contact of a soft carrier provides great bonding opportunities between carrier andbaby.
Cons: Minimal storage makes longer hikes near impossible without relying on a hiking partner to carry some of your gear.  All that great bonding means little to no ventilation. Be ready to sweat in hot weather!
Price: $120
—Erica Lineberry
This item is currently out of stock. 
---
Beco Gemini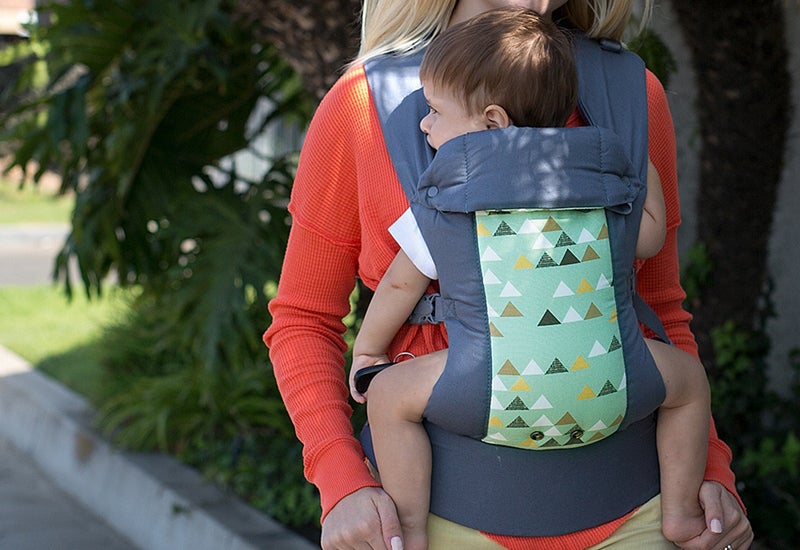 Best For: 7–35 pounds
The Beco Gemini is another soft-structured carrier that is ideal for the baby-wearing crowd. It is very versatile—one of the few carriers that allows a baby to face out while being carried on the front (a baby can also be carried on the back or hip, in addition to facing inward on the front.) The short, narrow body of this carrier makes it the best fit for newborns, and the foldable headrest provides plenty of support when your little one needs to get in their 40 winks. 
Pros: Versatile carrying positions, lots of print and styling options, made in the U.S., ideal for newborns to 12-months.  Lightweight and easy to travel with, great for everyday babywearing and short hikes. As with the Boba, it provides great bonding opportunities between carrier and baby.
Cons: With a 35 pound weight limit and short, narrow body, this carrier is not ideal for toddlers or babies that are taller or heavier. There is ZERO storage—so using a front carry and an additional backpack, or an additional partner for gear hauling. 
Price: $130
—Erica Lineberry
---
Kokopax Classic Carrier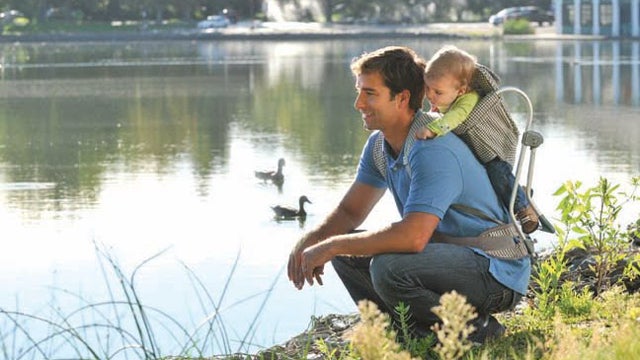 Best For: Six months—35 pounds
This carrier is somewhat of a hybrid between soft-structured carriers and traditional frame backpacks. Though it is held together by an anodized aluminum frame, it weighs in at only 3 pounds, and can even fit in an airline overhead compartment. Your curious little observer will love the 360 degree vantage point he has from being perched up high on your back, and your shoulders and back will love the ergonomically padded shoulder and waist straps. 
Pros: It's one of the most lightweight and compact frame carriers, without being bulky. The kickstand makes it very easy to get baby in and out. The pack has good ventilation and offers great views for baby.
Cons: Compared to other frame packs, the storage on the Kokopax is minimal, so it's up to you whether the lack of bulk or extra weight is worth it. For folks that have lots of gear, keep looking, you'll need something far beefier. Compared to soft carriers, the Kokopax is not very versatile at all—offering only one carrying position, and unusable for nursing children as well as babies under 6 months.
Price: $150
—Erica Lineberry
This item is currently out of stock.
---
Kelty Pathfinder 3.0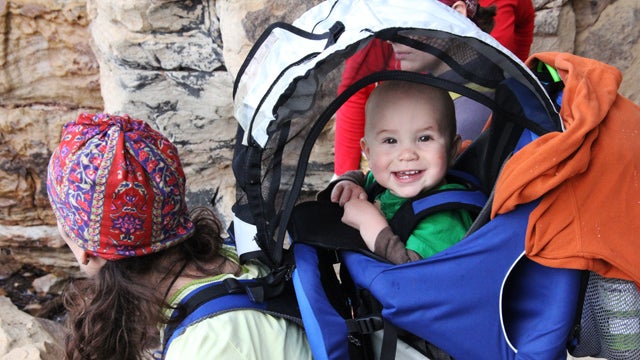 Best For: 16-40 pounds (child must be able to support his or her head)
Kelty is the progenitor of child backpack carriers, and they have remained at the cutting edge of this niche. This external frame carrier is great for backpackers, climbers, and day hikers that want plenty of storage space. Equipped with 1300 cubic inches of storage, spaced out over four zippered pockets (including a zip-off backpack), this backpack also comes with a changing pad and rain and sun shade. The waist straps and sliding torso adjusters make this pack transition smoothly (and quickly) between wearers of varying sizes, which came in handy for our family, since both my husband and I carried our little guy equally (but are NOT equally sized).
Pros: Durability. We put this backpack through weekly abuse on strenuous, overgrown climber's trails, and never once got a hole. Great for backpacking and climbing approaches.
Cons: Large children (or children with bulky layers) can be difficult to load into the pack. The sun shade offers great protection on the top, but not so much on the side.
Price: $279.95
—Erica Lineberry
This item is currently out of stock.
Deuter Kid Comfort III (2012)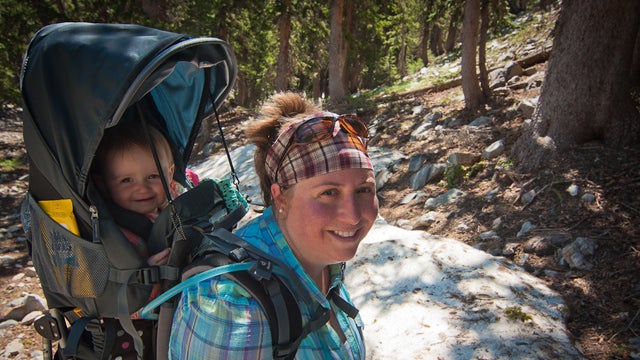 Best for: Nine months (holding head up)—40 pounds
If you're looking for the Suburban of child carriers, where size is no issue and bells and whistles come standard, this fully-loaded backpack may be for you. The tallest and heaviest of the packs tested—at 35" high—the Kid Comfort III ($299) offers baby the roomiest compartment, with a fully-padded head rest and a hidden rain hood that accordions into its own pocket when you're not using it. A removable padded "pillow" snaps onto the front of the carrier at baby's chest height, perfect for lolling heads (and can be detached for easy washing). The coolest detail of all, though, might be the convenient side entry via snapping buckle—no more trying to shove the baby through the leg holes from above. There's seemingly no end to the storage options, either: Twin exterior mesh pockets keep essentials like pacifiers, sunscreens, snacks, and toys close at hand; two small pockets on the hip belt are designed for cell phones, small cameras, and, get this, even a small rear-view mirror (included); roomy zippered  compartments stow rain jackets, extra layers, and diapers; and—look closely— a zippered sleeve tucked into the back frame stashes a hydration bladder.
Bigger's not always better, though, when you're hiking up the side of a mountain. My husband, whose six-foot-tall frame was better proportioned for this massive pack, found the Kid Comfort much more comfortable than I. At more than half my height, it was simply too tall for me, especially when climbing steep pitches, and I had trouble cinching the padded waist belt to fit my hips, though my husband had no difficulty. This one's so comfy our older daughter had no problems dozing off on a long hike above 10,000 feet, but beware of droopy branches. Like driving a U-Haul into a parking garage, two words come to mind: low clearance.
Pros: Thoughtful features ensure baby's comfort and easy storage—teddy bear included.
Cons: If you're small, this one may overpower you. Not surprisingly, it's also the beefiest of the bunch, at 7 pounds, 10 ounces.
—Katie Arnold
This item is currently out of stock. 
---
Osprey Poco Premium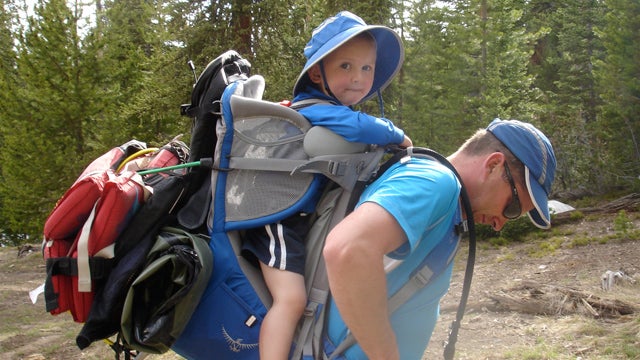 Best for: Nine months (or holding head up)—40 pounds
Several features set the top-of-the-line Poco ($299) apart from its rivals: One, no question the "Fit on the Fly" hip belt adjuster was the easiest and fastest to cinch down and size to my waist. At its smallest setting, it fit me snugly, with no extra room for rubbing. Two, it has the most ample, sun-and-rain cover. Pre-attached, it unzips from its sleeve and pulls forward to attach via clips to the side of the shoulder straps. Three, the zip-off daypack compartment is ideal for shorter outings when you need less gear. No need to haul the extra weight; simply unzip and go. There's still a cavernous lower compartment for diapers (changing pad included), snacks, and a change of clothes. Better yet, when your child wants to walk, the low-profile daypack can become your child's "practice" pack. When they get tired, just zip it back on. Four, stirrups. Yup, this ride sports a pair of nylon stirrups that keeps tired little legs from dangling (and, as we discovered on a hike up New Mexico's 12,200-foot Deception Peak, lets them play "horse"). Other niceties: A hidden hydration slot holds a bladder, and the child's harness was the easiest of the batch to attach; ample padding keeps the strap from disappearing into the cockpit, so no more rooting around for tangled shoulder straps. True to Osprey's pack-building pedigree, the Poco has no fewer than seven smaller pockets, both mesh and zippered, including a small one sized for a cell phone or pacifier on the chest straps.
Pros: All the bells and whistles you'd come to expect from Osprey.
Cons: Despite four settings for torso size (XS-L) and numerous attempts to adjust it, I was unable to prevent the top of the pack from nudging me in the back of my head, which made walking up steep inclines uncomfortable. My husband, however, had no issues and voted this one his fave.
—Katie Arnold
---
Ergobaby Classic Baby Carrier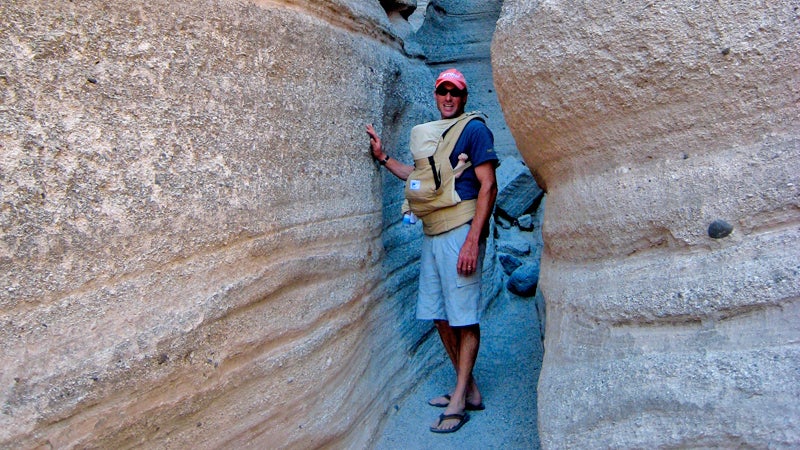 Best for: Birth—40 pounds
For unrivaled baby-and-parent comfort, the Ergobaby Classic ($120) was my go-to hiking carrier for the first couple years of my daughters' lives. I used it from about two weeks post-partum, in all seasons. With the help of a comfy padded waist belt, this soft cotton canvas carrier distributes most of the baby's weight on your hips and not your shoulders—a boon to new mothers with achy backs.
The Ergo is designed to carry infants on the front and older babies on the back or side. For the newborns under three months, you'll want to cushion the baby in the carrier using the infant insert (not included), a thick foam pad that wraps around the baby like a taco. From the age of about two weeks, both my daughters would fall asleep almost immediately when I swaddled them in the insert and placed them side saddle in the Ergobaby; it must have been comfortable because they'd sleep for nearly all of the two-hour hike up and down Picacho Peak, the only sound coming from my chest a contented snoring.
Figuring out when to switch the baby to your back depends on his temperament and size. My extremely curious older daughter refused to ride face in on my chest after about eight months, while my younger daughter was content to snuggle there until about a year, when she got so big it became difficult to see the trail under my feet. A poplin hood stuffs into the small front pocket and can be pulled over the baby to support his head during naptime or as shelter from sun, wind, and other weather.
Pros: Lightweight, flexible, and the most comfortable of any tested. At only a pound and a half, it's great for traveling. With a carrying capacity equal to those of the backpack-style carriers, it's the most versatile option on the market.
Cons: Very little storage, so on longer day hikes you'll need to foist your gear onto your partner or wear your own daypack on your back (or front—awkward). It can also be challenging to put on by yourself, especially with baby on the back. And because your little one rides so close to you, it can be kind of a sweat factory in warm weather.
—Katie Arnold
---
Deuter Kangakid Carrier
Best for: Nine months (or sitting up their own)—33 pounds
Built for longer hikes when you need to bring gear, the KangaKid ($160) is a daypack and a baby carrier all in one. There's an ample storage area for rain jackets, layers, lunch, and diapers, and a back compartment that unzips to become a padded baby seat, complete with adjustable safety harness. I used the KangaKid to tote my 13-month-old up 14,265-foot Quandary Peak, outside Breckenridge, Colorado, last summer. Slogging 3,500 vertical feet in just over three miles with a kid on your back is never going to feel easy, but with the Kanga, at least it wasn't painful. I'm only 5'6", and the pack fit me snugly without towering over my head or throwing me off balance. I had only minimal rubbing under one of the shoulder straps—a minor complaint given how content Maisy seemed, especially when she got tired around 13,000 feet, leaned her head against my shoulder, and fell asleep. The pockets were ample enough to hold both of our foul weather mountain gear, a small grocery store worth of snacks, and her diaper kit, and two external mesh pockets keep water bottles and baby bottles close at hand.
Pros: Lightweight, at 4 pounds, 8 ounces, with plenty of storage and none of the bulk. The Kanga's an all-around bomber choice when you need to pack for more than just a mellow day hike; also great for easy-in, easy-out when you're traveling.
Cons: Without an external frame, the pack has no way of standing up on its own when the baby's inside, so you'll need to prop it up manually when you're loading baby. Same thing on the dismount: lower carefully and then hold it up so she doesn't tip over. No rain-or-sun fly—bring Gore-Tex. 
—Katie Arnold
This item is currently out of stock.
---
Kelty Kids FC 2.0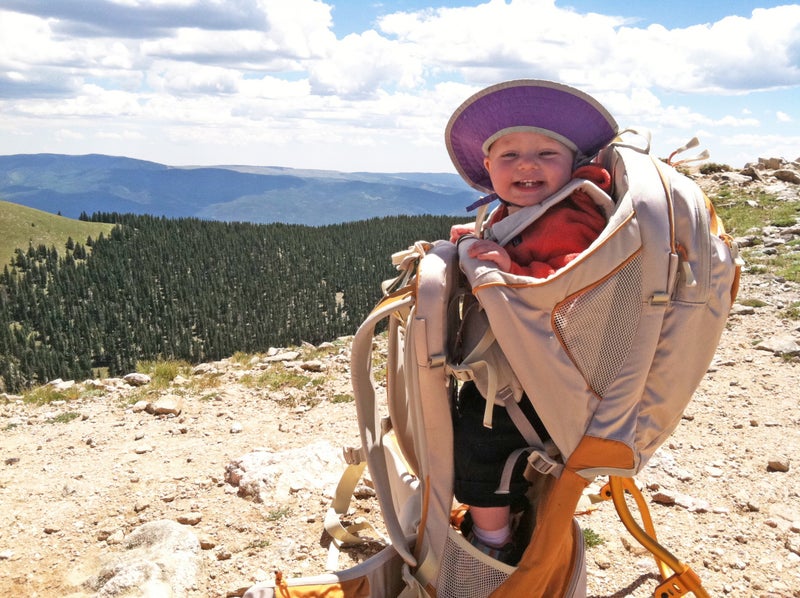 Best for: Nine months (or holding head up)—50 pounds
This medium-size backpack-style carrier ($230) strikes a happy balance between storage and comfort. Like all Kelty Kids products (the company pioneered backpack carriers for toting children), safety is paramount, and the five-point harness clips easily into padded shoulder straps. The contoured hip belt offers plenty of support and four generous, zippered pockets where you can stash all of your essentials for a day on the trail. But don't bother packing a diaper pad—a mesh changing station comes with the pack.
Of all the backpack-style frame packs in this review, I found the FC 3.0 most comfortable for my size. The adjustable frame is compact enough that it never bumped the back of my head—annoying when you are trying to look forward on the trail—though I had to cinch the hip belt to its smallest size in order to keep the bulk of the weight where it's meant to be: on my hips, not my back. Smaller women than I might have fit issues.
The sun-and-rain fly stuffs into a small pocket and has see-through mesh panels front and back, but it's freestanding and needs to be attached using four flexible rods. Suggestion: Don't wait until it's raining to fish it out and set it up. You'll get wet. I wish I'd thought to attach a couple of dangly, plastic distractions on a hike with my three-year-old to the top of the Santa Fe Ski Basin; they might have come in handy when the whining began.
Pros: Good storage, diaper pad included, and an adjustable frame that can be sized down for smaller torsos makes this an all-around solid choice that will fit most parents.
Cons: At 7 pounds, 2 ounces, it's the lightest of the backpack-style carriers we tested, but until you acclimate to carrying a 30-pound kid on your back, any extra weight can feel like overkill, especially on steep trails.
NOTE: I tested the 2011 model; the comparable pack for 2012 is the Journey 2.0.
—Katie Arnold
This item is currently out of stock.
---
Piggyback Rider
Best for: Age 2 1/2—60 pounds
As child carriers go, the Piggyback Rider ($90) is the most minimal set-up we tested. One step up from, well, a piggyback ride, it's basically an aluminum foot rest attached to a nylon shoulder harness. As such, it's ideal for kids who are big enough to want to hike on their own, but who still get tired and want to ride. No more lifting them in and out of heavy backpacks every five minutes. All they have to do is climb on, put their feet on the bar and hold on to two nylon hand holds on the shoulder straps, and voila: They can ride piggyback style without choking your neck, dangling their legs, or, worse, losing their grip and tumbling off. A child safety harness tethers the child to the carrier, so even if their feet slip off the bar (which happened to our three-year-old a couple of times), they won't fall off.
At less than three pounds and designed to be super streamlined, there aren't many bells and whistles (well, there is one actual whistle, integrated into the chest strap, in case you need to scare off a bear or rein in your kid). The adult shoulder harness isn't padded, nor are the edges of the aluminum bar, which, if you're not careful with your adjustments, can press right into your lower back. Ouch.
Pros: Lightweight and affordable; a great "transition" carrier for kids who like to hike but sometimes need a lift. Has the heaviest carrying capacity of any unit we tested.
Cons: Takes practice to bend over and load and strap the child. No storage whatsoever—if you need a small pocket, upgrade to the Deluxe.
—Katie Arnold
This item is currently out of stock.
Lead Photo: ffolas/iStock