My Kids Need the Outdoors, and I Need Help Giving It to Them
Want your children to have a deeper relationship with nature than you do? So did this writer. She found an entry point in Tinkergarten.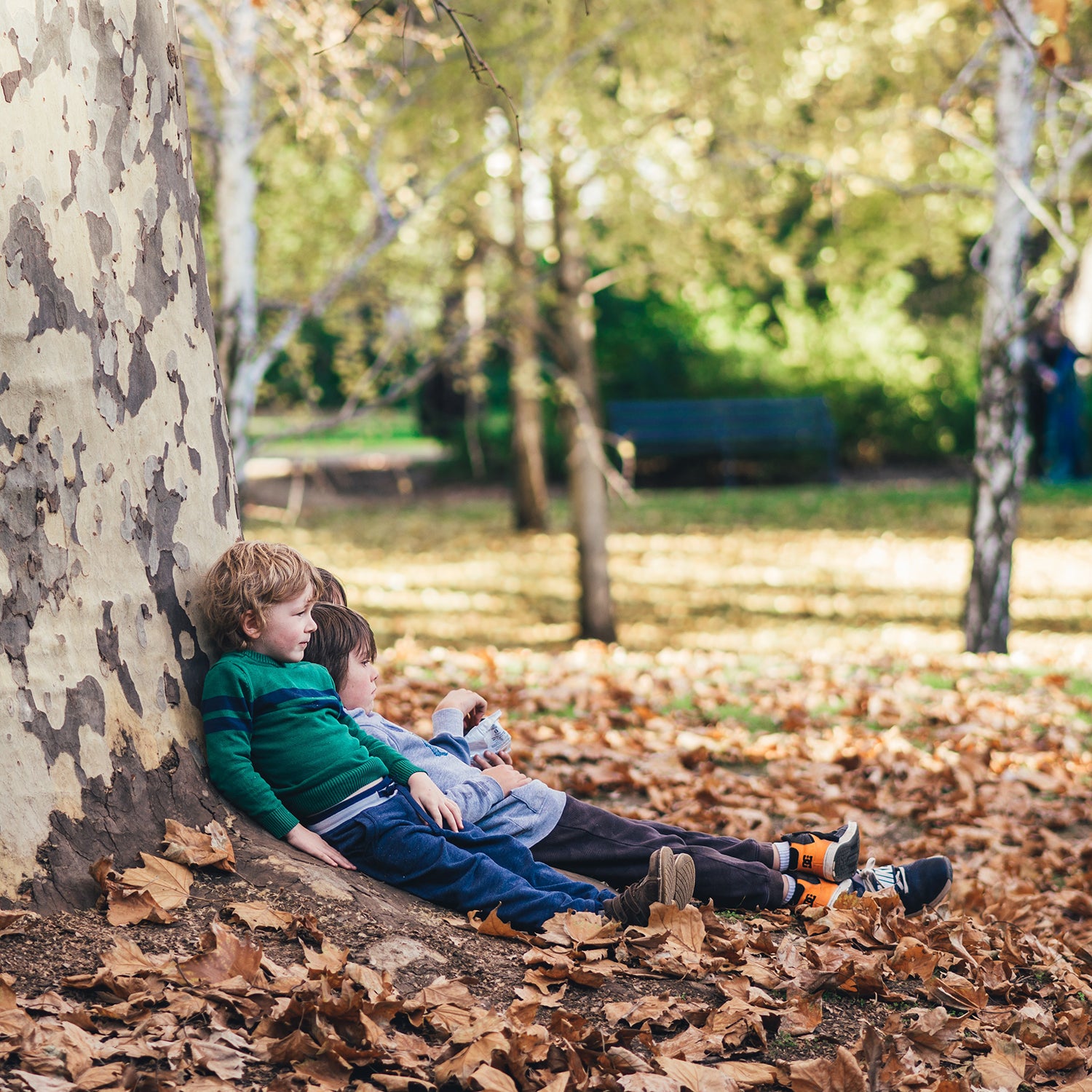 Heading out the door? Read this article on the new Outside+ app available now on iOS devices for members! Download the app.
My backyard is littered with art supplies, polished rocks, cardboard boxes, and containers of all sizes. The flower beds are overgrown with massive cucumber plants, spindly rosebushes, and tomatoes that no one remembers planting. A garden gnome guards the compost pile, herding worms to do their job. A tiny My Little Pony stands atop the climbing dome.
I sit at the shaded picnic table, amused by the outdoor space my children have created, daydreaming about what our small green space could become, and half out of my mind from fighting off the swarm of mosquitoes.
I am not very outdoorsy.
But I am a seeker. Since I became a parent eight years ago, I've turned again and again to books, to communities, to wiser friends, asking, How can I give my kids a relationship with the outdoors when I barely have one myself?
My resources have expanded recently through Tinkergarten, a national outdoor education program that offers classes and at-home projects that encourage kids to play and learn in nature. It was founded in 2012 by former schoolteacher Meghan Fitzgerald and her husband Brian.
I discovered Tinkergarten in 2017 through a wildschooling group on Facebook. It came back on my radar at a time when I was desperate for resources to keep my kids busy, but too overwhelmed to come up with ideas on my own: early in the COVID-19 pandemic. By June 2020, my kids had been home all spring, and I wanted anything that could engage them without much cognitive input from me. That's when Tinkergarten released a free eight-week "summer camp" of virtual programming, exactly what I needed to keep my daughters, age four and seven, busy for part of their long summer days at home.
One of the first activities we did for Camp Tinkergarten was collecting nature treasures. My children have always done this naturally—picking a flower, pocketing an interesting rock, transforming the perfect stick into a magic wand. For Camp Tinkergarten, their nature treasures would be the inspiration for art, engineering, and problem-solving activities. I sent the girls on a backyard mission to collect as many nature treasures as they could fit in a shoebox. The oldest returned with rocks and acorns, drawn to compact tokens she could sort by attributes: these are smooth, these are green, these are bumpy. My youngest collected bright green leaves and fistfuls of flowers, saying, "For you, Mommy," as she tucked them in the treasure box.
Prior to the pandemic, Tinkergarten offered weekly nature-based classes for kids between age two and eight in all 50 states. Families would meet up at parks or other green spaces for an hour of outdoor play facilitated by local Tinkergarten leaders. The organization also maintained an active dialogue between families and staff through a Facebook group and by asking parents for feedback after every session. That back-and-forth played a role in how the company evolved during the pandemic.
"More than ever, families needed to connect," said Fitzgerald. "And many Tinkergarten families still really wanted Tinkergarten. So we designed, tested, and refined a way to inspire community and nature play with a live touchpoint that takes place online over Zoom—what we now call our At Home version of Tinkergarten."
I signed my family up for a 12-week season of Tinkergarten's virtual classes in January 2021. On Tuesday mornings, my girls gathered their "nature treasures" and other supplies and joined their class via iPad from the dining-room table. They thrived in the playful environment.
While my seven-year-old was in virtual first grade with rigid behavior expectations, kids in Tinkergarten were encouraged to be active, experimental, and curious. It was a relief to watch her serious school face melt into a pure fun face. Because we were strictly isolating at home, this was one of few opportunities my four-year-old had to interact with other children and adults, even if it was limited to Zoom. It became glaringly clear to me that she needed different voices and interaction. And I really needed to see those other families, messy tables, laughing toddlers, and patient group leaders to remember that I was not alone, even when I was, in many ways, totally alone.
I really needed to see those other families, messy tables, laughing toddlers, and patient group leaders to remember I was not alone, even when I was, in many ways, totally alone.
Parenting small children can be very lonely even in the best of times. The minutiae of kids' routines sap so much time and energy that, occasionally, signing for the grocery delivery is your most meaningful contact with another adult all week. I watched the class leader coordinate a group of Zooming kids with such patience, and I felt a shift inside me, from constant guilt and overwhelm to acceptance that other people could fill in the gaps if I met them halfway.
Fitzgerald understands the pressure on parents to give their kids every experience. "So much of our lives we measure ourselves against ideals," she said, "but if we are truthful about what will help us and, more importantly, our kids to thrive as we grow, it's to be real—to set realistic goals, be kind to ourselves, and just get out there."
Tinkergarten returned to in-person play sessions in July 2021, but it still offers a Zoom-based, at-home option too. Fitzgerald realized early in the pandemic that parents like me were hungry for nature-based activities to do at home.
"We saw our mailing list quadruple in two months, and suddenly were able to reach families all over the country," she said. In addition to offering virtual classes, Tinkergarten will continue to create its free monthly calendar of ideas for outdoor play.
My kids returned to school this fall, and I now outsource a large chunk of their play and learning to the school community. But Tinkergarten is still present in our lives. I check the monthly calendar for ideas to add to our walks and park visits, and collecting nature treasures has continued to be part of our outdoor rituals. A new roly-poly bug friend might join us for half a block while a giant bamboo shaft lives in the backyard for weeks in case it's needed for dragon slaying.
I keep my eyes open for other community connections that will form the skeleton of my children's experiences with nature. My daughters have also started learning about gardening and composting through the work of a local nonprofit called Gardopia Gardens, which teaches kids how to grow plants in community gardens and also how to build their own gardens at home. We are still harvesting peppers from the backyard. In our gardens we have learned patience, taking action today and waiting to see results. We manage disappointment when a seed fails to sprout, and accept compliments from neighbors when our artichokes bloom into bizarre purple satellites over the sidewalk.
Communities like Tinkergarten and Gardopia allow allow families like mine to try new things without too much fear of harm or failure. No matter the venture, the experience of other people creates training wheels for those less experienced. They give us balance to safely travel further.