The Daily Rally
Tracy Ross Shares Her Passions
When the outdoor writer organized a long-distance bike trip for her struggling brother, she learned the value of sharing things that bring us joy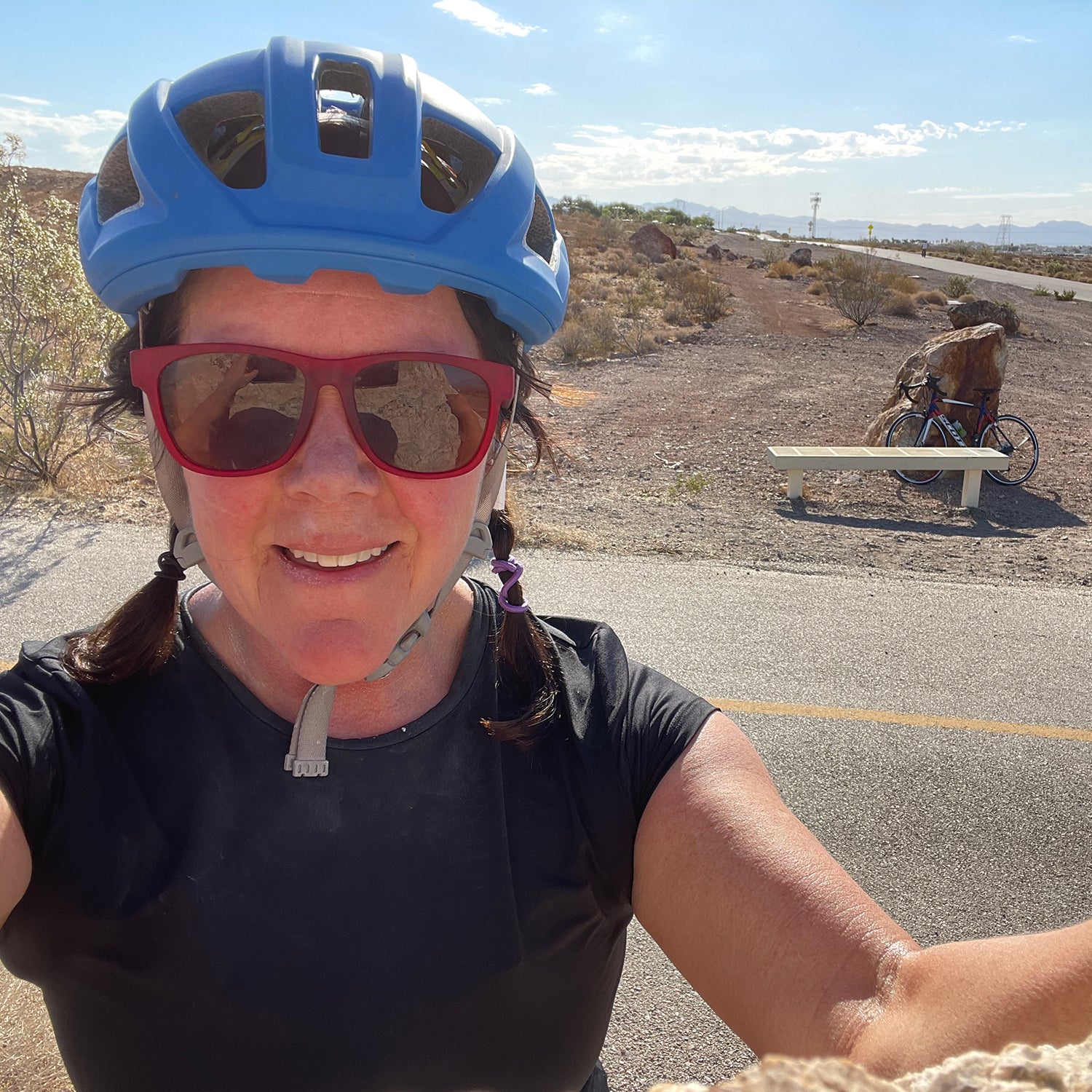 Tracy Ross
Heading out the door? Read this article on the new Outside+ app available now on iOS devices for members! Download the app.
Tracy Ross shared her story with producer Paddy O'Connell for an episode of The Daily Rally podcast. It was edited for length and clarity.
I thought, I'm just gonna take Chris out on a bike. And we're just gonna ride. We're just gonna pedal and do nothing else. We don't have to talk about anything heavy. We're just gonna ride bikes. He's gonna see for the first time in his life that biking is more fun than getting shitfaced.
I knew that what we were doing was essentially a life or death activity for Chris.
I live in Nederland, Colorado. My passion is writing about things that bother me. I write a lot of essays. I've written a memoir, The Source of All Things, and I do investigative reporting and profiles, a lot of it for Outside magazine. And I raise three children. And when I'm not doing all of that, I am always either on my bike, mountain biking, skiing, or in a raft or a ducky.
So in 2015 I decided to take my brother on a big bike ride across Kansas, which is totally crazy because Kansas is not a place I would ever wanna ride my bike. Or at least I thought so in the beginning. We set off from his house in Overland Park and we did a three-day ride across the turnpike and into some smaller towns. It was Labor Day weekend, so it was hot as hell—oppressive in a way that I have never felt before, except for maybe being in India. It was 100 degrees, the humidity was probably like 99.9 percent if not 105 percent. The sun reflected off of the blacktop and it was burning under my chin. I felt like it was like burning inside my mouth and my eyes were on fire.
Chris was overweight, super out of shape. He actually had liver disease already and I didn't know it. He was an alcoholic and he knew that we were gonna go do this ride just so I could be like, Hey, let's go do something together. It's gonna be a big adventure. And you're kind of scared of everything and your life has gotten really small. And fuck that, I'm gonna take you out on an adventure that I do. Because I just wanted to jolt him out of his alcoholism.
And he was just pouring sweat. Like it was coming off in little rivulets off of his face. And on every hill, Chris would just labor up this thing. I honestly was like, he could die. He could die.
I was like part counselor, part sister, part person who loves my brother very, very much. And part bitch. I just was like, We're doing this and it might suck, but at the end of it, you are gonna find out who you are without alcohol. Which I know sounds kind of crazy, but I believed that it would do it.
It was cooler on the second morning, or we had adapted to it or something. There was that sort of scene that you imagine in Kansas with the grasses and this beautiful early fall color. So there were moments of levity in that way. But a lot of it was us riding and me kind of managing Chris's fear, because he was really afraid by then of life and everything. And also trying to be kind of hard nosed at the same time. Like, We're gonna stay out here as much as it sucks. Because we are going to attain a goal. God, maybe he'll see how great this is, and how special it is that we're out here doing this horribly difficult thing together.
And, you know, when we would get to the top of a hill, there was one in particular, when he did say, "I can do this. Like, maybe I can do this."
As we kept riding and we kept reaching these milestones he kept saying, "This is cool, I remember bikes and I remember riding, and it used to be so fun when we were young. And you had that red bike with the sparkly banana seat." And we'd just terrorize the neighborhood, because we were like those kids. Like we'd ride down the road with our shirts off and make fun of like the pregnant neighbor lady, or whatever. And it took me back to innocence and a time before drinking and him being addicted. And it was just really moving.
So Chris died on May 28th, 2020. He didn't get sober in 2015, though he got sober for seven months before he died. He would send me texts, which I still have, showing me his sobriety coin medal things from AA and being like, Hey, when this pandemic's over, let's go ride the Katy Trail, which is out also in Kansas.
But the reason that I choose to remember that ride in Kansas over everything else is because of one moment. He was standing at the top of a hill after we'd ridden through a section of this beautiful grass and corn or whatever, and the light glinting off of it in this golden way. And then the light coming off of the beautiful silos out there and puffy clouds in the sky. And I could tell he was proud that he had proven himself not only to himself, but to me, his sister. I could tell that he had a sense of pride that he probably hadn't felt in ten years. There were moments where Chris would get to the top of a hill, like the second or third day, and just be happy. Like, I just did that. And I would be like, Yeah, you did.
When we die, I refuse to believe that our soul is just like bang, lights out. You're dead, nothing more. We're still around, but we're sort of lifted up and filled out in our spirit form by the best moments, even if they're amid hardship. And just that look of pride and that sound of pride in his voice at that moment, when we're out there in the middle of nowhere and it's hotter than hell, like that's what I wanna remember about him. Not how he died.
If you've found something that is good for you and that brings you joy, share that. Don't hoard it. Don't make it, I'm better than you, or, Look at me, I lucked out and you didn't. Or I'm too busy riding my bike in the way I love riding my bike to ride the way that might help you. So that would be my advice: share what you love with people that are struggling. And also know that it may not be right for them and that's okay, too. The point is to share.
Tracy Ross is an award-winning writer and investigative journalist who contributes frequently to Outside. You can keep up with her many projects and adventures on Instagram @heli_girl_1970.
You can follow The Daily Rally on Spotify, Apple Podcasts, Stitcher, or wherever you like to listen, and nominate someone to be featured on the show here.
Lead Photo: Tracy Ross