At Glacier's Edge, the Flames Have Always Come for My Family Cabin
Coming to terms with a landscape ravaged by fire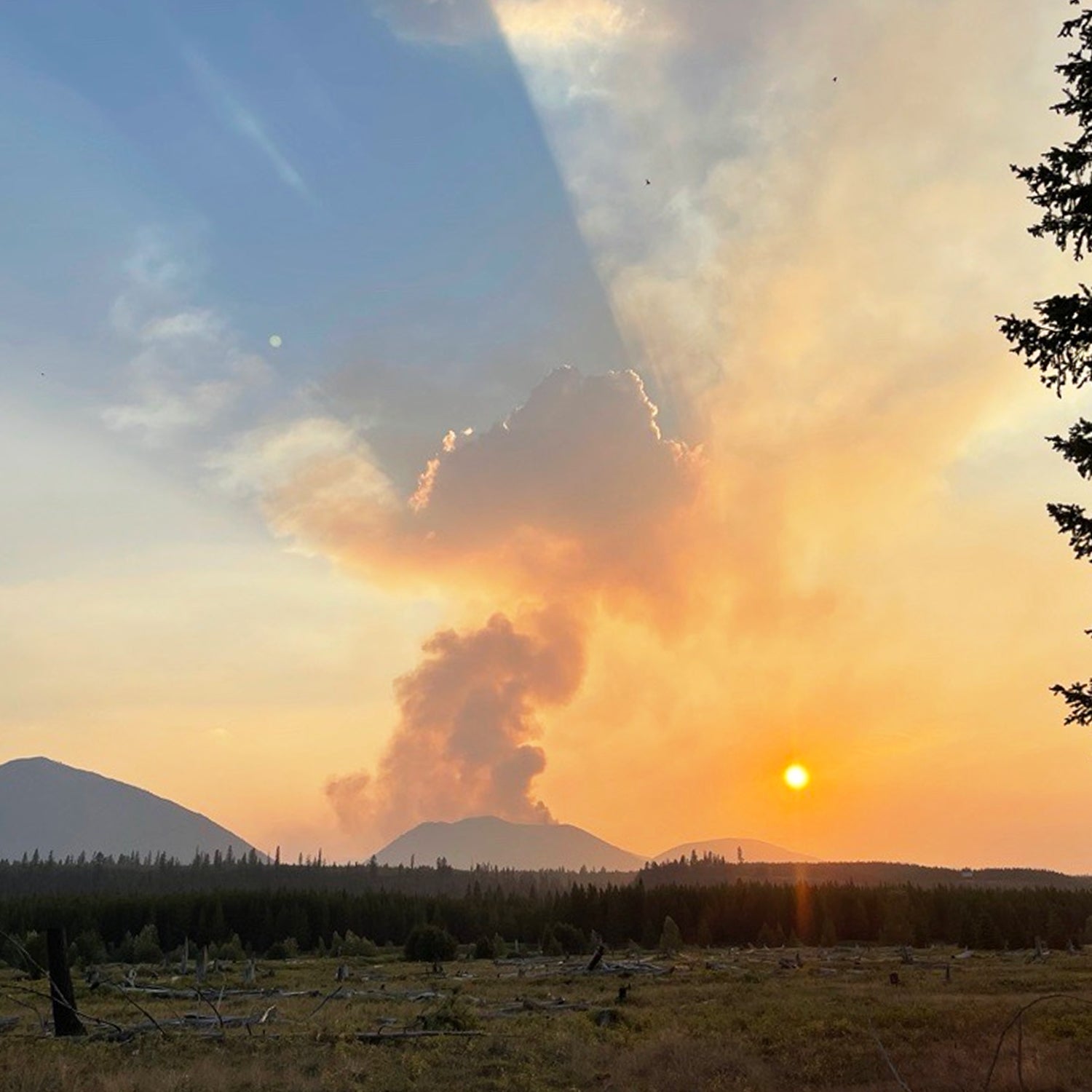 Courtesy InciWeb
Heading out the door? Read this article on the new Outside+ app available now on iOS devices for members! Download the app.
Red-tinted smoke rose into the sky above forested hills, a warning in slow motion of a new apocalypse—and we rushed toward it. Roadside signs, backed by the sculpted peaks of Glacier National Park, declared "Fire Activity Ahead" and "Caution Helispot." Dead, branchless trees, relics from earlier fires in this wild landscape, spiked the hillsides. Still we sped north, ever closer to the living, billowing serpent of smoke devouring the sky.
The Hay Creek Fire had ignited two days earlier, on July 21, when a bolt of lightning sizzled into the tangled, rainless forest of the Whitefish Range in northwestern Montana. Despite firefighters' efforts, the blaze spread through arid timber and quickly garnered headlines for the imminent threat it posed to the rustic tourist outpost of Polebridge and a historic ranger station at the nearby entrance to Glacier.
My connection to this place, and the fires that rage here, runs deep. This beautiful and unruly valley, cradling the North Fork of the Flathead River, is where my grandfather gamboled in his youth, pulling bull trout large as limbs from pure waters, during an era when fires were extinguished on sight. One summer during the dawn of the Great Depression, he met my grandmother while working at Glacier's Lake McDonald Lodge, and she won his heart by angelically bursting into song on a mountaintop.
He may have followed her to Minnesota, where I was eventually born, but Grandpa always returned to this beloved corner of Montana, eventually taking his life savings and buying land here, and later building an off-grid log cabin with a friend that utilized a simple hand pump for well water. I spent golden days here in my youth, bushwhacking through thick mountain forest with Grandpa, hooking fish, gathering huckleberries, and splitting firewood with an ax as tall as my skinny 12-year-old frame.
One day in a meadow by the cabin, I found an assemblage of animal bones. In the way of unplugged children with nothing but time and imagination, I studied them, identifying faces in their knobby protuberances. After painting on noses and eyes and mouths, I performed a kind of puppet show, each bone representing a different family member, plus one small dog on the tip of a rib. My grandparents talked about that puppet show for the rest of their lives.
Then, on an early September afternoon in 1988 when I got home from high school, my mom delivered the news: the Red Bench Fire had charged from the hills and Grandpa's cabin was gone, reduced to ash, along with his fly rods and his nearly complete collection of Louis L'amour books. Only the outhouse survived.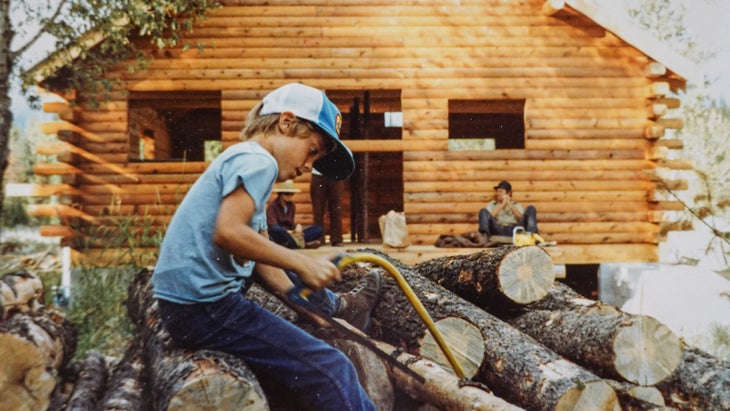 They rebuilt a simple, one-room cabin on the blackened site. Things were different—the surrounding woods were gone and views of the mountains improved. Grandpa only made it to that little cabin a few times before his heart failed him on his final road trip there.
In my adult life, the cabin—that's what we call it in our family, simply "the cabin"—became my sanctuary, just as it had for grandpa, my mom, my uncle, my cousins, and other family members suffering through modernity. Occasionally, I came across a piece of melted glass or some other artifact from the old cabin scattered about, including, to my surprise, a couple of those puppet bones. It didn't seem possible that they could have survived the fire, yet there they were, their faces of faded paint barely visible, still clear in my mind's eye.
It was here at the cabin, with a screen-porch-cum-bedroom overlooking a meadow ringed with regrowing pine, fir, and aspen, that I learned how little one needs to be content in this life. It's also where I learned about the unalterable power of natural forces.
In 2001, another mountain-consuming blaze arrived. I cleared grass and removed all things flammable from around its walls while the flaming front of the Moose Fire roared down a hillside over my shoulder. That one came up a few miles short, and more fires have followed in the 20 years since, nearly torching Lake McDonald Lodge and blackening vast sweeps of landscape, some of my special places reduced to what felt like nightmarish death zones. Yet in the years and decades afterward, I've seen flowers return in kaleidoscopic carpets. I've seen profusions of woodpeckers feasting on insects in dead trees. I've seen owls nest in snags and, later, their downy owlets fledge into the world.
---
And now here I was once more, with wildfire on the doorstep. The Hay Creek Fire had grown to over 500 acres in the 48 hours since its birth, ravenously consuming dry montane forest. It was a scant four miles from our cabin and nearby Polebridge—a distance it could leap in a single day if the winds blew right—its smoke choking the air across the valley and into the mountains of Glacier.
My wife and I attended a fire meeting that night at the local community center, a log building set in a clearing carved from surrounding trees. There were perhaps 80 people there, all attentive area property owners and a clutch of firefighters and managers from the Forest Service, Park Service, and Montana Department of Natural Resources and Conservation. A procession of men in cargo pants and shield-like belt buckles discussed fuel brakes and hand lines and structure-protection plans. But Mike West, an operations chief in steel-toed boots and an impossibly dirty, fire-resistant yellow work shirt, laid it out for us plainly: while they could lessen the threat to Polebridge, "the likelihood of stopping this fire, it's not going to happen, to be honest with you. We're going to be out here until we get a season-ending weather event and the snow falls."
Then he put our fire in perspective. "With what's happening nationally, it's going to be difficult to get more resources in here," West said. Forest Service district ranger Rob Davies explained that there wouldn't be the usual officers to crack down on illegal camping and campfires—he'd just received a directive from the chief of the Forest Service mandating that all agency efforts be focused on putting out existing wildfires. With so many blazes burning at once—currently 97 large fires in the United States, including 25 in Montana—resources are thin. Something is said about "everyone in the western U.S. is in the same boat" and how everyone was constrained to "ordering what you need, using what ya' got."
They're not going to attack the fire on its front, West explained, and they plan to limit helicopter water drops, a tricky maneuver where water is aerially scooped from the surface of a river or lake and then released over the flames, in order to protect the welfare of the crews.
"It's been a bad season for firefighters—two days ago we had four guys get burnt over," added fire warden Lincoln Chute, referencing an accident that occurred when flames changed direction amid swirling winds and blew back on a group of firefighters, who were later taken to the hospital. "We had two smoke jumpers critically injured."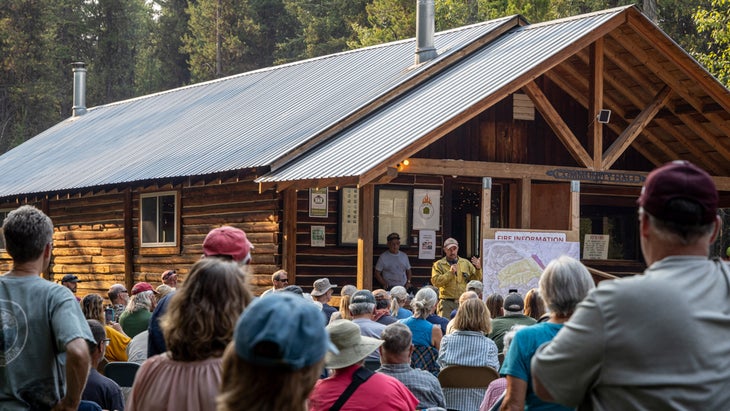 The fire officials asked the residents in attendance to do the necessary work on their own properties in preparation for the fire. Contrary to what many imagine, it's not flames that ignite most homes, it's embers carried on fire-generated wind that can pelt a structure in bursts. West told the story of a house two miles from a fire that burned when an ember landed in combustible materials at its base.
"Take this time now to do that prep work," Chute said. "Get ready."
Back at the cabin, my wife and I did what we could. Walking around the exterior, I saw everything in a new way, with keener eyes, the way you do, I can now attest, when an out-of-control wildfire is bearing down. We cut back grass and looked at trees to ax. We could lay gravel around the base of the cabin, too, and finally caulk those cracks in the drying logs where embers can lodge. We make plans to skirt the base of the cabin with steel sheets. The roof is already metal—a good thing—but the more I looked at the log cabin and its wooden deck and all the places embers could land and wedge in flammable places, I realized there was only so much we could do. Like so many other structures in fire country, the cabin was not built to withstand wildfire.
It's a problem across the West. As are the rancorous people indignant about wildfire. They want to know why the forests haven't been cleared of trees. They demand answers about how their beloved home was allowed to burn. They are not unlike the blithely unaware folks who move to Montana and are shocked, usually after their garden or dog food has been impolitely raided, or their chickens killed, to learn of the presence of grizzly bears. To all of them I say, "Welcome to the world."
Fortunately, there's much we can do to "harden" our homes to wildfire, as fire experts put it, by clearing any surrounding trees, vegetation, and anything combustible, and by building with fire-resistant materials. All this is necessary, because fire isn't going away. Western forests are fire-dependent ecosystems—to be healthy, they require fire, just as gardens require water. This is true of most forests, prairies, and even the wetlands of the Florida Everglades.
The good ecological news is that after a century of frenzied fire suppression, the average acreage burned in America has increased from two million acres in 1980 to five million acres today. To date, according to the National Interagency Fire Center, over two million acres have burned so far this year. It's progress, but before European settlement scientists estimate that number was somewhere between 20 to 50 million. In other words, we still have a ways to go.
Getting there will require a wholesale societal reorientation of our relationship to wildfire. We can no longer build homes and cabins amid fire-dependent ecosystems and blame government agencies when they burn or demand that firefighters risk their lives to save them. When the fires come—and they will come—what will protect our structures is the way they're built and the work we've done to prepare them. And if they burn, it's no one else's fault. We accept the risk when we move in.
It's an equation I know all too well. My home outside Missoula, a few hours south of the cabin, is surrounded by a sea of trees on the edge of the two-million-acre Lolo National Forest. Like many people in the American West, I moved here for the vast, undeveloped landscapes. Five years ago, we left our 130-year-old home in the center of town to live closer to nature, putting us squarely in the wildland-urban interface. Over the past few years, we've climbed the hills to watch helicopters fight fires only a few miles away. We've thinned trees immediately around our home and keep our gutters clear of pine needles. Still, my wildland firefighter friend was over recently and, after looking around for a few minutes, told us with a headshake and a smile (all firefighters secretly love big fires), "You know, at some point this whole neighborhood is going to burn."
He's right. As with hurricanes, earthquakes, and other planetary forces of nature, fires will change the landscapes we know and love. They will destroy things we find beautiful—and, in time, replace them with other things we find beautiful.
When the Hay Creek Fire was announced on social media, someone from Illinois commented, "Polebridge is one of our absolute favorite places to visit when we come to GNP and I've been sincerely heartsick thinking about the potential loss of any part of the area."
What they, and perhaps many others, don't realize is that what they see now is itself the result of earlier generations of fires that move like waves across land and time to shape the countryside.
Consider a meadow backed by mountains, a sight tourists often admire when they stop in Polebridge. Our cabin sits hidden at the northern edge of that meadow, which is how I know that not too long ago the meadow wasn't a meadow at all, it was forest. After Red Bench, it became a skeleton woods, the trees charred but standing, their bare, blackened trunks rising like porcupine quills across the land. They've fallen gradually over the years, some enduring for decades, the woodpecker holes in their trunks housing generations of mountain bluebirds and tree swallows. If you look, you can still see them, silvery and prone, littered across the glades.
After watching fires for a few decades now, I've come to understand, at least in some small way, how they mold the landscape. Everywhere I look in the mountains now, I see patchwork quilts created by flame—forests of varying heights and ages and textures, old snags spiking through carpets of younger trees, and old growth lying in wait for the flames to return.
---
The land to the west of our cabin, the direction from which the fire will come, is now thick with 40-year-old lodgepole pines, a fire-dependent species with a mind to burn (their serotinous cones, which contain their seeds, are coated in resin that only melts when exposed to flame). Last winter my wife and two sons and I skied in to the cabin; preparing to sleep side by side on floor in front of the woodstove that night, one of my boys mentioned that the trees, which for years had been as impenetrable as dog hair, were finally starting to feel like "a real forest" as they spaced out and grew to heights of 30 or 40 feet.
Head back into those lodgepole thickets and you'll come to a clearing where a giant looms. A mighty Douglas fir, centuries old, rises well over 100 feet, its thick, fire-resistant bark, an armor to flame, charred black from wildfire after wildfire that surely predate the settling of the valley by the white men who, in their hubris and fear, would soon decide fire had no place here. We call it Grandfather Tree and come often to place our hands on its deeply furrowed bark and feel its silent power. When talking about the Hay Creek Fire recently, my son, Silas, told me that more than anything, he hopes Grandfather Tree survives. I assured him its outlook was much better than the cabin's.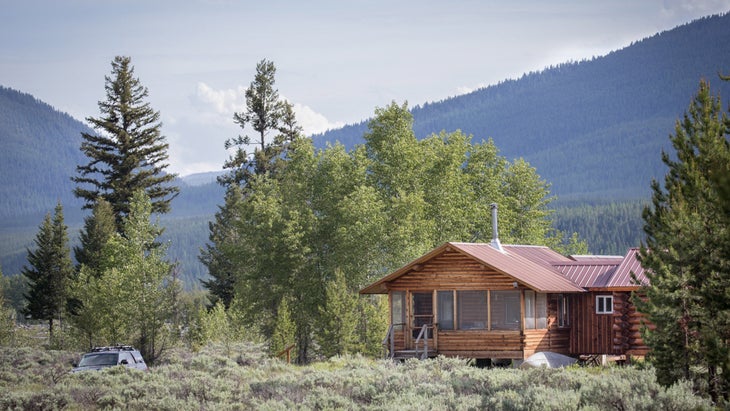 I'm reminded of the backcountry lodge built a century ago with great effort and expense at remote Gunsight Lake, deep in Glacier National Park. It lasted less than a year before an avalanche swept down from the mountain above it, destroying it. It had been constructed at the base of a huge avalanche path. We didn't understand how things worked in the mountains back then, just as we've built and developed for centuries across every ecosystem in the country without understanding the larger natural processes we're affecting, and that we're affected by.
And so our cabin sits in the path of flame, unprepared for its arrival. I made plans to do what I could, but on that visit, with the fire looming, the most important thing was to gather whatever we wanted to bring with us back to what we hoped was the safety of civilization. Through every corner, drawer, and cupboard, I tried to decide what really mattered. I grabbed my grandfather's coffee cup, my grandmother's cookbook, a photo album they made with pictures and news clippings from the Red Bench Fire, and the cabin journals our family has been writing in for decades. Anything made by someone's hands was taken—a watercolor painting, a carved wooden clock, the old topographical maps of the area's mountains where in my twenties I'd drawn the locations of caves and trails that could still be found hidden in the woods.
In our last minutes there, I visited the unmarked stone I'd placed atop my mother's ashes, as I always do when visiting the cabin. The ashes of her brother, my beloved uncle, were nearby. They both loved the cabin and the land here as much as I did, as much as Grandpa did. I crouched, placed my palm on the stone, and briefly considered all the ephemeral things—trees, cabins, the people we love—that come and go in this world and how we try so hard to hold onto them, vainly fighting the great river's current.
As we loaded the truck to leave, I looked at the cabin for a moment and wondered if it was the last time I'd see its memory-stained logs. I noticed the rusting, yellow toy truck beneath the cabin that my boys played with when they were barely taller than the meadow grass. I saw my grandfather, my mother, my uncle. I saw my young children standing naked and innocent around an autumn campfire. Then I saw another young boy, decades ago, running through the meadow with found treasures in hand. I told my wife to wait, and ran back to the cabin. From a shelf on the porch, I grabbed an old animal bone and brought it back to the car.  Then we drove away, disappearing into the smoke.
Lead Photo: Courtesy InciWeb
Trending on Outside Online