Have a Baby? Embrace Glamping
If your kid's under five and you want to spend a night under the stars as a family, you're gonna have to embrace extravagant camping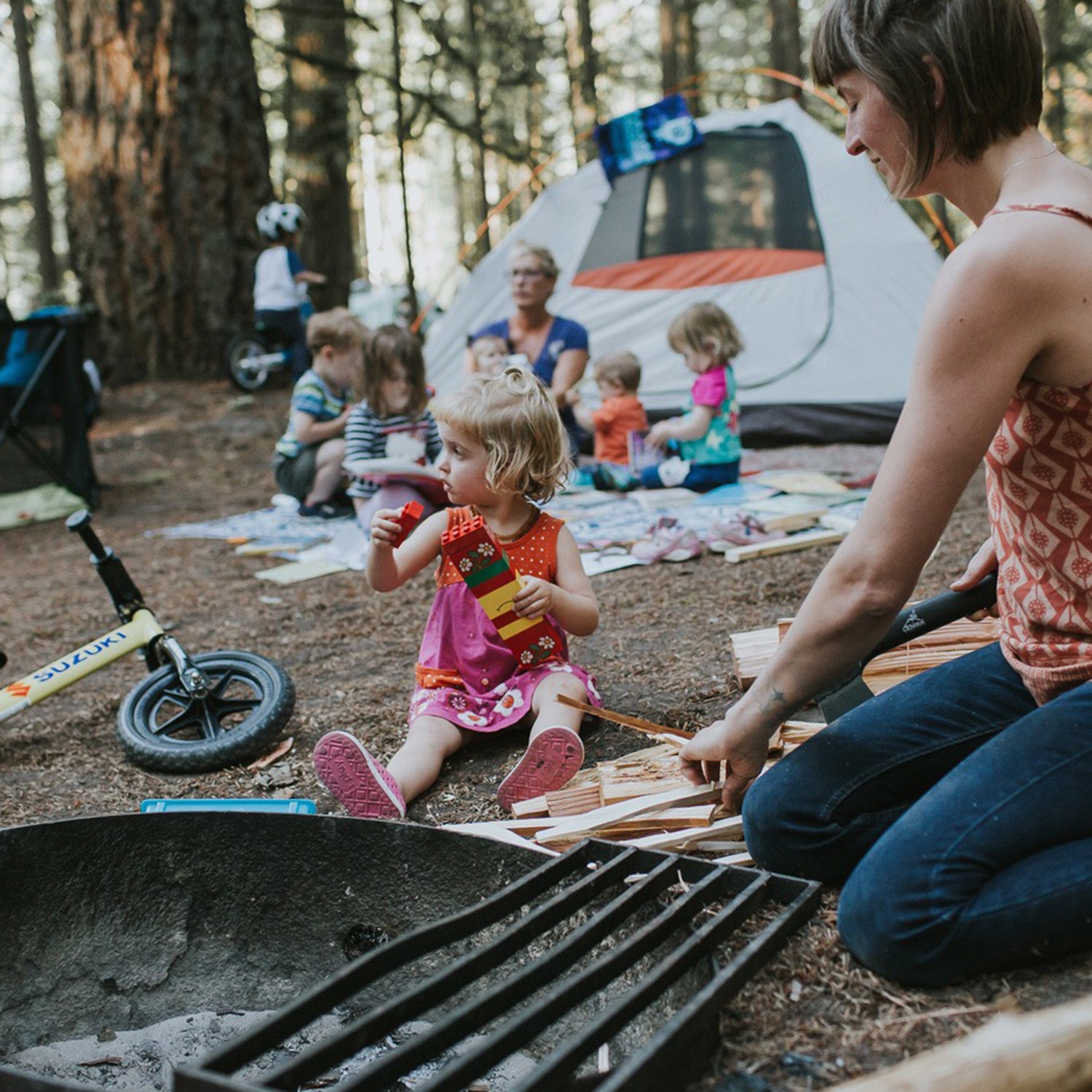 Ashley Scheider(Photo)
Heading out the door? Read this article on the new Outside+ app available now on iOS devices for members! Download the app.
Camping used to be simple for my husband and me: load up the gear in a backpack and hit the trail. The lighter, the better. Once, Mark even rigged a stove from a used tuna fish can by punching holes in it and pouring in white gas.
Then we had a baby.
While it's still possible to hang tough when you have a baby, I have to admit that I'm loving our current glamping ways. When you have everything you need to make camping comfortable for your kid, it's easier to go more often. We've been getting out at least a few weekends a month. These five things will make it easier on you when spending nights outdoors with kiddos under age five.
Get a Camping Community
A few weeks ago, I camped with a bunch of friends just 40 minutes from my house. Even though I could have driven home in a moment, and I regularly see those friends, it felt like an adventure because only a few of us had camped together before.
Some people think that just because you're camping, you need to have a remote, solo experience. With toddlers it's nice to have others around to help you endure (or even prevent) tantrums in the woods. Find a group, make a plan, and keep it close to home, so if it's not working out for one of the families, they can bail.
In our case, we went to Oregon's Oxbow Regional Park. It's quiet (lights out by 10 p.m.), no alcohol is allowed (keeps the rowdy partiers out), a day fee keeps it fairly uncrowded, and there's always a decent amount of staff around, which makes it unattractive for those who don't want to abide by the rules.
A Cozy Sleep System
My son, Mason, is a terrible sleeper. He is sensitive to light, he is particular about his pillow, and he rolls around a lot. Last summer we tried Coleman's Carlsbad 6-Person Darkroom Tent, and from the start I could tell it would be a winner. The size is great for a three- to four-person family and all of your stuff, but it isn't such a big footprint that your tent takes up the whole campsite. With the fly on, it's noticeably darker than traditional tents, which makes it a little warm for really hot locations but ideal for shut-eye.
Blankets are also key. In Oregon, we have some pretty warm evenings that get cooler as dawn approaches, so being inside a mummy bag isn't always a nice way to start out your sleep. For a while we just pulled bedding from our house, but what we really wanted was something we could get dirty and not have to clean right away. Rumpl blankets, a cross between a sleeping bag and a comforter, are fairly weather resistant and toddler-proof: Mason often drags his baby version through our campsite and it doesn't pick up much dirt. They're very light and compact into a stuff sack, so I also like to throw one on the stroller for walks around the campground.
Shelter from the Elements
These days we have two shade structures, for storms or superhot weather. A fast-pitch one, Alps Tri-Awning, is lighter and more portable—great for the beach. We also have a superdeluxe version, Coleman All Night Instant Lighted Shelter, which fits the whole group and has LED lights, so it's easier to cook, clean, and play games at night. This latter structure is pretty hefty to haul around, but it makes the decision to camp on a weather-questionable weekend a nonissue. 
A Well-Planned Camp Kitchen 
Cooking with a tiny backpacking stove when you have an impatient toddler sucks. Two-burner stoves normally feel excessive and clunky, but when you can crank out food in ten minutes after a long day or running around in the woods, you'll be grateful. I often pack my little Jetboil as emergency backup in case our stove breaks (this happened to us a few months ago) and for times when I don't want to deal with the whole stove because we pulled in late and just want to quickly heat soup. But my main stove seems to keep getting bigger. I like the Coleman Frye Commander 3 in 1—it's easy to set up and has screw-on legs so you don't need to rest it on a table. You can also pop off the burner and replace it with a grill, so I cook mac and cheese on one side and sausages on the other.
Usually, I cook and my husband washes the dishes. He'll bring two large metal buckets with handles that we can fill at any water spigot and carry back to camp for cleaning up.
Meltdown Management
My husband used to laugh at my insistence on bringing toys camping. Then he did a solo trip with Mason and was glad I forced him to bring a bag of Legos and books. While you can hope your children will be so enamored with nature that they won't need toys, they will probably get bored from time to time and act up. Bring plastic ones you can wash, like big Lego blocks and cars and trucks, as well as balls to kick around, bubbles, and crayons.
Also have a rough idea of what you're going to do every day, especially if your child is used to a home schedule. If at daycare your kiddo goes to the playground at 10 a.m., then naps at 1 p.m., make that your camp schedule, too.
Lead Photo: Ashley Scheider
Trending on Outside Online