How Chris Davenport Raises Talented, Adventurous, Risk-Savvy Kids
It helps to live in a cool mountain town and be a world-class athlete. But Davenport also uses fundamental tools that train his kids to think for themselves.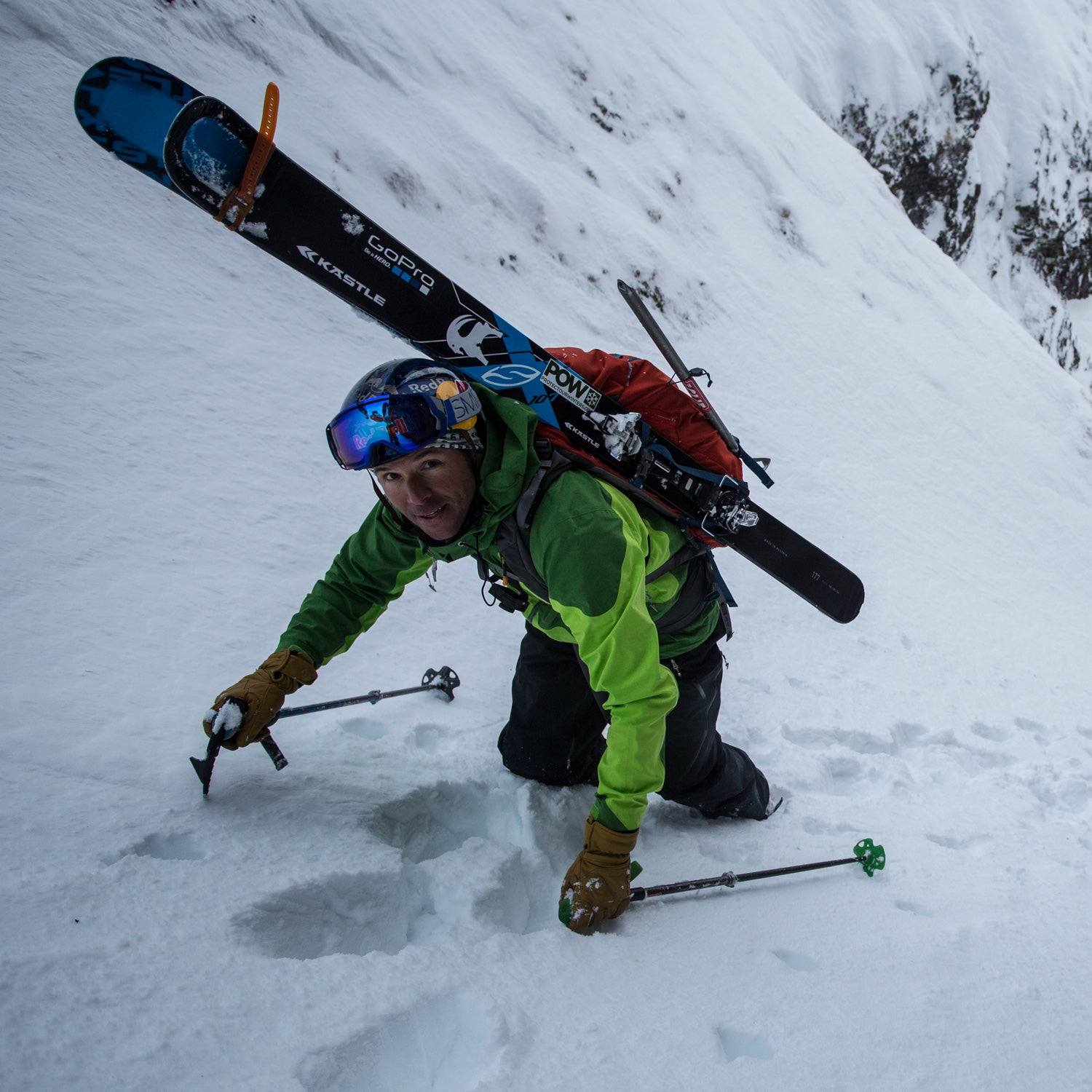 Christian Pondella/Red Bull Cont(Photo)
Heading out the door? Read this article on the new Outside+ app available now on iOS devices for members! Download the app.
Chris Davenport lives a double life. 
The 45-year-old World Extreme Skiing champ and X-Games medalist is known for his segments in ski-porn flicks from Matchstick Productions and Warren Miller, as well as ski-mountaineering big mountains like Everest and Denali. He skied all of Colorado's fourteeners in a single year, and recently finished skiing the Centennials, the 100 tallest mountains in Colorado.
But that's Chris Davenport the skier. There's also Chris Davenport the dad. When he's not tackling the next big descent, Davenport is living a relatively normal suburban life in Aspen, Colorado, with his wife and three boys (Stian, 15, Topher, 13, and Archer, 8)—all of who are hard-charging skiers in their own right. Davenport's older kids have traveled internationally, heli-skied, and even help coach ski clinics in Chile. Davenport's secret to raising adventurous kids? Give them the tools they need to make good decisions. Also, living in Aspen doesn't hurt. 
OUTSIDE: So three boys. What are they into these days? 
DAVENPORT: The short answer is skiing. The two older ones are ski racing and doing well with it. Right now, I'm getting my middle son packed up and off to ski camp at A Basin. He's on the Rocky Mountain Development Team. And my oldest is at a ski academy in New Hampshire. 
Is it a foregone conclusion that the Davenport boys will be skiers? 
We definitely set them on a certain path at a young age by introducing them to skiing. They all seem to be following in the broader Davenport footsteps. My siblings are skiers, their kids are skiers, my parents and grandparents are skiers. But my kids developed a love for it on their own. They took ownership of it early on. It's their thing now. 
Was there any hesitation about introducing them to skiing, because of the dangers involved? 
Skiing is an amazing lifestyle sport that could potentially kill them. I've known plenty of skiers who have died. Raising skiers comes with potential risk, for sure. For us, it's about balancing their passion for the sport with a certain amount of responsibility. My wife and I have worked hard to make sure the kids have all of the tools they need to make the right decisions in any given scenario. 
"I want my kids out there doing stuff.  I'm not going to tell them they can't ski a line because it's too dangerous."
Talk to me about the different between managing risk and avoiding risk. That's something I struggle with as my kids get older. 
The key is to manage risk, not avoid risk. I often encourage the kids to seek out risky situations as teaching scenarios. 
I consider what I do professional risk management. I'm in danger year in, year out. My wife is a 25-year veteran ski patroller on Aspen. We both understand the written and unwritten rules of skiing, in the mountain and the backcountry. We have a lot to teach our kids in that respect. 
On the mountain we talk about fall zones and exposure, avalanche safety, the dangers we can see and the dangers we might not see. Certainly, the teenage brain doesn't have the ability to understand consequences like an adult, but our kids are really good at thinking about the consequences that each line entails. They're always asking, "What's the worst case scenario in any given line?" They're good at knowing if they blow one line and fall, it'll be okay. If they blow another line and fall, there's a cliff. 
I'd imagine your kids are probably some of the safest, most trustworthy skiers on the mountain. Sort of like how kids raised in families that hunt understand gun safety at an early age. 
That's a good analogy. We encourage our kids to go for it, but you're right—people who are raised with guns are hyper-anal about gun safety. It's the same thing. If you have respect and understand consequences, you reduce the chances of something happening. 
Is it ever difficult relaying that info to your kids? Sometimes, my kids don't want to listen to me simply because I'm their dad. 
Not my older kids. They're very "type A." They have great minds for talking about skiing and demonstrating how to ski. They're good listeners and good coaches too. Our 8 year old is our wild child, though. He's kind of a loose cannon. He hauls ass. He's good, but he's really wild. If I tell him what to do, he's like "Dad, I know what I'm doing." 
Do you ever consider dialing it back? Getting a mini van and coaching soccer instead? 
No. We live in a society where there is a lot of social pressure to be safe and not take risks. It's easy to convince yourself that your kids are safer if they stay home and play video games all the time, but life is for living. The world is for experiencing. 
I want my kids out there doing stuff.  I'm not going to tell them they can't ski a line because it's too dangerous. At the same time, every family and child-parent relationship is different. I would never judge another person for how they raise their kids. I grew up in a family that told me I could do anything I want as long as I worked hard and respected people. It was a formula that was successful for us, and I think it will be successful for our kids. 
Did anything change for you when you had kids? Did you start taking fewer risks? 
I'm a big mountain skier. This is what I do for a living. It's in my DNA. But it forced me to look at situations and be more careful, take more time to make better decisions. 
If you're a NASCAR driver, you don't drive slower just because you have kids. You're gonna crash. It's part of the deal. How do I manage that so I can still be the best skier I can, but also be there for my family? Now I have real responsibility, I can't be selfish. I have a lot to live for. So I started being more invested in being a good guide, being a good avalanche forecaster. 
Is it tough to go back into a domestic role after a big adventure? 
No. There's a separation in my life. We don't sit around and watch ski movies. There aren't posters of me on the walls. We try to maintain a clear distinction between those two lives. 
When I'm home, I try to be the best dad I can be. When I'm away, I'm a skier and try to be the best skier I can be. I like having that private home-life to retreat to. 
What's it like raising kids in Aspen? 
It's incredible. I let the kids run around downtown Aspen on their own. It's small enough that all the locals know each other. It's a town that encourages the best in people, whether it's intellectual or athletic. That sort of community breeds a feeling of, "Yes, I can do anything with my life." 
But there is a dark side of Aspen—a prevalent drug culture here. It's a party town. So those drugs and alcohol conversations are important things to have. But again, it's about giving the kids the tools to make good decisions. It doesn't matter whether it's skiing a difficult line, or if they get asked to smoke a joint in the middle of the day.
Do the kids know what they want to do when they grow up? 
The older kids are at an age where they don't know. They for sure want to ski for the rest of their lives, but I don't think they want to be pros like me. I'd be happy if they didn't. There's so much risk involved with what I do, it's tough to watch as a parent. I think about my poor mother—both my sisters were world cup racers, I was a pro skier—she was a basket case all the time because she was so worried about us. 
How often do you get to ski with your kids? 
We ski together quite a bit, a good 30 to 40 days a year as a family, but it's not enough. They're so busy with their own racing. My older kids ski six days a week and the eight-year-old skis three days a week. There's nothing better than skiing with the family. That's the ultimate enjoyment, seeing them shred the mountain. 
Lead Photo: Christian Pondella/Red Bull Cont