How to Swing a Backcountry Adventure—With Kids
Because not only do children adapt to wild places—faster, sometimes, than adults—they thrive in them. They need them. We all do.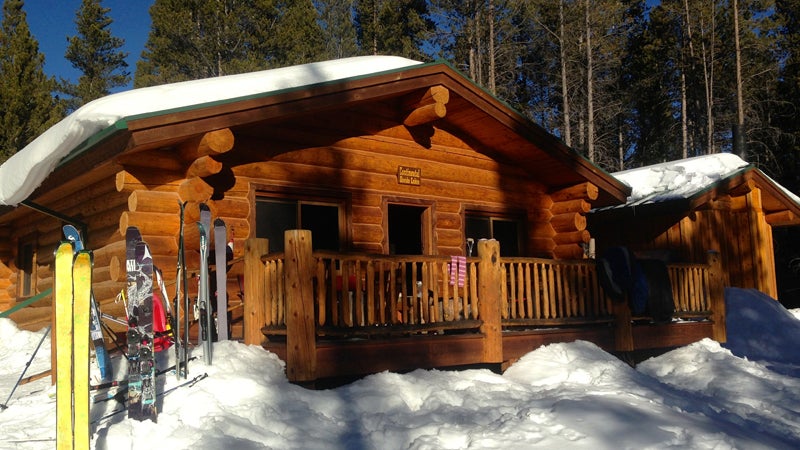 Heading out the door? Read this article on the new Outside+ app available now on iOS devices for members! Download the app.
It's a glittery January morning at 10,424 feet on Tennessee Pass, just north of Leadville, Colorado. A dusting of snow has dressed the pines in a fresh coat of white, and the sky is beginning its dramatic, almost instantaneous transformation to blazing, Rocky Mountain blue. There's six feet of snow underfoot, and the high-pressure system is predicted to hold for the next couple of days. 

In other words: perfect conditions for a family backcountry hut trip.
First, though, we have to cram two large vehicles' worth of gear and food, plus two small girls, into two converted ski trailers; give two slightly bigger girls a crash course in cross-country skiing; and transport our whole party over the hills and through the woods to a rustic, two-bedroom backcountry cabin where we'll spend the next two nights.
Fortunately the Continental Divide Hut sits only 0.8 miles from the trailhead, along a well-traveled section of the Colorado Trail, with fewer than 100 feet of elevation gain and absolutely no avalanche risk. You couldn't ask for an easier approach and still be in the backcountry.
Which is precisely why we picked the Continental Divide Hut for our annual backcountry ski trip with kids. This year, we wanted to find a roomy base camp with space for eight, where we could include another family without having to step over babies sleeping underfoot. We've roped in our same Santa Fe friends, Stewart and Blair, and their two daughters, now two and four, promising cushy digs in a peaceful, off-the-grid setting and easy trail access.
But now, staring at the pile of duffles on the ground, and the food and beer that have to be unpacked from coolers and stuffed into every available nook and cranny, and the kids spazzing around the parking lot on their skinny rental skis, even 0.8 miles seems daunting.
Our plan is to haul the girls and as much gear as we can in on the first trip, then Steve and Stewart will ski back out to make a second run. Stewart has rigged a plastic lounge-chair sled onto the back of our Thule Chariot Chinook, into which three-year-old Maisy and two-year-old Grace have been tempted with a box of Oreos and a brood of baby dolls. 
After the one short hump out of the parking lot, the Colorado Trail is exactly as advertised: wooded and gradual. The ascent is almost imperceptible. Unless you're five and trying to glide on Nordic skis for the first time. At the slightest incline, Franny and Pippa slip backwards and land on their tails, feet and skis akimbo. The girls laugh at first, until they realize that this is what Nordic skiing is: clinging with your feet to the ground to stay upright, stabbing desperately at the snow with your poles, finding your own precarious rhythm. Almost an hour after leaving the parking lot, a wooden sign directs us right to the Continental Divide Hut, while the Colorado Trail continues straight, and witthin a few kicks of the skis, the first hut comes into sight.
The Continental Divide cabin is one of 19 backcountry huts in the Colorado Rockies operated by the Tenth Mountain Division Hut Association, an Aspen-based nonprofit named in honor of the Tenth Mountain Division of the U.S. Army. Open year round, most huts are spacious log structures with solar lights and kitchens, wood stoves and beds for 16 to 20 people, which means you're often sharing the space with strangers. They're well-spaced, within five to ten miles of a trailhead along intermediate terrain, so you can ski or snowshoe in during winter, or hike or mountain bike during the summer. You can link up several huts over several days, or use one as a base camp for several nights to explore the surrounding wilderness, as we planned to do.
Of all the Tenth Mountain huts, Continental Divide and Point Breeze—located a few hundred yards away from each other—are the best suited to families with young children. Set in a small clearing among thick stands of lodgepole pines, on a gentle slope with southern exposure, the huts are well out of the path of avalanche danger.
Each cabin has beds for eight people and must be rented in its entirety by a single group, so you don't have to worry your little ones waking strangers when one of them comes down with a sudden bout of projectile vomiting or night terrors. Both are stocked with games and books, plastic sleds, two Pack-n-Play portable cribs, and even a high chair. Outside there's a teepee and, when the snow melts, a fort. All this, and you're less than a mile from your car.
Our hut looks less like a hut and more like a small suburban log home plunked down in the snowy wilderness. It's clear we won't be roughing it, not with the absurd amount of food we've brought, not with the wide deck bathed in bright afternoon sunshine, gas barbecue grill, and patio furniture.
Inside, we're greeted by an enormous wood cookstove, two bedrooms, a kitchen stocked with pots and pans, and a long wooden dining table. And the coup de grace: a covered deck walkway leading to the attached outhouse—no boots required for middle-of-the-night potty runs. In fact, the cabin is so nice, it's almost disappointing.
Traveling into the backcountry with children is never easy, but for our family at least, it is essential.  Ever since becoming a mother, my need for wildness has grown while my appetite for risk has decreased. Now that I have children, I think twice about skiing steep lines in the backcountry or flying overseas. I have more at stake and more to lose; my girls do, too. But even as my maternal instincts have kicked in, I find myself craving more time in wild places, alone and with my family, both as an antidote to our busy, wired lives and also as way to come together simply, outside. Pushing the edge of comfort—whether through long, solo backcountry runs or multiday river trips or sleeping outside as often as possible—is the fastest way to freedom I've found in our hyper-scheduled world.
So if this Tenth Mountain hut trip is our chance to go a little wild with our children without putting them at risk, we won't find that wildness within the cushy confines of the CDT hut. We'll have to find it in other ways. Outside.
After Steve and Stew return with the last load of food and gear, Blair and I head out for a late-afternoon tour on our backcountry skis. Fifteen miles of rolling ski and snowshoe routes circle the huts, and taking the suggestions in the guest book, we try the Treeline loop, a fast 30-minute lap through the woods to a small, open meadow with views south to the 14,433-foot pyramid of Mount Elbert, the highest peak in Colorado. 
The hut sneaks up on us sooner than we expect, and through the trees we can see Steve and Stew outside, knee-deep in snow, digging a cave. There's no sign of the girls. Skiing closer, though, we can hear faint laughter escaping from the bellows of the giant pile of snow. They're in there, scooping snow, carving out the inside, our tiny powder miners at work. 
For the next two days, the cave and its icy interior will occupy them, but for now, the sun is setting and the temperature plummeting, so they surrender their avalanche shovels and tromp inside for Jetboil hot chocolate and hamburgers and elk steak on the grill.
After dinner, we take them outside to see the stars before bed: At this altitude, and so far from urban light pollution, they are dazzling—a billion white freckles blinking back against the alpine sky. It's hard not to gawk, to stand out there in our slippers and jackets, necks craned to the night until our noses get cold and the sight is stamped into our brains.
Nighttime is the great unknown on family hut trips. Will the children sleep? Will the hut be warm enough? But after dark is when the CDT cabin really starts to shine. We put the girls to sleep in one bedroom, shut the door, and stay up playing Hearts at the dining room table, under a panel of surprisingly bright solar lights. The wood stove keeps the hut toasty—the indoor thermometer reads 70—and there's an enormous stockpile of logs on the covered porch beside the outhouse.
By 9:30, it's lights out. Blair and Stewart claim two of the four beds in the main room, while Steve and I take the second bedroom—private, if not exactly immune to the usual nocturnal migrations we've grown accustomed to when traveling with children. Maisy falls out of bed. Pippa needs to use the outhouse. Someone crawls into our double sleeping bag. Overall, though, it's an unexpectedly restful night, and the sky is pale with sunrise—well after 7 a.m.—when we hear the first stirrings of little feet in the living room.
After Stew's breakfast frittatas and hot coffee, we gear up for a family ski expedition. By the looks of our motley assemblage, you'd think we're planning to ski to the North Pole, instead of just a few hundred yards uphill to the teepee. Blair, Franny, Pippa, and I are on skis; Steve walks, towing Maisy in the Burley; and Stewart plunks Grace in the reclining sled, and we set off. Already, we're making better progress than yesterday. The big girls are finding their feet: two glides forward, one slip back, and mostly upright until the teepee's bleached canvas emerges through the trees.
Unlike most Tenth Mountain Huts, the CDT cabin is privately owned, and its owners have stocked their teepee with traditional Native American instruments and small canvas backrests, animal skulls, and wool rugs. It's colder inside than out, so the girls sit for a few moments banging on drums and shaking rattles before we ski back the way we came, and on to our next mission: sledding.
Earlier that morning, a group of older, fit, 60-something women hiked by our porch, dragging plastic sleds. They were staying at the Point Breeze Cabin, and were going sledding—there's a good hill, they said, just out along the Colorado Trail. A posse of sledding grandmothers! Our girls were transfixed, so now, on our way past our hut, we pick up a couple sleds and forged out to the trail, where a few hundred yards south, just past the junction with Treeline, it opens into a high, steep-sided clearing with a fast track laid down through the powder.
And so we sled. In every combination and mode possible. Solo and girls piled on top of one another, on fathers' laps, and with mothers steering. The snow is deep and soft but the sleds pick up speed over a small berm, and launch airborne in the direction of Mount Elbert. The sun is strong and the girls have stamina, and it's nice to be out of the trees for a while where the world opens up again. It feels like we could stay out here all afternoon, and we might, only the girls are beginning ever so slightly to whine, hungry for lunch, exhausted from lugging sleds uphill, so we beat a hasty retreat, racing the imminent tantrum back to the hut.
The afternoon unfolds with a kind of languid ease that comes with having settled into a place, and made it ours, if only for a little while. After lunch, Blair and I ski another fast, skittery lap through the woods, this time on Powderhound Trail, while Steve and Stew supervise rest time: arts and crafts inside, but no napping. Later, when it's their turn to ski, we suit the girls up again for another round of cave excavation. They've set up a sled track down the side a steep pile of snow next to the hut—presumably shoveled off the roof—and one by one they launch off the front, carrying enough speed that they rocket up and over the side of the snow cave and land in a laughing heap on the ground. That's when I see the lightbulb going off in Pippa's head: She wants to turn the snow cave into a snow tunnel through which they'll sled: in one side, out the other. And so they dig, Franny and Pippa, chipping away at the wall. They're still working diligently when Steve and Stewart come bombing downhill on their skis: more manpower, and just in time.
By the time they break through, they have been out there for a couple of hours, but show no signs of flagging. Now is when the real fun begins: our own impromptu Shovel Sledding Olympics. Pippa is the first to launch the track on her bottom, skidding down to a stop just before the entrance to the tunnel. Steve picks up a shovel and climbs to the top of the sledding mound, sits on the shovel, and grasps the handle between his knees. The speed at which he travels is shocking, and a little terrifying: hauling downhill and disappearing into the tunnel. The girls have a distinct advantage: They're smaller and can fit through the hole better and straight through to the other side, whereas more often than not, we adults crash into the side of the cave. 
I keep expecting the girls to call it quits, but they'll sled until dark if it is up to them—an impressive show of hardiness that, if not exactly uncharacteristic, certainly seems enhanced by the environment. They're not whining to go in to watch the iPad. There is no iPad. I can't even tempt them with hot chocolate. This is hut culture, and why winter backcountry trips with kids are always worth it, despite the schlep. Not only do children adapt to wild places—faster, sometimes, than adults—they thrive in them. They need them. We all do. 
When we leave the next day just before noon, after cleaning the cabin for the next group who we'll likely pass on our way in, I wonder if we'll be back. I still miss the deep peace of being truly remote. Sometimes when the wind blows, I can hear the faint groan of trucks grinding into low gear down Tennessee Pass. Tired from a repeat ski to the teepee, they girls skitch behind the trailers and ride inside, and we're back at the truck in less than half an hour. It may not feel wild, but it has come to feel a little like home. And with children in tow, who can argue with that?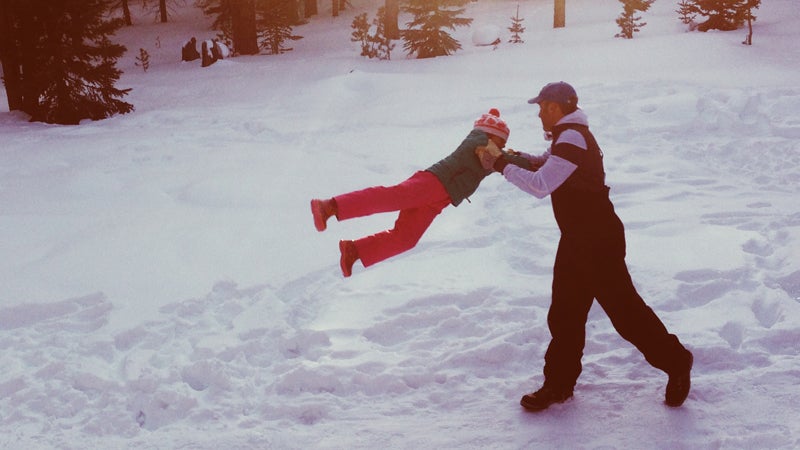 If you go:
The Tenth Mountain huts book a year in advance by lottery and call-in reservations. If you're late planners, like we are, check out the forum, where people are always trying to sell spots. That's how we scored the CDT hut for two nights in January. You'll have more luck if your dates are flexible. Weekends are prime time, and tough to come by. Check out the Tenth Mountain online for lottery info and a helpful page for planning winter and summer hut trips with kids.
Continental Divide Hut, $330.75 per night; other huts, $33 per person, per night.
Bring:
Sleeping bags for everyone, pillowcases, personal gear, first aid kit, and all your food. You can snowshoe in or ski; if you're pulling kids and gear, you'll want climbing skins. We brought waxless backcountry skis for touring around the hut.
Rent:
Tennessee Pass Nordic Center, just across the road from the trailhead at the base of Ski Cooper, rents adults' and kids cross-country skis, boots, and child carriers called ski pulks, for $10 to $15 per day. They also have a small but fast tubing hill if you've got time to kill.
In Leadville:
Overnight options in Leadville aren't particularly numerous, but the Columbine Inn & Suites is comfortable and closest to the trailhead, and a few doors down from the supermarket in case you do any last-minute shopping. Doubles from $88.
Before heading into the hut, we fueled up on pizza and salad at High Mountain Pies, on West Fourth Street in Leadville, and coffee and breakfast scones at City on a Hill, in a historic building on Main Street. 
We picked up a topo map of the Colorado Trail at Leadville Outdoors. If we'd had more time, we would have definitely hit the Dutch Henry Tubing Hill, just a mile south of town on Highway 24 ($5 per hour).