The Never-Ending Family Sailing Trip
Since the birth of their first child, photographer Somira Sao and her husband have traversed the world's oceans on a 40-foot racing sailboat, visiting six continents with their growing brood. Bet your preschool wasn't like this.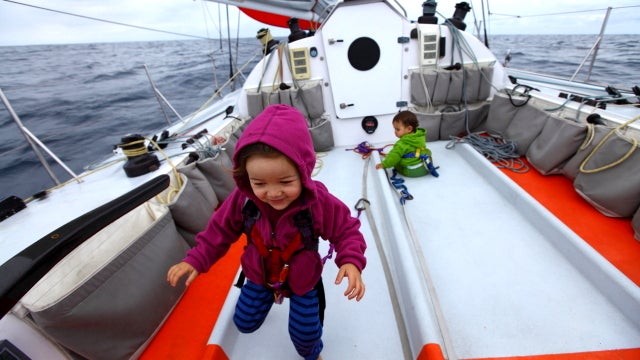 Photographer: Somira Sao(Photo)
Heading out the door? Read this article on the new Outside+ app available now on iOS devices for members! Download the app.
My husband James and I were in New Zealand six years ago when we learned we were pregnant with our first child.
I had just been in Cambodia reconnecting with surviving relatives and working around the country as an NGO photographer. James was with his boat Anasazi Girl, a Finot-Conq carbon Open 40, at the Viaduct Harbor in Auckland, where he was prepping for the second half of a solo circumnavigation of Antarctica. James loved the Southern Ocean, enough that he wanted to experience every inch of it while he still could.
"You can give birth anywhere in the world you want," he told me. "Just promise me one thing:  Once we have this baby, let's keep going." I promised. I never imagined that we'd end up sailing, as a family, on the same high-tech performance boat that James was soloing.
Baby nurseries, high-chairs, and white picket fences weren't part of my destiny as a mother. From the conception of our first child to the present day, we've been in a state of perpetual motion, with our now three-strong brood in tow.
Following the birth of our first child, we decided to have a simple life: to have very few personal belongings, not take on any overwhelming expenses, to work just enough to keep ourselves going. We weren't thinking about buying a three-bedroom house, making car payments, or saving for our children's college education. The aim was to keep the family together and try to not have a lot of stress for these formative years.  We wanted to be in places where it was safe, where the air, water, and dirt were clean.
We put away the boat for a while ahead of the arrival of our first child, but we didn't stop traveling. In fact, travel was a constant in our lives: Our trips did not have a beginning or an end, and we didn't have a home in the states to go back to. We brought our kids to everywhere from Chile and Argentina to Iceland and South Africa, teaching them to mountain bike, climb, and run rivers along the way.
James, a mountain guide, put his outdoors and risk-management skills to work in planning our new family's adventures. He treated our kids as the especially high-value clients they were. Besides learning to change a diaper or calm down a hysterical toddler, I had to learn how to plan, provision, and carry out a full-on expedition.
Three years after putting Anasazi in storage, we decided it was time to return to the sea. Besides our now two-year-old daughter, we now had a nine-month-old son, and I was pregnant with our third child. Sailing across an ocean with our little clan felt like an enormous task, but not an impossible one: I knew that James could handle the boat on his own, so any help I provided would just be a bonus.
We started small with our voyages. Well, comparatively: Our kids' first ocean trip on the Anasazi was a 21-day crossing of the Atlantic, from the U.S. to France. Next up was a 32-day voyage to South Africa that took us across the equator.
Since leaving on that first crossing, we've established a routine. James does all the sail changes, systems checks, and weather forecasting, and makes calls on our route. While we discuss options together and make decisions jointly whenever possible, my primary responsibility is keeping the kids safe and making sure we're all fed, clean, and healthy.
It's a deceptively tough job. A boat at port is a comfortable place to live. When the seas are confused, however, it becomes a completely different beast. The galley, with cooking utensils, hot liquid, and flames, is especially dangerous. Even a toddler alone on the toilet could get seriously hurt. We've taught the kids how to move at sea: one hand on the boat to steady yourself, one hand free. When conditions are at their worst, everyone is bound to their berths, the safest place to be if the boat is knocked on its side.
Just like any other kids, our children fight, have tantrums, and get time-outs. But after spending their whole lives on boats, they've adjusted to the rhythms of a life at sea. They have a good sense of the changes in the boat, and they're good at being mellow when they need to. On moderate to heavy days, they play below decks, building blanket forts, watching movies, and listening to stories. 
Underway, we limit them to a few books, a few art supplies, and one toy each. We rarely sit down and teach the kids with pens and paper. Instead, they're learning from experiencing life with us. When conditions are safe, they strap on their full-body harnesses and join us in the cockpit to watch for whales and albatross and learn about the weather, stars, and sea around us. When it's safe, they help with the maintenance we do on the boat. They understand radios and ballast changes, know how to ration food and water for a long journey, and have even helped us do some public speaking about our trips.
Despite all the effort it takes to leave the dock, sailing as a family has been worth it. Everyone is together and completely present. Everything that we need to live is essentially in one room. Once we are gone, James and I don't think about money or work, meetings or schedules. We're alone, with our kids, in the wildest, purest place on earth.
After a couple of trips across the Atlantic, we ended up back in the Southern Ocean, where our family's journey began. We made a 30-day passage to Western Australia, then shorter jaunts to the east coast of Australia. We were back in New Zealand when our third child, a daughter, was born. This time, James didn't have to make me promise anything.
 
Lead Photo: Photographer: Somira Sao
Trending on Outside Online