Steamboat Powder Days for the Whole Family
The logistics of a ski weekend with kids are challenging, but the gear schlepping and tantrums just might be worth it.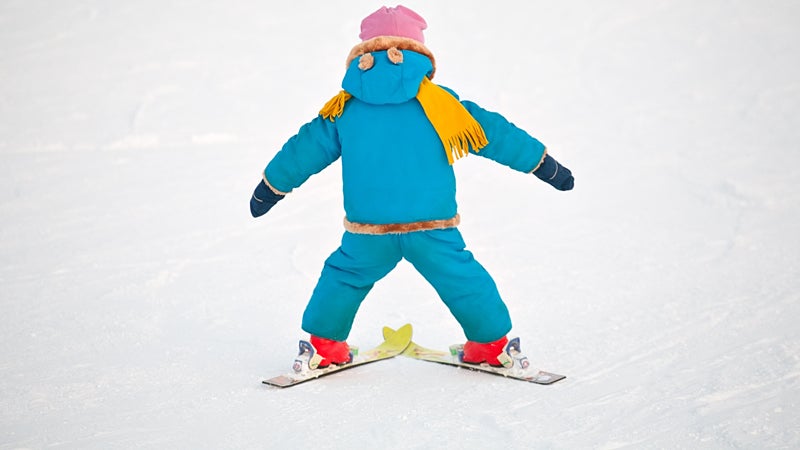 Getty Images/iStockphoto(Photo)
Heading out the door? Read this article on the new Outside+ app available now on iOS devices for members! Download the app.
At some point during the first day of every family ski trip, a single, desperate word always comes to mind: Why?

Steamboat ski shuttle.

Hero bumps.

Steamboat's empty backcountry.
Why are we schlepping our two young daughters and a garage full of winter gear 500 miles away when we could  be skiing our home hill, half an hour up the road? At three and five, our children are still too young to appreciate new and varied terrain. They'll happily ski anything, as long as there's snow and a little bit of pitch. Why try to get ambitious when simple is always smarter with kids?
This was what I kept asking myself on a recent Sunday morning in Steamboat, Colorado. We were in search of breakfast but had gotten lost in the maze of condos, parking lots, and hotels in the base area, weaving through that peculiar, tangled infrastructure so common at major ski resorts.
When we finally did emerge at The Cabin restaurant, inside the Steamboat Grand Hotel, three-year-old Maisy immediately began shedding ski boots, jacket, helmet, goggles, socks, bibs, and mittens, and flinging them in a disgruntled heap on the carpet.
We'd driven seven hours north to Steamboat in search of powder that had been eluding New Mexico since before Christmas. All month the storms had been tracking over Montana and Wyoming and just clipping the northern part of Colorado, where Steamboat lay squarely in their path. The resort—six peaks, nearly 3,000 acres, and 3,668 feet of vertical renowned for its light "champagne" powder—had already amassed a near-record 11 feet of early-season snow since October. While skiers at nearly every other resort in the country were resigned to boilerplate, patchy grass, or manmade snow, those at Steamboat were still schussing the good stuff. So we took advantage of the MLK long weekend and a recent storm that had dumped three feet of snow on the resort, and we loaded the truck and set off for what we hoped was the wintry north.
In theory, it seemed like such a good idea. Follow the snow and everyone's happy, right? But the reality of traveling with small children to ski isn't so cut and dry. While kids six and under usually ski for free, a trip can be pricey, and even if you stay slope side, as we did, the schlep factor is high. We hadn't even made it to the gondola, and the girls were already crushed by the quarter-mile, gear-laden commute from condo to Cabin. Now they were half naked and raiding the buffet's bacon bar. On a regular Sunday at home, we'd whip up some pancakes in the kitchen, pack a lunch, throw the skis in the car, drive up the mountain to the ski area, and be home again in time for a nap. Why, why, why?
But then I remembered my cardinal rule: The first day of any adventure with kids is always challenging. The children are excited and usually tired, and everyone's trying to settle into a new place. This goes for ski trips, rafting trips, international trips, beach trips, camping trips, trips to see the grandparents, trips to the most familiar and beloved of destinations. The trick is to try not to write off anything or make rash decisions or proclamations during the first 24 hours. Ride it out until everyone has settled into a rhythm. It will (almost) always be worth it.
It only took a few minutes and one short-lived tantrum to reassemble ski outfits and forage under tables and chairs for a lost mitten. Then we clomped out to find ski school. All our efforts were about to pay off: Steve and I had a date with a Steamboat ski instructor for a guided tour of the mountain, while the girls were going to spend the day working on their turns at Steamboat's Kids Vacation Center. We taught both our girls to ski, but at least once every season, we try to outsource their on-snow education with a day or two at ski school. This gives them independence and a filter other than us through which to learn and love the sport, and it gives Steve and me a rare chance to ski together. Plus, as we've discovered, they never fuss as much with strangers as they do with us. 
Fortunately, as we learned on our second attempt to navigate the base area, Steamboat caters to families with kids and all their gear—i.e., bedraggled parents like us. Mothers and fathers were wheeling kids and skis and boot bags around in red wooden wagons, provided for free to skiers near the bottom of the gondola. I can't stress this enough: When you're not lugging a lot of crap, finding your way around a ski resort is much more straightforward, and the prospects suddenly seem much rosier.
Even more so when the kids are delivered, smiling and excited, to ski school. Steamboat KVC is an efficient operation, and they had our girls checked in, decked out, and whisked off before we knew it, without so much as a backward glance. Maisy would be trying to master her snowplow in the Mavericks program for three-and-a-half to four-year-olds, and Pippa would be in the more advanced Sundance group, learning to carve true, parallel turns.
Meanwhile, our guide was a fourth-generation Steamboat native and competitive ski jumper named Kat, who led us all over the mountain in search of powder, which we found in pockets in the hike-to terrain in Morningside Park. We could have probed those glades for fresh lines all day, but Kat had other plans. It was our first time skiing Steamboat, and she wanted to give us a taste of the resort's best terrain, from treed shots like Shadow to the gentle, perfectly sculpted moguls off the Pony Express lift and the long, screaming groomers on the frontside, where she demonstrated her pedigreed racing form by ripping some smooth super-G turns. Kat was the on-mountain equivalent of the little red wagon: Following her lead, we could spend all our time skiing, rather than having to pore over the trail map, wandering aimlessly from one end of the mountain to the other, wondering dumbly after each run, "Where do you want to ski?" "Uh, I don't know, where do you want to ski?"
Three hours northwest of Denver and some 90 miles north of the well-beaten I-70 ski corridor, Steamboat is the sleeper of major Rocky Mountain ski resorts. It's too far for Front Range day trippers, it's not as steep Jackson or Taos and not nearly as fancy as Aspen or Deer Valley, and it doesn't have the hippie/hipster ski town panache of Telluride or Crested Butte. But with nonstop flights from nine U.S. cities, it draws a loyal cadre of serious skiers and riders from all over the country and as far away as New Zealand and Australia. 
Steamboat is famous for its light, abundant powder and glade skiing, but even on a bluebird day, when the snow in the aspens was soft but tracked out, it still wowed us with its many charms. The peaks in these parts aren't spiky like the San Juans, and although they're not exactly gentle, they are exceedingly forgiving. This is hero terrain at its absolute best: steep enough to let you rip like a champ but not so vertical that it crushes your body or your pride in the process. (At the end of three days of skiing–my first full days all year—my legs were still ready to charge.)
Plus, you won't find a nicer resort anywhere. Plenty of places like to claim they're the friendliest family mountain, but at Steamboat it's not just talk. These people are seriously, genuinely nice—and not in a cloying, annoying way. It's like the Midwest of Colorado. 
Judging from their ear-to-ear grins when we picked them up at three o'clock, Pippa and Maisy had been wooed, too. Maisy could now stop on her own, and Pippa filled us in on her efforts to "match her feet" to make them like a pencil. They were both so fired up from the day that they insisted we buy their official KVC ski portraits—posed in front of a decommissioned gondola car—and during the whole wagon ride back to the condo, Pippa kept telling us that she wanted to go back to ski school now.
They'd get their chance in the morning. Steve and I were going snow cat skiing with Steamboat Powder cats, a splurge we couldn't resist given the crummy snow conditions down south and the promise of untracked lines in the Buffalo Pass backcountry, just 25 minutes north of Steamboat proper. The last time I'd been cat skiing was three years ago, when I joined an all-women's trip called Cat Sass, out of Snowwater Heli Lodge near Nelson, British Columbia. Needless to say, the vibe was completely different. I pumped breast milk on the cat between runs and one afternoon we wrote down our biggest fears on slips of paper and burned them in a bonfire in the woods. Now I was only one of two women in our advanced group of 11 clients and three guides. Our affable leader, Kevin (aka Kevo) cranked classic rock on the drive out to get us fired up, and by the third or fourth run, we'd skied off our nerves and the guys had begun one-upping each other with dirty jokes.
During the whole drive out of town, I'd been stressing about avalanche danger, feeling grossly irresponsible for leaving our children at ski school so we could ski the backcountry. What if it slid and we were both caught? I thought about telling Steve we should alternate: one in the cat, the other on the slopes. But our gregarious, avy-savvy guides and the terrain—moderately angled pitches through the trees and wide, open slopes—instantly put me at ease, and after a few runs I was more worried about how to nab a perfectly untracked line than what would happen to our daughters if, perish the thought, they were orphaned by a slide. How spoiled we'd become, and in such a short time!
We did laps off Buffalo Pass and Soda Mountain on runs named Pepsi Ridge and Pepsi Free, each one better than the last—through aspens so perfectly spaced they looked like they'd been pruned for the purpose (nope, all natural), wide open slopes, and one narrow chute that got my heart pumping for a few seconds. Hoar frost glistened like glass beneath our skis, refracting the blazing sunshine and making a pleasing hissing sound as we skied. As soon as it snowed again, the hoar frost (or frost hoar, as guide Rex liked to say) would create a layer of dangerous instability, but for now, it was like plying a fine layer of 14-carat diamonds. Rich.
By 3 p.m. we'd notched our 11th run and still had time for one more. The whys of the previous day and the morning had long been wiped away by the pure, rare joy of skiing powder with my husband. I was no longer asking why, but why not: Why don't we do this more often?
On our last full day in Steamboat, we skied the mountain as a family. Steve shadowed Maisy down the appropriately-named, winding beginner slope, Why Not, all the way to the Burgess Creek lift, which served a nice mix of blues, greens, and mogul runs to keep Pippa entertained. Now that Maisy could snowplow on her own—not sporadically, but reliably and with surprising control for a three year old—we no longer hand to stoop over to restrain her with our ski poles. It had been two years since we first put Maisy on skis, and in just two days at the KVC, she'd learned to ski and stop unassisted. No longer would she—and we—be relegated to the Magic Carpet. 
But little legs only last so long, and after lunch at Four Points, Steve took her back to the condo for a nap, while Pippa and I went off to explore the rest of the mountain. The snow was soft and the sky Steamboat blue, and Pippa was carving competent turns all over the place, singing to herself and stopping now and then to inform me on how to properly ski moguls. Maybe it the hero terrain or maybe it was ski school, but she, too, seemed transformed. Almost overnight, she'd become an able companion, someone with whom I could ski practically the whole mountain, without worrying about where we'd end up. That's the beauty of Steamboat: Even off the the most advanced lifts, there's always an easier way down. 
I hated to leave Steamboat behind. In the course of four days, I'd gone from questioning why we'd come to secretly plotting to uproot us all and move there on the spot. But of course we can't. Our home is in Santa Fe, and what I've learned over the course of our adventures, is that while it's thrilling to go out into the wild unknown, eventually we all have to come home again and live right where we are. Even if it's the parched brown winter desert without a storm in sight.
That, then, is the lesson of Steamboat: You don't have to be the fastest or best or steepest or ritziest or even the deepest (though often it is). You can simply do your best and be at home in who you are. And that makes you the genuine article.
If you go:
Stay
Torian Plum is ski-in, ski-out condo with the service of a hotel, a heated outdoor pool and hot tub, private decks, and free guest shuttles to downtown. Our two-bedroom-two-bath had a full kitchen, laundry, and primo views of the base area and weekend night skiing, new this year. From $203 per night.
Eat
The Cabin's ample breakfast buffet will fuel you for a long day on the slopes. For lunch, refill on chicken pot pie and buffalo chile at Four Points on the mountain. Apres, Slopeside Grill services towering nachos and draft microbrews just steps from the Torian Plum. The mountain village has limited dining, so if you're in Steamboat for more than a couple of days, be sure to drive the ten minutes into downtown Steamboat for dinner at Mahogany Ridge, a bustling micro-brewery with an upscale menu and kid-friendly staff. If the wait's too long in town, head to the Rusted Porch, on the way to the mountain, for burgers, flatbread pizza, and salads.
Party
Every Saturday, Steamboat puts on a family-style Western BBQ midway up the mountain, atThunderhead Lodge. Ride the free gondola and dig into the vast spread of ribs, chicken, roast turkey, and all the fixings (good luck trying to get the kids to eat their broccoli once they ogle the build-your-own-sundae bar). After dinner, the country band Sun Dog is like a magnet sucking young ones out to the dance floor with a spoon-balancing contest and, of course, the hokey pokey.
Soak
Right on the main drag, Lincoln Avenue, Old Town Hot Springs puts the springs in Steamboat. The natural mineral pool ranges from 98 to 103 degrees, and there are three smaller, hotter pools, two 230-foot enclosed water slides, an 80-degree lap pool, down-swaddled lifeguards, and a small rock climbing wall over the water so your little ripper can practice his deep-water soloing. Pippa must have done 15 laps on the water slide—and this was after a full day at ski school. Adults, $16; kids 3-17, $9; unlimited water slide rides, $6. 
Ski
Steamboat adult lift tickets start at $119; kids 6-12 ski free with the purchase of a five-day adult pass ($595); children five and under are always free. Kids Vacation Center ski lessons start at $143. Days after a storm, the good guides at Steamboat Powder Cats will still find you fresh powder, and 8-12,000 feet of vertical, guaranteed. From $375 per person. 
Lead Photo: Getty Images/iStockphoto