Banff Interview: Cory Richards
The 29-year-old cinematographer and alpinist talks about bagging the first ascent of GII in winter and the making of Cold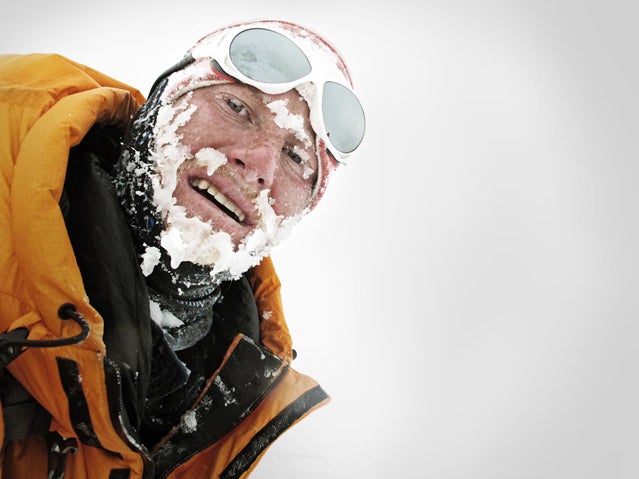 Heading out the door? Read this article on the new Outside+ app available now on iOS devices for members! Download the app.
When Cory Richards was invited by two of his biggest heroes to document their climb up Gasherbrum II, he didn't realize that he would become the first American to summit any of the 8,000-meter peaks in winter. In the process he survived -50 degree temperatures and an avalanche. Director Anson Fogel's new documentary, Cold, uses Richards' footage to capture the extreme conditions under which Richards, Simone Moro, and Denis Urubko tackled the Pakistani peak. In addition to his work on Cold, Richards recently partnered with Renan Ozturk for the short films Khumbu Climbing School and As It Happens. Richards is at the Banff Mountain Film Festival this week, where Cold has been selected as a finalist. He took a break from signing posters to speak with us.  
Did the climb change how you felt about Moro and Urubko?
It's almost paradoxical, because your heroes become just "other people." At the same time, you gain more reverence for them because you see what they can endure. Watching them suffer and seeing how they dealt with that—I have more and more and more respect for them. They're still my heroes, but the word "hero" takes on a different meaning. They're my heroes because they're very human, but they're still tough and able to endure things that I can't.
But—you did.
Yeah, I know. But I almost feel like I was a spectator. It was a very hard and trying experience for me, but when I talk about it, it's more about Simone and Denis. I can't speak to what they personally walked away with, but their characters allow me to tell my story. It's weird. I think it's partly because I'm still getting used to being in front of people. I've always been the person who takes the pictures, not talks about it.
Some of the most captivating adventure stories are near-death experiences. Do you think it's weird to produce a product that only gets better the closer you get to dying? 
It's extremely strange. And I find it unfortunate that we have to go through these incredibly traumatic experiences to communicate something that's as simple as, hey, this is a finite experience, and we should be doing everything in our power to live it to its fullest. That's the tragedy of it: the message only comes through when something really bad happens. If you just get to the top and come down, that's a really successful climb. Truthfully, that's better climbing. But it doesn't have the same impact as a story because you don't have the drama. 
In a high-stakes situation, do you get off on perfectionism? 
I think there's a thrill in knowing that you did everything correctly. We did everything right on Gasherbrum, up to the point where we were in a place were we shouldn't have been. We were in an exposed terrain trap. And we knew we were making a mistake at the time, but it was sort of an unavoidable mistake, and we had to commit to that mistake. I love that, too. It shows that we can still make all the right decisions, but the mountain's always in charge.
It sounds like you're making a god out of the mountain.
I don't think you've created a god out of the mountain, I think you're just respecting the natural world and your place in it. Knowing that you're engaging in something that ultimately can harm you, and knowing that you're surrendering an element of control, I think is very liberating. That's striking at the heart of adventure. Adventure is saying, I have a goal, and I don't know the outcomes, and it might not end well.  
You mentioned that you were thankful for everything after Gasherbrum. Did it last?
Y'know, it's funny, you come back, and are thankful. But, over time, the freshness and the rawness that's exposed—all those layers that are peeled back in that instant—they start to grow back, and the wound isn't so fresh. Over time, you fall into the same patterns. That's natural; that's healing. But it's unfortunate because it erases the beauty of that really raw emotion and vulnerability that's exposed as a result of that experience.
What do you want people to take away from your story?
We spend so much time doing mundane shit that we don't need or want to do, and I believe strongly that, because life is finite, it's our responsibility to do what makes our hearts beat faster. The point I walked away with is universal. I want people to have their own experiences. It's just so important for people to go out there and get after it.
Trending on Outside Online