The Belgian Prince Taking Bullets to Save the World's Most Threatened Park
This Friday, Netflix releases Virunga, a documentary thriller about the fight to save the mountain gorillas of Congo's Virunga National Park. We talked with warden Emmanuel de Merode on what it feels like to be shot while defending the most dangerous wilderness on earth.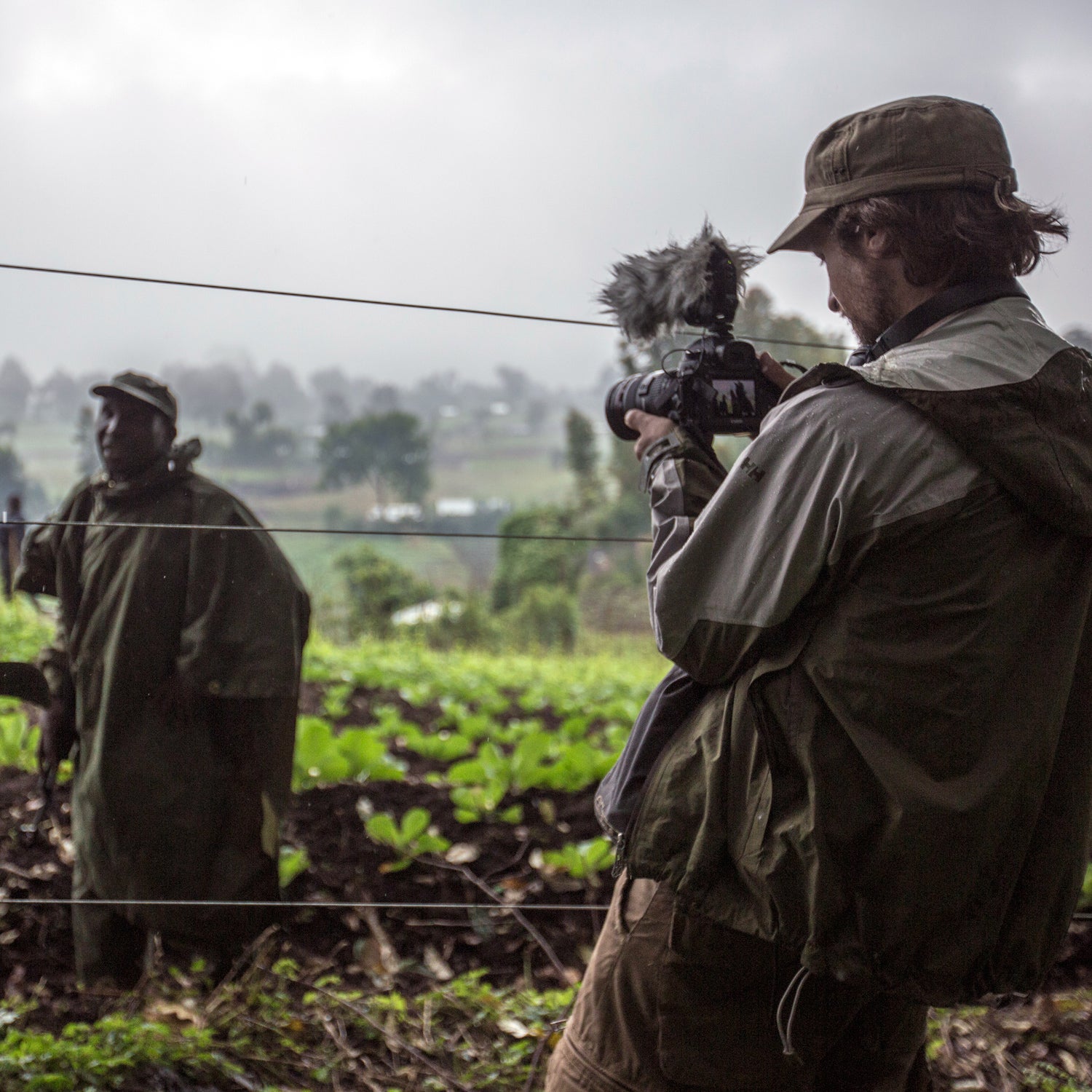 Heading out the door? Read this article on the new Outside+ app available now on iOS devices for members! Download the app.
The most famous act of violence in Virunga National Park, on the Congo-Rwanda border, is the 2007 execution-style killing of seven of the park's famous mountain gorillas. The second most famous incident occurred this April, when head warden Emmanuel de Merode was shot twice, in the chest and stomach, in a roadside ambush. De Merode, a Belgian prince and anthropologist who took the park's reins in 2008 with a mandate to clean up endemic corruption—his predecessor was implicated in the 2007 gorilla slayings—survived. This week he's in the States to promote Virunga, a feature-length documentary by debut director Orlando von Einsiedel that will begin streaming on Netflix this Friday. Virunga, which premiered at the Tribeca Film Festival in April, shortly after the shooting, is best described as a thriller with an agenda. Von Eisendel tails De Merode and his rangers as they attempt to protect the park from poachers, the incursions of a British oil conglomerate, SOCO International, and a rebel militia called M-23 that's intent on continuing Congo's two-decade civil war. That conflict, we're told, has claimed the lives of 140 rangers so far.
Is there a more dangerous national park on earth? It's hard to imagine. We see armed rangers cuddling frightened gorilla orphans as they prepare for an imminent M-23 attack. De Merode's head lieutenant, a warden named Rodrigue Mugaruka Katembo, wears a hidden camera, as does an intrepid young French journalist named Melanie Gouby, in an effort to prove that SOCO is, at best, trying to buy its way into the park. The footage they capture appears pretty damning, showing a Congolese SOCO supporter offering bribes and a French contractor for the company speaking contemptuously about the need to "recolonize these countries." (In an interview with the Telegraph, SOCO executive Roger Cagle dismissed accusations of bribery as "malicious lies" and suggested that the footage had been manipulated in editing.)
Virunga is not an impartial work. The filmmakers are clearly out for pounds (and pounds) of SOCO flesh. But even if the filmmakers fall short in their goal of explicitly proving that Big Oil financed militias in the area, they succeed in producing a powerful film about the cost of natural resources in a stunning and deadly battleground. We spoke with De Merode last week, while he was on a publicity tour for Virunga before heading back to guard the park.
This interview was edited for clarity.
OUTSIDE: You were shot in April. How are you recovering?
DE MERODE: I'm well, thank you. It happened five months ago now so I've had time to recover. It's meant that I could go back to the park and continue the work. In many ways very positive things have been happening since that incident. There's every reason to keep going.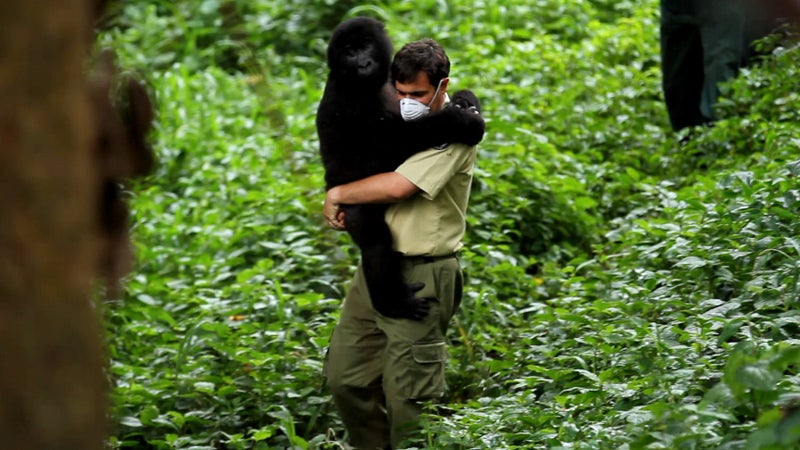 Can you walk me through the day of the shooting?
It was on a Tuesday. I'd been working with the courts in Goma on a report. I left Goma at about 3:30 in the afternoon. I was driving back to our park headquarters, about an hour and a half north of Goma. I was about halfway there, driving through a slightly forested part of the road. About 200 meters ahead I saw a man with a rifle. As I approached, I saw him raise that rifle, and I saw two other men crouched in the forest. At that point the bullets started hitting the vehicle, so I ducked. After that, I don't remember it that well, but I know the vehicle stopped because one of the bullets hit the engine or the circuit board. I was able to take a rifle that I had with me, and I left the vehicle. I think it was at that point that I got hit in the chest and the stomach. But I managed to continue and go into the forest.
You jumped and ran into the forest?
I don't know if I ran, because I'd been hit in the chest and stomach, but I was able to move into the forest about 50 meters, and then I fired back roughly in their direction to try and discourage them from pursuing me, and then waited for about half an hour. But I was bleeding a lot, so I knew that I had to get out quite fast. I approached the road again and waited another 20 minutes. Eventually the traffic started coming back. At one point, two farmers on motorbikes immediately came up to me. They threw their vegetables onto the ground and picked me up and drove me out of the area. I was able to get to the hospital and they operated on me immediately.
You were hit twice—what did it feel like?
Well it's obviously very painful. Feels a bit like being winded very hard. Like somebody's punched you very hard in the chest. But almost immediately afterward, the adrenaline kicks in and you become very focused. So for the first ten minutes, I was focused on staying safe and trying to get away from that situation. The really painful part was being carried on the back of the motorbike on the Congolese roads, which are extremely bumpy. When you're on that road and sort of out of danger, then the adrenaline no longer has that effect and the pain sets in.
Who do you think was behind your shooting?
Unfortunately I don't know. I wish I did. One of them was wearing quite a shabby uniform. But that unfortunately doesn't mean very much. A lot of people who carry guns aren't in the armed forces, and they wear shabby uniforms. I think it's extremely hard for an investigator to unravel what's behind an incident like that. It was an organized attack. There were a number of people involved, and they didn't steal anything from the vehicle which is what you'd expect if it was a random crime. They seemed to be well prepared.
Were you nervous about going back to work?
It was a fairly big deal, because the people who did it have not been caught. We've had to take quite significant security measures, so my life has changed somewhat. But in terms of being nervous, not really. I have huge faith in my staff who are there to protect the park and, now, to protect me as well.
What are those measures?
Well, I have a team of park rangers who are with me all the time. They just won't leave me. They sleep outside my tent and stick with me all the time. So that's the main measure, but I'm also very much more careful about my movements. You compromise on your freedom, but it does mean that you're safe.
What about the park — is it safe?
The park remains very, very vulnerable with respect to illegal oil. This problem of trying to reestablish the rule of law goes right to the heart of serious problems relating to armed conflict and instability in the region. In June, the oil company did make an announcement with World Wildlife Fund (WWF) that it was going to withdraw from the park. Unfortunately that hasn't panned out the way we hoped. It seems to be business as usual. It's true that they moved out of the park, but that was because they finished their seismic survey. They were going to do that anyway. We're still under enormous pressure.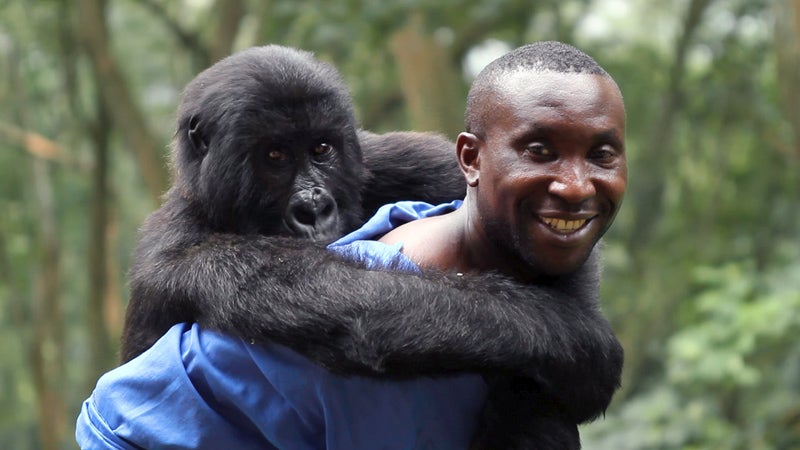 Didn't you have a partnership with WWF?
We had a partnership with WWF and have since suspended it because of their joint declaration with SOCO. It was effectively an endorsement of SOCO's activities and that was unacceptable to us. There are very serious human rights allegations against this company and their supporters, which haven't been addressed. And also there are allegations of bribery by people in the interests of the oil company.
In the film, Congolese men claiming to work for SOCO are secretly filmed offering bribes. Have there been any repercussions or prosecutions?
We're still a long way from resolving these issues, but there have been some positive steps. There was one character who was part of my own institution, who was part of the park service who worked in the interest of the oil company, and the National Park Service revoked his contract. That's a brave measure which makes us feel on the ground supported. This particular character was very involved in the arrest of [Virunga park central sector warden] Rodrigue [Mugaruka Katembo]. Rodrigue was arrested [by Congolese soldiers] in September of last year for preventing SOCO from building in the park. He was detained illegally for seventeen days, and he was very badly tortured. He had cigarettes burned on his skin, and he was taken out in the forest and they carried out mock executions to try to break him. But action was taken by the park's authority to correct that. There's a long way to go but those are positive steps.
How is Rodrigue now?
He's in Congo. We're still very worried about him, because he's still a target. We pulled him out of Congo after he was illegally detained and he spent three months in Kenya for his safety, but on his insistence he went back to Congo to continue his work. So he's still working as the central sector warden. Of course, being Rodrigue, he's doing a fantastic job.
Describe to me a good day in Virunga.
A wonderful day for me is when I get to work in the gorilla sector. I occasionally get to do that. Not as much as I used to and not as much as I'd like, but that's always an incredible privilege. I spend a lot of time in the field; we have a light aircraft, I get to fly over the park, and see one of the most incredible landscapes on earth. But most of all, it's working with the rangers. They're an incredible team, they're fun to work with, and they're incredibly dedicated.
Trending on Outside Online