The 5 Best Horror Films That Take Place in the Outdoors
Scary movies have a rich tradition of being set in creepy forests, caves, and swamps. We rounded up our favorites of the genre.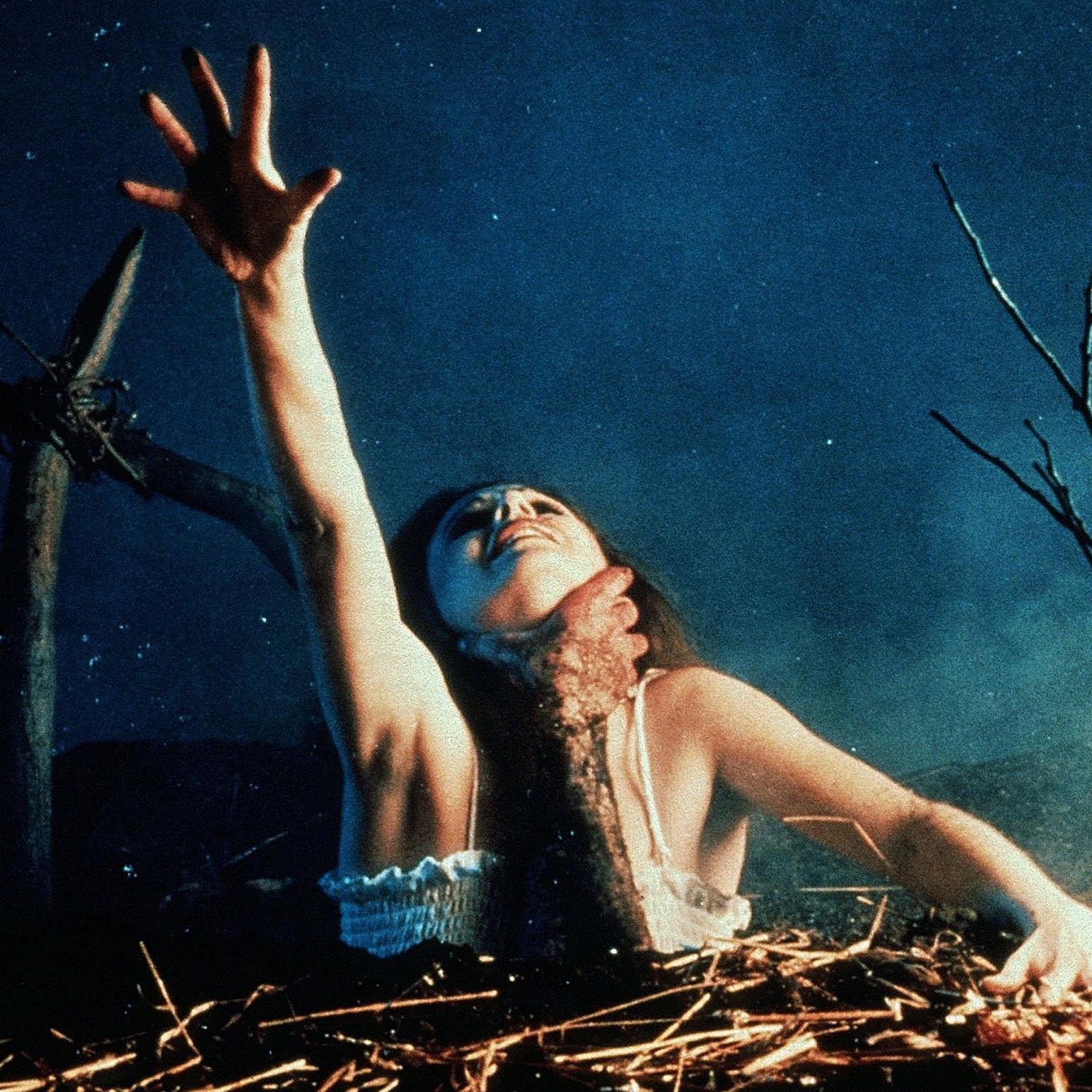 Allstar Picture Library Limited/Alamy Stock Photo
Heading out the door? Read this article on the new Outside+ app available now on iOS devices for members! Download the app.
One night, settling into my sleeping bag beneath the stretched nylon of a tent, I felt a familiar sense of vague dread. With my headlamp extinguished, a suffocating darkness enveloped me. The overwhelming quiet was punctuated by unsettling sounds: cracking twigs, strange cries, the rustling of the wind echoing like the breath of some malevolent god. The feeble barrier of the tent—good for stopping little more than insects and moisture—was suddenly like a screen, upon which I projected, like shadow puppets, random fears dredged from my memory. It would be a long night.
I know what did this to me: horror movies. More specifically, that popular strand of the genre that features people—usually young, often a couple—in the woods, encountering some dark force, whether human, supernatural, or some combination of the two. In England, they call the genre "forest horror." This rich tradition includes well-known titles like Deliverance and Friday the 13th; lesser known, hard-to-find entries like Just Before Dawn or Long Weekend; and more recent offerings like last year's Coming Home in the Dark, now streaming on Netflix, or Paramount+'s Significant Other, just out this month. And I have seen them all.
As someone who occasionally makes his living by being outside, I find my tent-terror obsession a bit self-defeating—like an aviation enthusiast who pores over the black-box recordings of plane crashes.
Like all genres, forest horror traffics in a number of timeworn tropes. The protagonists of the film, after first driving from some crowded urban setting, will soon find themselves on quieter roads. They will sing along to old songs on the radio. They will stop for gas or supplies in some greasy, fly-specked dive, where they encounter a cantankerous clerk whose face will assume a foreboding expression the minute they leave. They may, in a bit of foreshadowing, unexpectedly strike an animal on the road. In the woods, they will find there is no cell service. They will get lost. They will be missing some key piece of equipment. They will come across some Runic symbols carved into a tree. If it is a group of friends, only one is likely to make it out alive. If it is a couple, some simmering history or unresolved tension will come to the boil—forest horror reveals camping to be the ultimate relationship stress test.
As someone who occasionally makes his living by being outside, I find my tent-terror obsession a bit self-defeating—like an aviation enthusiast who pores over the black-box recordings of plane crashes. Why would I want to mix up my love of nature with all these troubling visions? After all, there are enough ways for things to go wrong in the wild without adding on depraved locals or Pagan sacrifices. Maybe it's just another endurance test. Or perhaps I'm simply exorcising a ghost that lives in all of us: an ambivalence toward nature. As Berenice Murphy, a lecturer at Trinity College, suggests in her book The Rural Gothic in American Popular Culture, we might simply be subconsciously replaying the country's founding, when Puritans encountered a wilderness that, before it was later rendered sublime and uplifting, was often a source of dread (see: The Witch). "The U.S. in the 21st century may be a predominately urban (and suburban) nation," she writes, "but something keeps drawing writers and filmmakers back to this point of initial contact, and to the cultural constructions that have sprung up around it."
She quotes the environmental historian William Cronon, in a passage I might borrow as the mantra of forest horror: "In the wilderness the boundaries between human and nonhuman, between natural and supernatural, had always seemed less certain than elsewhere." The dualistic idea that wilderness can be both darkness and Eden lurks behind the sheer number of entrants in the genre; there are many more horror films set in the woods than in big cities. Maybe our urban fears are already too familiar, too human—but who knows what lurks beyond the radius of a headlamp as you stare into the boreal depths?
With Halloween upon us, here, in no particular order, are some of my favorite forest horror movies, flicks that put the gore in Gore-Tex, that deliver Class V scares, that will have you draining your lantern batteries to stem the oncoming night.
---
The Evil Dead (1983)
"Why are we getting it so cheap?" This fateful question is asked by one of a group of college students, en route to a Tennessee holiday rental, in director Sam Raimi's celebrated low-budget shocker The Evil Dead. The film is arguably the originator of the "cabin in the woods" archetype. "You mean no one's even seen the place?" queries another. This kind of vacation insecurity helped launch Airbnb, but what do you do when your amenities include cellar trap doors that flap open for no reason and your superhost is an undead Sumerian? (Pro tip: When you see a poster for The Hills Have Eyes in the basement, run!) Originally called The Book of the Dead, the film got a standing ovation at Cannes but was initially deemed too intense to handle by U.S. distributors; a rave by Stephen King in the pages of Twilight Zone magazine—"it has the simple stupid power of a good campfire story"—helped to open doors.
---
Backcountry (2014)
Backcountry, directed by Adam MacDonald, is based on the true story of an Ontario couple who was attacked by a predatory black bear in 2005 at their remote camp site in Missinaibi Lake Provincial Park As in many forest horror films, the dramatic arc is amped with a too-confident city dweller who has a merit badge in mansplaining. "I know the park well," he says, turning down a ranger's offer of a map, then chiding his girlfriend for bringing bear spray. (Also, a digital detox is nice and all, but bring your phone). Winningly, the film employs a real black bear in the shooting—a reportedly placid creature made, via editing and music, to come across as properly terrifying. One of the film's scariest moments is seemingly more mundane: the couple climbs a crest, expecting to see a landmark, and instead just sees a vista of unending trees.
---
The Descent (2005)
In forest horror films, women are often depicted as unenthusiastic companions who'd rather be in some cushy hotel or encumbrances inevitably getting tripped up by a root as they flee some baddie. British director Neil Marshall's The Descent was a welcome, Bechdel-test-passing departure, focusing on a group of five female friends who routinely get together for some unadulterated Type 2 fun. Following the accidental death of the main character's husband, the group reunites for a weekend of spelunking in the Appalachian Mountains. This is nature as restorative therapy, in theory, but clearly not all interpersonal issues have been resolved—one reason the film succeeds is that this is no simple tale of nurturing sisterhood. Ratcheting things up is the claustrophobic, airless environs of the unmapped underground—actually a soundstage in England, as real caves can be, er, dangerous, even when they aren't the refuge of humanoids who have adapted to underground life.
Watch on Paramount+ Watch on Prime Video
---
The Ritual (2017)
Based on a book of the same name by novelist Adam Nevill, the British horror film The Ritual, like The Descent, posits the wilderness as a place for potential healing. A group of friends are kicking around ideas their annual "lad's holiday" when one is killed in a liquor store robbery. A year later, the survivors, to honor his memory, embark on a three-day hike on the Kungsleden, a 270-mile-long hiking trail in Northern Sweden. The guys aren't particularly likable, they don't seem like each other that much, and they're not particularly outdoorsy—think instead of the hiking scene in Trainspotting. "Fuck every hill in the world," one says, while climbing. It doesn't take long to sense that it's the inner demons that will torment as much as those lurking in the birch trees. Like most horror films, the buildup is better than the eventual reveal, but it's a very good scramble for a while. (For a less supernatural hiking horror movie, see A Lonely Place to Die).
---
Black Water (2007)
Australia is bigger than the continental U.S. but has less than one-tenth its population, with some 90 percent of the population living within 30 miles of its coastline. In other words, there's a whole lot of wild. Not surprisingly, Australia has produced its fair share of "Outback horror," from the seminal Wake in Fright to Wolf Creek. One famous true story there spawned two separate horror films: in 2003, a group of teenage boys quad-biking near Darwin were attacked by a 13-foot saltwater crocodile, one fatally. Both films it inspired, Rogue (directed by Wolf Creek's Greg McLean) and Black Water, are worth seeing, but I preferred the lower-budget, lower-key Black Water, which sticks closer to the actual event, following a group of friends on a fishing outing. It gets at the beauty of the mangrove swamps—and the threat contained within, with nary a trace of CGI in sight. One of my favorite moments comes when the group is assessing what useful items they're carrying, and one unearths a loyalty card for a café—one of those humdrum tokens of our everyday lives, now rendered absolutely useless in this place outside civilization.
Lead Photo: Allstar Picture Library Limited/Alamy Stock Photo
Trending on Outside Online