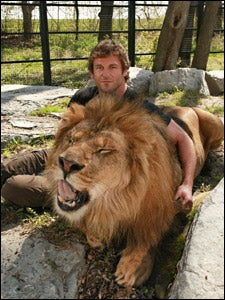 Heading out the door? Read this article on the new Outside+ app available now on iOS devices for members! Download the app.
For six months last year, Canadian Dave Salmoni, 34, a big-cat expert and the host of Animal Planet's Predator Versus Prey and After the Attack, lived in Namibia among a pride of "last-chance" lions. The cats had been relocated to a private game park after repeatedly harassing humans on unmanaged lands. Salmoni's project, documented for the new series Into The Pride, debuting August 13, is to teach the animals to tolerate eco-tourists. If Salmoni succeeds, the lions become the main attraction of 175,000-acre Erindi Private Game Reserve. If he fails, they'll be euthanized.
Dave Salmoni with Leo the Lion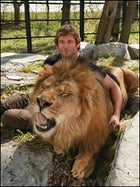 Dave Salmoni with Leo the Lion
OUTSIDE: This sure sounds like Timothy Treadwell with lions.

SALMONI: He gets a lot less respect than he should. You can't watch Grizzly Man and not think, That guy is on a fine line. And that's what animal interaction is: Knowing where the line is and not crossing it. He failed. I think he was crazy, too.
Some might say the same about you.

I was out there to have fun, but I probably learned more about lion behavior than any scientist has learned in 30 years.
Any really scary moments?

I was getting charged ten times a day. I'd scream and wave my stick, and the lions would lose their nerve. Afterwards, I'd think, That sucked. I could've died.
Did you ever consider giving up?

Halfway through, I called Animal Planet and said, "I don't think I can do this. I don't want to be a blip on the Fox News ticker: DAVE SALMONI EATEN TODAY.
But you stayed.

Yeah. If I went home, the lions would be shot. There had to be a solution where we both got to live.
And did the lions finally accept you?

By the end, we'd park next to them in the Land Rovers and they'd be dead asleep. Tourists were leaving with huge smiles, because they got a picture of a male lion in beautiful light.
Trending on Outside Online