Exploring the Innate Art of Navigation, from Ancient Cults to London Cabs
Inspired by an ancestral ill-fated journey, a writer travels the world to understand how humans find their way through the unknown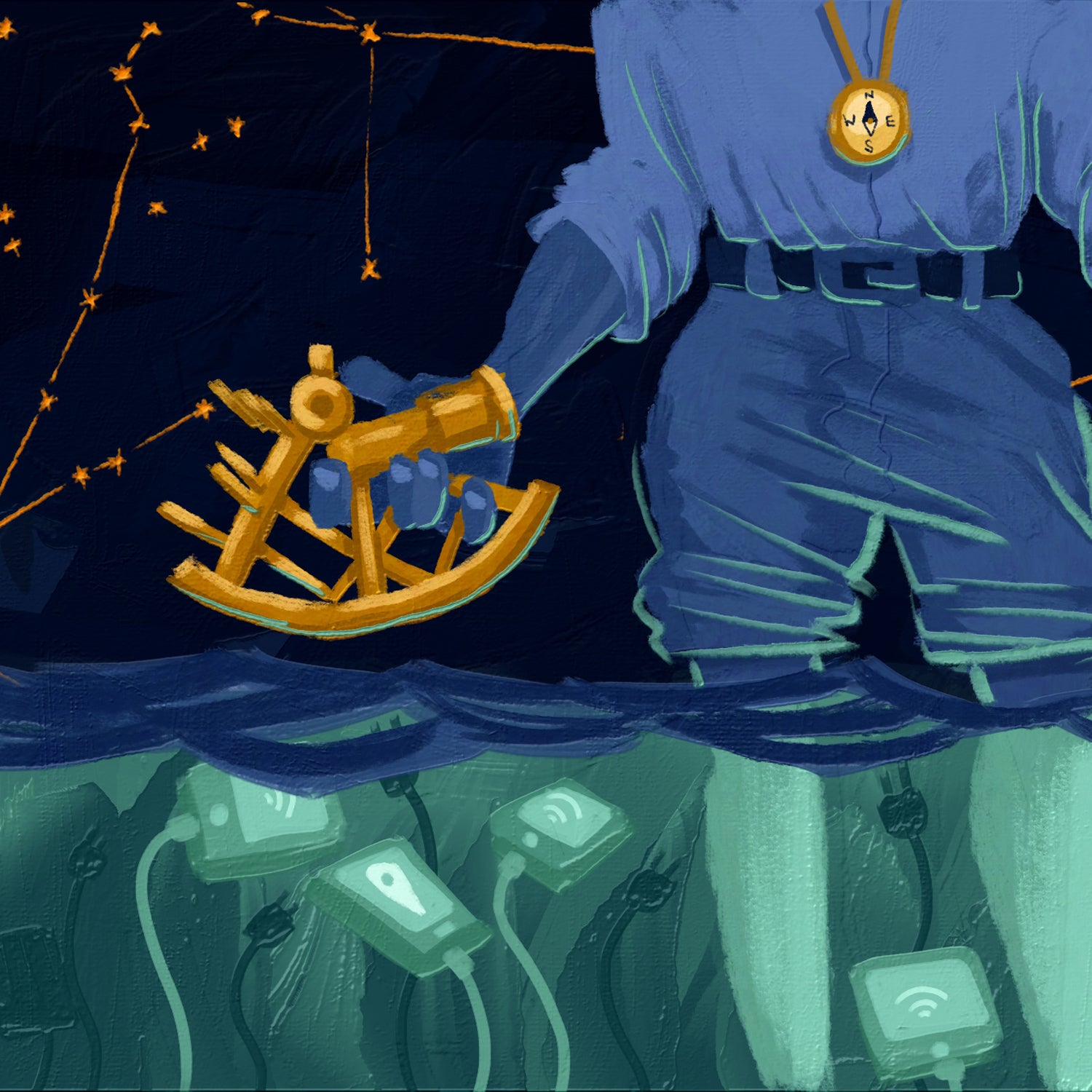 Erin Wilson(Photo)
Heading out the door? Read this article on the new Outside+ app available now on iOS devices for members! Download the app.
In the winter of 1844, Captain Halvor Michelsen embarked on a routine "packet" shipping route between Norway and Germany when his ship foundered in a snowstorm. Halvor ran back to rescue the ship's log in the cabin and became trapped as the water rushed in; he went down with the Stavanger Paquet. In 2015, Halvor's great-great-grandson, author George Michelsen Foy, made his way to the place where the ship was thought to have sunk. He also attempted to recreate part of his ancestor's journey, on a much shorter trip from Cape Cod to Maine, using the same technology that would have been available to his great-great-grandfather. 
Foy's new book, Finding North: How Navigation Makes Us Human (Flatiron Books), uses his own family history as a way into the larger narrative: how humans have honed their innate navigational skills since the beginning of time, for both survival and exploration. Foy focuses much of his exploration on the connection between memory and sense of place (a link that has him making a strong case against GPS dependence). As such, the book is part memoir, part historical and anthropological lesson, and part travel journal. Early on, Foy discusses five stages that represent the archetype of human exploration: "forsaking familiar territory, accidental discovery, return, telling the story, and embarking on a new expedition." He wants to understand how we equipped ourselves to explore the unfamiliar, but also how we create internal maps of the places we're most familiar with. 
"You learn that our navigation centers are also our memory centers. Since our memories are tied to feelings, they plot the position of emotions."
He first ventures across the world to explore our greatest, or most mysterious, navigational accomplishments. This includes visiting a Greek temple that might've been the headquarters of a secret navigational cult and sailing on an overcrowded Haitian cargo sloop to observe the use of old navigation techniques he'll use on his own journey. In one chapter, Foy travels to London to try and understand the cognitive capacity of cabbies, who have to memorize over 23,000 streets, and every practical route to and from each one. His interest is so piqued that he enrolls in a taxi training class. While navigating the streets himself, Foy recalls living in London as a younger man, eating kidney pie in the cafes and watching people rush by. "You learn that our navigation centers are also our memory centers," he told me. "Since our memories are tied to feelings, they plot the position of emotions." 
Some of Foy's strongest moments happen when he taps into that internal map, through his own personal, sensory-based history with a particular place. He's a great storyteller, which comes in especially handy when he sets out to learn what happened to his great-great-grandfather 171 years ago.
The logistics of Foy's Stavanger Paquet trip are sometimes exhaustively detailed: learning to use instruments like a sextant, preparing his boat, Odyssey, for possible inclement weather, explaining Odyssey's history. But these come together with the book's anthropological and scientific details to bolster Foy's own narrative about reclaiming family history, drawing a new line from his ancestor's less-than-clear final location to where he stands now. "Seeing the tiny island where his ship sank, and figuring out what probably happened, I felt this weird bond with him," he told me. "What he was doing—what I was doing—was exactly what humans are good at: trying to understand what happened, how stuff works, in a real place, with real evidence—which always, ultimately, comes down to understanding more about yourself."
Foy later travels through skerries and islets to the small Norwegian island of Kalven, near where Halvor Michelsen Foy's ship most likely went down. He imagines Halvor's last minutes, the disorientation he must have felt. "We cannot live without loss," he writes. We cannot live without being lost.
---
Outside Also Reads: Into-the-Unknown Edition
Pinpoint: How GPS Is Changing Technology, Culture, And Our Minds by Greg Milner (W.W. Norton & Company)
This could have been a crotchety takedown of everyone's favorite tool ("GPS is turning our brains to mush!"). But Milner turns out a compelling exploration of how GPS became so ubiquitous—and what we lose when it's all we know of navigation. (We didn't say it would make you feel crotchety.)
Best for: Navigation nerds; your friend who trusts Siri's directions a little too unquestioningly  
Inside: One Woman's Journey Through the Inside Passage by Susan Marie Conrad (Epicenter Press)
After Conrad's father lost a niece to a strong river current, water became taboo in her family. In 2010, Conrad, now a kayak instructor, spent 66 days and 1,200 miles in a wetsuit and an 18-foot sea kayak, traveling the famed Inside Passage that runs along the Pacific coast of North America. Expect bears, whales, and in-depth descriptions of feeling cold and soggy.
Best for: Anyone with a Paddling Bucket List; anyone who needs a new Wild or A Walk in the Woods fix
Lead Photo: Erin Wilson