The Gas Man Cometh: 'Gasland' Director Josh Fox
The director of HBO's fracking documentary talks environment, contamination, and community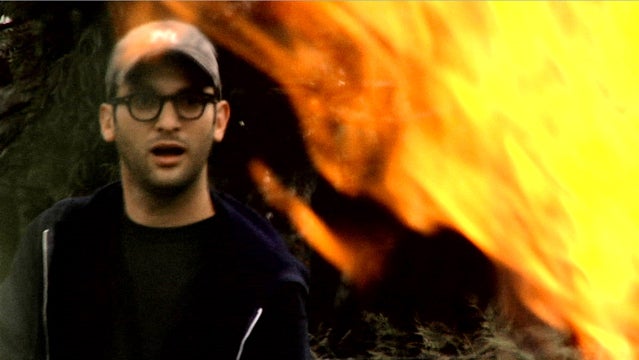 Heading out the door? Read this article on the new Outside+ app available now on iOS devices for members! Download the app.
Monday night, HBO will premiere Josh Fox's new documentary, Gasland II, (9 p.m. EST) about the controversial practice of drilling into bedrock in order to tap natural gas deposits. Fox's first film, 2010's Gasland, became a runaway hit, garnering an Academy Award nomination for Best Documentary thanks to compelling characters in hard-hit places like Pennsylvania and Wyoming, and shocking images of tap water on fire. Gasland II expands the focus to places like Louisiana and Australia, but still has plenty of footage of burning tap and ground water.
Fox is a leader in a growing army of fracking detractors, many of them environmentalists and community leaders who claim that it contaminates groundwater, makes people sick, and causes earthquakes. But the fame has brought him detractors of his own. His first film came under attack from the oil and gas industries, which released 2012's Truthland, an industry-sponsored, pro-fracking film, as well as an 11-page document titled "Debunking GasLand." Nevertheless, Fox's image as a daring, muckraking filmmaker has remained intact (although the New York Times Greenwire blog said that Fox and the industry had "each made errors"). We caught up with him at Mountainfilm in Telluride, Colorado, where Gasland II played to standing-room-only crowds, to talk about the fracking industry, his transition to activism, and how he keeps it up after five years on the road with his films.
Outside: Were you an activist before all of this?
Fox: I wasn't a professional activist. I'm a theater guy and a filmmaker. So when my community was thrown up in the air by the gas industry, the way I could contribute was to do something in the film world. I never thought it would be a big deal at all. I thought it was just for the Delaware River basin. That changed.
How many miles have you driven in the course of these films?
I'd guess 100,000 miles in two crappy Toyotas. One of them died. The other is the son of the first. And unfortunately you have to drive in that situation. We try to be fuel-efficient. It's an old car. Not a new car.
Do you ever step back and think how much this has consumed your life? Do you ever think, "Oh shit, this is the only thing I do now"?
Like Frank Finan [a Pennsylvanian who opposes fracking in his community] in the film says: To some people we're just someone in the news. But this is a fundamental transformation of where you're from. When you have your home on the line, you don't have a choice. Today, I'm living in a completely different world than the one I was living in before I did this. And this is the simply the most meaningful way to live. I've been doing this for five years, now. But that doesn't mean that life has been taken over by it. It means that life has in some ways become more full.
What motivates you? Making a good film? Exposing the truth?
The film is just a tool, a thing that you craft. The film raises awareness. You have to obey completely different rules as a filmmaker and a journalist than you do as an activist. As a filmmaker, you have to tell a good story. You have an audience sitting there, emerged, wanting to know what's next. As a journalist, you have to double-check all of your sources, all of the things you're reporting on. You have to do the scientific investigative work to support what you're reporting on. But, as an activist, you have to spend every single day of your life devoted to it.
Are you able to do that? When the camera is in your hands, you're a journalist, but when you're here at a film festival, you're an activist?
Of course. Because I'm going to be taken to account for any mistakes. Certainly, we don't want to open up ourselves to a real mistake. There are no real mistakes in either film. The industry has spread a lot of misinformation. The film is about journalism. Once the film is done, you can go out there and talk to people.
Activism is just meeting people. Look at John [Fenton, a Wyoming cowboy and character in Gasland]. A six-foot-four-inch rancher and rodeo champion from Wyoming in a white cowboy hat, and me in a funny glasses and a Yankees cap. We're a ridiculous odd couple. But he's one of my closest friends in the world. That's because we're meeting not in a culture of something shallow, we're meeting in a culture of something really important. That's what real activism is.
When the industry came after you, were you surprised?
I was deeply surprised that they attacked the film. It got us so much attention. The best thing they could have done was ignore it. We had no chance to win the Oscar. But when they wrote the letter attacking the Academy Awards, trying to get the nomination rescinded, all of a sudden we had a chance.
How do you deal with the attacks?
Everybody has a different reaction. Tony Ingraffea gets super fired up when they attack him. He's one of the geologists who used to work for the industry who we feature in Gasland II. He loves it. He's the cement guy. The godfather of cement. You have to understand that they attack because they're afraid. Because we can [create energy] another way.
And we know that. The fossil fuel industry perpetuates this myth that if we don't use oil and gas and coal, our standard of living will go down. But it's exactly the opposite. If we keep using oil and gas and coal, our standard of living will go down. What we're talking about is two million projected new wells in the United States of America. That's one well per 150 people. That's insane. That's handing over our quality of life to become an oil and gas extraction zone.
What do you see as that other way?
I think it's a question of consumption. We have to make some really clear cultural choices here. When you're facing down the oil and gas industry, it's pretty clear what matters in life. And when you see the waste in everyday life … I remember when I was flying back from New Orleans from looking at the BP oil spill. I was on Jet Blue, which gives you unlimited snacks. And each of those snacks is wrapped in a plastic thing, made from natural gas. When you're out on the Pacific and encounter all of those wrappers, that's going to make an impression.
We have to start processing what we're really made of in America. American character is not dead. American integrity and honesty are not dead. When we're backed up against the wall against the largest corporations in the history of corporations, it's there.
Lead Photo: Courtsy of HBO