Hood to Coast: A Successful Descent
Heading out the door? Read this article on the new Outside+ app available now on iOS devices for members! Download the app.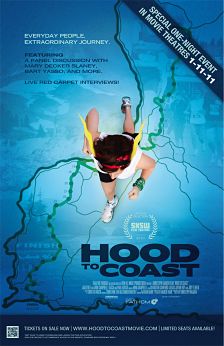 Courtesy of Hood To Coast Movie

Hood to Coast, the 197-mile, 12,000 person, 36-leg, largest relay in the world, kicks off August 26, 2011 at Timberline Lodge on Mount Hood. Runners will tag team a 6,000-foot descent into Seaside, Oregon, where a well-deserved post-race beach party awaits.
Interested? It's too late to enter the lottery for 2011, but you can run vicariously through last year's participants in Hood to Coast, a feature documentary released January 11 in select theaters across the country.
The Hood to Coast premier included live interviews from the red-carpet screening in Portland, Oregon. HTC founder Bob Foote, director Christoph Baaden, Runner's World editor Bart Yasso and Olympians Mary Decker Slaney and Kenny Moore were among those present.
As expected, the film featured beautiful HD footage of western Oregon's towering fir trees and patchwork fields. Animated maps and graphics explained the relay process. Though the movie sometimes focused on team rivalry and the need for speed, its real power came from four powerful narratives that had little to do with miles per hour or placing.
Among the most heartbreaking tales was that of Team R. Bowe, named for Ryan Bowe, a 30-year-old Washington and Lee alum who died only a year before the race. His fraternity brothers and family—including his young wife—came together to race in his memory, sharing some tear-jerking stories and whisky along the way.
Sixty-seven-year-old Kathy Ryan was the darling of the Heart N' Sole team. Ryan collapsed due to a heart attack during the 2009 race and came back in 2010 to prove to herself—and her cardiologist—that she could run the race for the 18th time.
Thunder N' Laikaining—a group of creative and out of shape animators from Portland-based Laika studios—entered the race as an escape from the professinalism of their desk jobs. Fueled by beer and cheeseburgers, they broke out of their comfort zones to tackle the relay with lightning-bolt sweatbands and lots of laughs.
Dead Jocks in a Box, 12 past-their-prime runners who still manage to place in the men's super masters age group, raced primarily to let off a yearly dose of immaturity. They embraced the race with a Polaroid fashion board, water guns, power arches, and a rather crudely decorated coffin on top of their team van. Confused? You'll just have to watch the movie.
–Whitney Dreier
Hood To Coast Movie Trailer #2 for Race Website from HoodToCoastMovie on Vimeo.