Idaho's Last Iconoclast Boatman
In Anything Worth Doing, Jo Deurbrouck profiles Clancy Reece, who lost his life on the Salmon in June 1996 when the river crested at nearly 100,000cfs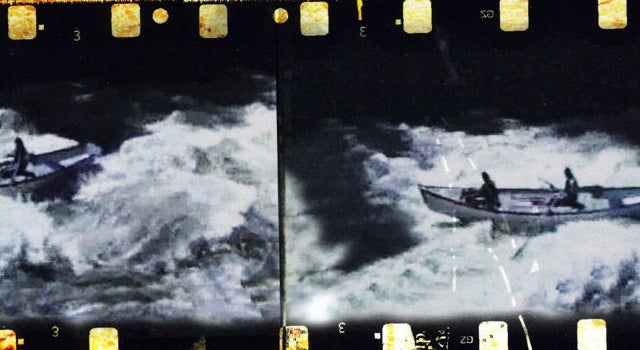 Heading out the door? Read this article on the new Outside+ app available now on iOS devices for members! Download the app.
Most river epics take place far away on remote stretches of whitewater, but Idaho guides Jon Barker and Clancy Reece found adventure, and disaster, closer to home. The pair's exploits running the Salmon River are the subject of the fast-moving Anything Worth Doing ($15, Sundog) by Jo Deurbrouck, another longtime Salmon guide.
Anything Worth Doing.
The book follows Barker and his late mentor, Reece, on two voyages over the span of 10 years. The first of these is a grueling, 1988 Huck Finn-like trip from the Salmon's source, high in Idaho's Sawtooth Mountains, down 900 mostly windy river miles to the mouth of the Columbia. Based on Reece's journals and Barker's recollection, it's a boat-level snapshot of America's most-dammed waterway two decades before documenting entire river systems came into favor. (Barker was also the first to run the Colorado from source to sea the following year.)
The second trip is a fool's errand that costs Reece his life. In June 1996, the Salmon crested at nearly 100,000cfs. The two men and a third volunteer set off down the upper Salmon at dusk with it in their heads that they'd break the world record for most river miles traveled in a 24-hour period. That spring, I was 17 and working with Deurbrouck as a swamper, setting camps, washing dishes, and spending my free hours learning to kayak on the same stretch of river. (The previous summer, it had been Deurbrouck who taught me to roll up in an old Perception Dancer; we've stayed in touch on and off.)
The accident rocked the small rafting town of Riggins, and Doubrouck retells it with a deep understanding of the way rivers and boats interact. Rowing through the dark, she writes, Reece and Barker "sought the center bead of the current by instinct, and stayed in it by seeking even pressure against each oar blade and that steady, predictable rocking of the boat that only occurs on unconflicted water." Surprisingly, it wasn't the dark, the old-growth driftwood, or even the swollen rapids that drowned Reece but the beginner's mistake of not dressing for the cold.
The account of Reece's demise is truly terrifying, but Anything Worth Doing is ultimately a profile of one of Idaho's last iconoclast boatmen. (The term "raft guide" is treated as a slur among the oldtimers.) Reece comes across as bearish and self-reliant, like a landlocked Thor Heyerdahl or a less militant George Heyduke. He's "proud but perilously close to extraneous, full of esoteric knowledge the broader world found colorful more than useful." And like so many of his ilk, he wasn't a guy who bent to advice after he'd made up his mind.