Majka Burhardt's 'More' Takes an Unflinching Look at Climbing and Motherhood
The alpine guide's new memoir gives readers an honest take on the highs and lows of parenting as a full-time climber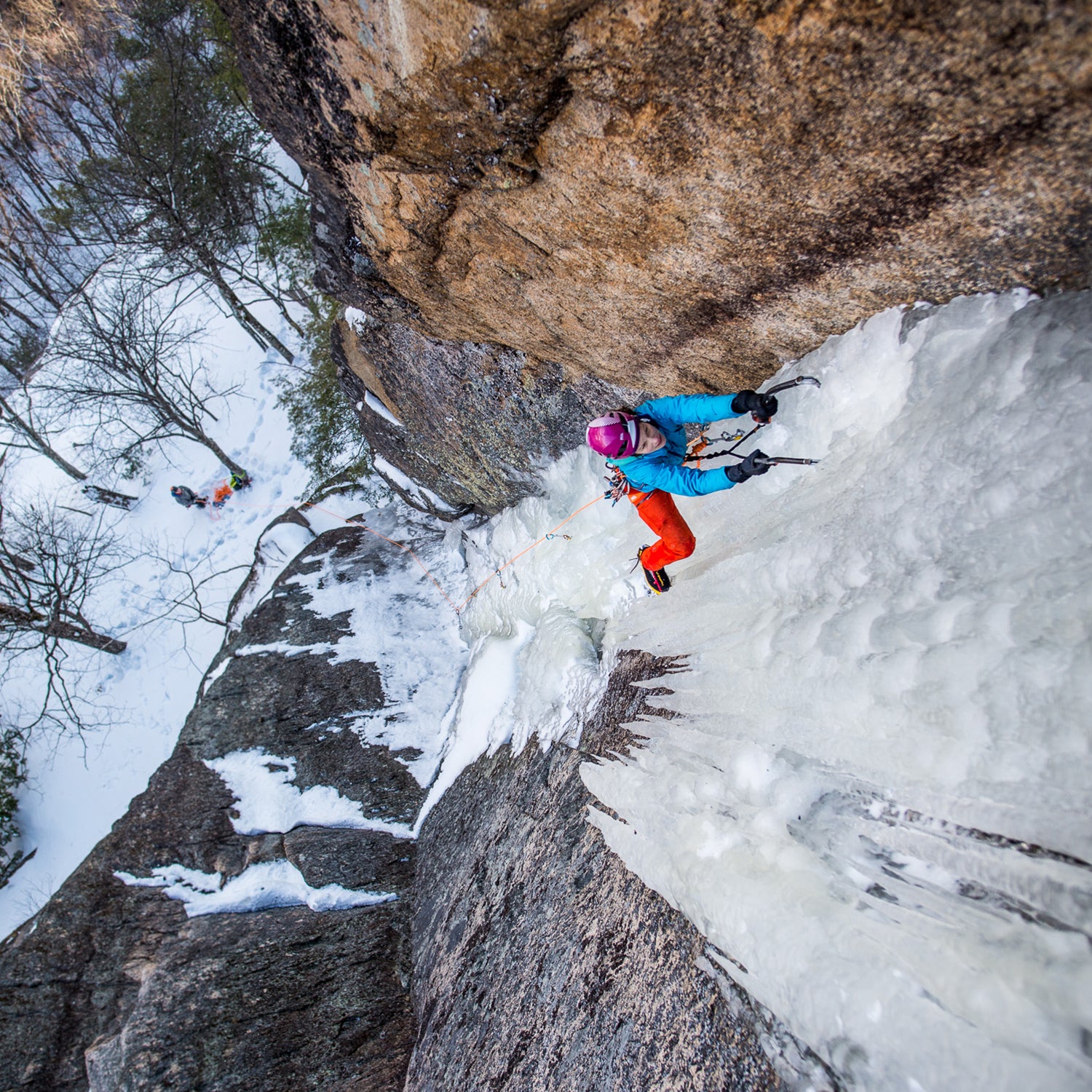 Brent Doscher
Heading out the door? Read this article on the new Outside+ app available now on iOS devices for members! Download the app.
This article was first published by Climbing.
Before 2016—the year that everything changed—Majka Burhardt spent nearly two decades building a life most of us dream of. She was a professional athlete and international alpine guide. She was paid to travel and climb all over the world. She had her name on dozens of first ascents on rock and ice alike, and she was starting a new conservation nonprofit based in Mozambique. It was all perfect. Except for one thing: she was 39 years old, and she wanted a family.
In her new memoir, More: Life on the Edge of Adventure and Motherhood, Burhardt details just how painful it was to choose between maintaining the status quo she'd always dreamed of and reaching out for something that terrified her. In 2015, she and her partner, IFMGA guide Peter Doucette, decided to have a child. They got more than they bargained for: In 2016, Burhardt gave birth to twins.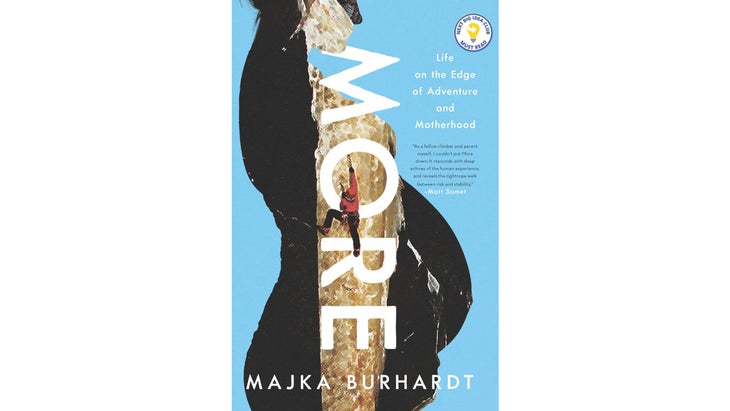 For the next five years, Burhardt kept detailed notes of every high and low, every heartbreak, every new milestone, every all-nighter, and every parking-lot sob. In an effort to battle the loneliness she felt—and to create the blueprint for motherhood that she wished her mother had left for her—she documented everything. Her book knits all these notes together into a flowing patchwork of transcribed diary entries, audio notes, and letters.
Because these journal entries and letters are so intimate, the book takes a little while to get into. Some scenes feel so private and so vulnerable that you feel you should look away. But therein lies the book's power. Unlike most memoirs, More is not told through the rose-colored glasses of retrospect. It's told present-tense, broadcast straight from the moment. The prose is heartfelt, raw, and unflinchingly honest.
The book describes Burhardt's painful metamorphosis from nomadic adventurer to pregnant spouse, and from full-time athlete to work-from-home mom. But through even the darkest moments, Burhardt has a talent for finding the bright spots. Some scenes are pure comedy. Others are punchy and self-deprecating, more Bridget Jones's Diary than high drama. Together, they paint a story of a woman you feel like you know. A woman who, in many ways, reflects the conflicts so many of us face as we transition in and out of climbing and in and out of wanting something more.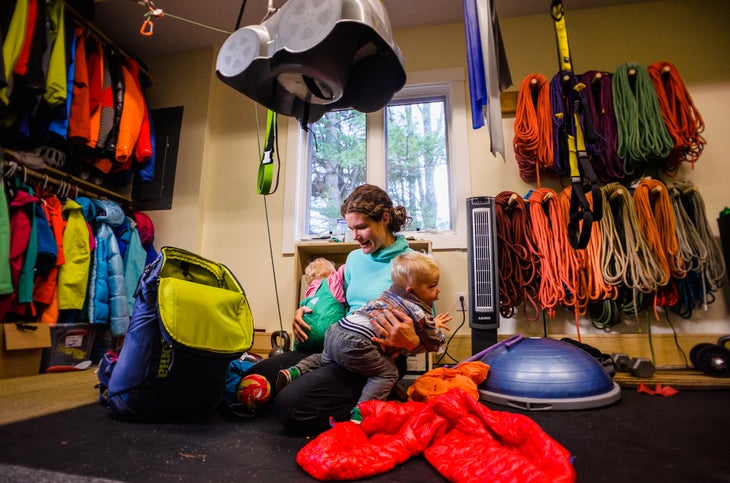 More is a window into the life of someone who is being turned upside-down and inside-out before our very eyes. It's the story of a woman who's struggling to make sense of her new self and at the same time raising children in the era of Donald Trump, the Covid-19 pandemic, and George Floyd. All the while she's fighting to reshape a marriage that was founded on climbing, unearth long-buried traumas, and build a non-profit organization, Legado, that works to build a more holistic, equitable approach to conservation in sensitive environments across the world.
As a childless, single, 29-year-old dirtbag, I'm usually pretty skeptical of books about parenting. But this was the book I didn't know I needed. Staring down the barrel of the big 3-0, fresh from the dissolution of a five-year relationship, and trying desperately to chart a vision for my future that doesn't terrify me, I found in Burhardt's book a soaring sense of hope—and relief.
Though the book is filled with loving descriptions of world-class routes and unique challenges facing climbing couples, More isn't just for climbers. It's also not just for parents. Anyone who's built a relationship around a shared pastime, who's facing a terrifying life transition, or who can't come to terms with a shifting sense of self will find passages in More that resonate. That said, I suspect it will resonate strongest with people like me: longtime climbers, women, and people who wonder whether you can still have a big, overflowing, adventurous life with kids in tow. (Spoiler alert: you can.)
If you're looking for a rollicking adventure tale, this might not be your book. But if you're looking for something that speaks to your soul and gives you permission to dive headlong into whatever shape of a life you choose, More is the read you're looking for.
To celebrate the book's launch, Burhardt sat down with Climbing to answer five of our questions about the process of writing and releasing such a vulnerable piece of work.
CLIMBING: Who did you write this book for?
BURHARDT: We have so few candid takes about what young motherhood is. So the audience is not just moms but parents who are in the weeds of it and feel like their experience is not being reflected out there.
It seems like a pretty common story: two climbers get together and then 10 years down the line panic when they realize they want kids. Is that something you see?
There's this thing where climbers end up in these amazing partnerships, but with people they didn't select with co-parenting in mind. So when you have kids, you're putting a radically different pressure point on the relationship than what's existed before. I think that's emblematic of older parents, but then climbing takes that up to 11 because climbing is so freaking time-intensive and selfish. To be a good climber in your thirties, you have to keep investing more and more time, which means you're prioritizing climbing over other things. Then it's scary when the ground shifts beneath you and you suddenly need to prioritize something else. So, yes. I think climbers are uniquely screwed.
Why do climbers have such a hard time wrapping their heads around parenthood?
We as climbers like to pretend we're really special and different. "We live on the fringes of society, we do things differently, we're dirtbags"—all that. But that ideology divorces us from what the human reality really is. We think we can somehow float above it and that it can't impact us. But no matter what, if you're partnered with someone for a long time, life will catch up to you—whether that's a spouse's career, major injury, or parenthood.
Any advice for climbers who are considering parenthood but terrified?
If you want to be with someone for the long term, figure out how aligned you are with your goals and what will happen if your relationship to climbing changes. Are you really in this together? Or are you only here because you can support each other on your projects?
Why does this book matter in wider conversations about women in the climbing community?
We need to have more nuanced stories about parenting and pursuing adventures. I think there are especially too few stories of women who are both climbing and parenting. So a lot of us end up with this idea that you can either be a climber and live an adventurous life—or you can have kids. We need to make room for the both.
Lead Photo: Brent Doscher
Trending on Outside Online