New Image of Yellowstone Hotspot Shows More Magma
Heading out the door? Read this article on the new Outside+ app available now on iOS devices for members! Download the app.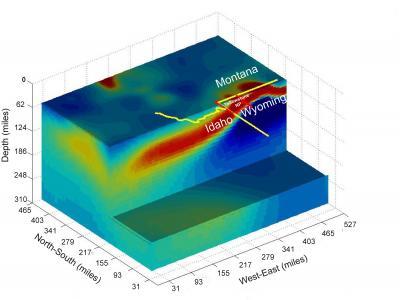 Geoelectric image showing electrical conductivity of magma plume beneath Yellowstone Caldera. Courtesy of the University of Utah.

Geophysicists at the University of Utah have produced the first large-scale geoelectric image of the plume of molten rock beneath the Yellowstone Caldera, according to the Environmental News Network. The new image shows the magma chamber to be a 400-mile-wide pancake 50 miles beneath Yellowstone.
Previous images of the plume have been produced using seismicity, wherein scientists thump the ground and record the different speeds of shock waves as they travel through solidified, partially solidified, and molten rock. But the latest image records electric currents produced by the mixing of siliceous rocks with briny water in the magma chamber.
Neither the geophysicists nor the new images reveal anything new about the timeframe or likelihood of a cataclysmic eruption of the Yellowstone Caldera.
The Yellowstone magma plume has produced three major eruptions in the last two million years. Two of the eruptions blanketed half of North America in ash and ejected 1,000 times the amount of ash produced when Mount St. Helens erupted in 1980. The Yellowstone Caldera is about twice the size of Valles Caldera in northern New Mexico and about half the size of the La Garita Caldera in the San Juan Mountains of southwestern Colorado.
The image below shows the distortion in surface rock due to the upward migration of magma from the hotspot. As the magma moves up, the ground swells like pimple.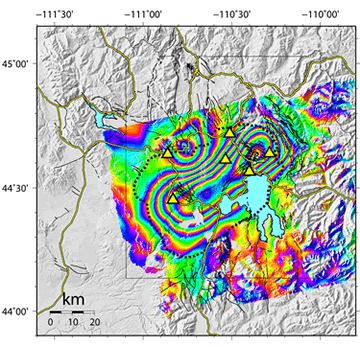 Contour map of ground movement surrounding the Yellowstone Caldera. Each color represents an area of equal vertical uplift relative to the ENVISAT satellite between September 2004 and August 2006. The elliptical form in the center is the area of maximum uplift. Yellow triangles are GPS monitoring stations. Courtesy of C. Wicks, US Geological Survey.
–Will Grant