Nick Offerman Floats His Own Damn Boat
The comedian, actor, and author of the new woodworking book 'Good Clean Fun' talks about one of his favorite projects—a canoe paddle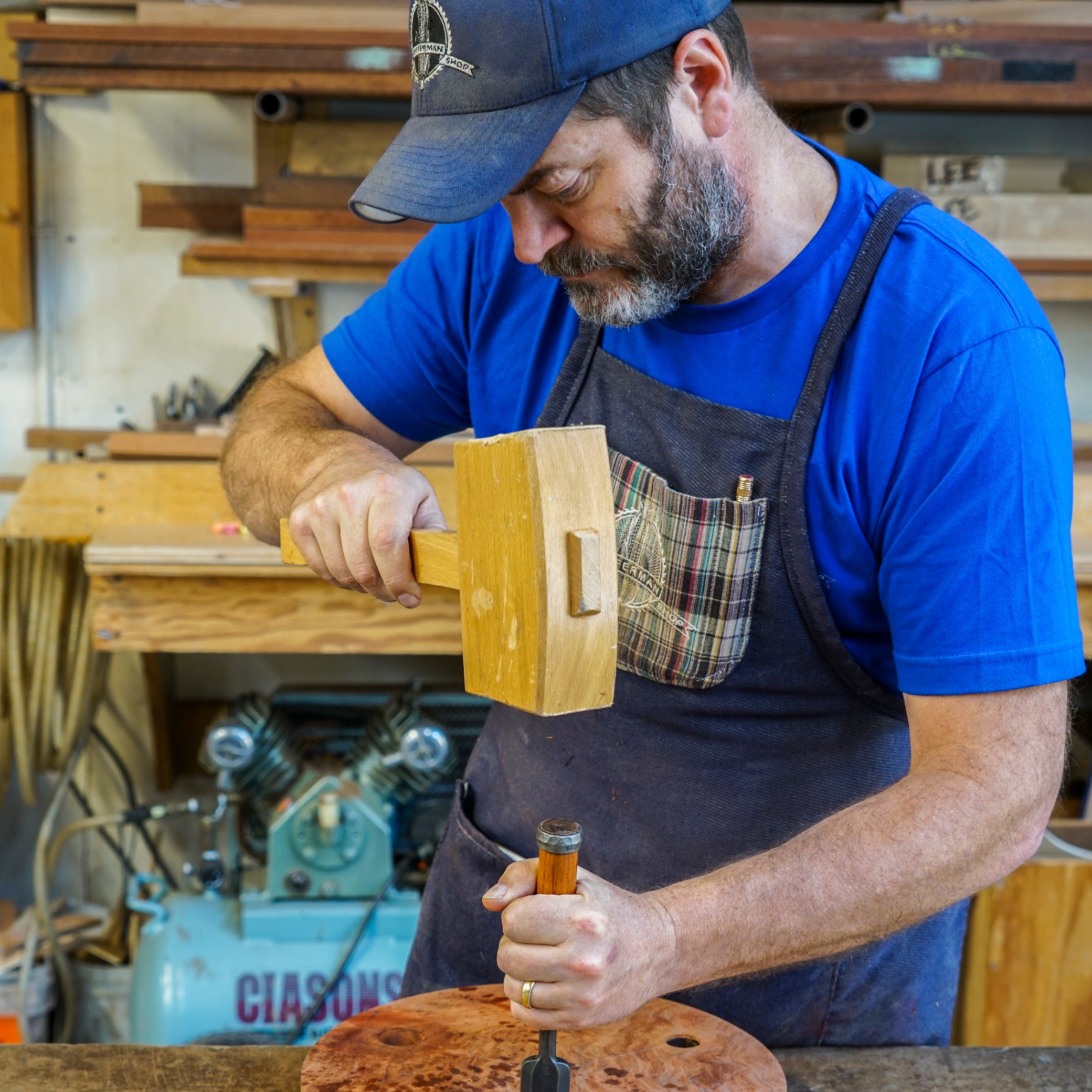 Josh Salsbury(Photo)
Heading out the door? Read this article on the new Outside+ app available now on iOS devices for members! Download the app.
Nick Offerman is our kind of comedian. When he's not delivering sly, subtle jokes on the screen or touring the comedy show he wrote with his wife, the riotously funny Megan Mullally, he can often be found paddling the tranquil waters near his childhood home in Illinois or on the lakes near his California home. What's more, he's often out there on a canoe he made himself in Offerman Woodshop, which he owns with his family. As he prepared to release his latest book about woodworking, Good Clean Fun ($35, Dutton), we talked to him about the value of building something on your own, his favorite rivers, and making time to get on the water amid a busy travel schedule.  
OUTSIDE: Hey, Nick. How are you? 
OFFERMAN: I can't complain, I'm in Charlotte, North Carolina, where my wife and I are starting a tour. This is a comedy show that we do together. It's called Summer of 69: No Apostrophe.  
How many cities do you have on the tour? 
Last year we did about 30 cities. This time we have 16 cities up the east coast, a couple in the U.K., and eight cities down the coast. It's a blast. We engineer it so that we can drive everyplace, except for the U.K., obviously. It's like a vacation. We listen to audiobooks and take a poodle with us as our stage manager.  
Your new book is filled with wood projects—including making your own coasters, bottle opener, tables, and canoe paddles.  
To me, it's the most magnificent example of how men and women can commune with the woods. There's a great quote from a guy named Robert Penn who wrote a good book that's just out, called The Man Who Made Things From Trees. I'm paraphrasing, but it's something like: by working through this product of nature, it reflects our enjoyment of nature itself. For me, it's like alchemy that I can take a piece of wood that would go in the fireplace or landfill and turn it into something as charismatic as a canoe paddle, that fuels my enjoyment. So I've used my time during the storm to make something practical, and when the sun comes out I get to use it.  
I understand that you grew up paddling flatwater in the Midwest.  
In the parlance of Outside, I grew up with a very sedate paddling career. My boss on a blacktopping crew that I worked on had a canoe hanging on a shed wall. And when I was about 16, I said, "Can I take that thing out on the creek?" I grew up rowing a boat on the lakes of Illinois and Minnesota because my family are very avid fisherpeople. But for some reason I had an Indiana Jones moment where I said, "Let me try out that sleeker model." And I became obsessed. There's a creek that runs partly through my family's farmland called the AuxSable. It was my domain. I fell in love with it. I never did any terribly adventurous paddling. It was more about exploring the deep, lonely woods, and the placid silence, and spotting deer and raccoons and a family of beavers—which gave me a hard time at first, but eventually we got along. 
Those beaver slaps scare the hell out of me.  
The first time it ever happened to me, it was on my left flank. I was quietly paddling and I had a girlfriend on the bow, and I about jumped out of the canoe. But I had to play it off as nothing out of the ordinary: Oh, they're just communicating to us that they want us to stay 12-15 yards from our lodge, based on the magnitude of that slap. 
When you go out to paddle now, are you exclusively using equipment that you built?
When I can, yes. When I finally had the great pleasure of building my first canoe, that determined a lot of my vacation time. So we began to spend a lot of time in northern California. And a canoe is a project of magnitude that requires a lot of commitment. But a paddle is like a dessert course. You spend all this time working your way through a delicious tasting menu, but then that wonderfully effervescent final course is simply a paddle. After I built my first canoe, my acting career took off, so I had a lot less building time and a paddle fit my schedule better. So I've made a few dozen paddles. That's part of the indulgence, is cruising down the Russian River [in California] in a canoe of my own making, driven by a set of paddles that I created. It's an incredibly tall feeling.  
How does your poodle do in a canoe? Pretty steady?  
She keeps us mellow. When we get a little nervous if the water gets choppy, she keeps us calm.  
As your acting career has taken off, how do you sneak off and paddle or find those placid, quiet places that you grew up in? 
I just shot a really nice film called House of Tomorrow—they conveniently located it in the deep woods of Minnesota, so on my days off I was able to get out and hike and get on the water. And my family vacations in Minnesota, as well. The two experiences dovetailed into one another. So I had a good buddy of mine who we call Falcon Smoker, and he brought his canoe to our family vacation, and he and I went paddling every day with his two German Shepherds, which was a really exciting, new experience. They're both young dogs, so he's teaching them to behave, but there was a quick education when they'd both decide to look out of the same side of the canoe at a turtle.  
Did Megan grow up with a similar experience with the outdoors? 
She grew up in Oklahoma City, so she didn't have as rural a childhood, though she did some horseback riding. But she loves to get in the canoe. For a small, beautiful star of Broadway and the screen, she's quite a dependable paddlewoman. I was nervous the first time, but she took to it like a duck to water.  
That's a good sign. I've had to separate couples in boats because there was so much arguing.  
It's a test for any relationship. I've had a couple of friendships barely survive my explanation of who's the motor and who's the steering wheel.  
Will you sneak in some camping or hiking time on the tour?  
We have a couple spots where we have a couple days off. One of them is in Richmond, Virginia, and I have a couple outings planned with friends there. But I'm most excited about getting a few days off in Martha's Vineyard and I've planned an ocean rowing excursion. Being a Midwesterner, I prefer oars to a paddle on the ocean. When there's a pod of whales who might want to play with me, I prefer to have two sticks available to me. But I'm also sailing with a friend who has a schooner that he built himself.
I can't imagine tackling a project of that size.  
Having built a couple of canoes and dinghies, when I visit his workshop I always think, "Better you than me, friend. I'll stick to clowning." 
Lead Photo: Josh Salsbury
Trending on Outside Online