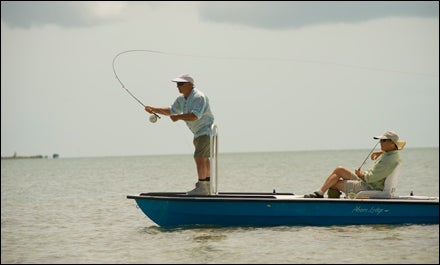 Heading out the door? Read this article on the new Outside+ app available now on iOS devices for members! Download the app.
A conversation with fishing buddies Tom Brokaw and Yvon Chouinard, who star in the new series Pirates of the Flats, airing December 27–January 31 on ESPN2.
OUTSIDE: You spent a week bonefishing in the Bahamas with actor Michael Keaton, photographer Val Atkinson, author Thomas McGuane, and legendary angler Lefty Kreh. How was fishing with Lefty?

BROKAW: It's like going to the batting cages with Ted Williams. And you get better stories. He told one about going out with Papa Hemingway and shooting flying fish from his boat.
CHOUINARD: [Lefty] was hired by Remington to shoot aspirin out of the air with a .22.
The show calls attention to declining bonefish populations. Can anglers help?

CHOUINARD: Fishermen are the greatest friends of bonefish. I've seen what happened on Christmas Island, where the locals have netted all the bonefish. They are far more valuable as a sport fish. Look at Iceland, which has outlawed salmon fishing in the ocean. Salmon are more valuable in the river.
Do you perform any rituals on the flats?

BROKAW: It's hard to adequately explain the serenity. I went to Andros Island, into the backwater. It was a dead-calm day just after sunrise. These flats mirrored the sky. A flock of flamingos lifted off. Then I saw the V-waves of bonefish. If I had not caught a fish, it would have been worthwhile.
CHOUINARD: I'm looking for shadows. Movement. I'm looking for a glint of silver. After a while I can feel my mind going back and forth between my left and right brain. That's what I don't like about guides; they see the fish before you do. I like the intensity of concentration. It's not like watching television.
BROKAW: Not that there would be anything wrong with that.