Sebastian Junger on Walking America's Railroads
In an excerpt from his latest book, 'Freedom,' the celebrated nonfiction writer describes a journey along Pennsylvania's train tracks with friends he met while reporting on the war in Afghanistan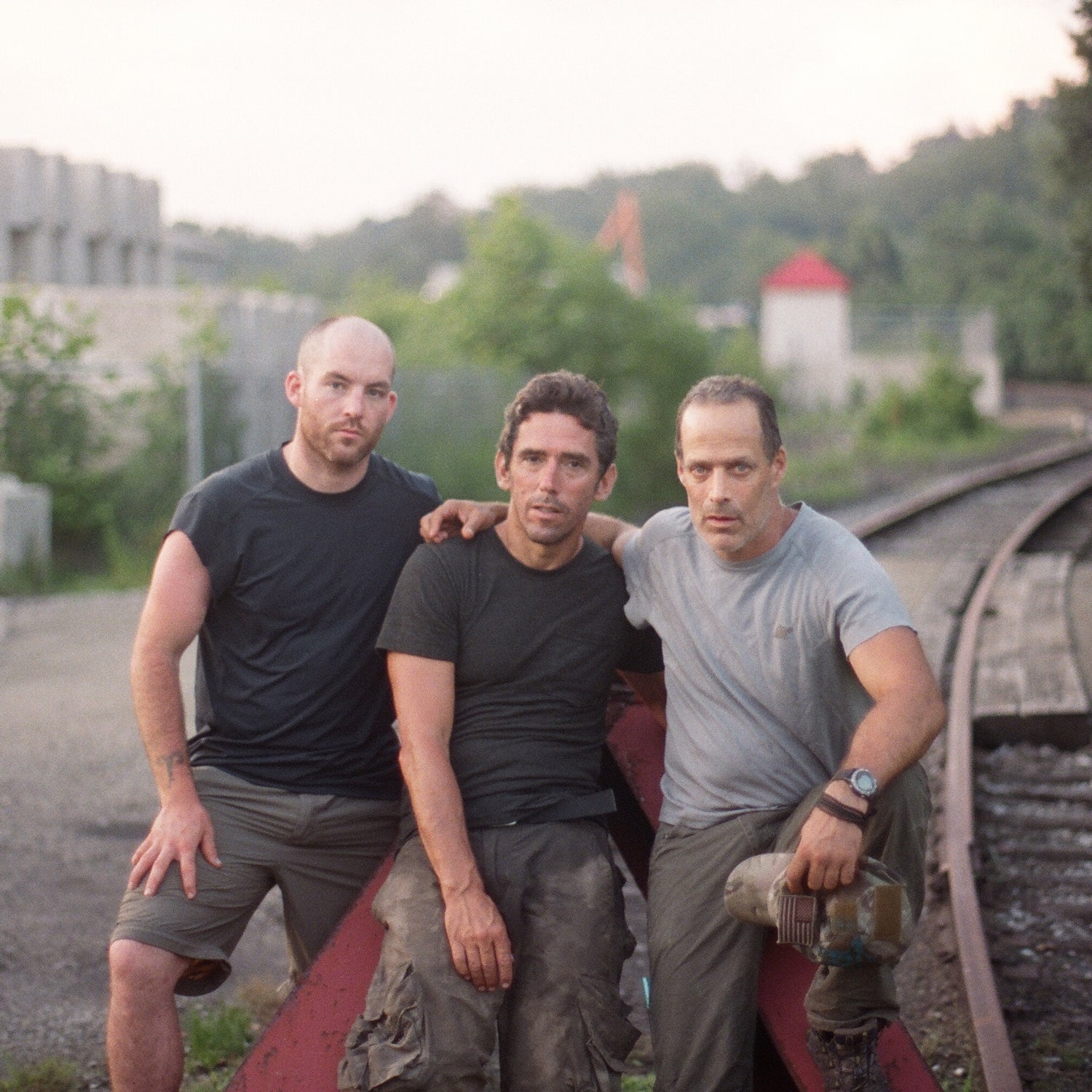 Guillermo Cervera(Photo)
Heading out the door? Read this article on the new Outside+ app available now on iOS devices for members! Download the app.
The change was immediate. The country opened up west of Harrisburg and suddenly we could drink from streams and build fires without getting caught and sleep pretty much anywhere we wanted. We'd walked the railroad tracks from Washington to Baltimore to Philly and then turned west at the Main Line and made Amish country by winter. The Pennsylvania fields lay bare and hard in the cold but there were seams and folds in that country—strips of woods along stream bottoms, windbreaks between the cornfields, ridges left wild for hunting—where a man could easily pass the night unnoticed. Once, we cooked dinner on a steep hill above the town of Christiana and went to sleep in a snowstorm listening to the clatter of carriage horses on the street below. At dawn we walked into town for pancakes and coffee and then headed on up the railroad tracks before anyone whose job it was to stop us even knew we'd been there.
But outside Harrisburg, where the Juniata River runs into the Susquehanna at her great breaching of Blue Mountain, we seemed to have been simply released into the wild. Early settlers tended to push up the major rivers until they ran into the first set of waterfalls—the "fall line"—and those spots became jumping-off points for people who were even more desperate or adventurous. At Blue Mountain the Susquehanna drops down a series of ledges and deepens in the alluvial soil of the coastal plain, and that was where a Welsh émigré named John Harris established a business poling rafts across the river in the 1730s. What was then called "Indian country" effectively started on the other side, and when Harris's passengers stepped ashore they found themselves in a forest of enormous hardwoods that extended almost unbroken for the next thousand miles, to the Great Plains.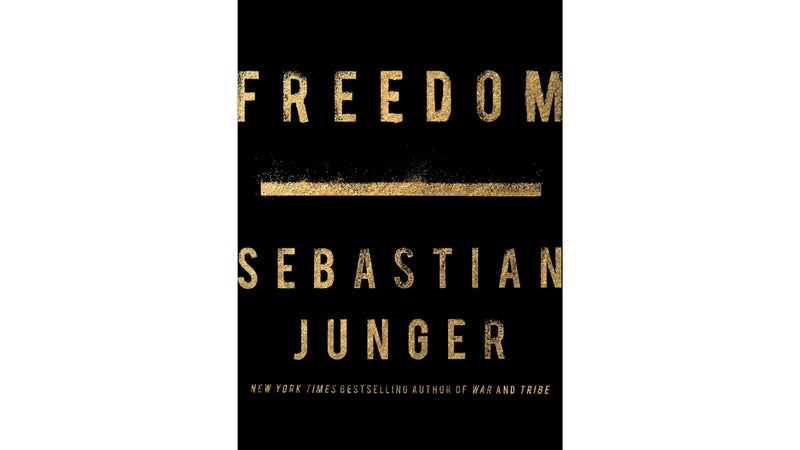 Three hundred years later we walked through a cluster of camper-trailers between the river and some standard-gauge railroad and then climbed onto the tracks themselves. We could hear trucks downshifting on the last hill before Harrisburg on Route 22, across the river. It was late April, and the Juniata was running fast and full in the spring flood, an occasional tree rolling in her current that had been undercut along the banks and toppled. She flowed between ridges that looked too steep to climb and ran compass-straight for miles at a time. There were creeks for fresh water and floodwrack for firewood and the woods so thick you could practically sleep within sight of a church steeple or police station and no one would know.
It struck us as serious country, the kind where you kept an eye on the weather and slept next to whatever weapon you had. All we had was a machete but after dark we all knew where it was—usually thunked into a tree somewhere central. Gunfire occasionally bounced off the shelf rock and detritus of the upper ridges and one morning an A-10 thundered through so low that we could almost make out the pilot in the cockpit. Not two days' walk from Harrisburg we passed a sign nailed to a tree that warned the federal government that the property "would be defended by any means necessary." There were meth addicts in the towns and black bears up on the ridges and the remains of old locks and canals along the river that almost looked ready to be returned to good use if history ever required it.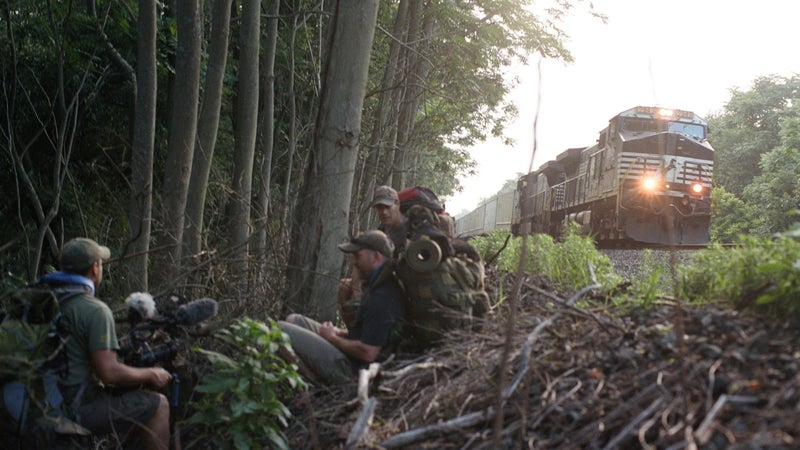 We walked single file on the cinder maintenance road that ran between the trackbed and the river. Creeks chased down off the ridges like they were fleeing something. Swarms of gnats worked the sunlight and bass boats spun past on the current below us. Where the tracks ran straight we saw trains from a mile or more, headlights boring toward us like fierce little suns, but even on the curves we often had a sense that a great force was headed our way. The trains were so heavy and fast that they seemed to set the whole world in motion, vibrating the air and raising a strange pitch from the rail that fell at the edge of human hearing. But we got so attuned out there that we'd know a train was coming without even knowing how we knew—but we knew. We'd step into the underbrush and sit on our packs and some of us would roll a cigarette or drink water and we'd wait for the beast to come through. Freights moved at familiar speeds and took a full minute to go by, but the passenger trains could hit 140 and walloped past so suddenly they'd just leave you in a vortex of dead leaves and trash.
We took ten-minute breaks every hour and walked all afternoon. Occasionally, in the distance we'd see a pickup truck nose out onto the tracks at an ungated farm road and then bounce across. Once we saw a car stopped in the middle of a bridge a mile or so ahead, and we put our binoculars on it to make sure it wasn't a cop. (It is illegal to trespass on railroad property, and on high-speed lines it is even considered a national security issue.) At the end of the day we came to an old quarrystone kiln at a place called Bailey Run, where a creek sawed through a ridge and ran under the tracks into the Juniata. The water was ice-cold and filtered through the chert and limestone of the country and tasted as though civilization was still something in the future. We walked up the creek and made camp in a little stand of sycamore and hemlock that was nestled into the curve of a ridge. The only way to see our cookfire was to come down on us quietly through the woods at night, but we had a dog and that wasn't going to happen, either.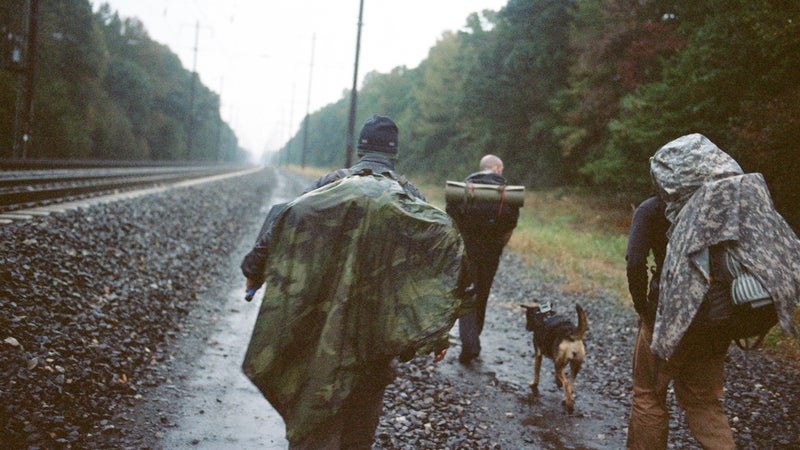 The tracks had all the dangers of heavy industry but also ran smack through nature. The trains were so heavy and loud, though, that it was easy for us to forget they weren't the only danger out there. In central Pennsylvania we got caught in a summer thunderstorm that soaked us immediately and sent runoff boiling out of culverts and sheeting down hillsides. It was almost dark and there was nowhere to sleep that wasn't badly angled or completely underwater. One of the men finally looked at me and said, "You know that I must really want to be out here because I have way better options than this."
We'd all been in a certain amount of combat and there was something about our endeavor—the simplicity, the hardship, the proximity of death—that reminded us of those days. Most of the trip was done in segments over the course of a year. Halfway through, one man dropped out and others later filled in; one section was just two of us. We called our trip "the Last Patrol," and it seemed like a long hard weird thing to do until we were actually out there, when suddenly it was so obvious that we rarely even caught ourselves wondering why we were doing it. The things that had to happen out there were so clear and simple—eat, walk, hide, sleep—that just getting through the day felt like scripture: a true and honest accounting of everything that underlies the frantic performance of life.
The night of the downpour we slept under a hardware-store tarp in a patch of skunkweed near the river, and I stayed awake listening to the wind in case it ramped up to that high shriek that means treetops are going to start snapping. I'd decided that if that happened, we would wade into the current and sit out the storm on a little brush-covered island I'd spotted. No falling trees could reach us there, and I doubted the river would rise beyond what we could handle.
In the morning the river was at our toes and the island was gone. If we'd gone out there, we'd probably be dead. That was scripture. That was the world letting you know where you stood. 
---
From Freedom, by Sebastian Junger. Copyright © 2021 by Sebastian Junger. Reprinted by permission of Simon & Schuster, Inc.
Lead Photo: Guillermo Cervera
Trending on Outside Online