Sherpa Trekkers Warn Villagers of Climate Change, Flooding
Heading out the door? Read this article on the new Outside+ app available now on iOS devices for members! Download the app.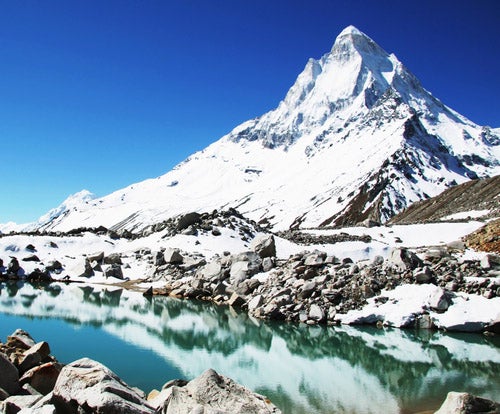 Shivling Peak via Shutterstock Photograper: Galyna Andrushko
As mountaineers from around the world converge in Nepal and prepare for the 2012 Everest climbing season, Apa Sherpa, the porter-turned-professional-climber who has summited the mountain 21 times, is in the midst of a three-month trek to call attention to the changing climate. He's warning that rapid glacier melt could result in cataclysmic flooding in the Himalaya region.
Thousands of lakes in the Himalayan foothills, laden with glacier run-off, are endangering "millions of people in seven countries abutting the massive mountain range," according to the Associated Press.
"In Nepal alone, at least 20 of the more than 2,300 glacial lakes are in danger of bursting banks made mostly of rock and scree held together by little more than gravity. Across the wider mountain range, dozens more are building to dangerous levels as temperatures rise and ice melts quicker," reported the news agency.
This high water has been precipitated by atmospheric warming, says Pradeep Mool, who studies glacial melt for the International Center for Integrated Mountain Development based in Nepal's capital, Katmandu.
Apa Sherpa is part of a group of trekkers who are hiking the length of Nepal, on the 1,060-mile Great Himalaya Trail, and visiting hundreds of villages along the way to draw attention to the flooding dangers. A mountain lake flooded and destroyed Apa Sherpa's own village in 1985 and there have been a number of floods since then which have killed villagers and taken out important bridges that link communities.
On the trek, called the Climate Smart Celebrity Trek and organized by the Himalayan Climate Initiative, Apa and his cohorts are providing the people they meet with information and advice on how to prepare for flooding and adapt to the changes that the warming climate will bring. There are some small efforts to build divesion canals to alleviate pressure on the lakes, the AP story notes, but the high lakes' high elevation and the cost and complexity of undertaking any major engineering on the lakes makes more sophisticated measures impossible.
This isn't the first time Apa Sherpa has advanced an environmental message. He has used his successful Everest summits in the past as a platform for spreading an environmental message. 
–Mary Catherine O'Connor
@mcoc 
Trending on Outside Online