Yep, Tony Hawk, Kelly Slater, and Shaun White Were at the Oscars
The real-life action heroes swapped their boards for tuxedos to present a James Bond anniversary homage at the Oscars. We should've known they'd land it.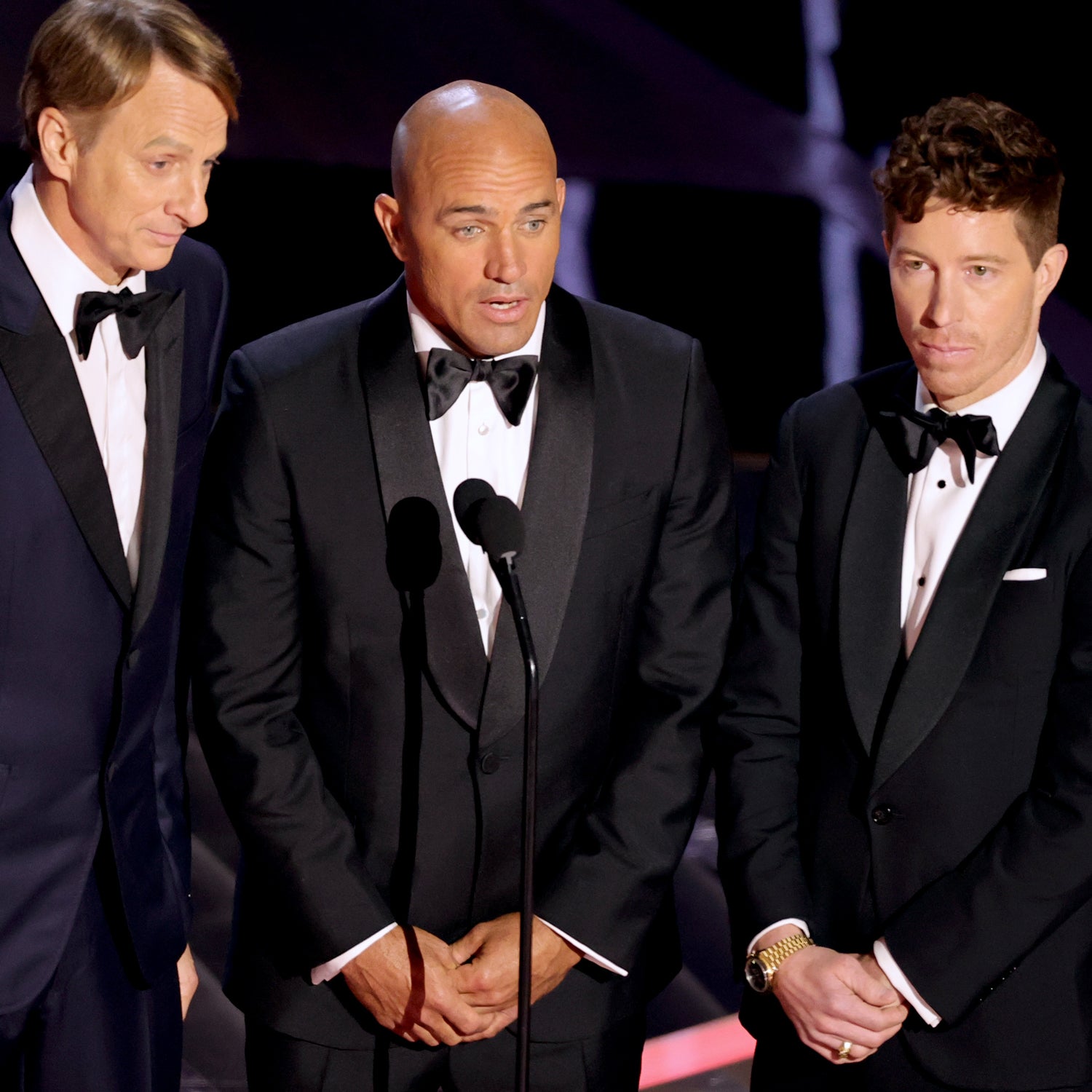 Neilson Barnard/Getty
Heading out the door? Read this article on the new Outside+ app available now on iOS devices for members! Download the app.
It's hard to remember now, but before Will Smith slapped Chris Rock, one of the biggest controversies heading into the Academy Awards was the baffling announcement that Kelly Slater, Shaun White, and Tony Hawk were on the illustrious list of Oscar presenters—three faces you'd sooner expect to find on a rerun of the X Games than rubbing shoulders with Jessica Chastain and Denzel Washington.
It turned out that the superstar surfer, snowboarder, and skateboarder (respectively) weren't there because the Academy decided to retroactively recognize Lords of Dogtown or Surf's Up as the cinematic masterpieces that they are. (As Hawk quipped on Twitter, "If being in every Jackass movie, xXx, Police Academy 4 and Sharknado 5 doesn't qualify me to present at the Oscars, then your taste in movies needs readjusting.") No, White, Hawk, and Slater traded their boards for tuxedos to present a tribute to the 60 year anniversary of the James Bond franchise.
But what exactly do these three American "extreme sports legends" (as a disembodied host called them when they walked onstage) have to do with the British martini-drinking secret agents?
It started when World Surf League CEO Erik Logan was chatting with an Oscars producer and had the idea to include "world-class action sports heroes" in the slated homage to Bond. Slater, Hawk, and White are already friends—they all go surfing together—and soon enough all three athletes were in. "These three are all legends, at the top of their field in three of the major action sports," a World Surf League spokesperson told Outside when asked why Slater and the others had been invited.
It's hard not to see the decision in the context of the Academy's larger goal of upping viewership after an all-time low number of people tuned in last year. And it wasn't the only measure the Academy took to try to broaden the award show's appeal: tennis superstars Venus and Serena Williams presented Beyoncé's performance of her nominated song "Be Alive" from the King Richard soundtrack; pop icon Billie Eillish also had a primetime slot; and the Academy added two new categories that are awarded according to fan voting.
Would it have made more sense to have one of the actors who have held the iconic role over the years introduce the tribute? Perhaps. But whether or not you're able to see a direct line between a tux-wearing government super spy who regularly jumps from exploding buildings and Slater, White, and Hawk, the three outdoor bros … sort of pulled it off?
Hawk began the presentation by announcing that it'd been 60 years since the release of Dr. No, the first film in the Bond franchise. After Slater and Hawk reeled off all the actors who have played the iconic role, White chimed in, saying, "As great as they all are, it's impossible to ever be certain that just one star was clearly the G.O.A.T."—setting up Hawk to get the comedy started.
"Well, I don't know about that—there are a few athletes that you clearly know are the greatest in their field."
"Really, dude?" White replied as the audience let out a refined Oscars laugh. "I'm talking about you two, of course!" Hawk said immediately, turning the braggy comment into a sweet one. But he just as quickly took a parting shot. "At least, you used to be," he told the other two as he leaned away from the mic. This earned a bigger laugh, and a cut to an Andrew Garfield "Oh, shit, did he just say that?" reaction shot.
Finally, White tried his best to make a coherent connection between the three presenters and Bond before the presentation segued into a montage: "[Bond] was and is never afraid to take things to the extreme."
It's hard to say exactly what effect the presence of three world-class boarders at one of the glitziest primetime events of the year had on viewership, but one thing is for sure: they ended up being far from the most awkward attendees at the Oscars this year.
Lead Photo: Neilson Barnard/Getty
Trending on Outside Online