The Top 10 Adventure Blogs
Need a little outdoor inspiration? Here are the best places online to get it.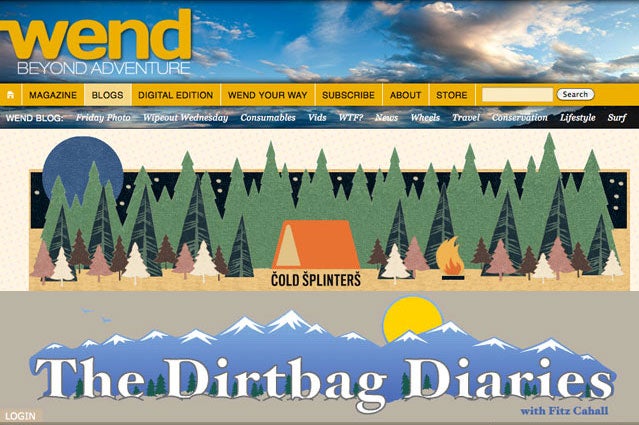 Heading out the door? Read this article on the new Outside+ app available now on iOS devices for members! Download the app.
The ability to inspire, that's the lone criteria for making this list. The voice of the blog can come from a freelance journalist or a team of sponsored adventurers. How did we pick them? Over the years, we've stacked our RSS feeds with more than two dozen company, magazine, and independent adventure blogs. Some inspire us. Some bore us. Some need to post a little more often. The good news? There's a host of new and regional blogs—Highline, Trail's Edge, The Snaz—developing distinct voices. They didn't make the cut this year. That's because the old dogs have stepped up their games. Here's the best of the best.
10. Wend
9. Grind TV
8. Gadling
7. Cold Splinters
6. Never Stop Exploring
5. The Adventure Blog
4. The Dirtbag Diaries
3. National Geographic Adventure
2. The Goat
1. Adventure Journal
10. Wend
Quick hits on biking, hiking, snow sports, and conservation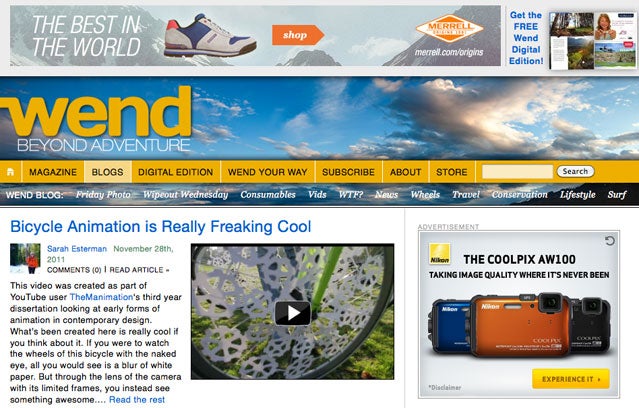 Good for: Media reviews and adventure news from local papers
Written by: Wend staff and ambassadors
While Wend posts often don't include the context or reporting of other sites on this list, they find videos, pictures, and local stories that others miss. Posts include quick hits on breaking news, like a two paragraph summary about the death of skier Jamie Pierre, and guest entries, like this one from The Joy Trip Project about the Bernadette McDonald book Freedom Climbers. The iWend section of the blog includes a place where the magazine's ambassadors and readers can share their adventures.
Sample post:
Half-Naked, Potentially-High Climber Rescued in Boulder
When officials received a call at 12:35pm on Friday from a climber requiring assistance on First Flatiron in Boulder, Colorado, saying his friend was "not acting right," they likely didn't expect the friend to be half-naked and likely high on mushrooms.
Emergency crews were able to retrieve and treat the nearly nude climber and he has since been released from Boulder Community Hospital. He does, however, face potential drug charges if he is found to have been under the influence of mushrooms—which officials found on the climber who called the rescue in.
In addition, deputies say one of the climbers may have bitten a civilian during the rescue, though whether or not this is true remains unclear.
[Via: Colorado Daily]…
9. Grind TV
Casting a wide net over the world of extreme sports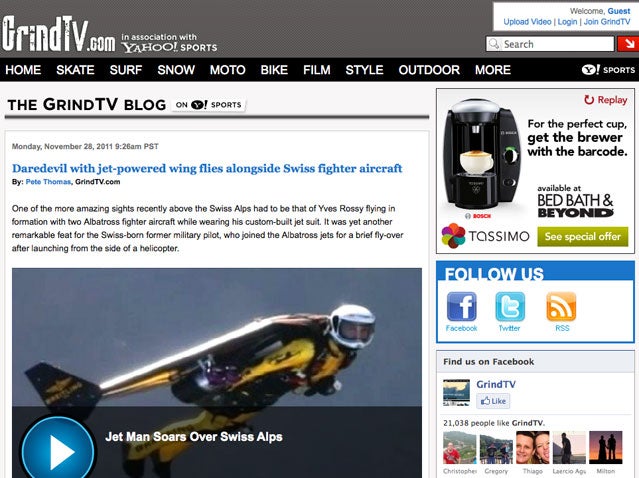 Good for: Viral videos.
Written by: Pete Thomas, Tom Morin, and crew.
Some of the videos you might find on the GrindTV blog in the course of a week include a SUPer surfing the waves behind a steamboat on the Columbia river, a Jack Russell terrier chasing a mountainbiker over singletrack, or surfer Nathan Fletcher breaking down his Teahupoo wipeout. The GrindTV team puts up more random adventure videos than any other blog on this list, and adds a paragraph of context for most. This is less a place to find your news fix and more a place to discover the next great video to share on facebook.
Sample post:
Lily the bike-chasing dog shows remarkable talents in popular video
Like many dogs, Lily the Jack Russell terrier likes to chase bicycles, but those who watch the accompanying video might agree that few dogs can chase a bike quite like the amazingly fast Lily (the action begins 1:08 into the production).
Professional photographer Ross Downard used several cameras and, with the help of his wife, filmed the buildup to the action and then captures Lily keeping pace with and soaring over the same jumps as Downard as he sped down a one-mile course at Trailside Bike Park in Park City, Utah.…
8. Gadling
Travel dispatches spiked with adventure
Good for: News of the weird.
Written by: Chris Owen on ocean travel, Jessica Festa on international travel, Laurel Miller on food and drink, and a handful of guest contributors.
Gadling is AOL's travel blog, but at least one post a day ventures into the realm of extreme sports or exploration. Writers post on weird feats from rarely visited regions (Papantla flying anyone? How about rutabaga curling?) and expedition news (American Yacht Pulls Out of Volvo Ocean Race, New Film Invites Us to Spend 40 Days at Base Camp).
Sample post:
80 skydives in one day by 80 year-old sets record
Thinking of a celebration for surviving eight decades on the planet, one might turn to images of a rest home and trying to cram that many candles on a cake. Not for Pat Moorehead, a California resident who set the world's record for the most skydives by an 80-year-old Sunday, 80 skydives in one day.
The event was a promotional fund raising effort in support of constructing a National Skydiving Museum in Fredericksburg, Virginia, charged with recognizing and promoting the sport of skydiving through public education and awareness.…
7. Cold Splinters
Unexpected stories from unexpected places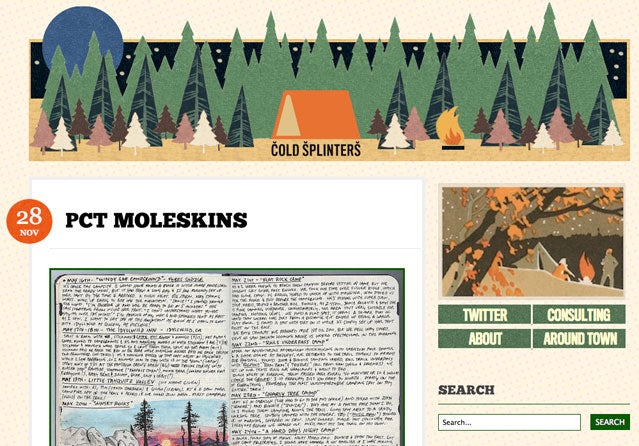 Good for: Quirky outdoor facts
Written by: Edward Abbey-quoting, vintage-picture-finding journalist Jeffrey Thrope
Who is Earl Shaffer? Which National Park has the coolest handbook? Is there a painter whose work really inspires adventure? These are questions you might never ask yourself, and that's precisely why you should visit, because the answers are worth knowing. They'll give you a historical grasp of the outdoor lifestyle. Thrope posts once a day on his own blog and also links to articles he's written for Outside and The New York Times. Cold Splinters isn't the place to go for news, but it is a must stop for increasing your outdoor I.Q.
Sample post:
Earl Shaffer
In 1948, Earl Shaffer hiked from Mt. Oglethorpe in Georgia (the Appalachian Trail's southern terminus at that time) to Mount Katahdin in Maine, making him the first person to hike the trail's entire length. He did it with no expert advice, no previous footsteps to follow, or fancy mile-by-mile guidebooks to help him. (No Penfield in his pack either.) At the time, experts believed that a hike of the entire Trail was impossible. So, in 1965, he thru-hiked it again as a southbounder, starting in Maine and ending at the new and present southern terminus, Georgia's Springer Mountain. Good ol' Earl's "Advice for Long Distance Hikers on the Appalachian Trail, circa 1950" includes the following:
Framepack–Mountain troop or similar, with large pocket removed.
Poncho–serves as raincoat, parka, groundcloth, shelter cloth, etc.
6. Never Stop Exploring
Dispatches, photos, and advice from world-class athletes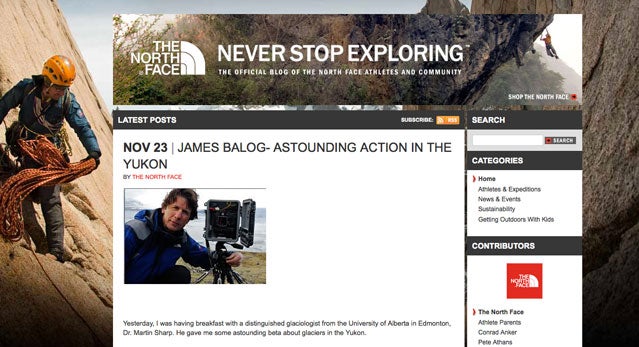 Good for: Jaw-dropping videos and photos from the ends of the earth
Written by: Photographer and climber Jimmy Chin, expedition leader Conrad Anker, skier Ingrid Backstrom, and, well, you get the idea
Eddie Bauer's Born Out There blog and Patagonia's The Cleanest Line occupy the same niche—a company blog with first-person reports from sponsored athletes. Never Stop Exploring takes top honors because it combines two things: high quality multimedia from a huge stable of peak adventurers and a healthy service element for the reader at home. In November, a Know Boundaries snow safety video series went up shortly after Cedar Wright's photos and lessons from climbing the Dragon's Horns on Malaysia's Tioman Island. The writing is raw and sometimes filled with tangents. There are week-long lulls between the posts. The pictures are sometimes laid out five in a row with no text or explanation. On any other site those characteristics would be negatives. On this blog, they work.
Sample post:
The Dragon Horns, The Climb of a Lifetime!
 My life has been marked by the good fortune of adventure, travel and an intimate connection with the natural world.  Growing up on eleven acres on the side of Black Mountain in the Sierra Nevada, I spent most of my time outside exploring and playing in the dirt.  My dad took me on my first backpacking trip soon after my first steps, and I spent most summers sleeping on the back porch under the stars.  Looking back I realize how formative and therapeutic this early connection with nature was, and it's a large part of why I am a professional climber today.  Unfortunately many teens in our growing urban centers, never get outdoors.  In fact, with stars drowned out by the lights of the city, maybe they never get to marvel at the milky way!  Surrounded by the influence of gangs, crime, drugs, and the often isolated reality of city existence, it's easy to see how life can begin to feel hopeless for a young kid. So I'd like to encourage you to donate to Big City Mountaineers in the name of our climb. It's tax deductible, and you'll be donating hope to our younger generations.
Read more at Never Stop Exploring
5. The Adventure Blog
News on the world's biggest expeditions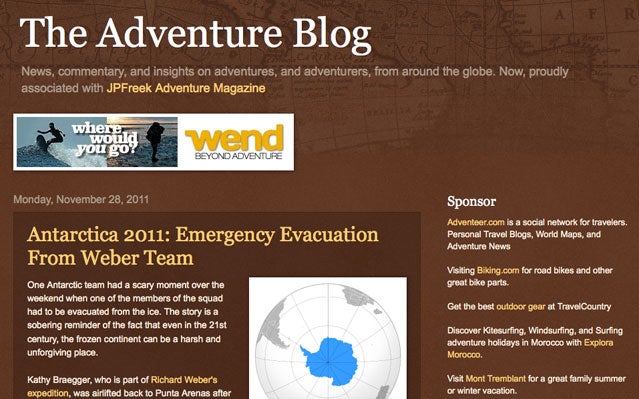 Good for: Expedition updates
Written by: Austin, Texas-based blogger Kraig Becker, owner of the twitter handle @KungFuJedi
Though the blog contains gear reviews, book write-ups, and the occasional viral video, expedition updates anchor the site. Becker includes everything from announcements of coming climbs, to updates on a teen explorer's round-the-world sail, to day-by-day details of a skier's Antarctic. The posts are frequent (three to four a day) and delivered in an earnest voice that shows an appreciation for the athlete's quest.
Sample post:
Rowing Team Preps For Arctic Ocean Crossing
A team of American adventurers is preparing to take on the Arctic Ocean next year, and if successful in their venture, they will become the first group to row non-stop across that body of water. That aptly named Arctic Row 2012 is scheduled to get underway in July of next year, and if you're looking for something to do next summer, maybe you can join the expedition.
The team of rowers currently consists of Paul Ridley, Collin West, and Neal Mueller. All three already have some impressive credits on their adventure resumes. Ridley, for example, has already rowed solo across the Atlantic Ocean, while West is a top adventure racer, and Mueller has climbed the Seven Summits and swam the English Channel. They're hoping to add a fourth member to the squad before they embark and interested parties are encouraged to e-mail team@arcticrow.com for more information.
…
Read more at The Adventure Blog
4. Dirtbag Diaries
Podcasts and music mixes for your next road trip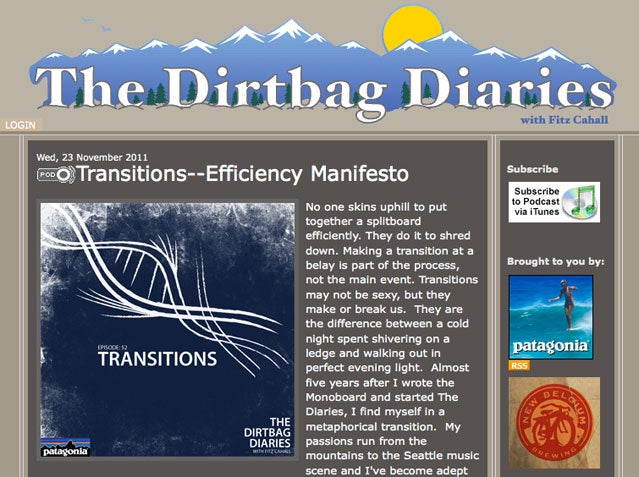 Good for: Easy listening
Written by: Do-it-all multimedia guru Fitz Cahall, cofounder of the web video series Tracing the Edge and The Season
No other blog does a better job of breaking down the conundrums and rewards of adventure. Cahall tackles seemingly mundane topics by delving into the lives of adventure athletes and telling their stories. Climber Dean Fleming on the sacrifices he made to save for that next rock-inspired trip. Guide Fred Sproat on how he balanced his yearning to be on the river with a relationship. Yes, Cahall does this with podcasts. Yes, sometimes the story lines are cheesy. Yes, the posts only come a few times a month. None of that matters[.] We can't wait for the next episode—and accompanying song selection.
Sample post:
Lifestyle Tips for the Committed
What have you given up for dirtbaggery? Regular car maintanence? Cable TV? Your favorite craft brew? Dean Fleming writes, " Like most rock climbers, I'm a control freak and I'm cheap.  So I'll share one lifestyle tip for the committed to put extra cash in your pocket." DIY haircuts. Dean lays out 3 simple steps to keeping the dirtbag dream alive.
How committed are you?
3. National Geographic Adventure
Interviews, service, and gear reviews from the experts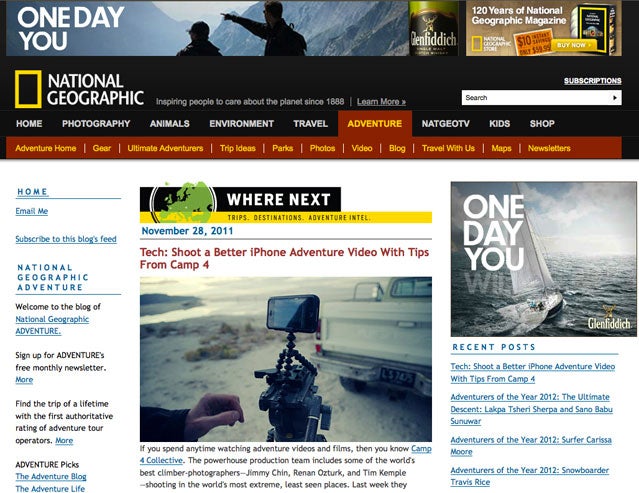 Good for: A daily adventure fix
Written by: Veteran adventure travel editor Mary Anne Potts, Steve Casimiro on gear, Aparna Ragagopal-Durbin on outdoor skills, and a handful of other contributors
The blog covers a bit of everything by recruiting writers versed in adventure. Fitz Cahall details the 2012 Adventurers of the Year nominees in posts packed with multimedia. Aparna Rajagopal-Durbin of NOLS offers outdoor skills advice, like in this post on winter layering tips. Steve Casimiro breaks down gear, for example this one on three of the year's best new compact cameras. The blog averages one post a day, a much lower frequency than sites like The Adventure Blog and Adventure Journal, but the quality is high.
Sample post:
Adventurers of the Year 2012: Rider Danny MacAskill
Two years ago Scottish street trials rider Danny MacAskill was just a guy working a nine-to-five job as a mechanic in an Edinburgh bike shop, crafting his vision of what was possible on a bicycle in the hours after work. In March 2009, he took a risk and left his job to pursue riding full time. A month later his roommate, Dave Sowerby, released a video of MacAskill leaping, flipping, and balancing across Edinburgh's famous buildings, parks, and back alleys on his bike. No one had seen riding like this before.
The video went viral. First friends and then total strangers forwarded it via email and posted it on Facebook. MacAskill's audacity, skill, and grace spoke to people, even those who had never heard of the obscure sport of street trials, where bicyclists use existing structures to create physical puzzles that are solved by moving from obstacle to obstacle. Some even chalked MacAskill's mind-bending moves up to a special effects hoax. The video went on to be viewed 27 million times.
Read more at National Geographic Adventure Blog
2. The Goat
Witty, irreverent, and sharp outdoor commentary in a paragraph or less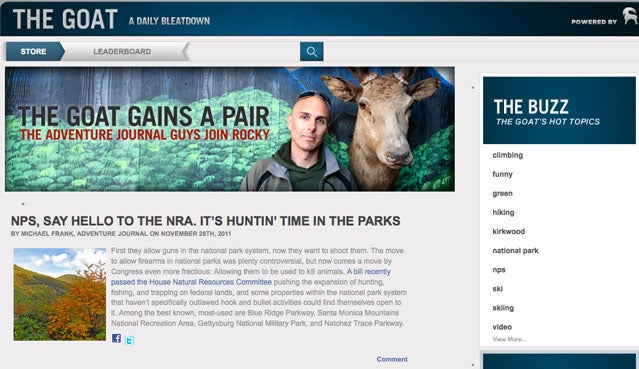 Good for: Multiple daily adventure quick hits
Written by: Veteran gear and adventure blogger Rocky Thompson, with news hits from Adventure Journal
Thompson offers "a daily bleatdown" of the web's best adventure stories. Each post is summed up in a punchy paragraph and paired with multimedia. It's everything you want and nothing you don't. With help from Adventure Journal, the blog now features a handful of posts a day.
Sample post:
Parkour for Your Hands
Parkour is kind of cool, but it seems like it would take a lot of time to learn. Not so if you have a camera and a pair of tiny shoes you can put on your fingers like the Pilgrims did with olives at the first Thanksgiving.
via Wend
1. Adventure Journal
Hands down, the best adventure blog we read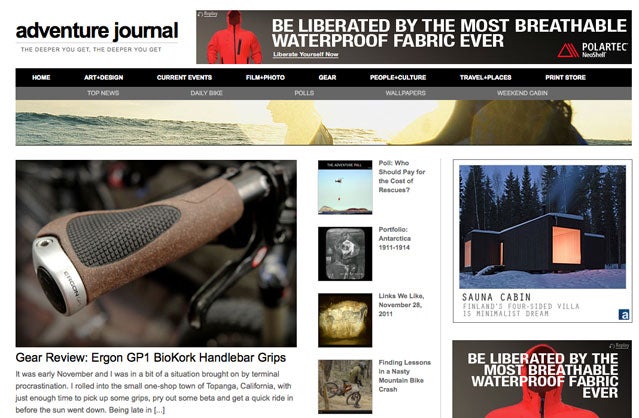 Good for: Everything adventure.
Written by: Steve Casimiro, former editor of Powder and Bike, and Michael Frank, a former editor at Esquire and Bicycling.
If you only have time to hit one adventure blog a day, make it this one. Each post shows a commanding knowledge of the athletes and events in the adventure world. While Casimiro often lets loose on topics—because he's incredibly versed in the backstory of surfing, skiing, bicycling, and well, basically anything outdoor-related—Frank takes a more measured tone. Environmental stories get a healthy dose of reporting. Gear reviews cut to heart of a product. Outdoor sports news and athlete interviews are smart and edgy. Combine an authentic voice with big, vibrant pictures (see The Daily Bike and Weekend Cabin), polls, breaking news, and an appealing layout and you have a "blog" that blows every other site we read out of the water.
Sample post:
Running Is Still Psychedelic, Still Transcendent
Who's signed up for their local Turkey Trot tomorrow? A show of hands, please. Nice, very nice. Yeah, me too — the boy and I are doing the short loop, 5K, which is just the right distance to feel like you've accomplished something should you desire to park it on the couch for the rest of the day but not so long that your pins can't still go out and hang together for a nice, really long leisurely run. Which you will probably want to do after watching this video.
It's an animated short by an artist named James Jarvis, and I have to confess that I posted it here almost two years ago, which I don't ever do. But there's a whole bunch of readers who are here now who weren't here then, and it remains my favorite bit of running inspiration ever. I know, crazy, right, that a little cartoon could inspire you to run? But Jarvis is a long-distance runner, and he knows the "transcendent, almost psychedelic experience of the simple act of running." Watch and see if you agree.
Trending on Outside Online