Truth and Consequences
Mortenson, Krakauer and the Three Cups of Tea controversy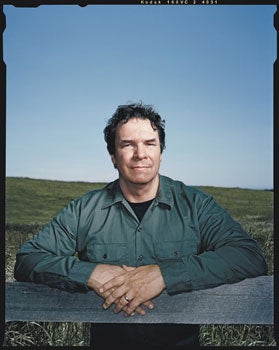 Dan Winters
Heading out the door? Read this article on the new Outside+ app available now on iOS devices for members! Download the app.
In November 2008, Greg Mortenson flew down to Santa Fe from his home in Boze­man, Montana, for a fundraiser that Outside had helped organize to benefit the Central Asia ­Institute (CAI). The event took place in conjunction with our publication of "No Bachcheh Left Behind," a feature about Morten­son and CAI in that year's December issue. I met him for the first time in the lobby of our offices, at around 11 in the morning on the day of the event. Mortenson had just finished a ­local radio interview, and ­after we introduced ourselves, he gave an ­impromptu presentation to our assembled staff about his recent school-building efforts in ­Afghanistan. After­­­­ward, I drove Mortenson to Santa Fe High School to speak to a group of students. I ­remember him scarfing down a sandwich in the back of my car, finishing just in time to hustle to our appointment.
His day was only starting. Mortenson spoke at two more local schools before dinner. I met him again at seven that evening at a large theater in downtown Santa Fe, where I intro­duced him to a sold-out crowd. He spoke for an hour, recounting his well-known story about getting lost after an attempt to climb K2 and wandering into the Pakistani village of Korphe, exhausted and alone. The locals had nursed him back to health, and in gratitude, he told the hushed crowd of nearly 1,000, he promised to return one day and build a school. The presentation ended with a standing ­ovation, and Mortenson signed books in the lobby for another two hours. Most of the people in line had brought their own copies of Three Cups of Tea. When he was finished, only a few new editions had sold, which must have disappointed the owners of the ­local bookstore that had supplied the books for the signing. Sensing this, Mortenson bought the remaining copies. He asked that they be distributed to the local homeless shelter and nursing homes. Then, presumably, he went back to his hotel and went to bed.
All of that is true. All of it, that is, except for the details of Mortenson's visit to ­Korphe and, perhaps, his motivation for buying those books. Ever since 60 Minutes aired its Mortenson exposé and Jon Krakauer published his exhaustive CAI takedown, "Three Cups of Deceit," through Byliner.com, it seems like everything that took place on that day three years ago is in question. After all, those reports did more
than raise a few doubts about CAI and its founder. They bludgeoned Mortenson, documenting numerous false­hoods in Three Cups of Tea and outlining the disturbing use of CAI funds to promote his two bestselling books. The book's fabrications were cited in a class action filed in May. The alleged misappropriation of funds, mean­­while, is the subject of an ongoing inquiry of CAI by the Montana attorney general's office.
The legal proceedings will take a long time to sort out. Until then, we're left with what appear to be two diametrically opposed narratives. We can continue to believe in the mission of CAI, excusing Mortenson as a charismatic visionary who, alas, is also a disorganized dreamer who was unequipped for CAI's meteoric rise. According to this narrative, he was brought down by a pair of mean-spirited journalists, one looking for TV ratings and the other for a big scoop to launch a new publishing venture. If we believe this version, the exhausting day I spent with Mortenson demonstrates his sincere and tireless effort to raise money for his cause and educate Americans about CAI's mission to build schools.
The other option: to believe that Mortenson's entire body of work is a sham. He fabricated his visit to Korphe and embellished countless other details in Three Cups of Tea—about his climbing résumé, about his kidnapping—because he knew the stories would help drive book sales. Those sales, in turn, created an ingenious feedback loop that bankrolled a perpetual donor-funded book tour that fed his "insatiable hunger for esteem," as Krakauer wrote. In this story, the day I spent with Mortenson was all about selling books and burnishing his image, not informing the public about the need for educating girls in the developing world. The fact that he bought the remaining copies of Three Cups of Tea at retail after the event is proof that he was manipulating bestseller lists and, assuming CAI paid for those copies, ­diverting donations into his own pockets.
If it seems like I'm distorting the two sides, visit our Facebook page or Outsideonline.com. Since we began covering this mess, we've received hundreds of comments, and nearly every one of them can be neatly placed into one of these two camps. So which is it? Is Mortenson a saint who must be protected from apostates or a sinner who must be brought to justice?
Given this magazine's long relationship with Mortenson, determining the answer hasn't been easy. Well before he was a philanthropic phenomenon, Mortenson served as an unofficial Central Asia fixer for Outside when we were reporting stories in the region he'd come to know so well. In 2001, Mark Jenkins wrote a Hard Way column about Mortenson's work, the first look at CAI in a national magazine and one of the first published accounts of his origin myth. Two years later, longtime Outside contributing editor Kevin Fedarko (the author of our 2008 Mortenson profile) wrote a story for Parade that put CAI on the map and yielded hundreds of thousands of dollars in donations. In other words, we're longtime believers in Mortenson's mission. In 2009, I wrote a letter in this space about my plans to run a 50K to help raise money for CAI. Outside readers donated more than $6,000.
All of these factors undoubtedly contributed to Mortenson's decision to grant an exclusive interview—apparently without telling his PR handlers or his lawyer—to Outside editorial director Alex Heard on the same weekend 60 Minutes dropped its bomb on CAI. And they most certainly ­contributed to the impression many people had—on both sides of the debate—that Outside was defending Mortenson, no matter how probing our questions were. That opinion only hardened when we ran a follow-up story on our website about Mortenson's K2 climbing partner Scott Darsney, who took issue with how he'd been quoted in Krakauer's report.
The next day, we ran another story, "Can't Get There from Here," which detailed our conclusion that Mortenson's Korphe ­account was "geographically implausible." That was followed by a post examining CAI's donor newsletter, Journey of Hope, which had published a defense we found thin. ­Given Outside's long history with Krakauer, it was only natural that people now speculated that we were shilling for a contributor. Acting CAI director Anne Beyersdorfer forwarded us an e-mail from a supporter who'd written that she was canceling her subscription to Outside and implied that our close relationship with Krakauer was clouding our reporting.
The problem with that logic: we don't have a close relationship with Krakauer. While it's true that "Into Thin Air" and "Into the Wild" are seminal pieces in the Outside canon, he hasn't written for the magazine in more than a decade. My only communication with him during the past five years has been through phone messages. I received the last one on the day we published the Darsney story. Krakauer was so incensed by the way we had edited Darsney's quote that he demanded his name be removed from our masthead.* (He'd been listed as an editor at large since 1998.) I've been a fan of Krakauer's writing since I was in college, but given how nasty he was to a colleague who was just doing his job ­reporting on Darsney, I was happy to grant his request. You won't find his name on page 24.
So we seem to have found ourselves in that journalistic sweet spot—the one where both sides hate our guts. Which is appropriate, since our instinct has been that the truth about Mortenson may lie in the middle ground between the two narratives. There is no doubt that he embellished and, at times, entirely fabricated parts of his creation myth. Krakauer's reporting on this is comprehensive, and Mortenson himself admitted to Outside that he'd stretched the truth in Three Cups of Tea. How far? We still don't know. I was stung by Mortenson's continued insistence in our interview that he had traveled to Korphe in 1993. I've been more troubled, however, by CAI's lack of transparency and the use of donations to advertise Mortenson's books. These matters need to be fully addressed.
What I'm not ready to buy is that Mortenson is a con artist who intentionally hoodwinked us all for profit. Krakauer quotes a former treasurer who says Mortenson used CAI as his "personal ATM." And the class ­action, which used "Three Cups of ­Deceit" as its foundation, states that Mortenson made up his Korphe story as part of a grand plan to rook donors out of their money. (In 2006, after James Frey's memoir A Million Little Pieces was outed as a fabrication, his publisher, Random House, paid $2.4 million in legal fees and reimbursements to readers to settle a similar class action.) Intentionally or not, those accusations imply that Mortenson ­enriched himself with millions—we just need to follow the trail. The problem is, that trail leads us to these other things we know to be true. We know he still lives in a modest house in a middle-class neighborhood in Bozeman. We know he spent nearly a decade toiling in obscurity and scraping together tiny donations to build schools in Pakistan. We know he built dozens of those schools and that many of them, according to our own reporters who visited them on the ground, are a success. Mortenson is indeed a flawed individual with a troubling relationship with the truth, but the work he has done remains admirable and inspiring. And should he one day come clean about all the allegations, it would be tragic if he couldn't continue on with it.
Three Cups of Tea and "Three Cups of Deceit" both reveal something about their authors and the uncompromising beliefs that have fueled their incredible careers. One was written by a man who lied to promote a cause he believed in fervently, the other by a man who would stop at nothing—even potentially wrecking an imperfect institution that nonetheless does noble work—to uncover the truth. I don't know how this battle will end, but here's hoping it leads to positive change rather than simple destruction.
* This sentence was changed from the following to more accurately reflect why Krakauer was angry about our reporting. "Krakauer was so incensed that we had dared to question his reporting that he demanded his name be removed from our masthead." Click here to see the original Darsney piece and how we addressed Krakauer's complaint.
Trending on Outside Online