Twisted
Reed Timmer, star of the Discovery Channel's Storm Chasers, turned chasing tornadoes into a career.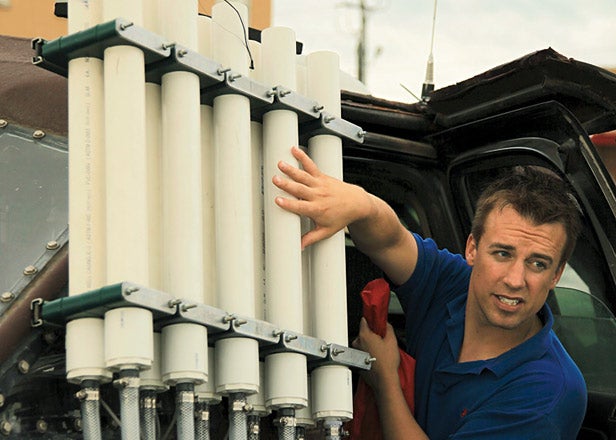 Heading out the door? Read this article on the new Outside+ app available now on iOS devices for members! Download the app.
In 12 of years of chasing violent weather, 30-year-old Reed Timmer, star of the Discovery Channel's Storm Chasers, has witnessed more than 250 tornadoes and managed to "intercept" (get inside) half a dozen while protected by the Dominator, a tank-like vehicle that can handle 200-mile-per-hour winds. In October, Timmer, who will finish his Ph.D. in meteorology at the University of Oklahoma this fall, releases his book Into the Storm (Dutton,$27), co-written with Outside contributing editor Andrew Tilin, which describes Timmer's lifelong fascination with extreme weather, life on the road, and how he turned tornado videos into a career.
OUTSIDE: What's it really like inside a tornado?
TIMMER: It's just pure chaos—objects are flying by at 200 miles per hour, trees are getting ripped up next to you, your ears are popping, and you can't see anything.
But storm chasing isn't always that exciting, is it?
In 2006, we drove 35,000 miles and didn't see a single tornado. That was rock bottom.
Do you help build the technologies you test, like the Dominator?
There's no way I could build any of that stuff. I just focus on the storm and hit the gas pedal.
Is chasing as competitive as it's portrayed?
Any time you have two people driving into a tornado, it's going to get competitive. It's fun. Sean Casey, who's on Storm Chasers, too, takes it a little far.
Does it ever get ugly?
There are some jackasses out there. One thing that's disappointing is that science should be about working together toward understanding—a collaborative effort. But I've realized that even in science there are egomaniacs.
So chasing is starting to wear on you.
No. I'll be doing it until I'm 90 years old in a wheelchair. If I had to rob a bank for gas money to storm-chase, I'd probably do it.
Trending on Outside Online