The Unofficial Oral History of 'Hot Dog… The Movie'
It has a paint-by-numbers plot, loads of sexism and gratuitous nudity, and a screenplay full of tired racial stereotypes. It's also the highest-grossing ski movie of all time. Frederick Reimers and Sam Moulton uncover the true story behind every skier's favorite cult classic.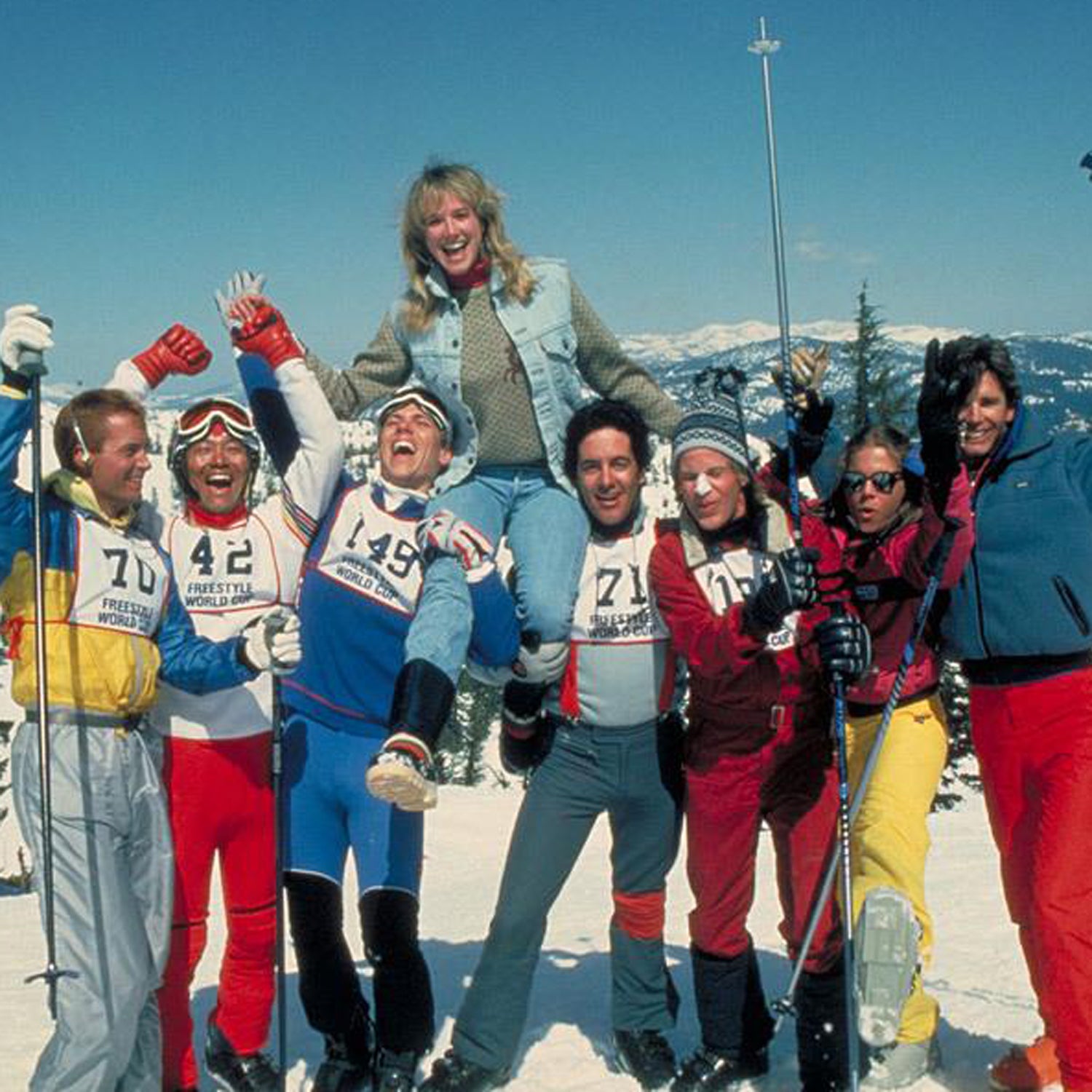 Metro-Goldwyn Mayer(Photo)
Heading out the door? Read this article on the new Outside+ app available now on iOS devices for members! Download the app.
When it was released in 1984, Hot Dog… The Movie, was a sophomoric mess.
The plot features a cliche underdog story. A young, naive wunderkind named Harkin Banks (Patrick Houser) comes to Lake Tahoe to compete in a freestyle competition at Squaw Valley, the real-life home of the 1960 Olympics. There, he meets a fun-loving gang of competitors called the Rat Pack; their German nemesis, Rudi Zink (John Reger), and his Euro band of Rudettes; and a pair of love interests: Sunny, a free-spirited hitchhiker (Tracy Smith), and Sylvia, a very aggressive cougar (Shannon Tweed, the 1982 Playboy Playmate of the Year). Hijinks ensue, including a wet T-shirt contest, a gondola hookup involving too much zinc oxide, and a climactic mass-start ski race that spawned the film's most oft-repeated line: "What the fuck is a Chinese downhill?"
If it all sounds a little like Porky's on skis, you're not far off. Like so many other sex comedies from the '80s, Hot Dog today seems shockingly dated and tone deaf, full of blatant cultural stereotypes, sexism, and worse—one scene seems to glorify date rape. What does hold up decades later? Surprisingly, the skiing. The stunt doubles were all freestyle veterans, several of whom went on to star in Warren Miller and Greg Stump flicks. "The skiing in Hot Dog was legit," says Scott Gaffney, Matchstick Productions producer and Tahoe-area resident, citing an epic huck shot near the end of the film. (The ski ballet sequences, on the other hand…) Some of the absurd dialog, much of which was improvised, also remains hysterical. But what really justifies appreciation 32 years later is how the film captures the devil-may-care spirit of ski culture. Thankfully, despite the corporatization of ski resorts, that same ski-bum vibe still exists in many American mountains towns—including Squaw Valley.
To find out why Hot Dog endures, we went to the source and contacted more than a dozen of the film's principals. Two notable exceptions were Shannon Tweed and Patrick Houser. Tweed, who used the film as a stepping-stone to dozens of other films, is now married to Kiss icon Gene Simmons. She declined to be interviewed. And while Houser was an enthusiastic participant at a rowdy 20th reunion in 2004 (it ended just like the movie, with him on fans' shoulders, spraying beer), he skipped the 30th gathering, and nobody knew where to find him now.
(Public service announcement: The film is available in its entirety on YouTube. You can watch it here.)
The Birth of a Legend
Mike Marvin, Hot Dog's creator, grew up ski racing in Tahoe City, California. He made several small-budget ski films, including a series about the World Cup freestyle circuit and, in 1972, Earth Rider, which captured the first ski BASE jump, off El Capitan in Yosemite National Park. Later, he worked on scripts for Legends of the Fall and Predator. In 1982, Marvin had just sold a Kenny Rogers vehicle called Six Pack when he had a fateful meeting with his mentor, Edward S. Feldman, a veteran Hollywood producer.
Mike Marvin (writer/producer/editor): I was having dinner at Jake's in Tahoe City with Ed Feldman. I was recounting my adventures between '72 and '76 making ski movies. He said, "Put your adventures into a script from the point of view of a competitor, and I think we'd have a movie." And so that's what I did.
Edward S. Feldman (producer): I wasn't very interested in skiing, but Mike was very dedicated to it, and I thought it would be a nice picture.
Marvin: When I was with the World Freestyle Skiing Association, the boys from the U.S. were really hot. The Germans, French, Austrians, were coming in 12th, 13th, 14th. But when we got to Europe, suddenly the Germans started placing second, third. German television had paid a lot to cover these events. I saw it happening. That was the basis for the plot—where Rudi keeps winning with obviously rigged scores. The original script was written for Aspen, Colorado. The Harkin Banks character was a starry-eyed kid. All he cared about was skiing in the world championships and meeting John Denver. When we moved it to Squaw Valley, things changed.
Robbie Huntoon (Harkin Banks' stunt double): I was on the freestyle circuit in the late '70s. I was 18 years old, and all of a sudden I'm going to wet T-shirt contests that turned into pretty big parties. It was drugs and women and travel and rock 'n' roll.
Marvin: It was considered a low-budget comedy. Variety reviewed it as "sexploitation," which I thought was funny.
Adventures in Typecasting
In their search for actors, Hot Dog's creators sought out people who could channel authentic ski bums as well as key—and heavily stereotyped—international characters. They maybe could have looked a bit harder…
Marvin: Rudi was based on the Freestyle World Cup winner of '76, who was, in my view, this arrogant German Nazi skier. You know, let's have some fun with the Nazis. Right?
John Reger (Rudi Zink): I speak German, so I did all the auditions with a German accent. At the audition with the other Rudi-lookin' guys, they asked me about my history, and all of a sudden I'm just makin' stuff up: "Oh, I grew up in Germany and played soccer and then got into skiing. I went to the University of…" It wasn't until the first day, where we all got up to Squaw and we're all sitting around a dinner table, when somebody said, "Would you like some hors d'oeuvres?" And I said, "Yeah, sure. Gimme some of that." And everybody goes, "Wait a minute! What happened to your accent?"
Frank Koppala (Squirrel): The biggest joke was that James Saito, who played Kendo, couldn't speak Japanese. He had everybody fooled for the first three weeks.
James Saito (Kendo): At the audition, they asked me if I could speak Japanese. I don't speak any of it, but all the guys at the table were white guys, so I thought they'd never know the difference. I just said any household words in Japanese that I knew from growing up. When I got the part, I had a friend translate my lines. But during the course of the shooting, my part got bigger, and so the director would say, "Jimmy, can you say this?" And I'd go, "Uh, yeah, sure. When are we gonna shoot?" And they'd say, "About 30 minutes." So I'd ski down to the lodge and call my friend. Every day I had like three Japanese-English dictionaries in my pockets and a whole list of things to say.
Marvin: The real Kendo Yamamoto was a softball pitcher in Tahoe City that nobody could hit. At the time, fast-pitch softball was the fuckin' religion of the town besides skiing. He was just blisteringly fast. I never intended the Kendo character to disparage him or Japan. My daughter lives in Tokyo, for Christ's sake. She speaks only Japanese.
Koppala: The audition was basically improv. There wasn't much of a script. I kinda forgot about it, and then, months later, I get a call from my agent, and he said, "We have an offer for you for this feature film." I thought it was a mistake because he had mixed me up with another client before.
Reger: My first scene was when I walk into the restaurant where Sunny and Harkin are sitting. I was wearing the big fur, which wasn't even from the wardrobe department. It belonged to a camera operator. They had some skin-tight outfit for me, and I said the guy's arrogant—he would be showing off. So I threw that on just before the scene, and I remember David Naughton sayin', "Yeah. Nice coat, Rat."
Lynn Wieland (Banana Pants): The "Banana Pants" line was not in the script. The first time he ever said it was on the first take. It was the first shot we did on the entire movie. I walked up, and he said, "This is Banana Pants," and it just stuck.
Local Flavor
The film had a big economic impact in Tahoe. Dozens of Tahoe residents were hired as extras, and many of the key stunt skiers were coaches at Squaw's freestyle ski academy or knew each other from the World Cup freestyle skiing circuit. Ultimately, the large crew of nonactors ended up having a huge influence on the film, with a couple of them, George Thoebald and Lynn Wieland, landing speaking roles. The winter of 1982 was an epic snow year at Squaw, however, which thrilled the hired skiers but nearly drove the director mad.
Reger: They wouldn't let the actors ski. They were worried we'd get injured.
Markle: Reger couldn't ski a lick. In one scene, on a bit of a slope, he delivers one of his haughty, arrogant, cocky lines. He goes to ski off and trips, and he hits the first Rudette. They all fell over. It was hilarious. Shannon Tweed couldn't even stand up when she had ski boots on. People were holding her up by the legs, acting as a base for her. I mean, forget about puttin' her on skis.
Koppala: We teased Patrick [Houser], because he couldn't even stand on skis without wobblin' around. They brought him up there a week early to give him lessons, but he never looked comfortable. So you never had to worry about him skiing because he couldn't do it anyway.
Dan Herby (stunt double): I had quit competing freestyle to coach for the program at Squaw. I was too short to be Harkin, so I ended up doubling Squirrel. They asked me if I knew anyone who is a punk rocker. I said, "I've got just the guy for you."
George Theobald (Slasher): I'd done some commercials for a Japanese company called Asics. My brother did a Twinkie commercial. He had to do a helicopter off a jump and grab a Twinkie. Did I have a mohawk? Probably not. It was 1982, so I probably had a Flock of Seagulls thing going on.
Wieland: I was the 1980–81 aerials and moguls champ. They had hired an actress for the part who said she could ski, and she could ski, but not at the level they were thinking of. They gave her a part in the party scene. I think she throws a drink in Squirrel's face.
David Naughton (Dan O'Callahan): I had different doubles. I went from like 150 pounds to 195 pounds depending on who my double was. In the Chinese downhill, I wear like three hats. What happened to continuity?
Herby: I'm a kid from Idaho living on ramen, oranges, and granola bars. I think the wage for Hot Dog was $325 a day. I was rich. It was crazy. They would pay you daily. I walk in one day and grabbed my check, and it was two and a half times the normal day rate. I went back in and said, "You guys made a mathematical error." "Oh no," they said, "it's Good Friday. We paid you time and a half." This isn't Good Friday—it's the best Friday!
Huntoon: They'd have me stand at the top of the run for 30 minutes while the crew got all ready to shoot. I did that one or two times, and then I said, "Just give me a radio and I'll make laps on this lift until you're ready."
Naughton: Mike [Marvin] was to be avoided, because he wanted to get his film made. We were like, "Yeah, we'll be there!" But we'd take runs and he'd go, "Look, no more skiing. We don't want anybody hurt." So we would put other people's costumes on and go up and ski so they wouldn't know it was who it was.
Spandau Ballet
In the early '80s, freestyle was a World Cup event composed of three events: moguls, aerials, and ballet. When freestyle became an Olympic event, the first two were made into separate disciplines, and the latter was mercifully put to pasture.
Huntoon: I hated ballet. I'm not good at it and only did it 'cause I had to. It's actually very difficult. My friend Bob Howard, a five-time world ballet champion, was actually drafted by the NFL but decided to go into ballet skiing instead.
Theobald: I look at the ski ballet like the freestyle skateboarding scenes in Dogtown and Z-Boys, where the Dogtown crew showed up to the 1975 nationals and had to perform all these old-school tricks. They didn't want to be doing that, but that's where the sport was at the time, and they built progression into it.
Marvin: When we did the movie, I still thought ballet had some cachet. I wouldn't use ballet today, obviously. I'm not even sure I'd use moguls.
Serious Ski Porn
The infamous wet T-shirt contest was shot at a local bar called Lone Star, now Mountain Mike Sports. The scene kicked off a slate of considerable nudity and sex in the film—including an infamous gondola hookup starring Squirrel—much to the delight of teenage boys trolling Blockbuster Video in the '80s and '90s. The actual scenes happening around the moviemaking weren't much different.
Reger: It was right after Porky's, which had a lot of nudity, and they were just kind of pushing the envelope. One of the craziest days of my entire life was the day they shot the wet T-shirt contest. That was a free-for-all that I have never experienced since in the movie business.
Marvin: The real-life wet T-shirt contest happened in Park City, Utah, at the World Cup in 1974. We were in the citadel of Mormonism, and it degenerated into a complete orgy on the stage. It was crazy—four or five guys blowing saxophones, stripped to their waists, wearing spandex pants. The movie version was tame compared to what really happened.
Huntoon: The action that you see on the screen was pretty real. It was not people acting. It was all locals from a casting call doing a real wet T-shirt contest.
Markle: We started passing around free drinks. Sandy Hackett [the MC for the contest] is a really good stand-up, and he started working the crowd. We got the music going, and we just let the cameras roll for about 45 minutes. At one point, I looked around and saw my cameraman dancing with one of the girls, and someone else is behind the camera.
Koppala: When the girl and I were alone in the gondola, we had a radio in there, and Peter would just throw us out suggestions—"Pull your zipper down a little bit"—you know. So we did all kinds of different things so he could get reaction shots. The zinc oxide may have been suggested, but I just kinda went nuts with it.
Marvin: Hot Dog was Sodom and Gomorrah behind the scenes. It was very loose. People left their husbands.
Koppala: What happens in Squaw stays in Squaw. We're just a bunch of knucklehead actors—we're not Brad Pitt, but to some of the locals, we were. Combine a beautiful resort, a record winter, booze, and lots of free time… What would you have been doing up there, you know?
Marvin: I got called in by Squaw's management, and the threat was, We're going to pull the plug if this shit doesn't quit. I had known the guy since we were 18 years old. I never could figure out if he was just trying to muscle me or show me that I wasn't the big shot he thought I thought I was. It's not easy bringing a Hollywood production to the small town where you were raised, in a one-room schoolhouse, because it triggers every kind of jealousy you can possibly imagine.
Winner Takes All
Hot Dog's most enduring legacy is the Chinese downhill, the final free-for-all race that ends the film. Such events were a tradition that existed at many ski resorts. (Aspen's version was known as the Irish downhill.) Marvin, who shot the sequence on Squaw's Olympic downhill route with local skiers, says he wanted to make an homage to the post-apocalyptic costumes worn during Road Warrior's famous chase sequences, hence the goofy costumes: spiked gloves, ski poles, exhaust pipes taped to helmets. Fans of '80s ski films will notice a lot of similarities to the race sequence in Better Off Dead, which Marvin helped create a few years later. And the film's most enduring line? That was in the script.
Marvin: I heard it in a conversation ten to 12 years earlier. A guy named Norm Simmons was talkin' about how he won a Chinese downhill. I said, "What the fuck's a Chinese downhill?" The same exact thing that Kendo says.
Markle: At the 30th reunion, Jimmy Saito probably got asked 700 times to say that line.
Huntoon: Mike wanted Harkin's character to be in the lead in the downhill, so they gave me a signal where I could take off just a split second before everybody else. Except everyone up there was so excited to go, they all went a little early. I ended up being late.
Bob Legassa (stunt skier): Lane Parrish went flying through the air and hit the tree. That was frigging brutal. Dropping 20 feet out of the sky onto the ground. He didn't get paid enough for that stunt.
The Chinese downhill climaxes with the movie's most significant stunt: Harkin Banks skiing into a mountain restaurant and out a window on the other side to claim victory in the race. There was a very close call during filming.
Huntoon: There was an extra, a cocktail waitress, who was supposed to open the door, and the tray of food she was holding would go flying as I skied through the door. But she never had a radio, so she never heard the call for action. Another extra inside the restaurant just looked out the window and saw me coming and opened the door. Had that person not seen me coming, I literally would have skied into a closed door. I only got one take. It might have been because of money—with stunts they pay you each time you do the stunt.
Hot Dog Forever
Critics panned the film that was eventually released—after some bare-knuckle fighting over the edit—but Hot Dog surprised everybody by grossing $38 million. Feldman went on to produce 1985's Oscar-winning Witness. Others used the film as a launching point for their careers. But nobody could have predicted its cult-classic endurance.
Marvin: Pete Markle screened the movie for us. It was this bloated, almost three-hour movie with a boom box for music. The party sequence alone was 45 minutes long. The ski sequences he used were my outs. You go through your reels and pull your best shots. Those are called selects. The shots that you don't wanna use, you hang in the bins; they're called outs. You only use them if it's critically necessary to nip together a scene. Ed nearly had a heart attack. We walked out into the parking lot, and he's holding his chest. He says, "I put my house up for this?" I said, "Take it easy, Ed. He didn't put up the movie we shot." I fired Markle and went into the editing room. We hired a post-production guy who was basically a referee because the editor was Markle's boy.
Reger: I wasn't sure it would ever make it to the big screen. David Naughton was the only name in the thing, and at the time, some things went straight to video. But we had an opening in Westwood where they dumped a ton of snow on a summer night at one of the theaters. David and Shannon Tweed and I had to have a little snow fight for the premiere.
Koppala: Five or six years after the movie came out, I was in line at Snowbird. A bunch of 20-somethings came up to me, and one guy goes, "Dude, it's Squirrel!" The next thing you know, there's a mob around me.
Reger: I think it endured because it taps into the free spirit that's inside everybody. And it holds up ski-wise with good photography. There's enough of a story to keep you rolling, keep you moving along till the next ski scene. Of course, a little bit of nudity doesn't hurt.
Herby: I didn't know any of that sex stuff was in the film. They never gave me a copy of the script. I called Grandma in Minneapolis from Europe, where I was on the freestyle World Cup circuit, and told them to go watch it. My Catholic mother was really appalled. "I thought I was going to be a ski movie," she said, "and it was a porno."
Wieland: I was in four Greg Stump movies, two Warren Miller movies, had covers of Powder and Skiing. But people remember me for Banana Pants. That's OK, I'll take it. Make fun of it all you want, but I was 19 years old, making $1,000 a week.
Huntoon: It had a pretty good effect on my career. I did stunt work in Ski Patrol, Ski School, Back to the Future, Better Off Dead, True Lies, True Colors, more TV commercials. I got in front of the camera and behind the camera. I won two Emmys for sports cinematography. Hot Dog launched all that.
Koppola: At the 20th reunion, you would've thought we were the Rolling Stones. There were security guards everywhere. A hundred and fifty people who couldn't get in were lining up at the door. There were TV stations from Sacramento and San Francisco. We were all just looking at each other, shaking our heads. This will never die. We'll be on oxygen bottles and walkers, and they'll be calling us up there.
Lead Photo: Metro-Goldwyn Mayer
Trending on Outside Online