Valley Uprising
Yosemite Valley, the birthplace of rebel climber culture is supposed to be all cleaned up and mellowed out. But as a new film shows, the outlaw spirit is alive and well.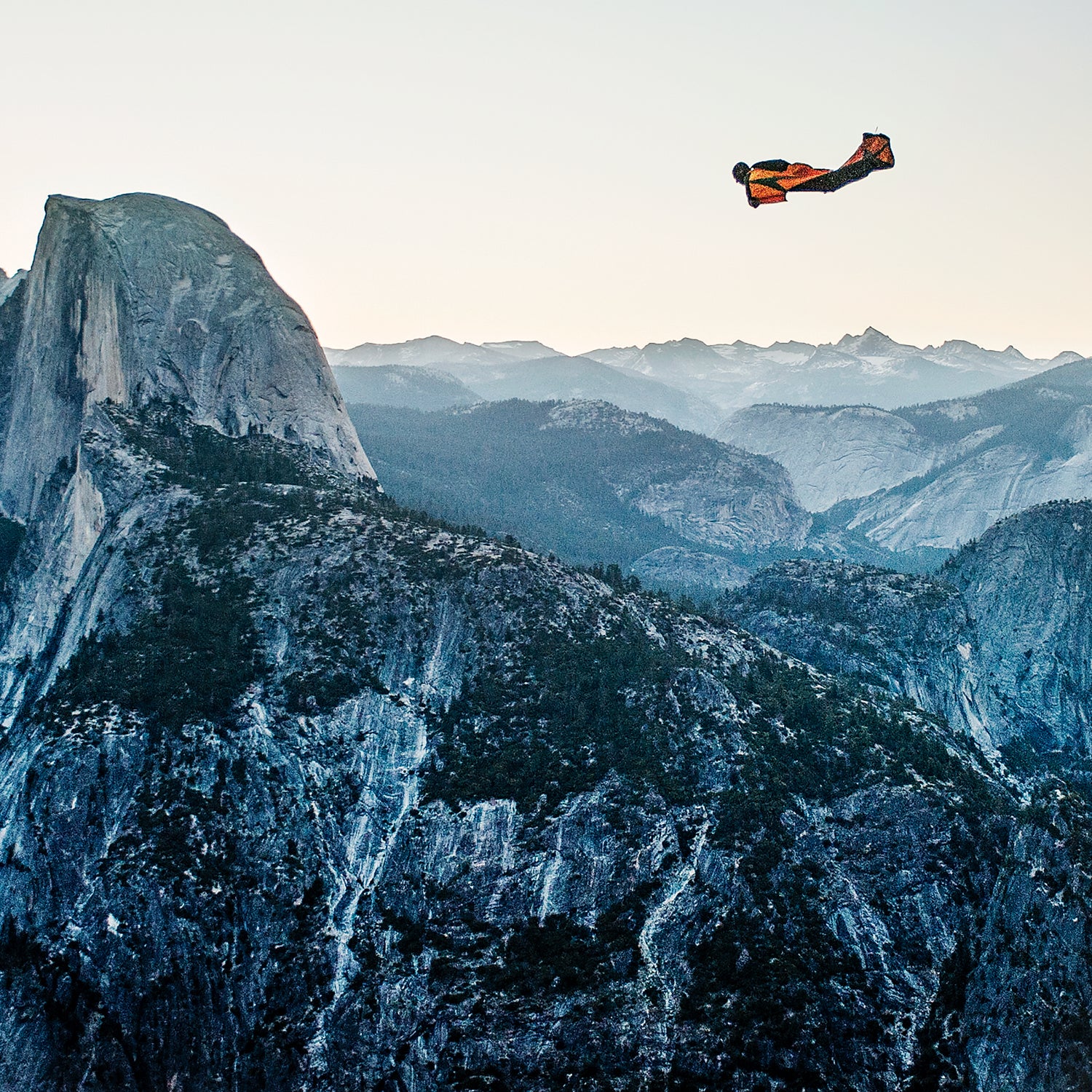 Drew Kelly
Heading out the door? Read this article on the new Outside+ app available now on iOS devices for members! Download the app.
I was standing at Glacier Point, one of Yosemite National Park's most iconic vistas, at 5 A.M. during this summer's peak tourist season. The campgrounds were full. In a few hours, shuttles would be circling in a slow parade. But here at sunrise, a crime was about to unfold, and I had received a tip that I should come witness it. After a few minutes, a man emerged from the woods behind me. He wore a wingsuit, a parachute pack, and a mask. The man walked to the edge of a cliff and onto an overhanging rock. 
He paused and said, "Three, two, one—see ya." Then he leaned toward the chasm.
This year marks Yosemite's 150th anniversary, an event commemorated by no fewer than 200 Park Service–sanctioned programs and upwards of four million anticipated visitors. On a summer weekend, the valley feels less like John Muir's wild cathedral than a granite Disneyland. But if you look through the exhaust fumes, the anti-establishment gestalt and creative energy that made Yosemite an epicenter of America's modern adventure culture are still very much in evidence. On the same walls where Royal Robbins, Yvon Chouinard, and Tom Frost became legends in the 1960s, a new generation of wall rats led by Alex Honnold and Tommy Caldwell are moving faster and lighter than ever before. Meanwhile, a cadre of BASE jumpers are launching into the valley, often in the dark, since the activity was banned in the 1980s, primarily for safety reasons.
Much of this is captured in an energetic documentary, Valley Uprising, released this month by Sender Films, of Boulder, Colorado. According to Sender cofounder Nick Rosen, the company's aim was to produce "the Dogtown and Z-Boys of climbing"—a definitive cultural history that will grab the attention of mainstream America. There's a crucial difference between the two films, though. While Stacy Peralta's 2001 classic beautifully depicted a departed skateboarding culture, Valley offers insight into a scene that's still evolving. "We don't have a unifying character," Rosen says. "It's a unifying philosophy."
That philosophy is rebellion, so Sender skips much of the early history in favor of the more colorful events of the past 50 years. You can sense the filmmakers' glee as they reconstruct the epic battles between purist climber Royal Robbins and his bacchanalian rival, Warren Harding, who once waited out a storm on the Dawn Wall of El Cap, slugging brandy and refusing a helicopter rescue. We're told that the riot of 1970, in which the park tried to evict hundreds of counterculture youths from the valley floor, fostered decades of antagonism with rangers because the "climbers looked like hippies." It's hard not to laugh aloud hearing Patagonia founder Chouinard recall those gritty days. "None of us expected to have jobs," he says. "We were going to be hoboes and climb forever."
Fortunes changed in 1977, when hikers discovered a plane full of dope that had crashed into Lower Merced Pass Lake the previous year. Many a climber got high off the spoils, and a few got rich. This is fun material, and Sender jazzes up the old stuff, animating archival photos with smart tricks. When Sender shows us Jim Bridwell, one of the seventies-era Stonemasters, climbing under the influence of all manner of hallucinogens, the screen goes into a psychedelic swirl.
These days, Yosemite climbers live more like monks than hippies. Many of them idolize Honnold, a vegetarian and teetotaller who eschews Camp 4, the hallowed climber's grotto, preferring to sleep at the edge of the park in his van—a white 2002 Econoline that looks like it belongs in a police sting. For the most part, the outlaw ways are kept alive by the aerialists. Dean Potter, a top climber who's become better known for his wingsuiting exploits around the world, free-climbs in Yosemite while wearing a parachute as insurance. Ammon McNeely was tased, arrested, and thrown in the park's jail after getting caught BASE jumping in 2010.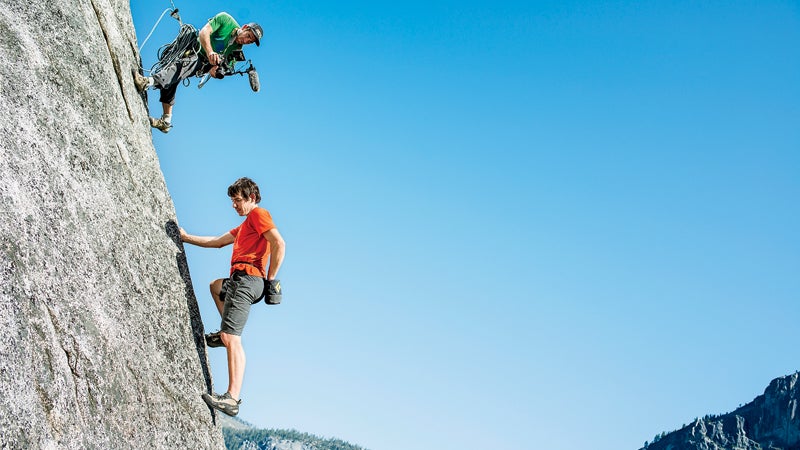 Toward the end of the film, Rosen and Mortimer credit rangers and climbers alike with a new era of reconciliation. But the impression is of a bone thrown to a guard dog: Valley leaves little doubt where the filmmakers' sympathies lie, right up to the spectacular end, which I won't spoil. "There's illegal BASE jumping in the film," Rosen told me, "but that's not an admission of filming it."
I'll admit to filming it. I brought a video camera with me to Glacier Point, and it was rolling when the masked man emerged from the woods. Right before he leaned forward, he froze with his legs bent and one arm forward, a pose that reminded me of a hunting dog. His body dipped until it was parallel with the rock, and he paused there for a moment, suspended in the air. Then he fell out of view, down to earth and one of the busiest parks in America. It was a crime of passion, caught on tape.
A Brief History of Yosemite Iconoclasts
John Salathé
A Swiss blacksmith, Salathé first visited Yosemite on doctor's orders in the early 1940s. (Salathé believed his wife was poisoning him.) He pioneered several iconic routes in the valley and invented the modern climbing piton. In his later years, he joined a religious cult and roamed the mountains, surviving on wild plants. 
Warren Harding
The original bad boy of Camp 4, Harding lived hard—drinking, carousing, and otherwise fulfilling his motto, Semper Farcisimus! He completed some of Yosemite's boldest firsts, beating his rival, the purist Royal Robbins, up the face of El Capitan in 1958.
Beverly Johnson
Big Wall Bev arrived at Camp 4 in the late sixties. In 1973, she participated in the first all-female ascent of El Cap, then completed a solo climb of the wall a few years later. She died in a 1994 helicopter crash.
John Yablonski
Yabo, of the seventies-era Stonemasters (so-named during a bong session), was known for his reckless free soloing and his obsession with climber Lynn Hill. He completed several nude ascents and spent a winter living in a cave that now bears his name. He committed suicide in 1991. 
Chongo Chuck
Charles Victor Tucker III began camping in the valley, often illegally, in the 1990s and evaded park rangers for nearly two decades while serving as a spiritual guru to climbers and self-publishing The Homeless Interpretation of Quantum Mechanics. Facing jail time, Chongo fled the park in 2005 and was last known to be living under a bridge in Sacramento. 
Ammon McNeely
The El Cap Pirate gained notoriety as a speed climber before turning to BASE jumping. Following a 2010 jump, he was tased and arrested by rangers and served three days in the Yosemite jail. He's currently recovering from a BASE-jumping accident in Utah last year that nearly cost him his left foot.
Trending on Outside Online