'Waterlog' Is a Classic Ode to Wild Swimming
This month, Roger Deakin's cult-favorite book about swimming the waters of Britain will be published in the U.S. for the first time. In her introduction to the new edition, writer Bonnie Tsui reflects on what she's learned from it over the years.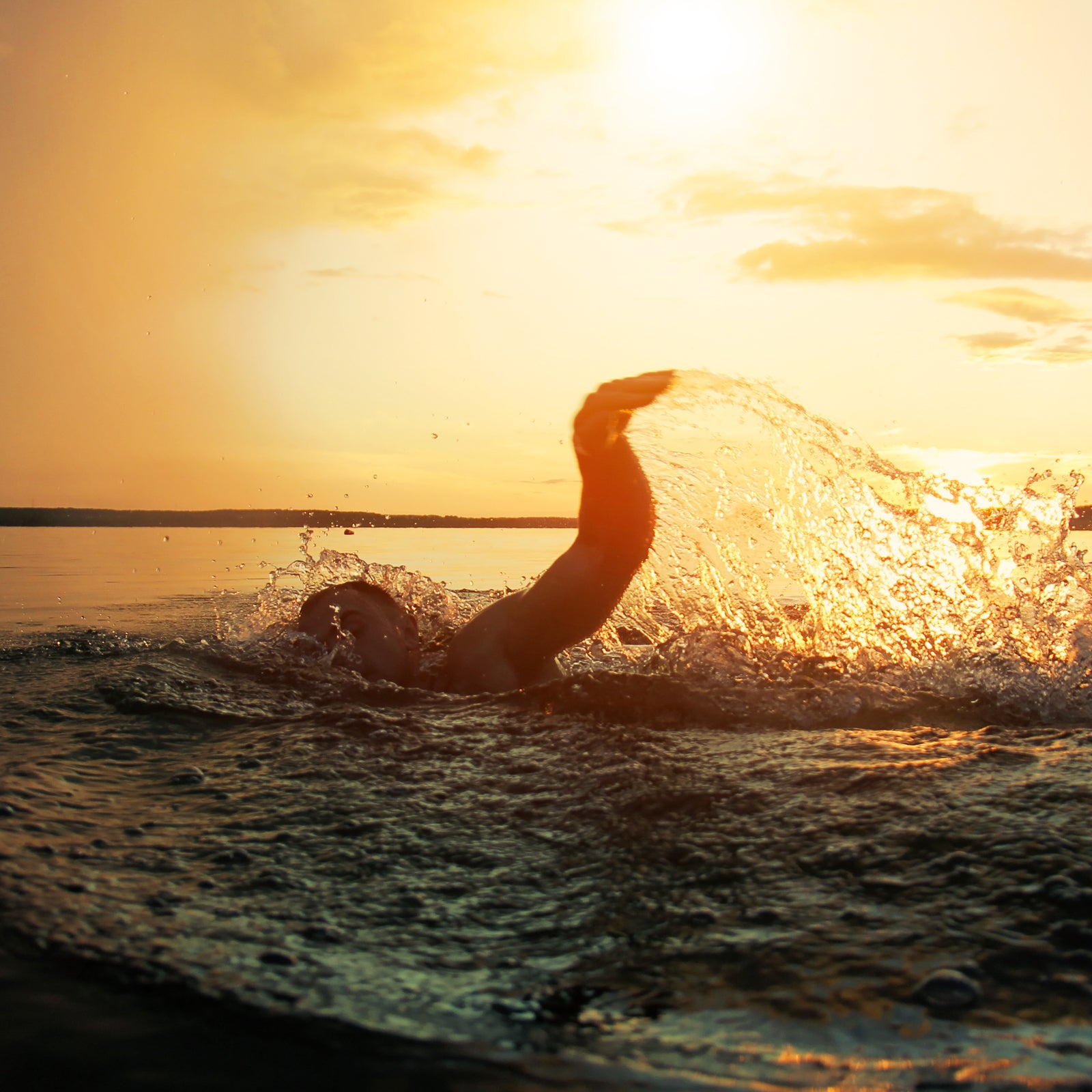 LeonidKos/iStock(Photo)
Heading out the door? Read this article on the new Outside+ app available now on iOS devices for members! Download the app.
It began with a rainy day in a moat.
The idea of a long swim through Britain came to the naturalist Roger Deakin in a period of personal sadness and isolation. The year was 1996: at the age of 53, he found himself alone, at the end of a long relationship. Besides that, he missed his son, Rufus, who was off surfing and adventuring on the eastern coast of Australia.
Though breaststroking across the moat near his home in a downpour might seem to be the very picture of misery, the act lent Deakin a sense of buoyancy and purpose. Watching the bright plash of raindrops dancing across the surface of the water animated him: "I grew convinced that following water, flowing with it, would be a way of getting under the skin of things…. In water, all possibilities seemed infinitely extended." That day set him in motion, leaving frustration and stasis behind. He would embark on an aquatic journey to find something new—and surprising, and beautiful—in his country's wild waterways.
He spent much of the next two years swimming and writing what would become the bestselling Waterlog. First published in the UK in 1999, the book quickly became the bible of a modern wild swimming movement, a word-of-mouth guidebook for those who wanted to dip into the waters he described. Though it's now a celebrated classic of the nature-writing canon, Waterlog has never been available in the U.S.—until this month. Its arrival to our shores couldn't come at a better time.
Water, of course, connects us all. Planning his swimming travels made Deakin feel closer to his son, so many thousands of miles away but immersed in the same ocean. (We may give names to different parts of that ocean, but any map will show you that it's all the same water.) In a funny kind of serendipity, during the time that Deakin was making his iconic swims across Britain as documented in Waterlog, I myself was in Australia, swimming and adventuring during a semester abroad. Perhaps I even crossed paths with Rufus in Byron Bay. All I know is that I, too, was moved to journey toward water, by a period of my own melancholy.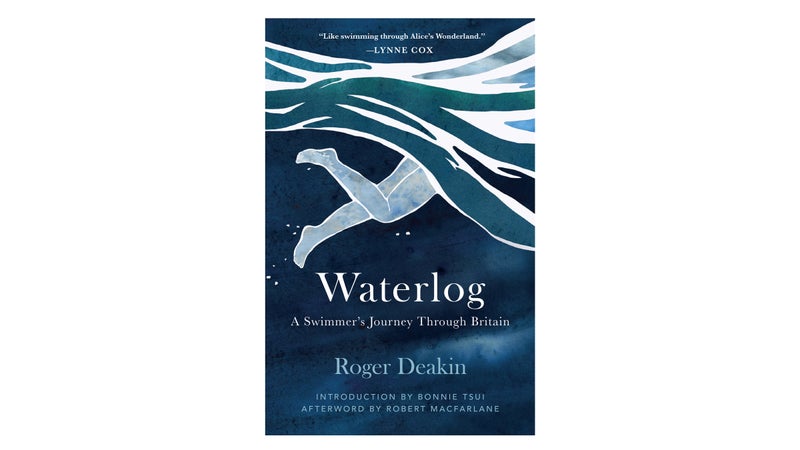 I was a 19-year-old college kid, and I knew next to nothing about the world. It was sophomore year; the only international travel I'd done was summer visits to my grandfather in Canada. I was twitchy with unhappiness: my parents' marriage was about to end, my relationship with my boyfriend was imploding, and I couldn't fix either one of them.
"Proposed place of study." I'd examined the study abroad application on my desk closely, rolling the words around in my mouth. Proposed place of study. I asked myself the question that heartsick young people everywhere ask themselves: What's the farthest place I can get to from here?
The answer, it turned out, was Australia. And so I decided to go swimming in the waters of the Great Barrier Reef.
Like Deakin, I knew, even in the planning stages of my adventure, that I wanted magic: immersion in a world outside myself. I would learn how to breathe underwater. In the process, I would learn how to give myself over to possibility.
I've always been a swimmer, so it follows that I've always been a seeker. Even as a child, I often felt there was something more to see, and that water could take me there. I've spent much of the last several years seeking out the global swimming stories that became the book Why We Swim. Over many hours of research and reading, I got to know Roger Deakin, the bard of British open-water swimming, through the eloquent, watery words he put down.
What I first loved about his writing on swimming was the otherworldliness he so keenly discerned. In Waterlog, the bewitching, Alice In Wonderland quality comes through: "When you enter the water, something like metamorphosis happens. Leaving behind the land, you go through the looking-glass surface and enter a new world…. You see and experience things when you're swimming in a way that is completely different from any other."
This passage ended up in my own book. "Your sense of the present," he added, "is overwhelming." Time itself could be altered; how awesome that was! What's more, this was accessible magic, ready to be felt by anyone who made the plunge.
He rendered the pulse of life in exquisite, granular detail: the rolling squeaks of starling birdsong, hairy tangles of seaweed, innocent tadpoles decanted from an aquarium into the wild.
Upon rereading Waterlog this year, I noticed the shifting moods of a character as reflected in place. Of visiting the Norfolk coast—"close to home, yet remote"—Deakin observed that there was "no anti-depressant quite like sea-swimming." Holkham was the place he usually went when he was feeling blue: "Striking out into the enormous expanse of cold sea, over the vast sands, I immerse myself like the fox ridding himself of his fleas. I leave my devils on the waves."
I leave my devils on the waves. I am writing this, it must be said, in a time when our peripatetic ways have been profoundly changed, perhaps forever, by a global pandemic with no firm end in sight. So many of the days can feel dark and disconnected. But there are little joys, escapes, pinpricks of light. Even though the radius of our travels is smaller and closer to home, there is so much to notice, and appreciate.
Deakin, expounding on the sensory pleasures of his environment, reminds me to pay attention. He rendered the pulse of life in exquisite, granular detail: the rolling squeaks of starling birdsong, hairy tangles of seaweed, innocent tadpoles decanted from an aquarium into the wild. Plunging into an alpine rock pool caused one to spring out "on the knife-edge between aching and glowing."
He reminded his fellow Britons of the rich swimming history embedded in their everyday. He communed with eel fishermen in the Fens, traced limestone swimming holes in the Yorkshire Dales, observed (with a touch of concern) bridge-jumping traditions in Norwich. At the edge of an icy, high-altitude lake in Wales, he trembled, naked, pondering the geologic age of the surrounding rock, and saw the humor: "I was a prehistoric creature in my glistening wetsuit, ready to be fossilised unless I kept moving."
Deakin was a traveling salesman for outdoor swimming; I mean that in the best way. His was the eye that noticed, and noted—the way a certain river with its salmon runs and shoreline barbecues, say, combined "the play of wild life with the play of human life."
I, for one, was sold.
When I swam my way around Australia as a student, I saw immediately that the country's obsession with swimming was something I could get behind. I landed in Sydney, a beautiful, sun-spackled city, so shiny and exhilarating to me. I spent more time sampling the public pools and glorious beaches than I did studying. I left, months later, my skin browned from the sun and marked by jellyfish stings and other marine-life love bites.
I made trips to points west, along the Great Ocean Road from Melbourne, and north, to Byron Bay and the Sunshine Coast. Eventually, I worked enough to earn passage all the way up to Cairns, the jumping-off point to the most famous coral reef in the world. I remember the moment I first sank into a pool with a scuba tank and made myself take a breath underwater. My body tensed, resisted. Not once had it ever been fully submerged and told to breathe in at the same time. It took deliberate thought, a conscious wrestling with primal, instinctive fear. That first inhale through the scuba regulator in my mouth was deafening to my ears. It opened the portal to the undersea universe.
I spent two weeks on the reef, learning how to manage myself safely in the water. Eight of us travelers from all points on the planet had come together to live on a boat with our captain and our divemaster. We logged dives twice a day and wrote cryptic messages to each other underwater. We saw eagle rays, puffer fish, nurse sharks, massive mountain ranges of thriving coral. We learned to be gentle with the reef and the fishes, and with each other. By the end we were no longer strangers.
It has been 25 years since I first set off on what has become a career of writing and swimming and, more recently, surfing. What I have learned from this period of global swimming lessons—from being immersed in the wild, the world—is that water cannot wash away your troubles. But being in it can buoy you, long enough for you to register a fresh perspective.
I never met Roger Deakin; I wish I had. But I feel that reading his words, and discovering our parallel journeys, brings the world a little closer, draws the swimming community a little nearer, in a time when so many of us are feeling isolated and deeply alienated from our fellow humanity. More than two decades later, during a year-plus period of pandemic that closed most pools, open-water swimming has a fierce new appeal for Americans. So many letters have come my way describing the writers' elation at the freedom and magic that swimming in the great outdoors has lately granted them.
To cope with loss, pain, grief, we keep moving. We seek something new and beautiful to propel us to a different way of being. In the first U.S. edition of Waterlog, Roger Deakin, one of our wisest watermen, guides the way.
---
Excerpted from WATERLOG: A Swimmer's Journey Through Britain by Roger Deakin. Published with permission from Tin House. Copyright (c) 2021 by Bonnie Tsui.
Lead Photo: LeonidKos/iStock
Trending on Outside Online