Whale Warriors
An enterprising television series on Paul Watson's ragtag navy has made saving the whales cool again. But can eco-pirates actually save them?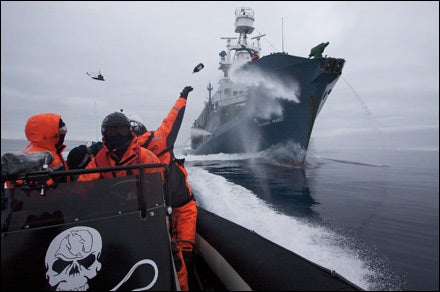 Heading out the door? Read this article on the new Outside+ app available now on iOS devices for members! Download the app.
"Ever since I started protecting whales," Paul Watson is telling me over the phone from Sea Shepherd headquarters, in Friday Harbor, Washington, "I've understood one thing: The most powerful weapon on the planet is the camera."
Tell Us What You Think
Should Japan be hunting whales? Are Paul Watson's tactics justified? Share your opinion in our
forum
.
In that case, consider Watson heavily armed.
A legendary eco-vigilante, Watson, 58, is the founder of the Sea Shepherd Conservation Society, a private navy of sorts whose playbook includes ramming whaling vessels and snarling their propellers in thick anchor lines, then broadcasting accounts of the action to anybody who'll listen. For 30-plus years, Watson's tactics and arrogance have infuriated both whaling nations and many mainstream environmentalists—and that was before he got his own TV show.
Premiering last fall on Animal Planet, Whale Wars follows the Sea Shepherds as they hunt down and harass the Japanese whaling fleet in Antarctica's violent Southern Ocean. After decades of clawing his way into the spotlight, Watson suddenly has a large and captive audience: Whale Wars averaged nearly a million viewers in its Friday-night slot last fall and recorded the highest ratings among adults in the network's history. The second season kicks off on June 5, three weeks before the start of a critically important weeklong meeting of the International Whaling Commission (IWC), which manages global whaling—allowing Watson to make some of the biggest waves of his career.
"He's getting exactly what he wanted," says natural-history author Richard Ellis, 71, a U.S. delegate to the IWC from 1980 to 1990. "He's getting the issue onto the front pages—even if it's the entertainment section."
The front pages are what Animal Planet had in mind, too. Commissioning a series on a band of hardcore saboteurs—"eco-terrorists," according to the Japanese— was part of a rebranding effort orchestrated by the network's general manager, Marjorie Kaplan, who was hired in 2007 to transform it from a warm and fuzzy kids' favorite to a destination for young adults. "Having a show that people would talk about, that was absolutely incendiary, was a great thing for us," she says. "We had no reason to be cautious."
Her biggest fear was that Sea Shepherd wouldn't find the Japanese fleet and Animal Planet would end up with a very expensive one-hour special on the infighting among Watson's 40-person, all-vegan, mostly volunteer crew. But the three-month campaign, which launched in December 2007, turned out to be particularly eventful.
Watson, a Toronto native who belligerently defends marine life across the globe—he scuttled two docked Icelandic whaling ships in 1986 and has battled seal hunters and fishermen from Newfoundland to the Galápagos—says he values passion over experience. The result is a bumbling crew of zealots that seem plucked from the dorms of Reed College. In the first episode, four Sea Shepherds flip a Zodiac in the Southern Ocean on a practice launch. Once they find the whalers, they spend the next seven episodes pestering the ships with homemade stink bombs and concoctions to slick their decks. At one point, two Sea Shepherds clamber over the rails of the Japanese harpoon ship Yushin Maru No. 2 so they can be taken "hostage," generating a flurry of news coverage. In the season finale, Watson appears to be shot by a Japanese crewman, though the Japanese and some critics say this was staged—his Sea Shepherd badge helped stop the bullet.
Stylistically, Whale Wars feels like the bastard child of Deadliest Catch and Cops. The storylines that develop aboard the Steve Irwin—Watson's sly new name for an old Sea Shepherd ship—provide "a character study of humans driven to do this," according to Animal Planet executive producer Jason Carey. There is something catchy about idealists playing pirate. Thanks to Whale Wars, sales of Sea Shepherd merchandise jumped from $20,000 a month to almost $130,000.
Among the coalition of NGOs working to end whaling, Whale Wars has generated spirited cheering, even if Watson is still handled with extreme caution. When the IWC passed a moratorium on commercial whaling in 1982, many activists declared victory and moved on. But a handful of countries objected to the moratorium, and some, including Norway and Iceland, still kill whales. Japan's strategy is to agree to the moratorium while taking advantage of an exception for lethal "research." The country's fleet is operated by the government-funded Institute for Cetacean Research (ICR), though few scientists outside Japan believe the organization is anything more than a front. The ICR's Southern Ocean annual quotas call for the taking of some 850 minke whales and smaller numbers of fin and humpback whales. After data is collected, the meat is sold in fish markets, which Japan justifies by citing IWC regulations to not waste research by-products.
"Japan's slaughter of whales is back on the radar," says Patrick Ramage, whale-program director for the International Fund for Animal Welfare (IFAW). "The stark imagery of what's going on is a boon to people working on different fronts in the movement."
One environmental group that does seem cranky about Watson's sudden popularity is Greenpeace, but that's hardly a surprise. Watson helped create the organization, then was voted out in 1977 because of his hyper-aggressive stances; ever since, he's seized any opportunity to mock the group as whiny cowards. His go-to jab is to refer to them as "the Avon ladies of the environmental movement."
For its part, Greenpeace recently suspended its direct-action campaign in the Southern Ocean to focus on a public-information project in Japan. According to senior ocean campaigner Phil Kline, last June's arrest of two Greenpeace activists in Tokyo—they claim they were trying to expose the black-market sale of ICR-harvested whale meat—gives the group a forum for communicating with the Japanese people, most of whom rarely eat whale. As he put it, "We win when we change the dynamic in Tokyo. Broadcasting to American audiences is just preaching to the choir."
Kline has a point. As much as Whale Wars may be pumping up anti-whaling sentiment in the West, it's also spurring reactive nationalism in Japan. Though the show has yet to air anywhere in Asia—Animal Planet says it will at some point—international news footage of the Steve Irwin colliding with the Yushin Maru in February "unfortunately united Japan against the anti-whaling movement," says Naoko Funahashi, IFAW's Tokyo-based representative. Funahashi also notes that Japan's new fiscal budget tripled funding for whaling in the Southern Ocean, in part to pay for new "countermeasures" against Sea Shepherd.
All of this comes at a tense moment for the IWC. The commission has been in a stalemate for years, with Japan and other whaling nations arguing that rebounding whale populations mean it's time to end the moratorium, while anti-whaling nations push to make it permanent. In an effort to break the impasse, IWC chairman William Hogarth—appointed head of the U.S. delegation by George W. Bush and later elected chairman—recently floated a proposal at a closed-door meeting that would allow Japan to whale off its own coasts in exchange for drastically reducing its take in the Southern Ocean. When word leaked in January, conservation groups went ballistic. Then, in early March, three days before an intercessional meeting of the IWC in Rome, the Obama administration waded in, releasing a statement calling scientific whaling "unnecessary" and saying that any new agreement would have to "result in a significant improvement in the conservation status of whales."
Still, leaders of both the Japanese and American delegations insist that compromise is the answer. "The IWC is trying to save itself from total collapse," says Joji Morishita, chief negotiator for Japan's Fisheries Agency. Doug DeMaster, acting head of the U.S. delegation, agrees that the stakes are high. "It's a very important time," he says. "We've heard from the governments of Japan and Iceland and Norway that they need to see progress."
Whether the three episodes of Whale Wars premiering in the weeks before the annual IWC meeting, in Madeira, Portugal, on June 22, will aid or hinder progress is an open question. The new season includes the collision that made news in February, a gory sequence of whalers harpooning a minke, and conversations with a Japanese member of Sea Shepherd who wears a ski mask to hide her identity. To temper Watson's bombast, producers are also mixing in interviews with scientists and diplomats, including Hogarth.
Back in Friday Harbor, Watson, sounding smug, says it's the whalers who deserve credit for Whale Wars. "They certainly did their part to make it a dramatic season," he offers. "They just didn't care about the cameras."
Trending on Outside Online